In his second piece for the Hifi Pig, our other former DJs Paul Hoskin reviews the Pro-Ject T1 Phono SB turntable priced at £289 & provided by Henley Audio in the UK.
UNPACKAGING, CONSTRUCTION AND APPEARANCE
Not being my first product from Pro-Ject, I went into this review expecting high quality, even with this entry-level product. They do not disappoint. The turntable and its components are all packaged well and safely. Happy to see minimal use of plastics and polystyrene here too.
Everything is included in this kit to get you up and running on a basic amp and speaker setup and listening to your favourite records in no time at all. I'll go into this in more detail in the next section.
This finish is very well done. It looks and feels like a premium product straight out of the box. The platter is made of glass and has a good heft to it. The sockets are well placed and to a high standard. The fit is just right.
I found the switch on the onboard phono stage a little on the loose side for my liking but it's not too bad. Plus, once you're set up it's not something you will be playing with a lot. Out of sight, out of mind, as the saying goes.
I think the only thing I'm not keen on is the very basic mat that comes with it. However, I am used to higher-end mats or platters etc so it's more me being anal more than anything.
SETUP
In this particular case, I found the tonearm and cartridge already dialled in, with just a little tweak required to the weight. Whether Pro-Ject ships them this way or the previous reviewer left it like this I'm unsure, but either way, it was a nice touch.
I did in the mind of a new customer receiving this table not set up, strip it down and redid everything. Pro-Ject include a turntable protractor in the box and this comes in extremely helpful in getting the arm and cartridge set up just right. And if you watch a youtube "how-to" video or read up instructions on how to get it all set up properly, you'll find it pretty straight forward.
I was sent the model that has a built-in phono-stage and speed controller so you fit the belt, sit the platter in place and you're done. Depending whether you have a phono stage in your amp or not, pick which output to run from the turntable and it's seriously that easy.
Tonearm & lift are really well made and have a really satisfying feel to their action. Silky smooth and buttery.
And speed selection on this table could not be easier. One button, one clicky button to push. And a satisfying click it is too!
Now you can focus on what's important. Grab a favourite from the crate, on you're golden.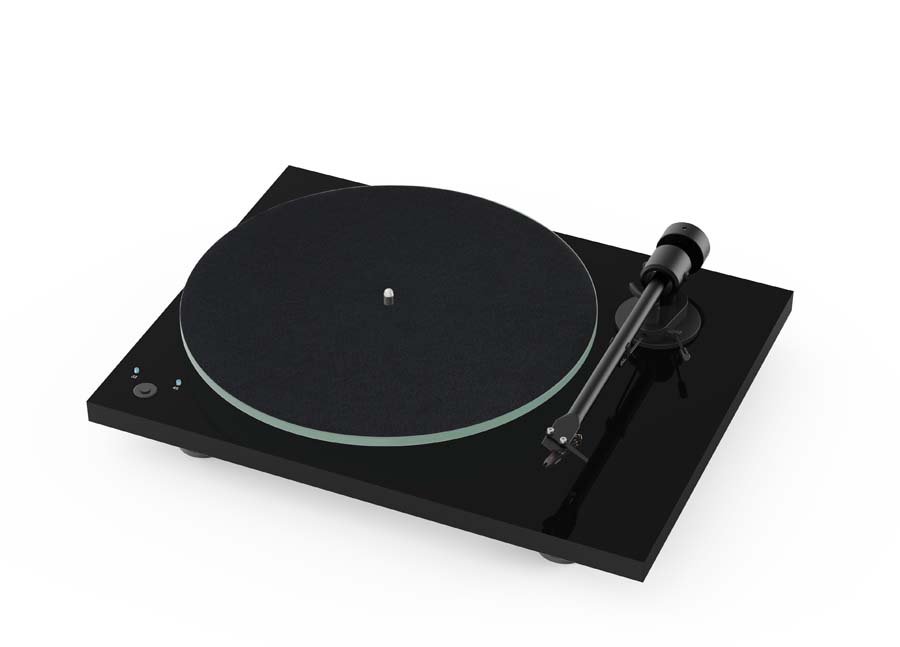 SOUND QUALITY
For this review, I picked out a few of my favourites. Pink Floyd's Dark Side Of The Moon, Mahler's Symphony No.5 & Jean-Michel Jarre's The Concerts In China.
I used a headphone setup for this review as you'll see later.
I've owned and used the OM5e cart and stylus before so I was half expecting what to hear – A well-rounded bass, though not too punchy. Slightly recessed mids, and crisp highs.
The T1 is a fantastic plug and play table that performs admirably and plays different genres with equal competency. The albums that I listened to were presented with accuracy and a full-bodied feel that didn't leave me wanting for more, or feeling like I was missing something.
Mahler's Symphony No.5 was an utter joy to behold with those quiet moments being truly quiet & every instrument sounding well separated and defined.
Dark Side Of The Moon was enjoyable, although some tracks started to sound a little "noisy" in the more exited spots, however, it wasn't that bad and didn't detract from the overall experience.
The Concerts In China was the winner here for me, It's in my top 10 albums and I'm pretty picky about how it is presented. The T1 lived up to expectations, offering up one of JMJ's masterpieces in a warm, fluid manner.
For a turntable in this price bracket, you could do far far worse!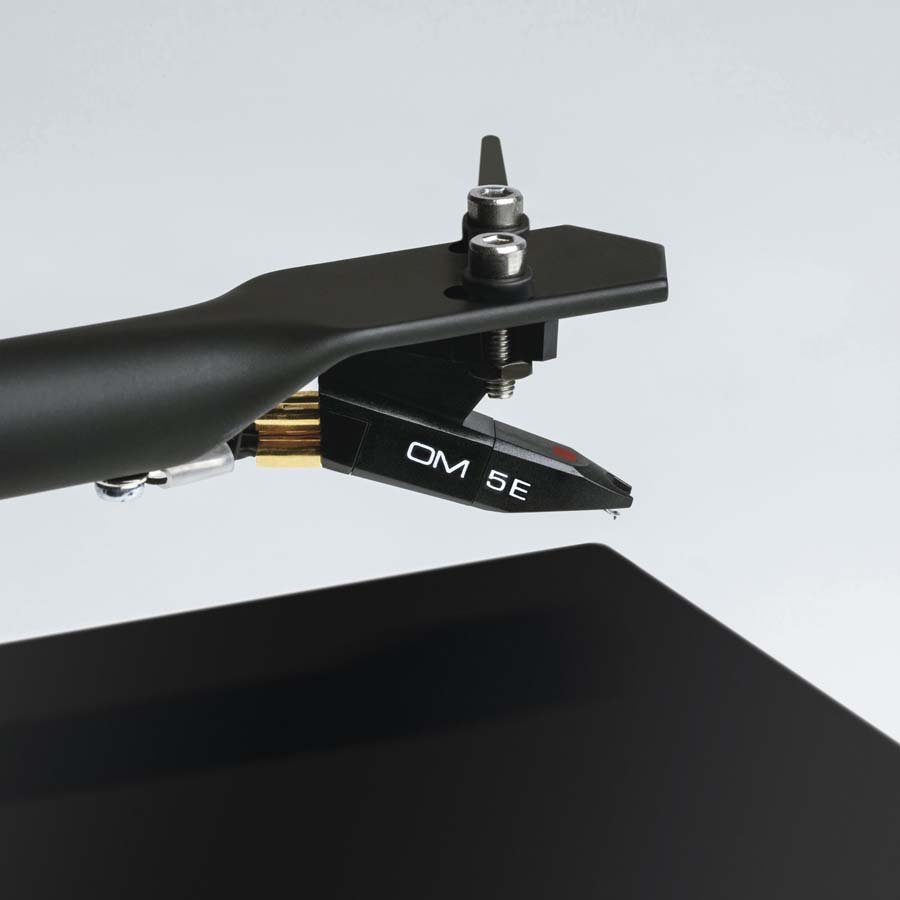 However, I wasn't done there. I have in my collection an Ortofon 2M Red among others, so I decided to install it and see how it would affect things…
The Red steps it up a notch and brings this turntable up another level. Bass is tight and punchy, mids are more present in an airy natural way, and highs are crystal clear with that "sparkle"
that I really enjoy when I listen. It opens up the soundstage and paints a sharper image in my mind. Which certainly in the case of Mahler's and Jean-Michel Jarre's pieces played out really well for me.
With either cartridge, I couldn't make out any background noise or hiss which is always a good thing. The Red having a "darker" background.
Matched with my Schiit Jotunheim and Sennheiser HD600's it was a very lively enjoyable listening experience. I switched to my HE400's, also in balanced configuration and found the bass a little too much on the OM5e however with the Red it was a powerful listen. If I were to offer any advice to a potential buyer, I would say look to upgrading the cartridge to the Ortofon 2M Red or something similar to give your setup a boost.
CONCLUSION
All in all, I would say that the Pro-Ject T1 SB Phono is a brilliant turntable considering its price tag. It's versatile and very easy to install in a number of different systems, from a beginner's first Hifi to something more advanced.
Pro-Ject definitely had plug and play in mind when they made this turntable. It's wonderful and classy on the eyes and would look amazing with any system.
Setup is a walk in the park and depending on your level of experience you can be up and running anywhere between 10 to 30 minutes. Time to have a nice cup of tea while you're at it. Just don't spill anything on your brand spanking new turntable!
Packaging as I said was as always well thought out. I would like to see zero polystyrene one day but I'm sure that will happen at some point down the road.
Would I recommend this or purchase it myself? Yes and no/maybe.
I recommend it for all of the reasons above. It's a fantastic purchase for either a first-time turntable or an upgrade at an affordable price.
Why wouldn't I purchase it myself? Simply because I already own a higher-end turntable and I'm looking at something different for my office system once it's done. However, my son is starting to show more and more interest in Hifi so it is definitely something I will consider buying for his first system in his room.
AT A GLANCE
Build Quality: Solid build with a lovely finish. All fittings and moving parts are solid, smooth and easy to access. Phono stage switch, however, was a little loose in my opinion.
Sound Quality: In its "out of the box" configuration the ProJect T1 Phono SB sounds great and a first timer is going to love it. Upgrading just the cartridge to something like the Ortofon 2M Red really does take this turntable up a level and improves the sound quality in a significant way.
Value For Money: It's a lot of kit for just under £300. Turntable, Cartridge/Stylus, Built in Phono stage & speed control, fitment tools and accessories all included. Plus it looks and sounds amazing. Definitely good value for money.
Pros: Good packaging. Easy to understand instructions. Ease of setup/install. Built in phono stage and speed control. Premium Walnut veneer finish. Smooth buttery action in regards to platter, tonearm and tonearm lift. Positive "clicky" button for speed control. Snug fitting terminals.
Cartridge/Tonearm ready to go out of the box. Fantastic warm to neutral sound straight out of the box.
Cons: Loose phono stage switch. Choice of the cartridge (Although this is more personal preference)
Price: £289
Kit List: Schiit Audio Jotunheim DAC/Amp. Sennheiser HD600 balanced. In this review, I was running the amp balanced with gain activated.
Paul Hoskin
Technical specification:
Speed: 33,45 (electronic speed change)
Principle Belt drive
Speed variance 33: 0.7% 45: 0.6%
Wow & Flutter 33: 0.25% 45: 0.23%
Platter Heavy 8mm, blasted-glass platter with felt mat
Main bearing Stainless steel/brass
Signal to noise 65dB
Tonearm 8.6" aluminium
Effective arm length 218.5 mm
Overhang 22.0 mm
Effective tonearm mass 8.0 g
Counterweight for mass 5 – 10g (pre-mounted)
Tracking force range 0 – 50mN (17.5 mN pre-adjusted)
Outputs RCA Phono/Line (switchable)
Included accessories dustcover, feltmat, high quality Connect it E RCA Phono cable
Built-in Power Supply 110 – 240V/50, 60Hz; 15 V DC 800mA
Power consumption 4.5 Watt max
Dimensions 415x100x335 mm (WxHxD)
Weight 3.8 kg net