Pro-Ject Audio Systems are adding to their current range of record players with a new version of the 2 Xperience design.
The new 2 Xperience SB "incorporates over 20 years of turntable design experience to produce a relatively compact and affordable high-end vinyl record player that offers truly outstanding performance".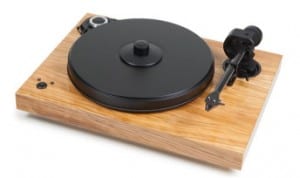 Based on the same basic plinth design as its predecessor, the 2 Xperience SB is available in four finishes   –   Piano   Black,   Olive ,Walnut  and  Mahogany.  It  also  utilises  the  same vinyl-topped sandwich platter. Where the 2 Xperience SB is elevated to a new performance level is with the addition of a new motor, new automatic speed control and new tonearm.
The new precision motor is driven by an efficient DC power supply and regulated by a built-in electronic speed changer. So not only does the neatly integrated speed control offer easy switching between 331/3  and 45RPM, but it also acts as an AC generator for the motor to ensure a clean and stable power signal. The pre-installed 9CC Evolution tonearm has been proven by other Pro-Ject turntables such as the Xtension 9 SuperPack. Benefiting from a light-weight one-piece carbon fibre tube that's mounted inside a heavy assembly, which draws vibrations away from the signal wires, and finished with a sorbothane-damped counterweight; "it typifies the audiophile characteristics of the whole turntable".
The turntable is supplied with an Ortofon 2M Silver cartridge pre-fitted. An acrylic dust cover, screw-on record clamp and coned feet finish off the package.
The 2 Xperience SB will be shown in the UK for the first time at Bristol Sound & Vision Show, 2015. in Room 418.