Hailing from The USA the PS Audio Stellar Gain Cell DAC/Preamp & S300 Stereo Power Amplifier cost  $1699 and $1499 respectively. Here the all American duo are reviewed by David Blumenstein.
You can produce relatively affordable HiFi products. You can do so and be true to your roots. This is what Paul McGowan and the team at PS Audio endeavor to achieve. PS Audio came to the public's attention with the introduction of its cigar box preamplifier for the princely sum of $59.95 just over 40 years ago, and as it and the industry evolved, so did the company's product lines and prices in keeping with the growing market. The Stellar DAC/Preamp and S300 Stereo Power Amplifier present an opportunity for true value for money. The pair's straightforward unassuming external design hide a beastly duo under the bonnet. The duo go for the minimalist look, as apart from the two glow-in-the-dark PS Audio logo emblazoned power switches, it is the lone menu display of the Gain Cell DAC which sheds any light into the room.
Out of the box, and with the vast array of gear in my listening habitat, I dug into my hacker bag of tricks and fashioned a makeshift system rack out of the black styrofoam packing/stabilizing material. Fitting and then stacking each of the units on top of each other proved to be rather effective, and when sharing such with PS Audio, I managed to instigate equal parts: intrigue and laughter. It took less than 15 minutes to extricate the gear from their respective boxes and get them set up in my test environment. PS Audio's included documentation wastes neither precious time nor paper getting to the heart of the units, deftly explaining the components' respective features, settings and options.
As alluded to earlier, prices have steadily been on the rise and if there is any future for the HiFi industry its designer, manufacturers, vendors must come out with relatively affordable gear. PS Audio's  Stellar  Gain Cell DAC/Preamp retails for $1699.00, and S300 Stereo Power Amplifier for $1499.00, so let's call it an even $3100.00 for the pair and for the purpose of this review I shall treat them as an intrinsic pair. You could shop for them separately, but I see their synergy making their whole definitely greater than the sum of its parts. My reference for this review is comprised of an exaSound e22 DAC, Parasound Halo 2.1 Stereo Integrated Amplifier, Bel Canto s300 i/u Integrated Amplifier, Audio Physic Tempo, Platinum Audio ST1 and Mission 727 speakers. Interconnects and speakers cables, a veritable hodgepodge of Audioquest, Cardas and Transparent Audio. Throughout my evaluation I was swapping out gear and cables regularly. My front end was/is a Mac Mini connected to 10TB of lossless music running Roon, VOX and Audirvana Plus.
Word to the wise. Over the years I have accumulated many, perhaps too many audio software applications and I should have learned from past experience, so here we go. If you are going to readily update and upgrade software, when whole new versions come out make it a point to to totally uninstall previous version, not just the application but all ancillary files too as they can cause much headache. I was faced with the issue of not being able to play DSD, DSDIFF, and SACD ISO files as DSD, and forced to configure the software to playback files solely as PCM, and not make use of DOP. This was unacceptable and after contacting PS Audio about this, I went through the process outlined above and was able to rectify this troubling issue. I could now play the files natively as intended.
Stellar Gain Cell DAC/Preamp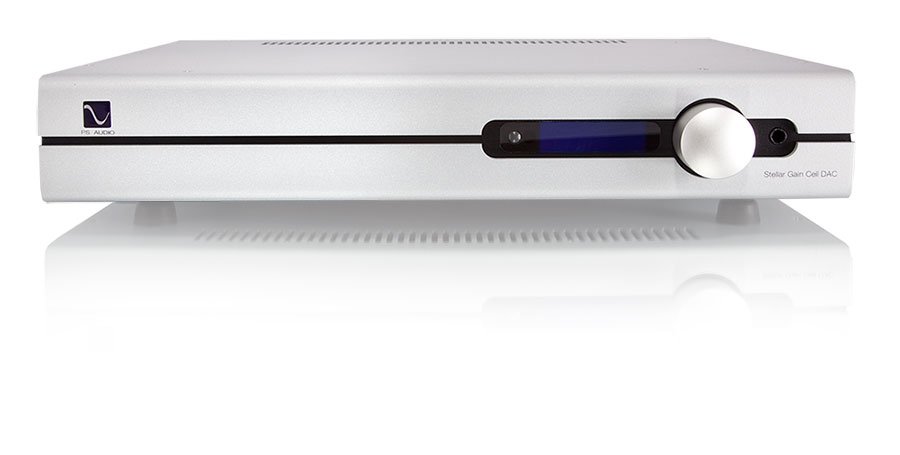 The Stellar Gain Cell DAC, a combination DSD DAC and an analog preamplifier, is made in the United States, and in this day and age shockingly affordable. For the money it's a relative bargain, leveraging PS Audio's NuWave DSD and a 32-bit ESS Sabre Hyperstream DAC. The Gain Cell, with its passive analog filtering accept inputs, both I²S and USB and can handle up to 2x DSD (128) and 24-bit/192 kHz PCM. With the requisite server software it can act as a music server, as signals enter natively WITHOUT sample-rate conversion, the Complex Programmable Logic Device (CPLD) utilizes proprietary Digital Lens technology to re-clock, reduce jitter, and diminish propagation delay. A choice of three digital filters allow for both flexibility and customization for present and future components. These filters are only effective for PCM digital audio. They are ineffective with respect to analog sources and DSD sources and selectable via the onscreen menu. With such filters there shall be compromises: the sharper the filter the greater the amount of ringing.
Filter One: Slow Roll-off Linear Phase -> Least sharp, least ringing. Some loss of high frequency detail. PS Audio has determined this to be the most musical sounding, thus it has been selected as the default filter.
Filter Two: Fast Roll-off Minimum Phase -> Better higher frequency response, more ringing without pre-ringing. Suggested filter for those preferring 44.1 kHz
Filter Three: Fast Roll-off Linear Phase -> Equally height frequency response. Less riding than #2, exhibits pre-ringing. According to PS Audio, in testing it was found to be the most analytical.
PS Audio's digital filters each have their own particular sound profile and as much as PS Audio attempted to describe them adequately in their documentation, I would advise listening to each of them carefully prior to settling on one over the other, and just because you choose one, does not mean that you cannot change your mind at later listening sessions. It is not like you are limited to a finite number of selections, much like DVD region codes.
The Gain Cell's analog preamplifier is where the DAC/Preamp combination shines, PS Audio has managed to streamline the design, by making use of its variable gain cell topology to  have the pre-amp's amplifier take its cues directly from the front panel's volume control. Eliminating steps and noise in the process lets you hear more of the music, your music, and no extraneous  sonic effects.  I connected a number of external phono stages and my reference DAC and they all benefited from the above. Of particular note was the combination of the Parasound Z-Phono USB phono stage, I was amazed by both the clarity and volume of sound. DACs have a come a long way in the four years I acquired my exaSound e22, at the price/performance point of the Stellar DAC/Preamp/Amplifier I could easily be satisfied.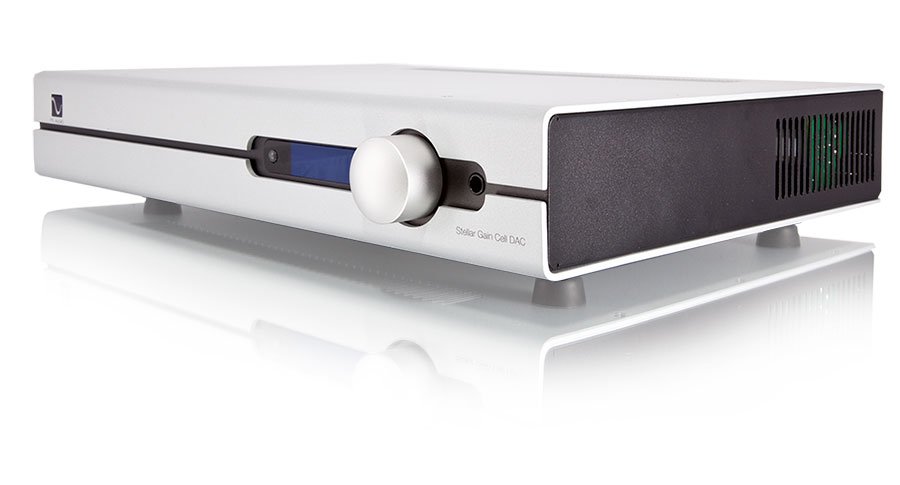 PS Audio's proprietary secret sauce: Digital Lens 
Input signals native into Gain Cell DAC, no Sample Rate conversion fed directly into PS Audio's CPLD (Complex Programmable Logic Device.
CPLD determines sample rate/format, rechecks data, reduces jitter, shapes data, reduces propagation delay achieving great throughput
I²S, a format specific to CD transports and several servers, is incorporated by PS Audio and sent via an HDMI cable. While this format separates the clock and data signal from the start which are multiplexed over S/PDIF and/or AES/EBU, the number of components taking advantage of I²S are limited, save for PS Audio's very own DirectStream transport.
Stellar S300 Stereo Power Amplifier
The Stellar S300 Stereo Power Amplifier is a sleek, unassuming dual-mono power amplifier which punches far above its weight. Full size it may be, but it is not physically overpowering. I found myself having to keep looking back at the unit to make sure it was there. Darren Myers should be congratulated for delivering 140 Wpc into 8 ohms and 300 Wpc into 4 ohms – not a misprint –  making the most of ultra-linear, high current Class D for the output stage and discrete Class A MOSFET Analog Cell for the accompanying input stage. The sound is spacious, full and seemingly effortless, and what I would have expected from a  more costly tube/valve amplifier.  The richness of detail and fluidity made my entire listening/evaluation experience in a word: non-fatiguing.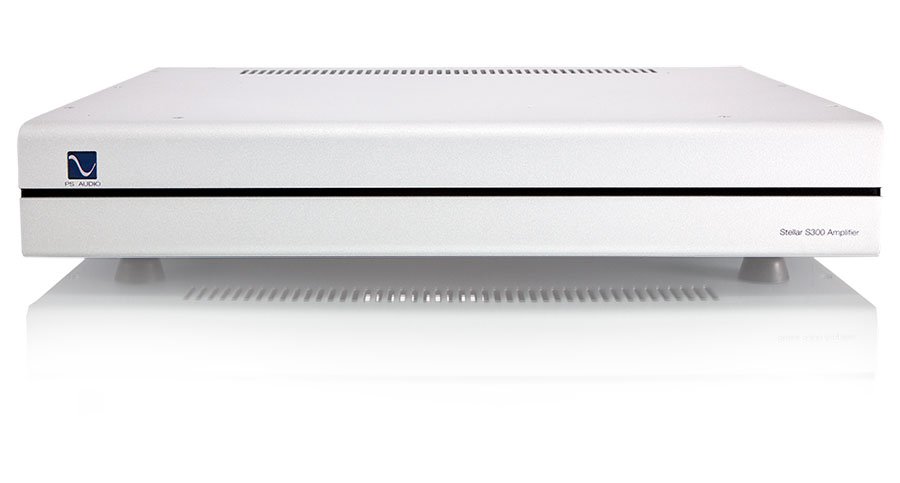 Assigning separate power supplies to each of the two channels makes for a clean sound: low distortion, high efficiency, precise linearity and a whole lotta power for the money.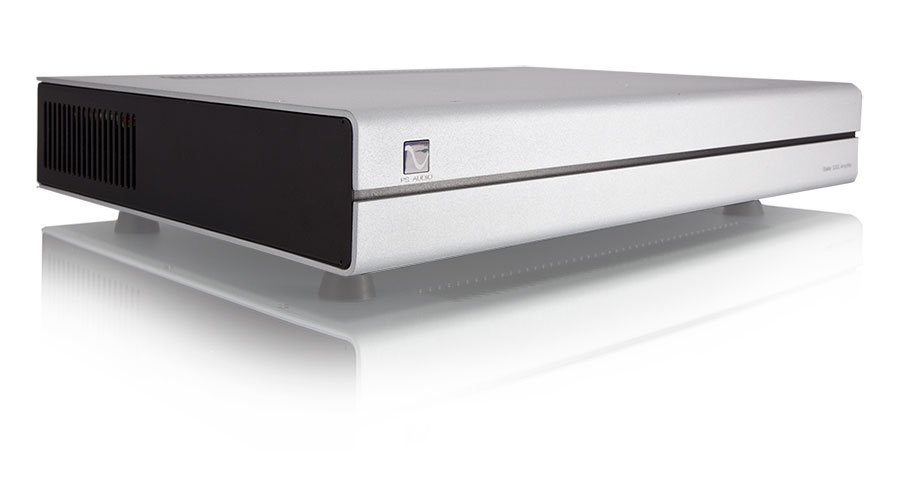 Living with the Stellar DAC/Pre-Amp/Power Amplifier
I've been writing, commenting and venting about the future of the HiFi industry to anyone who will listen. There exists this chasm which has now been 30+ years in the making. The ever increasing prices of gear and equipment has put HiFi out of reach of the mainstream. At some point something had to give, manufacturers had to wake up and do something hitherto unheard of, and that's build HiFi grade separate components, two of them, in the United States at a price which would normally be reserved for one component.
The Stellar DAC/Pre-Amp/Power Amplifier filled my listening room with 3D sound, and they matched well with each of my speakers; the floor standing Audio Physic Tempos, the stand mounted Platinum Audio ST 1's and the low-to-the ground Mission 727s. I was surprised how different they made each sound and I spent a great deal of time swapping out my Parasound Halo 2.1 integrated amplifier, Bel Canto s300 integrated amplifier to make sure I wasn't fooling myself. And, yes, I was hearing something new and more evocative from my usual suspects.
I am quite familiar with my California Audio Labs Icon MkII CD/Audio Note DAC 1.0 front end combo, so I was eager to see just how it would sound with the Stellar DAC/Pre-Amp stepping in. I should not have been concerned, and that pains because there's a lot of positive memories stored up in that Audio Note, but it's high time I become both realistic and pragmatic about the amount of gear I own and the space it takes up. This PS Audio combination, if it were indeed to stay, could free up so much room without sacrificing sonic quality and that's what a good deal of this all about.  I remain amazed by what has been made possible, and just how any piece of music I threw at the gear was made all the more musical.
An interesting feature of the amplifier is its Output Disable Mode, in which it is advised to keep the rear panel power switch on at all time, and to activate it by pressing the PS Audio logo button on its front panel so it is lit Conversely when it is not lit the amplifier is in Output Disable Mode, somewhat like the familiar hibernation mode. For those prone to not hovering over their systems, being able to activate the system remotely is a most welcome added functionality.
In answer to the question, could I have my cake and eat it too? Yes, I could see the PS Audio Stellar Gain Cell DAC/Pre-Amp, S300 Stereo Power Amplifier make more than an appearance in my home. They would be warmly invited to stay, allowing me to make my apartment more about me and less about the gear, hence more room for friends, guests and neighbors who like the sounds coming from down the hall. I was seriously considering upgrading my Audio Physic speakers until the PS Audio gear arrived, grew on me and really opened up after the recommended burn-in period and now I'm not so sure. It may eventually happen, but not at the pace once contemplated.
As a reviewer I get to live with gear for a prolonged period of time and really get to know the gear and not only assess its benefits and conversely its shortcomings, but also make legitimate comparisons between what was, what is and what could be from and in the comfort of my very own listening environment.
CONCLUSION 
PS AUDIO may have indeed cracked a new genre in HiFi quality relatively affordable separates which do not skimp on quality and maintain a high level and degree of musicality. The components live up to their Stellar name and do so without being flashy… appropriate restraint. Once powered on, they all but physically disappear allowing the music to take center stage.
Recordings upon which this review and conclusions based:
Pure Michael: Motown A Cappella
Smoke & Mirrors: Percussion Ensemble
Talk Talk: The Colour of Spring
Elgar Cello Concerto Op. 85: Jacqueline DuPre (JVC xrcd24)
Sheffield Lab Drum & Track Disc: Jim Keltner & Ron Tutt (JVC xrcd24)
Charlie Watts Jim Keltner Project
Corduroy: London, England
Midori Takada: Through The Looking Glass
Morton Subotnick: The Wild Bull
The Brand New Heavies: Trunk Funk
Daniil Trifonov: The Carnegie Recital
Sigiswald Kujiken: J.S Bach Cello Suites (shoulder cello)
Andris Nelson – BSO: Under Stalin's Shadow, Shostakovich Symphony #10
AT A GLANCE

Bulid Quality: Much in keeping in with PS Audio's tradition of making hard wearing gear both the Amplifier and DAC are built like the proverbial "brickhouse" made to last. This pair at not going to win any beauty contests, yet they maintain a rather understated elegance.
Sound Quality: PS Audio has managed to breathe new life into time worn songs. The amplifier, with more than ample horsepower, can be reigned in when necessary as so to not overpower the music or one's speakers.
Value for Money: It has been time that a company has come out with relatively affordable separates. At their price point the combo is quite attractive and should challenge other HiFi manufacturers to do likewise.
Pros:  The musicality, the price, the value for money unheard of today and hopefully a sign of more to come. Punches way above its weight and can hold its head high. No shame there.
Cons: Hard to fault this combination as it does as advertised and surpasses expectations. From a pricing perspective, I could see selling the pair as matched set for $2999 and really blow the roof off the category: Affordable Separates. Quibble: the DAC support 128 and not 256.
Price*: DAC/PRE $1699; S300 Amplifier $1499
*As at 31/10/2017 PS AUDIO has announced a bundle price drop in the Stellar AMP/DAC combo. The pair can now be purchased for $2799.
David Blumenstein
Stellar Gain Cell DAC/Preamp Specifications
Analog inputs:
RCA: 3 stereo pair
XLR: 1 stereo pair
Digtial inputs:
I2S: 1 PCM (384KHz max), DSD64 DSD128
Coax: 2 PCM (192KHz max)
Optical: 1 PCM (96KHz max)
USB: PCM (384KHz max), DSD64 (DoP) DSD128 (DoP)
Format: PCM, DSD
Analog outputs:
RCA: (Analog Unbalanced) 1 stereo pair
XLR: (Analog Balanced) 1 stereo pair
Headphones: One 1/4″ headphone connector front panel
Gain: 12dB +/-0.5dB
Maximum output: 20 Arms
Sensitivity: 5.3Vrms
Input Impedance:
47KΩ single ended RCA
100KΩ Balanced XLR
Output Impedance:
100Ω single ended RCA
200Ω balanced XLR
Frequency Response:
20Hz – 20KHz +0/- 0.25dB
10Hz – 100KHz +0.1/-3.0dB
Noise: 20-20KHz <-90dBV
S/N Ratio: 1KHz >110dB (max output)
Channel separation: 1KHz >90dB
Input separation: 1KHz >90dB
THD&IM:
1KHz < 0.025%
20-20KHz < 0.05%
Headphones
Output power @1% THD:
300Ω 300mW
16Ω 3.25W
S/N Ratio 1kHz: >95dB (max output)
Noise: <-80dBV
THD & IM 1Vrms out:
300Ω <0.05%
16Ω <0.06%
Output impedance: <4 Ω
Volume Control: 0-100 (1/2 and 1dB steps, 80dB total range)
Balance Control: 24dB each direction in 1/2dB steps
Home Theater Mode: Assignable to any analog input
Adjustable (in setup) to any level
Polarity (phase) Control: Digital sources only
Filter Control: 3 selectable digital filters (PCM digital sources only)
Trigger output: (3.5mm 5-15VDC) 2
Remote Control: Yes. Infra Red
Input Power: Model specific 100VAC, 120VAC, or 230VAC 50 or 60Hz
Power Consumption: 20W
Weight: 13.5 lbs.
Dimensions: 17″ x 3″ x 12″
Stellar S300 Stereo Power Amplifier Specifications
Audio Inputs:
RCA (Unbalanced)
XLR (Balanced)
Speaker Outputs: Copper base nickel plated binding posts
Other:
DC Trigger Input
3.5mm 5-15VDC
Output Power (Both channels driven 120vac mains, 1kHz, 1% THD):
8Ω: 135W minimum
4Ω: 300W minimum
2Ω: Stable for musical transients
Gain: 30.5dB +/-0.5dB
Sensitivity for rated output power: 1.01V
Noise: 1kHz@300 Watts <-100dB
Input impedance:
Unbalanced 50KΩ
Balanced 100KΩ
Output Impedance: 50Hz, 2.8VRMS <0.007Ω
Damping factor 50Hz. 2.8VRMS:
8Ω >1100
4Ω >550
Frequency Response @2.8VRMS:
10Hz – 20KHz +/- 0.5dB
10Hz – 50KHz +0.1/-3.0dB
THD&IM:
1KHz, 1W/4Ω: <0.02%
10-20KHz, 1W/4Ω: <0.02%
10-50KHz, 1W/4Ω: < 0.05% (90kHz BW)
1KHz, 37.5W/4Ω: < 0.01%
Weight: 13 lbs.
Dimensions: 17″ x 3″ x 12″
Warranty: 3 years parts and labor