Now here's a bit of a breath of fresh air. Randall K Designer HiFi was started a little under a year ago with one mission, to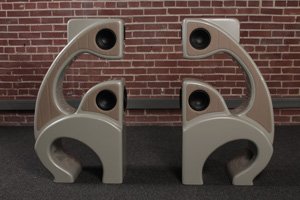 make audio cool again and get people passionate about wanting to share music and audio the very same way it was infused in us. To do this, they are building what they call functional audio art that they believe are at the very least conversation pieces, whilst still performing at a very high level.
Randy from Randall K commented "We feel that for too long, people would purchase a piece of equipment to hide it in their audio cave. The only way the audio business will drive groups of music lovers towards finer equipment and enjoy listening is to make audio an inclusive sport and not an exclusive one, as well as offering unique, high performance products".
The speakers can be custom tailored in both color and material utilized and are strictly limited in numbers.
They are currently looking for 10-15 sealers in the US  and 10 -15 international distributors that would like to offer the Randall K loudspeakers as part of their portfolio.