Chicago's Ratboys, led by singer/guitarist Julia Steiner and guitarist Dave Sagan, will release its sophomore album entitled GN on June 30th (Topshelf Records). Today they share the video for the single, "Elvis is in the Freezer" via NPR who calls it "a touching way to not only look at how we meet the important people in our lives, but why they become important."
Directed by Kenna Hynes and shot in Louisville, KY, the video reflects on the intimacy of close relationships and honours the invaluable support of family and friends during times of grieving and loss. "We want to show the joy that comes from having someone to lean on. And really, we want to celebrate the potential that every new relationship has to make life better and more fulfilling," says Steiner.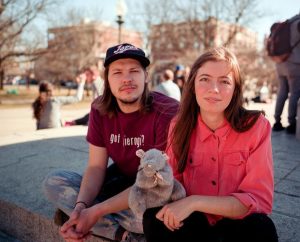 Ratboys join Pet Symmetry, PWR BTTM, and Mother Evergreen for a handful of US shows this summer including a GN record release show June 30th at Schubas in Chicago. All confirmed tour dates below.
TOUR DATES
% = w/ Pet Symmetry
* = w/ Mother Evergreen
# = w/ PWR BTTM
05.26.17 – Chicago, IL @ Schubas %
05.27.17 – Howell, MI @ Bled Fest %
05.28.17 – Cleveland, OH @ Mahall's %
05.30.17 – Boston, MA @ Middle East %
05.31.17 – Brooklyn, NY @ Baby's All Right %
06.01.17 – Philadelphia, PA @ Boot & Saddle %
06.30.17 – Chicago, IL @ Schubas *
07.01.17 – Davenport, IA @ Raccoon Motel *
07.02.17 – Champaign, IL @ Memphis on Main *
07.03.17 – Bowling Green, KY @ Sinkhole Sanctuary *
07.05.17 – Pontiac, MI @ The Pike Room
07.06.17 – Toronto, ON @ D'Beatstro
07.09.17 – Montreal, QC @ L'Escogriffe
07.11.17 – Manchester, NH @ Penuches Music Hall
07.12.17 – Portland, ME @ Space Gallery
07.13.17 – Albany, NY @ Relief Theater
07.14.17 – Rochester, NY @ Bug Jar
07.15.17 – Bethlehem, PA @ Blast Furnace Room
07.21.17 – Des Moines, IA @ Vaudeville Mews
07.22.17 – Omaha, NE @ Milk Run
07.24.17 – Laramie, WY @ Babe Haus
07.25.17 – Salt Lake City, UT @ Kilby Court #
07.27.17 – Denver, CO @ Bluebird #
07.30.17 – Cleveland, OH @ Mahall's #