"The new Yggdrasil DAC from Schiit Audio is an entirely different take on "end-game" DAC design, eschewing the now-standard delta-sigma and DSD-optimized architectures to deliver optimal performance for the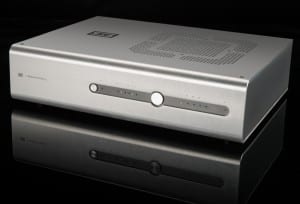 99.99% of recorded music out there—music in PCM format" says the opening lines of Schiit's latest press release.
"Yggdrasil was designed with a single goal in mind: to give you the most from the music you already have," said Mike Moffat, Co-Founder of Schiit Audio. "It's the end result of five years of research into digital filter algorithms, resulting in a unique closed-form digital filter running on an Analog Devices SHARC DSP processor, as well as four true 20-bit Analog Devices DACs running in differential configuration."
Yggdrasil, or "Yggy," as the DAC in known informally at Schiit, supports all PCM formats from 16/44 to 24/192 through all inputs, including USB, AES/EBU, BNC, Coaxial, and Toslink optical. From there, the all-new USB Gen 3 input receiver and Schiit's proprietary Adapticlock™ system manages clock regeneration. The SHARC DSP processor implements Schiit's proprietary 18,000+ tap digital filter algorithm at 352.8 or 384kHz sampling rate and 20-bit depth, which is then passed to the AD5791 DACs and a discrete JFET output buffer. Yggy outputs both balanced XLR and single-ended RCA (summed) analogue simultaneously.
"It's the best DAC I know how to build," Mike summed up. "We're very proud of its performance—and we're very excited to be able to deliver this level of performance to the overwhelming majority of PCM music that everyone already owns."
Like all Schiit products, Yggdrasil is designed, engineered, and manufactured in the USA, with the vast majority of its total production cost going to companies manufacturing in the USA, and local assembly, testing, and support through Schiit's Valencia, CA offices.
Yggdrasil, (in Norse legend, the "world tree" or source of all things) is available to order now on the schiit.com website for $2,299.