The final report from this year's Rocky Mountain Audio Fest from Stuart at Hifi Pig.
Zu Audio
Linette picked out the Zu Audio room as being one of her favourite spaces in her write up of Rocky Mountain Audio Fest and I have to agree that it was one of the stand-outs for me too.
Speakers on the day were the (from) $10K Druid MKVI which gave a massive sound whilst playing chilled out electronica with a great sense of image being thrown into the very cool room. The Druid VI has a full-range driver, tweeter assembly, cabinet and construction methodology that are all new compared to the previous models. Druid VI stands 130cm tall, 18cm deep, with a footprint of 32.5cm square. It is 101dB-SPL, 1W@1m sensitive.
Amplification and electronics were all by Pass Labs.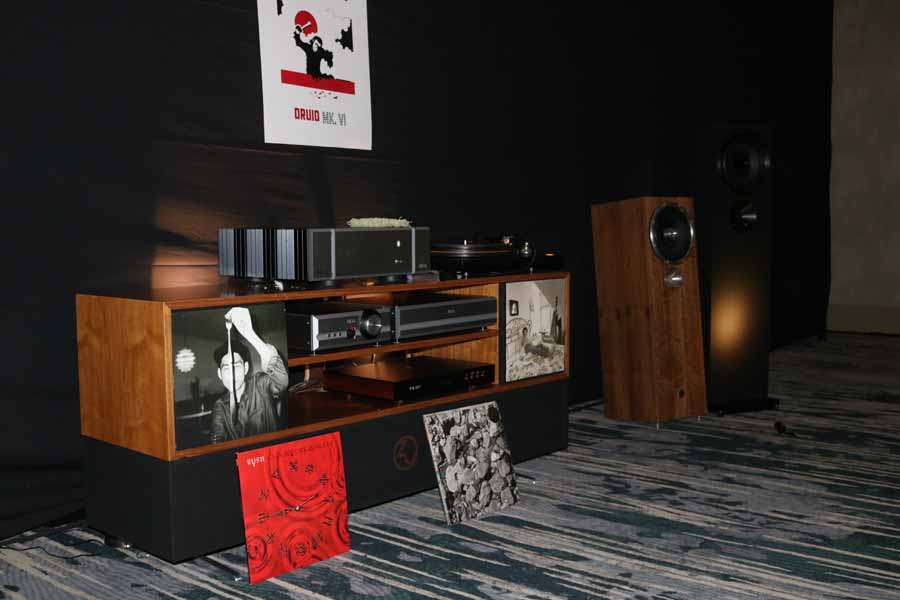 Sigma Acoustics
Here is another room that Linette pulled out as being one of her favourites too and I can fully see why she did with my notes asking the question of myself "Sound of the show?" Extreme Audio of Italy's Sigma Acoustics MAAT Vector XAC loudspeakers are seriously big both in sound and in stature and with a price tag that is commensurate at 184,000€. They're 100dB sensitive and were being powered by Vivace Class D amps by Albert War that used a Gallium Nitride power stage and are made in the USA.
Bass was stunningly big and tight from this system with a fabulous tone to the whole and with a feeling of huge space to the music.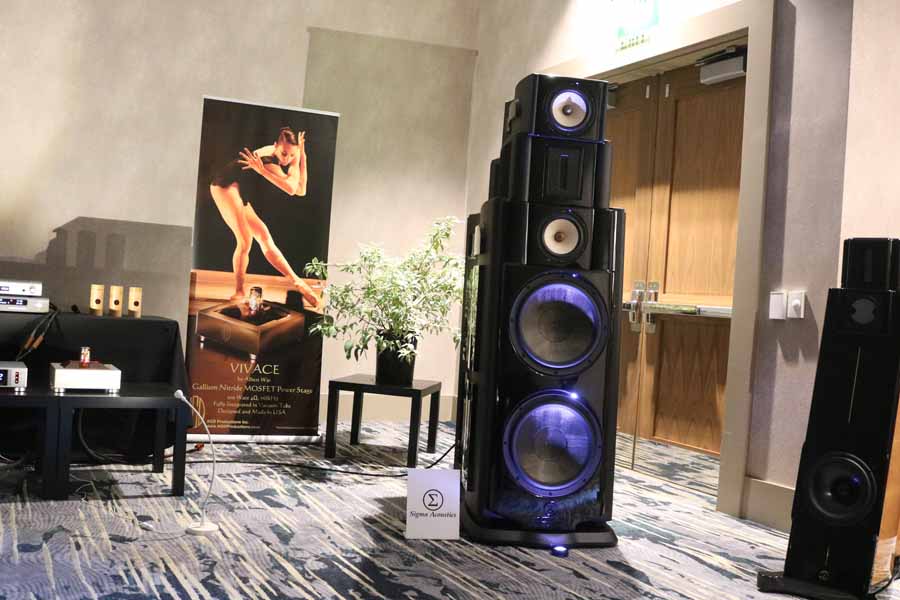 Acora Acoustics 
Acora Acoustics loudspeakers, esoteric transport and DAC, Cardas Cables, Aurender streaming and Audio Research amplifiers…what's not to love about this system even without hearing it. Well actually there were two systems but we only got the chance to hear the larger speakers and system…but got snaps of the smaller standmount speakers.
The bigger speakers are the SRC-1 and are a 2-way bass reflex system using a 7" sandwich paper cone and a 1" soft dome ring radiator tweeter. They have a claimed response of 29Hz – 30KHz and unusually come in high polish black granite which is 3cm thick. Not surprisingly these are a heavyweight speaker coming in at 246lbs each. Sound was fantastic using the Audio Research Ref 750 amps and matching pre, along with Cardas cables, being very tight in the bass registers and offering up a truly effortless quality on the cello music that was playing. Really, I loved the sound of these speakers. Price is $27K a pair which seems pretty reasonable given the craftsmanship and the sound I heard coming out of them.
The smaller speakers which we didn't hear are the Acora SRBs which cost around $15K and are a two-way bass reflecx design using a 5.5″ cone and granite that is 2cm thick. We didn't get to hear, as I mentioned, but these were paired with an Esoteric k-01Xs SACD player/DAC at $22K, an Esoteric n-03T network audio transport at $11K and an esoteric F-03A Class A integrated amplifier at $13K. The optional but recommended stands are Acora's SRS granite stands and cost $5K.
Next Level Hifi, Aavik Acoustic, Ansuz Acoustics, and Børresen Acoustic
Børresen is a Danish loudspeaker brand headed up by Michael Børresen and here we have their entry-level 01 2-way monitor. Again from Denmark was the Aavik integrated amplifier which on looks alone deserves its place at the top of the rack.  Sound-wise this relatively compact system filled the room with a satisfyingly big sound and good imaging. All the brands here were new to me and it does seem that Denmark really does know a thing or two about great sound.
YG, VTL, and Nordost
All-round this was a fabulous sounding system when we went in the room but then the helpful chap from Nordost thought he would give us a demonstration of their Q-Point Resonance Synchroniser, which quite frankly i thought I could have done without as I'm firmly in the "gotta be voodoo" camp…but you know what, these things are NUTS! Nordost says this about them " The QPOINT Resonance Synchronizer emits a subtle field which manipulates all electromechanical resonances within its immediate proximity so that they resonate in unison with each other. By syncing these resonances, the QPOINT eliminates internal electrical noise, enhancing the coherency and timing that is typically lacking in even the most high-end audio systems." which to me sounds like marketing speak, but the effect of them in the system was pretty striking with a much more three dimensional sound and pronounced better imaging. Each of the QPoints cost $750 and they also come with a linear power supply as a $2.5K option. Had I not heard this demonstration I'd probably have dismissed these products out of hand. Of course, Nordost suggest the more that you have (they suggest one under each piece of kit) the better the effect.
Göbel, Kronos and CH Precision
OK, this was a very high-end system but truly effortless in its delivery. Louis Desjardins' Kronos turntable never fails to bring a smile to my face whenever I encounter it, and I have now heard it many times. The turntable is $42K with an extra $9.5K for the tonearm and $15K for the power supply. OK, that takes it into the uber-turntable territory, but I can't help thinking that this actually represents pretty decent value for money when you look around at the competition. It weighs in at 90lb, will accept 9″ or 12″ arms, features an "open loop feedback" speed control and the platter alone weighs 30lb. Had I the resources, this turntable and the associated kit would be sat on our rack right now.
Speakers are the $220K Göbel Divin Noblesse (careful how you say that if you are from the North of England) with the main feature being the specifically developed 8 inch midrange driver, using Göbel®'s bending wave technology. The Divin Noblesse uses an AMT tweeter that is optimized and adjusted through a massive waveguide that has been milled out of aluminium. Additionally, they have two custom-built Göbel® 12 inch long throw bass drivers. These symmetrically arranged bass drivers are specifically located in the "constrain layer dampening front baffle, creating an absolute smooth transition of the 8 inch midrange drivers to the low frequencies of these custom built Göbel® long throw bass drivers".
OK, you are looking at supercar or very nice home money here, but if you have it and want to flaunt it then this could well be the system for you with the CH precision electronics used coming in at around $30K a box. Effortlessly dynamic sound that is up there with the best I've experienced anywhere.
McIntosh Laboratories
I wasn't expecting to enjoy this room for some reason and thought, especially when I walked in and saw the speakers, that it would be, to coin a phrase, all mouth and no trousers, but I was dead wrong on that front commenting that it was a great sounding room – and they played Floyd's Welcome To The Machine, which may have helped along a bit.
The amp is the Anniversary model of their 2152 using an octet of KT88 output tubes and four 12AX7A and four 12AT7 to deliver a healthy 150W into 8, 4 or 2 Ohms. It's a heavyweight too at 125lbs. The speakers looked way over the top for my liking in the form of McIntosh's XRT 1.1K that feature no less than 70 drivers in their line-array. However, I was thrilled by their sound and commented on its feeling of power and imaging.
Room correction was used in the room with the routing being DAC to Pre to room correction to amp via USB.
Cambridge Audio
This is the Alva TT which is a direct drive model with direct drive and APTX Bluetooth to allow it to stream to suitably equipped electronics. The amp is a CX A61 delivering 60W a channel and costing $999 and having an inbuilt DAC and, of course, APTX Bluetooth receiver. Speakers were Q Acoustics and the whole set up comes in at less than $5000 which strikes me as excellent value for money given the sound and the convenience. Look, I know I bang on about this all the time, but not everyone wants a dozen or more boxes of electronics to enjoy their music, and not everyone has a king's ransom to buy the kit. The rack is by British manufacturer HiFi Racks.
Through and into the ante-room and we had more Cambridge Audio and Q Acoustics only a level up the food chain.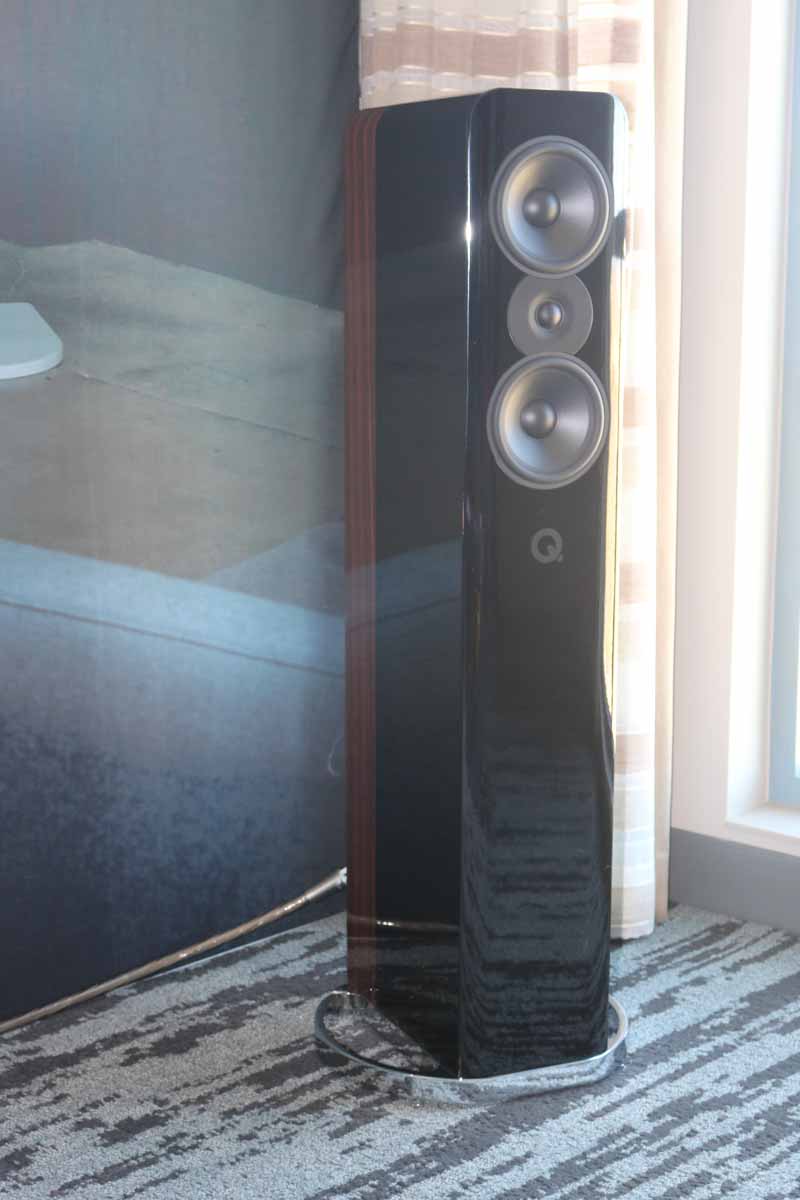 Bowers and Wilkins, VPI, Moon, AudioQuest, and Classe
This was a lovely chilled sounding room that represented one of Listen Up's many rooms at Rocky Mountain Audio Fest. The turntable from VPI was using the wonderful AudioTechnica ART1000 cartridge into a Moon phonostage and with AudioQuest cables throughout. The elephant in the room was the Classe Electronics Sigma 2200i integrated amplifier which originally cost $5000 but is available now for $2000, which I reckon to be an absolute steal. It allows for USB and network streaming, has HDMI switching and bass management and kicks out a healthy 200Watts a channel which the B & W and Focal speakers sucked up.
Hegal and Sonus Faber
Again this was a Listen Up room but this time featuring a piar of Sonus Faber standmounters and Hegal electronics. Nice sounding and great to see Hegal back on the world stage again.
Bowers And Wilkins
What does $4K (or €4K) get you these days? Well it will get you a pair of these beauties we found in another Listen Up room; they are the Bowers and Wilkins Formation Duo loudspeaker. These are a wireless speaker offering 96/24 resolution, an app for Android and iOS for easy set up, a carbon dome tweeter from the 700 series and synchronisation with other Formation products. Now this is not everyone's idea of high-end audio, but I reckon this system sounded great and looked even better. More proof that audio doesn't have to take over a room for it to sound great.
NAD and Dali
More from Listen Up with the NAD M10. The M10 is a BluOS Streaming Amplifier with HybridDigital nCore Amplifier boards to deliver 100W into 8/4 Ohms and with an onboard 32-BIT/384kHz ESS Sabre DAC and 1GHz ARM® CORTEX A9. Processor. It features Dirac Live room correction supports pretty much every streaming service known to man including the latest Amazon HD. You get a colour TFT display and it supports Amazon Alexa Voice Control Skills and AirPlay 2 Integration. There's two-way Qualcomm aptX HD Bluetooth and NFC Bluetooth pairing for compatible smart devices. It is BluOS multi-room compatible, has HDMI eARC and USB Type A Inputs plus stereo line Inputs and Coax/Optical Inputs. It can output to subwoofers and comes with an app for Android and iOS. Price is a very reasonable €2990, though many bundle deals with speakers are available at discounted prices. Again, proof you don't need a thousand and one boxes for great sound in the home.
ProJect and Sonus faber
More from Listen Up with ProJect and Sonus Faber. The turntable is the ProJect RPM 10 Carbon with a Sumiko Staling MC cartridge attached and going into a fully balanced Phono Box RS with a battery power supply. The interesting product in this room was the CD transport which is based around a wholly new and specially produced CD transport that sports a magnetised stabiliser. Mono amps and a linear PSU completed the line-up and it was a nice sounding room.
The speakers are the Sonus faber Olympica Nova that were launched at Rocky Mountain Audio Fest and which you can read more about here when we attended the launch event.
Technics
I make no secret or excuses for my love of Technics, particularly the 1200 series turntables – we have one of the 1200Gs sitting in our mid-priced system right now. I've owned a good few of their turntables in the pas and in varying degrees of moddedness, from bog-standard to fully fettled, I have had them all. This, however, is the SL1500 C turntable which comes in at just $1199 and features speed change for 33, 45 and 78, has a built-in phono-pre that can be bypassed and comes with an Ortofon Red cartridge. Personally I think this is a bit of a bargain for this turntable!
On the right of the rack you see the SLG 700 CD/SACD player costing $3000 and sporting an onboard DAC which will run tunes from your NAS or from online streaming services. It's got an internet tuner for those who listen to internet radio and comes with an iOS and Android app.
The amp on the day was the R1 Series amp and I honestly wouldn't have had this down as a Technics system; it really did sound excellent when they played Tom Jones' Autumn Leaves.
Moon and Bowers & Wilkins
Another Listen Up room and this time Moon by Sim Audio supplied the electronics whilst Bowers and Wilkins supplied the speakers in the form of the 800 D3s. I felt this was a reasonable-sounding room spoiled a little by an over-exuberant bass.
Mark Levinson and Revel Speakers
All this sounded good as you would expect with the 50101 transport/DAC coming with its own app. Needless to say, Made in the USA.
ELAC
ELAC had three systems playing at different times throughout the show and were playing The Civil Wars' version of Bille Jean when we popped in for a listen. System 1 was at the budget end of things with the Discovery DS-A101 streaming integrated amplifier ($750) and the Debut Reference DBR62 bookshelf speakers ($500) which seems very good value to me. System 2 ups the ante a little and used the Alchemy DDP-2 pre/DAC/streamer with a price of $2500, the Alchemy DPA-2 mono amps ($1500) and the Carina BS243.2speakers at $1200. All very nicely put together and good sounding.
Classé and Magico
The Classé Delta monos and Magico S5 speakers made a captivating partnership that was tight and dynamic. Driver-wise you get a 1 x 1″ (2.54cm) Diamond Coated Beryllium dome tweeter, 1 x 6″ (15.24cm) Graphene Nano-Tec Cone Midrange and 2 x 10″ (25.4cm) Bass Aluminum cones. Canadian brand Classé's recently launched Delta monos cost around $10K each and are good for 300Watts of which 30 is in Class A.
Marantz and Polk
I spent a long time in this room as it just sounded so good to the point where I forgot to take notes other than to say that these speakers from Polk certainly didn't sound like a $6K pair of speakers. They were refined and powerful and when you sat in the sweet spot the image was astounding. I had to be dragged away from this room by Linette…
Mactone, Trenner and Friedl, and ClearAudio
Mactone have been making tube amps since 1964 and at Rocky Mountain Audio fest they were partnered with the excellent Trenner and Friedl Osiris speakers. The ClearAudio turntable sported a Hana cartridge and the whole lot sounded smooth and relaxed. Definitely a system I could live with.
Kanto And TUK
Just to prove that not everything at Rocky Mountain Audio Fest was either esoteric or high-end, here we have a range of powered speakers that sound pretty good for the money and come with USB, optical, RCA and phono inputs for not a lot of money. The peach of the crop was the TUK with the ribbon tweeter and an open and airy presentation.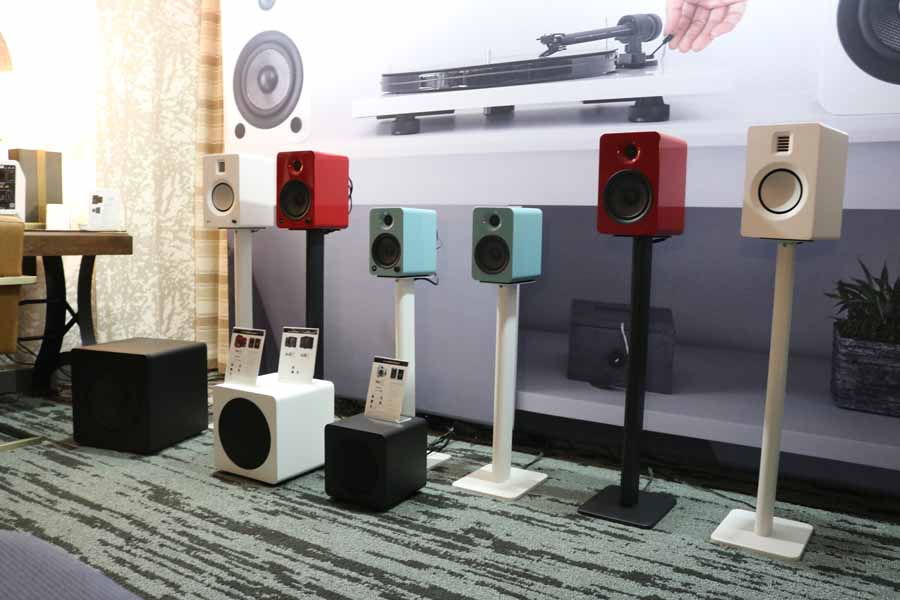 Xact Audio
Commonwealth electronics idler drive turntable ($19500) with the Reed 3P tonearm ($5900) and Lyra Etna cartridge ($8900) made up the analogue part of this sweet-sounding room. The analogue front end was helped along by the CH Precision I1 integrated amp with internal phonostage and DAC. The speakers are the Rockport Technologies Atria II ($26500) and Nordost cables were used throughout.
Vinnie Rossi, Innuos and QLN
Well Pleased Av's room was certainly one I'd been looking forward to having a listen to given it promised the new 300B integrated from Vinnie Rossi AND the terrific Innuos streamers we know very well.
Vinnie Rossi's latest Class-A integrated is the L2i that features an "ultra-wide" bandwidth directly heated triode (DHT) preamplifier design, compatible with: 2A3, 45, 300B, PX4, 101D, 205D, and SV811 DHT families with one-switch filament voltage selection. It uses a dual-mono layout using multiple patented Belleson super regulators for voltage regulation of the triodes, and the (optional) L2 DAC and L2 Phonostage modules. The amp has a discrete, 64-step resistor ladder volume control using Pickering England silent signal relays true active balanced (XLR) and single-ended (RCA) line-level inputs and preamplifier outputs. There is internal "DHT bypass mode" switches which replace DHT stage with a Class-A JFET stage and it comes with EH300B Gold-Grid (matched pair). You can control it all from the full-function aluminium remote control handset. Needless to say it's made in the USA and sounded stunning with a very open sound that I noted was organic and yet very precise. Whatever the words, I really enjoyed this room and would love to hear this amp in our main system.
The Innuos Statement we have heard several times in the past and it is a very, very good streaming solution  – they also do a damned good demonstration…more of which in a short while.
Speakers were by Ohm.

KLH Speakers
KLH speakers are a completely unknown entity to me but I'm so pleased I popped into this room because it showed me yet again that you don't need to spend mega-bucks on speakers to get a good sound. The flagship floorstanders are the Kendalls whilst the standmounts are the Albanny's. Price is a jaw-dropping $1298 for the floorstanders and $478 for the standmounts. Yep, they are the correct prices. For the money this was a lovely sounding room.
Rega, Fyne, Bryston, Kii Audio, The Chord Company, and ProAc
This was another room I was really looking forward to and being in one of the large suites really made this room stand out for me. Sound Organisation, the US distributors and based in Texas, had all their current brands on show but I was treated to a few minutes with the Fyne loudspeakers which were making their debut in the Sates with their distributor.
I really do like the Fyne sound; it is refined and even at the low levels I was listening at the detail just shone through. The finish on the speakers is also absolutely beautiful. The speakers are made in Scotland and the Fyne team have a great pedigree in designing loudspeakers and this really does show with their products. We wish The Sound Organisation all the best with this new brand to the States.
Haniwa
I first came across Haniwa in a small booth at the Munich show last year and was blown away by the sound of their system which is designed to be bought as a whole.
For Rocky Mountain Audio Fest Haniwa's new analogue front end "current loop" system made up the vinyl replay system. It uses the worlds lowest impedance HCTR01 CO (Current Output) MC cartridge (0.2 ohm) with ThePlayer turntable and Haniwa's HEQ-AO3 CI (Current Input) phono stage.  Total loop impedance is 0.4 ohms. Haniwa says that the low impedance "dramatically reduces phase shift so timing is excellent".  A Waveform Recovery Circuit (WRC) increases signal to noise ratio to 10 dB higher than most systems so the system is designed to be very articulate, fast and accurate.
Also in the room was the amp/speaker combination which features full range single driver speakers with matching integrated amp with DSP.  Analogue front end cost with cartridge, turntable, tonearm and phono stage is $33K.  Integrated amp and speakers is $25K.  This really is a massive sound for a system sporting such small (satellite) speakers and like at Munich I was looking for the sub. Imaging is, as you would expect, phenomenal with this system.
Sweet Vinyl
When we reviewed the Sweet Vinyl Sugarcube SC-1 we awarded it our highest award (Outstanding Product) saying that it was "Priceless if you value listening to your records without the interruption of pops and clicks." That is what the Sweet vinyl kit does, removes the pops and the clicks from your vinyl but doesn't leave it sounding at all digital…it's actually uncanny in its effect. now the company have added the SC2 at $3800 which now adds the possibility to record your vinyl along with adding metadata etc. the demonstration of the Mini line of products was very impressive with the rep switching the units on and off with no perceptible difference in sound other than an absence of clicks and pops.
Gated Hifi 
Gated Hifi had a couple of rooms with the first having a system made up of Aavik, Ansus and Borrensen which I mentioned earlier in a different room. The second room featured Naim and Kudos and was fantastic.

Nola Loudspeakers and Valve Amplification Company
Here was a bit of an eye-opener for me as I'd read about the Nola Concert Grand Reference Gold 2 speakers when we carried news about them just prior to Rocky Mountain Audio Fest. I really wasnt' expecting to like these speakers at all and though they would be overblown and over the top. The Concert Grand Reference Gold 2 is part of Nola's Gold Collection series of floorstanding loudspeakers. The loudspeaker employs a unique 12-inch-long true ribbon tweeter, which has been upgraded to deliver  lower distortion and greater clarity. High-frequency dispersion above 10 kHz is provided by the addition of a 2-inch true ribbon tweeter that extends the response of the speaker to 100 kHz.
The newly-designed 4-1/2-inch midrange drivers are housed in a line source open dipole array, a classic Nola configuration. The four midrange drivers utilize large Alnico ring magnets and solid copper, gold-plated phase plugs.
The speaker's four 4-1/2-inch magnesium-cone bass drivers have an ultralight 7 grams of moving mass each and also feature large Alnico ring magnets and solid copper, gold-plated phase plugs. The loudspeakers' 12-inch subwoofers are each housed in a separate chamber and deliver bass down to 18 Hz.
The Nola Concert Grand Reference Gold 2 loudspeakers are available in mirror-imaged pairs and use Nola's Unison crossover technology that mounts the components on separate, isolated boards. Premium wiring and components are used throughout. Each loudspeaker is mounted on a ball-bearing double isolation base to eliminate unwanted floor-borne resonances. They cost $250K but I really did enjoy their sound and my preconceptions went out of the window. I loved them.
Partnering kit was the VAC Statement 450S IQ amplifier (($63K), the VAC Master Line Stage (($28K), the VAC DAC MK II ($12K) and the transport was an ARC Ref CD8 ($10K). Cables throughout were Nordost Odin 2.

Innuos and YG Acoustics
It was getting towards the end of the day and the Innuos guys were mid-demonstration with Jason from Stereophile. This is a great demonstration team that never fails to please and astound me with the improvements they clearly show to be there when moving up the already great sounding ladder.
The new Innuos PhoenixUSB was making its debut at Rocky Mountain Audio Fest and offers users in one unit the equivalent of three separate components: A USB regenerator, a linear power supply and an external master clock with its own linear power supply for $3150
Innuos applied three main design approaches learning from their experience with the Innuos flagship music server, the STATEMENT:
The USB chip regenerating the signal contains no switching regulators. All 3 independent voltages to the chip originate from an independent linear power supply with further regulation provided by 3 sets of LT3045 regulators.
The use of a 3ppb OCXO clock running directly at 24MHz and connected via a board track just a couple of inches away from the USB chip. Therefore, no precision is lost within cables and connectors, as is the case when using an external master 10MHz clock with an additional 24MHz clock generator.
Two independent Statement-level linear power supplies, one dedicated to the OCXO clock and the other used for powering the USB chip/5V USB line
If you own Innuos kit already then I would suggest the Phoenix is a no-brainer upgrade and would certainly be on my "must buy together" list. I'd say its effect is to add more space to the sound along with more detail.
The full system sounded great and included:
Innuos STATEMENT*
Innuos ZENith Mk3* and NEW Innuos PhoenixUSB Reclocker
YG Acoustics – Vantage™ Speakers
Boulder Amplifiers – 1161 Stereo Power Amplifier
Ayre Acoustics – QX-5 Twenty Dac
Audioquest – Cables and Power Conditioner
GIK Acoustics – Impression Series Acoustic Panels and Bass Traps
SGR – High End Model V, Symphony HiFi Rack
Joseph Audio, J Sikora, Cardas, Aurender and Doshi
This was a room I was really looking forward to as every time I've heard Joesph Audio loudspeakers I have been very impressed with the music they play and Rocky Mountain was no exception – Linette pulled this room out as one of her favourites too. As well as the J Sikora arms and turntables the room contained Joseph Audio loudspeakers, Doshi Audio electronics, Cardas Audio cables, Mudulum Racks, Berkeley Reference 3 DAC, Aurender's brand new W20SE $22k server and Artnovion Acoustic Panels.
What is there to say about this system other than it just oozed quality with my notes saying it was powerful and yet refined with great extension into the low end but without being overblown – that'll be detail, air and tightness which pretty much do it for me every time.
CAD, Aesthetix and Boenicke
As always it was great to meet up with the guys from Computer Audio Design and their room is always excellent sounding – Rocky Mountain Audio Fest was no exception. Their 1543 MKII DAC was nominated best DAC of the show as were their ground control boxes in the AC distributors category.
The big news for me was their new GC-R box weighing in at 50Kg and actually used as an Earth in Japan Scott was keen to tell us. Price on the polished Krion cased GC-R is $21500.
Here is what CAD themselves say about the Grounding boxes "The Ground Control contains a mixture of materials that converts high-frequency energy into heat. Our research has found that to achieve the best sound quality the GC1, GC3 & GC-R needed to be effective over a large frequency range. This was not easy to accomplish! The CAD Ground Controls will substantially reduce noise from very high KHz range up to over 10 GHz."
Salk Sound and Schiit
Salk Sound was a new name to me but were making a fabulous sound with Schiit electronics at the show. The bigger speakers are the SS 9.5. The SS 9.5 use the Satori Be tweeter and a custom Audio Technology midrange from the Song3 BeAT speakers. In addition, there is a Satori 9.5 inch woofer from the Song3 Encore and they are finished off with dual passive radiators and an open back midrange from the SS8. The passive radiators (two per cabinet) are designed to do away with ports and the associated noise generated by them. Certainly a very nice sounding speaker and system as a whole.
Audio Den
This was one of the very last rooms we went in and the big news as far as I was concerned was the Thrax Ares modular audiophile system. Basically for $11400 you get a fully loaded integrated that you just need to add speakers to – a DAC module can be added for an extra $2000. There is an onboard phonostage for both MM and MC cartridges, plus you get a digital input board. The DAC board is multi-bit R2R module developed for the Thrax Maximinus DAC.
Sanders Sound Systems
Another wholly new name to me but making a beautifully detailed noise here at Rocky Mountain Audio Show. The speakers are the Model 10 electrostatics along with Magtech amplifiers from the company. The speakers are made in Colorado and cost $17K including amplifier and a digital loudspeaker system with the latter replacing passive crossovers in the system as Roger Sanders, the owner of the company, believes them to be "seriously flawed". This actually seems to be a lot of music and kit for the asking price. Be very nice to see these make their way to European shores in the near future.
Lumin and Vivid
Lumin and Vivid are two names that really need no introduction and at Rocky Mountain we were given a tight and precise performance that was incredibly detailed too. I've not always been a huge fan of the Gaia speakers when I have heard them previously but here they really did sing powered by the Lumin AMP.
PS Audio
First of all our apologies to the guys at PS Audio, every time we went to take a listen to the room we were greeted by a packed room that we just could not get into. This is clearly a sign of the high regard that this Colorado company is held in by music lovers.
The demo system will feature the final pre-production prototypes of the PS Audio AN3 speakers. The configuration and driver complement of the AN3 has been completely revised from the prototype shown at Axpona earlier this year. In the latest iteration, all drivers, crossovers, DSP, crossover, and amplification were designed by Chris Brunhaver, Senior Loudspeaker Design Engineer at PS, and are custom-built exclusively for PS.
The AN3 features coaxial planar magnetic midrange and tweeter drivers, bespoke midbass coupler and woofer/subwoofer drivers with massive magnet assemblies and inert cone assemblies, with the subwoofer driven by a built-in 700-watt amplifier. Their own DSP program aids installation in any room. The cabinet has been divided into two assemblies (mid/tweeter and midbass/sub-bass/amp/DSP) for ease of shipping and assembly. MSRP of the AN3 has yet to be determined but expected to be in the $15-20k range.
The AN series is based upon the work of PS Audio's friend and mentor Arnie Nudell, and will eventually include 3 models. The AN3 will be the smallest and least expensive, followed by the AN2 and AN1. The AN1 will be a massive line-source loudspeaker designed as the ultimate expression of Arnie's work, and a fitting replacement for and successor to the Infinity IRS Vs. There will also be three models of Stellar loudspeakers, designed to emulate the sound quality of the AN series, at lower price-points.
Here's the complete system:
Paul McGowan's hand-tweaked Mac Mini as digital source
PS Audio DirectStream DAC (US MSRP $5999)
PS Audio Stellar Phono Preamp (US MSRP $2499)
PS Audio BHK Signature Preamplifier  (US MSRP $5999)
PS Audio BHK Signature 300 Mono Amplifiers, x 2 (US MSRP $7499 each)
PS Audio P20 Power Plant Regenerators x 2 (US MSRP $9999 each)
PS Audio P15 Power Plant Regenerator (US MSRP $7499)
PS Audio AN3 loudspeakers (Final pre-production prototypes, US MSRP TBD)
VPi HW-40 turntable (US MSRP $14,999)
Miscellaneous PS Audio Power cords
A variety of other PS Audio gear will be on static display:
Sprout100 integrated amplifier(US MSRP $599)
DirectStream DAC (US MSRP $5999)
Stellar Gain Cell DAC/preamplifier (US MSRP $1699)
Stellar Phono Preamp (US MSRP $2499)
Stellar M700 mono amplifiers (US MSRP $2998/pair)
BHK Signature Preamplifier (US MSRP $5999)
BHK Signature 250 Stereo Amplifier (US MSRP $7499)
Stellar P3 PowerPlant (US MSRP $2199)
P12 PowerPlant regenerator (US MSRP $4999)
P15 PowerPlant regenerator (US MSRP $7499)
P20 PowerPlant regenerator (US MSRP $9999)
Obsidian Ted Smith Signature DAC (Prototype, US MSRP TBD)
AN3 loudspeaker (Final pre-production prototype, US MSRP TBD)
And so that was it for our first visit to Rocky Mountain Audio Show. Our sincere thanks to everyone who made us feel so welcome, and of course we will be back in future years.
More of our coverage from RMAF 2019 can be found here:
As an aside Linette and I were asked to co-host a seminar featuring the music we would really love to hear at Hifi shows. We were, needless to say, a little nervous but I think we did ok for Rocky Rookies.