Roksan Audio announce the latest addition to their Kandy K3 series of hi-fi electronics – the K3 CD Di joins the range as a combination CD Player and Digital-Analogue Converter (DAC), opening up a K3 system to more music sources than ever before.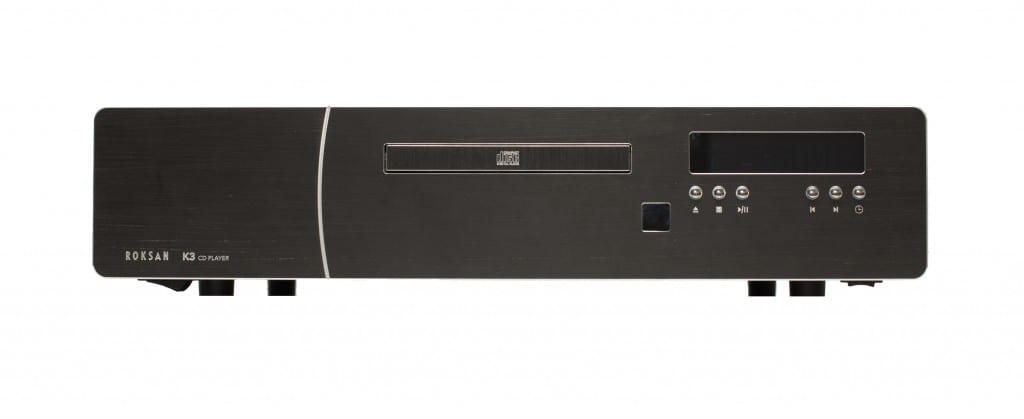 The idea behind the CD Di is to provide audio enthusiasts with a high-quality digital source that will not only play an existing CD library, but will also host an array of other digital sources as one audiophile 'hub'. By incorporating both the CD player and the DAC into one box, users can both save space by avoiding the need for extra boxes and guarantee consistent audio performance across all digital platforms.
The CD section of the CD Di is based on the established K3 CD (which will remain in the range as a stand-alone CD player).
The DAC section of the CD Di features both optical and coaxial digital inputs that are capable of handling data streams up to 24-bit/192kHz, so a variety of alternative digital players can also be connected to it. The digital inputs are selectable via the use of a three position rocker switch underneath the unit.
Aesthetically the CD Di perfectly matches the rest of the K3 series, except for the inclusion of a bi- coloured LED that sits underneath the front plate. The LED illuminates to highlight which digital source the unit is currently set to (Coaxial = White LED, Optical = Blue LED).
The K3 CD Di brings all your digital music into one place, delivering one consistent, highly-regarded sound performance to your hi-fi system. With a variety of input and output options to utilise, it expands the capabilities of K3 further than ever before. 

Technical Information
Operating System:   CD Digital Audio System (CD, CD‐R, CD-RW)
Frequency Response:   20Hz – 20kHz (± 0.2dB)
Harmonic Distortion:   <0.002% @ 0dB, 1kHz
<0.006% @ -30dB, 1kHz
<0.002% @ 0dB, 20Hz
<0.008% @ 0dB, 20kHz
Intermodulation Distortion:   <0.0015% @ 0dB S/N Ratio (IHF-A Wtd.):   <96dB L&R
Wow & Flutter:   Quartz Precision
Channel Separation:   100dB @ 1kHz 80dB @ 20kHz
Output Voltage:   2.2V rms
Digital Inputs:   1 x 75Ω Coaxial (RCA) 1 x Optical (Toslink)
Digital Outputs:   1 x 75Ω Coaxial (RCA), 1 x 110Ω Balanced AES/EBU (XLR), 1 x Optical (Toslink)
D/A Conversion:   PCM1730E Advance Segment, Audio‐Stereo DAC
Resolution / Sampling:   24 bit / 192kHz
Oscillation:   3rd Overtone Oscillation
Crystal:   Super Precision, Custom Made
Jitter:   <150psec
Idle Pattern:   <‐107dB
L&R Stop‐Band Rejection:   <‐98dB
Power Supply:   High Performance Toroidal Transformer 7 Fully Regulated Power Rails
Power Consumption:   <15W
Dimensions (W x H x D): 432 x 380 x 105mm (Incl. Feet)
SRP £1,300.00