Roksan's latest BLAK range of equipment has high-end aspirations say the UK based company. Dominic Marsh sees if this claim stands up to scrutiny when he test drives the BLAK CD and BLAK amplifier costing £2490 and £2759 respectively. 
Roksan is a name that should be familiar to most of you reading this, but how many of you have put any of their products on their auditioning shortlist I wonder?
Roksan really have upped their game of late with these particular products under evaluation and indeed the K3 standalone DAC I also reviewed recently for Hifi Pig.  The K3 DAC simply astounded me when I first heard it and that was fresh out of the box, which then improved after some running hours had been put on it, similarly so with their K2 TR-5 speakers which have also had a major revamp and re-launched as the "S2" model.  If that wasn't surprise enough, the next on the list is this Blak pairing of amplifier and CD player.
The Blak pair here are Roksan's new flagship products and sit at the top of their range which the company says has the highend market firmly in its sights.  High ambitions then and with a claim like that you would expect a commensurate price tag to match, although the amplifier retails at £2,750.00, while the CD player retails at £2,499.00.
CONSTRUCTION
BLAK AMPLIFIER
The dimensions are a stockier offering than other amplifiers in the Roksan ranges, being somewhat taller.  The review sample was finished in a dark charcoal colour, and what appears to be a "brushing" effect on the surface so it isn't solid colour and in some lights it looks almost like wood grain when seen close up. Other colour choices are available, namely "Opium" and "Anthracite".  The chassis itself is made from pressed steel and finished in black, while the front fascia plate is made from 8mm alloy and the outer edge thickness is left as bare metal.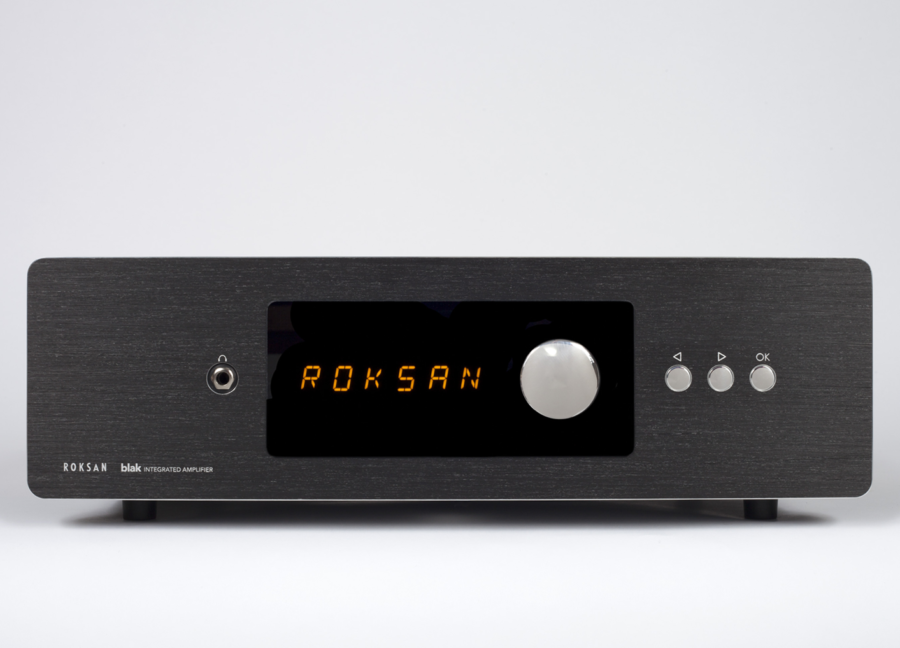 Front panel layout is the epitome of minimalism, with a chrome bezel quarter inch headphone socket, then a large Perspex central window which indicates (by a large LED display) which source has been selected, then a neat ring of round dot shaped LEDs which illuminate as the volume control is adjusted, so you can see even at a quick glance what the volume level is set at.  The large volume control has a chrome finish which at one time was almost a hallmark of earlier Roksan products.  Unless you are facing dead square on to the amplifier, then the knob itself obscures some of the LED indicator ring because the knob is quite deep.  I sit to the left of my rack and didn't advance the volume control beyond the 12 o'clock position so I was always able see how many of the ring LEDs were lit.
To the right of the Perspex panel are three chromed buttons that have a left arrowhead symbol and a right arrowhead symbol, then another button in the set which is labelled "OK".  The left and right arrowed buttons select the required source and the "OK" button is pressed to confirm the choice made.  These three button also double up for setting the brightness of the LED display by holding down the "OK" button and using the arrowed keys to set the display brightness level.
Sources available are PHONO (Moving magnet), DAC (USB only), XLR balanced connection, BT (Bluetooth), Line level 1, 2 and 3, with the commensurate connectors found on the rear panel.
Bluetooth pairing was very simple and fuss-free.  There is a DAC section on board, but only via a USB "B" type of connection to it.
OK, so where the heck is the ON/OFF power switch I hear you ask?  Roksan have taken to locating them under the main chassis on the front far left just behind the front panel, which is infinitely better than on the rear panel as some manufacturers have taken to doing (much to my own annoyance) and the benefits of that is little fingers belonging to little people (polite way of saying "children") shouldn't be able to switch anything on while those same mischievous little fingers do some exploring of what that big shiny knob does when you might not be looking.  The rocker switch is orientated from left to right on the chassis and quite a few times when I went to switch the amp (and CD player too for that matter) off and the rising arm of the rocker switch caught the underside of my finger and switched it on/off in quick succession, even though I don't have large hands and fingers.  I perfected the technique of using my little finger for this operation and I don't recall having this issue with any of the K3 components.   If the switch orientation was changed to fore and aft on the chassis, or bigger feet fitted to raise the chassis a soupcon higher then of course that would give more space to perform this operation.
Hiding behind the front panel to the front centre of the underside is yet another rocker switch with a white rocker.  This is a special switch engaged when listening with headphones via the front panel socket.  Instead of the connecting plug contacting an internal switch within the socket that disconnects the speaker outputs, this separate rocker switch engages a dedicated headphone amplifier and shuts down the main power amplifiers, allowing those power resources saved to be focused on the headphone amplifier instead, which Roksan say enhances the listening experience via headphones.
The amplifier does get warm to the touch, but not excessively so and a hand can be comfortably rested on it without any harm.  For that reason plenty of space should be allowed when housing the amplifier in a rack to maintain an adequate air flow for cooling.
SPECIFICATIONS – AMPLIFIER
Inputs:
3 x RCA line inputs
1 x Pair analogue XLR inputs
MM phono input
aptX Bluetooth input
USB Type B
Phono MM Input
Gain:
76.75dB @ 1kHz
Input Impedance:
47kΩ, 150pF
Line & XLR Inputs
Input Impedance:
XLR: 24kΩ
RCA: 40kΩ
Gain:
@1kHz, 37dB
THD (@1W):
5kHz less than 0.02%
THD(@12W):
5kHz less than 0.035%
Power Output:
8Ω: 150W
4Ω: 230W
Frequency Response:
20Hz – 80kHz  @-3dB, 12W
Channel Balance:
>0.3dB
Cross Talk:
<-104dB
S/N Ratio:
> 76dB
Dimensions:
Face Plate Width: 440mm
Body Width: 400mm
Height: 140mm
Depth: 305mm
BLAK CD PLAYER
Not unnaturally, the physical dimensions of the CD player matches the BLAK amplifier and it similarly has a large central LED display panel which shows basic information like track selection and playing time, both elapsed and remaining.  Like the amplifier, the display is dimmable but seems to take a short while longer to respond to the setup buttons being pressed.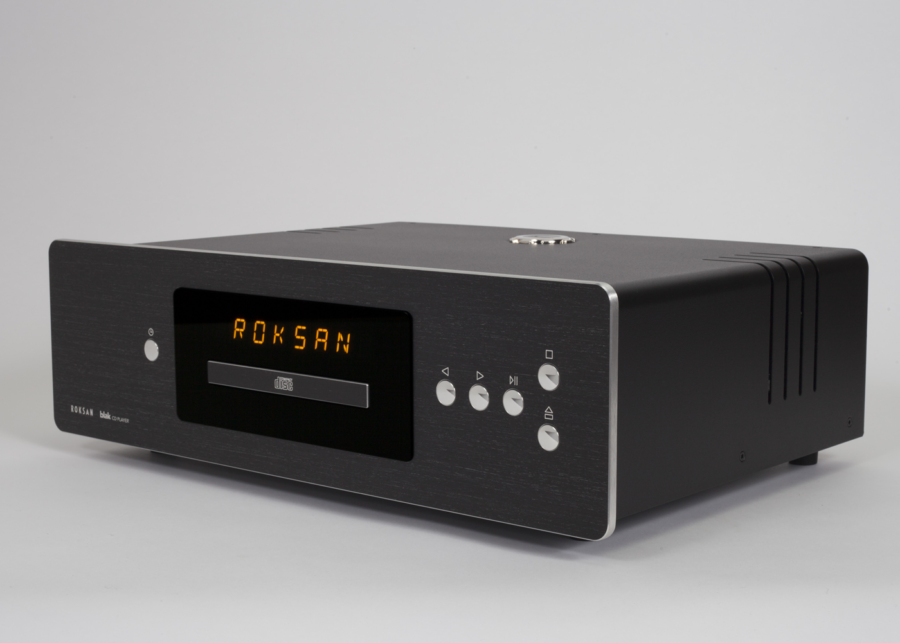 The slim line CD drawer is located within the Perspex display panel and is pretty quick in operation and seek time is also very quick.
The rear panel has 3 types of digital output; AES/EBU XLR, RCA  SPDIF and a TOSLINK connection.
To match the amplifier's balanced input, we have a pair of XLR balanced output connections.
SPECIFICATIONS – CD PLAYER
Outputs:
Optical
Coaxial
XLR
RCA
Peak Output:
2.5V
THD:
< 0.001%
Linearity:
> 89dB
Jitter:
< 135ps
S/N Ratio:
> 108dB
Stop Band Rejection:
> 100dB
Dimensions:
Face Plate Width: 440mm
Body Width: 400mm
Height: 140mm
Depth: 305mm
SOUND QUALITY
The amplifier was the first to be delivered to me and the CD player followed shortly afterwards, so I did get the chance to listen to the amplifier on its own using my resident CD player as source.  I was immediately struck at how effortless the amplifier sounded, even with the volume cranked right up and it never once blared at me, nor did it muddle any of the details no matter how complex the music was.
No matter what genre of music I threw at this pair, they never once became wrong footed or confused, they just played it like it is with a rock solid steady and consistent power which wasn't brutish or overpowering by any means.  In fact, you could listen for hour after hour and never be fatigued by the sound and some might interpret that by thinking they were dull, boring and perhaps a shade lacklustre, but not so, there was more than enough excitement to keep you enthralled and before you realised it the clock had advanced way past your regular bed time.
I did try the amplifier through its Bluetooth and USB connections, more from curiosity than an innate desire to spend any amount of time listening through these portals.  The Bluetooth connection to my mobile phone was quick and simple to master, the sound quality was pretty good too, much better than I expected.  The USB connection was superb in sound quality, well as good as my generic USB cable would allow and one day I will invest in a boutique USB cable, having heard what they bring in sound quality gains.  I tried both the single ended RCA inputs and of course the balanced XLR inputs which sounded clearer and more dynamic.
Bass timing was absolutely on the button, power and depth impressive, but with complete control and authority I have seldom heard from other amplifiers. The top end impressed in a similar vein and that was evidenced when I connected up my 'horror' speakers that show any deficiencies in that region very clearly indeed. The Mordaunt Short MS20 Pearl Edition speakers I have are armed with metal dome tweeters that are totally ruthless and unforgiving when it comes to high treble energy and it takes very little to provoke them into harshness and brightness so I have a private shudder to myself whenever I introduce them into an evaluation session. The Roksan BLAK pair formed an instant sweet partnership with the Mordaunt Shorts and it was a marriage I could easily live with full time because from top to bottom of the audible sound palette it was a rare pleasure to listen to without any fatigue and I am none too sure if the 'horror' epithet is too well deserved for these speakers.
Next to be connected up was Roksan's own K2 TR-5 speakers which I have here on loan following my earlier review for Hifi Pig. In isolation when I carried out that review on these speakers I could get a very good performance from them when introduced into my resident system, good enough to merit a recommendation from me, but it wasn't until they were paired with the BLAK components that I realised that Roksan had not unnaturally voiced the speakers with components from their own stable. What was a "good performance" beforehand turned into something much, much more on the end of the BLAK pair. The treble was so much sweeter and better delivered, imaging acquired true depth and space, while the bass not only was more powerful it also turned bass into delineated shaping and texture with a crisply defined beginning, middle and end to each bass note.
The acid test for me is how well this pair stand up to my intimate knowledge of Fink's "Wheels Beneath My Feet" live album. The intro strikes on the ride cymbal the drummer plays on track one called "Biscuits For Breakfast" is so convincing and just so realistic, as is the pounding kick drum that features throughout the entire album. Interestingly enough, the benchmark for true high fidelity for me personally is how almost tangible and very much lifelike how the rim shots sound on the snare drum.
This CD has been recorded in different venues throughout Europe during one of Fink's many tours so the venue ambience is different for each location and the BLAK amplifier homes in on this like a laser guided Cruise missile and missing none of it.  Each audience reacts differently too and this is one of the very few amplifiers I have installed into my system that really does make you feel you are sat in amongst the audience. No "shooshing" sounds like bacon frying in a pan during the applause, each audience member is an individual, clapping, whistling, cheering and cat calling enthusiastically all around you.
You can actually hear each individual string of the guitar playing during chords and riffs, you can even tell what the string is made from and what it was plucked with (Plectrum or fingers) from Fink's acoustic guitar playing and it felt rather smug to say "metal" and "plectrum" while the music was playing. When we talk about this level of fine detail, it might be crossing your mind reading this review that this amplifier is a bit explicit or somehow spot lit in its treble and midrange resolution, but be assured it isn't, as you can listen to this amplifier for hour after hour and it never fatigues, despite the high quantity of fine details and nuances it is feeding you. If it did, I would have no hesitation at all in saying so.
Of course if the track "Sort of Revolution" hasn't got my toe tapping or in extreme cases joining in with the audience in clapping in time with the kick drum, then perhaps something is amiss, because it has that enthusiastic compelling energy inherent in the recording that only music Philistines can ignore. Fear not dear readers, Dominic's toe was in tapping aplenty here.
CONCLUSION
I think the real attraction of being a hifi reviewer is being pleasantly surprised from time to time when you get sent a component (or components), that really does kick your established preconceptions aside.  I wasn't expecting this level of performance within this price bracket and Roksan have certainly upped the ante in the direction they are heading. I was told by Roksan that they spent an inordinate amount of time in voicing the BLAK amplifier and CD player pair and I believe that implicitly, because I heard for myself how well they have achieved that.  It is certainly aimed at the higher end of the market for sure and the closest amplifier I have heard is Aaron's "The Chrome One" (Also reviewed in Hifi Pig) which costs three times as much.
The BLAK CD player is a very competent great sounding component and I have no quibbles with it at all.
The only downside for me was the amplifier not having the DAC being more multi-functional beyond having just the sole USB input connection, but having said that Roksan's new K3 DAC is truly superb at only £1,250.00 and would be a wise investment that matches the BLAK pair visually and on a a par sonically.  Even so, for £2,795.00 you are getting one heck of an amplifier for your money with a balanced input, an inbuilt phono stage and Bluetooth connectivity too, not to mention a sound you probably might adore as much as I did, which is why I give it a hearty recommendation.
Build Quality:  Minimalist layout on both amplifier and CD player has a sublime elegance to it.  
Sound Quality:  Very difficult to fault.
Value For Money: This pairing isn't cheap, but I reckon you will be in no hurry to upgrade. 
Pros: 
Understated design 
Sublime performance
Fatigue-free, yet detailed listening
Great value
Cons:
Mains switches are fiddly where they are located
USB input only for amps DAC
Price: 
CD Player £2490
Amplifier £2 759
Dominic Marsh