Lets face it, the archetypal audiophile is a bit of a special breed with little or no regard for the aesthetic appearance of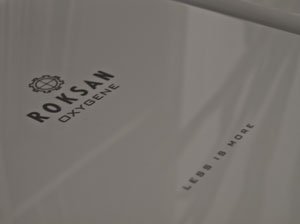 t their kit. OK, I'll rephrase that as it's a bit of a sweeping statement and I wouldn't want to seen to be tarring all audiophiles with the same brush – I don't tend to have any regard for how a bit of kit looks. How's that, does it ring any bells with others out there in hifi-land? My listening room, or the bit where the electronics are kept, is a bit of a hotchpotch of different brands and a medley of solid state, tubes, analogue and digital. There are wires all over the place and frankly it's a bit of a man-cave. It does get dusted and I do try and keep it all fairly tidy, but domestic God I will never be!
However, I know that not everyone is like this. Some people want great sound and they also want the kit to be unobtrusive and to look great. Enter Roksan with the Oxygene range!  

The range for the moment consists of the Oxygene integrated amplifier and the Oxygene CD player. They are available in black, silver and white.

A lot of new kit arrives here for review and opening the box kit comes in can sometimes be a bit of a let down. When you buy anything I believe that if you've spent a good deal of money on it then you need to experience that "Christmas Morning" effect – you wouldn't expect to spend several thousands of pounds on a watch and expect it to arrive in a brown paper bag would you! Most product comes well packed, some less so. Roksan have clearly gone to a great deal of trouble when thinking about the packaging for the Oxygene products. The boxes are well protected and the top layer of protective foam on each bit of kit has the distinctive Roksan "cog" logo cut out of it. Remove this and the actual unit is presented in a cotton drawstring bag. All very nice!

Now I'm sure many of you are thinking "Well so what? What does the packaging have to do with hifi?" Well in itself not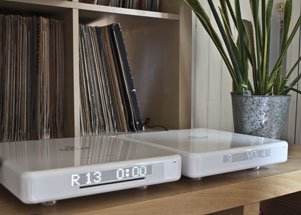 a great deal, but let's not forget that when spending a sum of money on a product first impressions are lasting ones. Let's also not forget that the Oxygene range is clearly intended to appeal to the more style conscious amongst us.

Lifting the units out of their bags you are presented with an unusual design. Rounded corners, gleaming white (in this case) finish and…errr, excuse me Roksan but you seem to have forgotten the buttons and knobs!

Each of the units is exactly 12" square and sat side by side on the AV unit they look very classy indeed. Ordinarily kit for review gets plonked on the usual rack in the electronics room but the Oxygene units' design (more of that in a moment) really does lend itself to them being placed side by side – in fact stacking them is a bit of an issue.

There are, as mentioned, no buttons or knobs on these and instead you are presented with "Less is More" on top of each of the cases beneath which touch sensors lay. On the amp you touch More for more volume and Less…well you get the idea. Touch the "is" and you can then scroll through the three traditional inputs and the Bluetooth input. On the CD player you touch the More and Less to scroll through the tracks and "is" to play or pause the machine and a lingering touch will eject the disc. All the touch sensitive buttons work flawlessly and respond very well to a slight touch – I hate the kind of touch sensitive things where they respond with the merest glide of the finger anywhere near them.
Both units have a dimmable and, it has to be said, really attractive matrix LED display on the front of them (you can turn them off too). This shows the basic information of what track number is playing on the player, which input is selected and of course the volume on the amplifier – anything more and it would be overkill. I'm very much of the Keep It Simple Stupid school of thought.

Along with the kit arrived what is perhaps the most elegant remote control I've ever had to play with. It's brushed aluminium of a nice weight with touch sensitive "buttons" from which you control all the things you'll need to control – volume up, volume down, pause, play, track up, track down, input selection and eject. Oh and you control the brightness of each of the units LED displays' brightness. Nice, simple and chic.

The Oxygene kit immediately attracted the attention of both Linette (Mrs Hifi Pig) and the teenagers and they are without doubt a very feminine piece of kit being stylish, modern, tactile and, well, not your traditional hifi look at all – very much of the i-generation! Their looks are going to divide opinion I'm well aware, but personally I like them a great deal. To a person, everyone that has come into the house has made a positive comment about them and asked what they were.    

Technical Stuff

Oxygene Amplifier

The Oxygene amplifier is a Class D amplifier using Hypex UCD 400modules to deliver 120 watts into 8 ohms . The amp is separated in to a dual mono design with two good sized transformers. On the back of the amp there are the three RCA inputs, a line out and a small Blutooth aerial. There are 16 channels for Bluetooth with the first 15 being for one device and the final being infinite. This means that anyone coming around to your place with a suitably equipped smartphone, ipod etc can play their tunes from their device. I'm not going to go too much into the Bluetooth side of things here other than to say connection was simple and speedy – the kids absolutely loved this feature and I'm all for kids using and getting into hifi, so if this facilitates that then all the better!

Oxygene CD Player

It's a front loader with an on board 24bit/192kHz built in DAC as well as coaxial and optical digital outs should you wish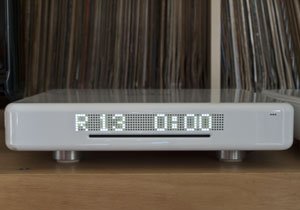 to use your own DAC. As we thought the main users of these would buy as a pair we never bothered connecting up to an external DAC.

Let's Have a Listen Then

I'm going to review the pairing as a whole as I believe that's how they will be used in by far the most situations. Reviewing was done using my hORN Mummy loudspeakers and a pair of Q Acoustics standmounts we have in for review.
There's a good deal of discussion about the relative merits of digital amplifiers out there in hifiland with some claiming that they will never represent true high-fidelity. I disagree! With the Oxygene kit I have two amps in for review using Hypex modules and it has to be said both sound very good indeed and certainly a significant positive jump from my previous experiences with digital amplifiers.
10 000 Maniacs "Our time in Eden" showed the Oxygene pairing delivering Natalie Merchants vocals very nicely with a good insight into her voice's tone. Piano too was natural sounding, fast and with no overhang on notes.
Hawkwind's "Warrior at the Edge of Time" had nice, clean and crisp hats with vocals being slightly forward in the mix.
Wolf and Flow's "Activate" offers up a healthy dose of modern house and here is where I think the Roksan kit really performed at its best – punchy in the top end with plenty of welly in the bass. Some kit can make this kind of music sound overdone and overblown, but here there was a very nice balance to the music. The stereo image is not as wide or high as with my Tellurium Q Iridium amp, but the Roksan amp costs about half what the Iridium costs and still manages to create a very good interpretation of the mix. Sounds are where they should be and stay fixed in place.
Gil Scott Heron and Brian Jackson's "Winter in America album is a good album to play to get a feel of what background "ambience" is being portrayed by the electronics as the recording has a lot of the sound of the studio it was recorded in present. Here you get a good feeling of the recording space but not as much as I've heard with some more expensive kit. The vocal, that at the very top end of the frequency scale can sound harsh on some systems, was smooth and again with good feeling of emotion in the voice.
That last sentence pretty much sums up the Roksan Oxygene duo – ever so slightly smoothed at higher frequencies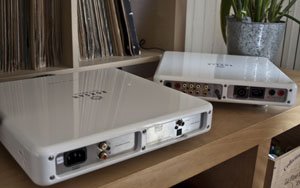 leading to an enjoyable and none-fatiguing listen. They are nicely balanced with nothing really overtaking the other frequency wise.

Conclusions

The Oxygene combo has been in place pretty much consistently since its arrival and when not put into service for listening to tunes the amp was used to play television and film through – indeed it will be sad to see them go. And this is a good deal of the point of the Oxygene range to my mind – people want something that sounds great, is plug and play, looks cool and can act as a hub for viewing and listening duties. The coupling tested here do this admirably and with the addition of the funky Bluetooth connectivity they make a smart and elegant solution for the modern listener.
Hardcore audiophiles, I'm sure, will scoff and claim that the modern looks are not in keeping with the myriad black and silver boxes that adorn their man cave, but that's missing the point a bit I think. Not everyone wants to go to the expense and hassle of dedicated racks, external DACs and what not. Roksan should be praised for daring to be different and creating what is essentially a lifestyle product that also delivers on sound quality too.
Prices in the UK are £3000 for the amplifier and £2800 for the CD player.

Stuart
 Why do people buy new stuff?
Really, aren't we better off buying second hand?  Better for the environment, better for your bank account.
Your new car depreciates the minute that you drive it out of the garage.  But people still buy new cars, why?

There is something about buying new, something that makes you feel special.
Going through the ritual of opening the packaging and absorbing that heavenly newness.  Sitting in the new car where nobody has sat before and breathing in the new car smell. Opening the cellophane wrap on a new CD, reading a book that has never been read before…..

This is where HiFi sometimes falls down.  You've just spent a few grand on a new amplifier, the reviews are great, you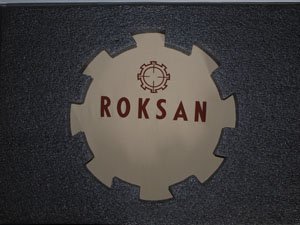 can't wait to hear it in your system……and it arrives in a plain brown box, packed (all be it very carefully) with polystyrene and the instructions are just on a bit of paper.
Although it doesn't kill the moment of New HiFi Arrival, it doesn't really add to the experience…..doesn't make you feel as special as you deserve.

This is where Roksan have got it spot on.

There is always an air of excitement at HiFi Pig Towers when we know that new kit is arriving. The new Oxygene Amp and CD arrived when it was a bit like Clapham junction with kit coming and going but we were still waiting with anticipation.

The boxes (brown) arrived. They were opened to reveal the lovely Roksan Oxygene cases that you would get them in if you bought them in a traditional shop rather than having them posted.

Then you open the box;  The foam inside has the Roksan logo cut out of it, you remove this and are presented with a fabric, drawstring bag, again branded with the Roksan logo……this is like being presented with a designer handbag or shoes.
Simple but very effective, classy touches that whisper quality, this is one of the best New Hifi Arrival moments we have had.
Everything is branded, everything feels and looks really stylish and high quality.

Then we take the amp and the CD player out of their bags. 
This would be a really disappointing moment if the contents didn't live up to the packaging.  Nothing to worry about there though……these are beautiful, elegant pieces of HiFi, and very substantial and weighty too.

The design, true to the Oxygene motto 'Less is More', is very minimal and beautifully elegant. Rounded corners and clean, fresh lines.  They look futuristic but timeless.

As we have white loudspeakers at the moment we have requested the Oxygene duo in white.
The finish on these is incredible, looking and feeling like white enamel, cool and smooth to the touch.
The display is easy to read and the controls very intuitive to use, in fact I didn't even look at the instruction manual…just worked it out easily.
I like the touch sensor controls on the main units, no clunking and clicking, the amp and CDP just do what you ask them at a feather light touch.
However I really like the remote.  Many a wonderful piece of HiFi has been let down by nasty, plasticky remotes…not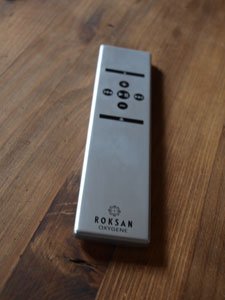 here.  The remote is a joy to use, again intuitive and the perfect shape and weight in your hand.
I like attention to detail and Roksan are really ticking all the boxes here.

As I mentioned earlier it was a bit like Clapham Junction when the Oxygenes arrived.  The semi open-plan HiFi designated part of the lounge was overflowing with HiFi from all over the world, so we took the decision to put the Roksan kit in the main room next to the TV.

Despite being quite heavy the units are pretty compact and sit nice and low, with just room to reach underneath and flick the cleverly concealed main power switches, they fitted happily in place without taking over the room.
Their size and simplistic design makes them easy to set up with no fuss or bother.

The functionality and versatility of the units is great, it is really simple to have the CDP supplying the source or to flick it over to the Bluetooth input and stream music in from a phone or other Bluetooth device.
Eldest son thought that this was a really cool feature when he wandered up from recording a DJ set in his room to be able to play it straight through the Roksan system.
We also had the TV running through it, great for watching films or playing Music TV.
This really is HiFi that one can live with….even if space was at a premium.

The sound from the Oxygene kit is clean and clear, just like its looks.  We tried them with our big Mummy Horns and with some more real world Q Acoustic stand mounted speakers (all in white of course!)
The Oxygenes performed well with both but I particularly liked them with the larger speakers, though in a smaller environment a more diminutive speaker would work well I think.

To be fair, I haven't personally sat and made a load of listening notes like Mr HiFi Pig. 
I've just really enjoyed having the Oxygenes in the house and have used them more than the monster main system in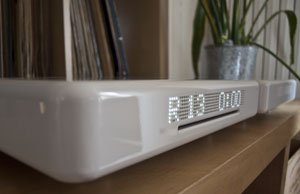 the time they have been with us. 
They have been really easy to live with and I will really miss the easy to use, quality sounding (easy to dust!!!) Oxygenes, even though I am a girl who generally likes pretty mad HiFi!
Sometimes less really is more.

Very cleverly, Roksan seem to have put a lot of thought into the target market of this range.
This is HiFi for people that recognise the quality and the heritage that a classic, British brand like Roksan have behind them, but are people that live in real houses and flats and perhaps have a significant other that doesn't want their living space turning into some kind of testosterone fueled 'Man Cave' full of HiFi that sounds great but has that distinctly ManFi look to it.

With the Oxygene range Roksan are picking up and proudly waving the flag of WAF, without any compromise on build and sound quality…very smart. 
Appeal both to the classic audiophile and the new generation, proving that you can have the best of both worlds.
You can have style and ease of use without the sacrifice of substance.

Definitely recommended and looking forward to the rest of the range such as the DAC that is in the pipeline.

Linette