British manufacturer Ruark got in touch to give us a heads up about their new R7 which is set to become the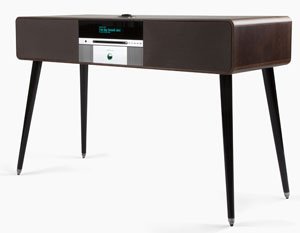 company's flagship product.
It's a bit of a departure from the usual hifi in that Ruark are branding the R7 as "The Radiogram Redefined". Now those of you not young enough to remember the radiogram may be scratching your head, so how about music-centre?  Ok, it's a CD player that plays conventional red book CD as well as MP3 discs but it's more than that. Bluetooth with lossless aptX replay is built in so you can stream from your phone, as is DLNA Wi-Fi to allow streaming from external computers or server.
But there's more, including a DAB+/FM/Internet radio and you can also plug in your TV, DVD or even a turntable.
The R7 can be controlled from the front panel or the nifty looking RotoDial remote which used RF so you don't even have to point the controller at the "radiogram" to control it.
The unit has dual concentric 5.5" drivers and long throw 8" subwoofer built in as well as amplifiers delivering 160 watts, so it really is an all in one box of tricks.
The Ruark R7 can be placed on the supplied spindle legs for a great retro look or can sit on an existing sideboard on its puck feet.
It will be available in a rich walnut finish in Autumn 2013 and will cost £2000.