Overview
Simply Audio hail from the Netherlands, specialising in bespoke hand made cables and the Cadenza range they have created
encompasses an RCA interconnect, a screened RCA "phono" interconnect for turntable  connection, loudspeaker cables, biwire terminal jumper cables, power cords and a USB cable, all of which I am given to understand to be made from fine stranded pure silver wire.  The outstanding feature is the small diameters of all their Cadenza cables, far smaller than the vast majority of cables on the market.  They also say they can also  build custom cables to customer's own specifications.
Construction
Submitted for review is an RCA interconnect, a set of speaker cables and a set of four biwire jumper cables.  All of them have a diameter of only 4mm including the outer sheath, which initially causes some consternation at first sight, but I have owned a Crystal Cables Piccolo interconnect which has a diameter of only 1.3mm and that is a lot tougher and a lot more robust than it looks.
The interconnect consists of a twisted pair of conductors forming the signal and return respectively, with no outer screening at all.
  Connectors are Audio Note AN-GP-AG silver plated plugs.  There is a "phono" version of this cable (not submitted for review) which is screened, aimed specifically at turntable connections where screening is almost mandatory to protect the delicate output signals from a phono cartridge.
Conductor material is said to be pure silver with a Teflon dielectric.  No further details regarding construction have been supplied.  The same construction and sizing also applies to the speaker cables and biwire jumpers, but the twisted pair wires are joined together into one within the connecting plugs.
The speaker cables are supplied as four individual identical runs rather than packaged into two pairs for left and right as you would find with 'conventional' speaker cables.  These cables were fitted with silver plated 4mm banana plugs with "leaf spring" type of contacts which didn't grip the sockets particularly well and experience tells me they may tend to lose their springiness over time.  Thankfully, Simply Audio have stuck a red dot onto the connectors of two of the four cables enabling correct polarity to be maintained when connecting up. The review pair submitted were three metres each side and once or twice I managed to create a wonderful bird's nest of tangles with the one metre of surplus cables laying on the carpet unused behind the rack.
Similarly, the biwire jumpers mirror the speaker cable layout, with a 4mm banana plugs at one end with spade connectors on the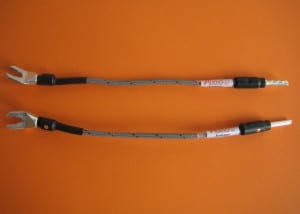 other end, again with the conductors doubled up together into a single cable.
Sound Quality
Initial impressions were very good, with an open uncluttered sound that was rather pleasant to listen to.  The sound was full of detail and small nuances, bass was full and rich, although the mid band seemed a little clouded and therefore coloured a tad.  During one of our recent discussions with fellow Hifi Pig reviewer Dan, we talked about bass content of recordings and especially kick drums whereby we should not just hear the kick drum itself, we should be able to hear the beater actually striking the skin, able to tell if there is a soft or hard face doing the actual striking.  We played several solo drum recordings to demonstrate that and I decided to add this listening criteria to future reviews.   Having just said that, the Simply Audio Cadenza suite managed to recreate that on several recordings I now keep for that purpose.
I played London Grammar's "If You Wait" CD and the vocalist's voice seemed a touch hoarser than I am used to, which matched my earlier finding of the mid band sounding a little recessed compared to other cables I have evaluated lately.  Mind you, these "other" cables have a considerably high price tag than the Simply Audio cables reviewed here so take my comment in context.  Imaging seemed to expand no  further out than the speaker boundaries, yet the perception of depth was conveyed very well.
Moving on to Peter Gabriel's live album "Real World" I was pleased to note how realistic the audience sounds were, with clapping, whistling and cheering portrayed in a very clear concise way, so good marks there.  Again, this is another one of my benchmark tests which is quite a tough challenge of a cable's  performance.  Treble detail was extraordinarily good, clean, vibrant and without fizz or splashiness.  The sound stage and imaging were not as wide as I would have liked, although the depth perception was impressive, particularly so with the sounds from the audience.
So, on to the real workout known as Porcupine Tree's "Deadwing" album which either sounds sublime or dreadful, depending upon how everything in the system (including cables) synergizes together.  The title track is full of rawness in the recording that takes no prisoners, so it is either a pleasant listen or a long wince to contend with as the music collapses into itself and almost turns into a cacophony of noise when the system is not hanging together as it should. At the start of the track I would expect to hear the sounds of an underground train pulling into a station and the Simply Audio cables managed to convey that well.   However, when the music became more hectic then I did hear blurring of the instruments with one mixing into all the others and becoming less distinct, so were much harder to follow.  At around 6 minutes 40 seconds into the track a long low bass guitar riff should roll and flow out of the speakers with both power and a defined 'growl' to it and these cables did that rather well. While the music remained at a sedate pace the music came across as detailed and lithe, it was only when the band was at full tilt that it became a bit fuzzy and raucous.
Next, something with a gentler pace, namely Loreena Mckennitt's "An Ancient Muse" album which has plenty of midrange content to hear although unusually very little treble. I noted that bass content was solid and powerful, but could become loose and with diminished grip at times, especially so with the heavy drum beats contained within several tracks, making it sound a trifle ponderous.  Loreena's voice sounded slightly deeper than I was used to hearing and imaging seemed fixed between the speakers, with almost a two dimensional sound stage with little real depth.
I then played a selection of chamber and choral music which was delightful to listen to and really showed up the Cadenza cable suite's true forte.
Conclusion
One would have expected a lightweight bass performance from these cables due to their small diameter, but not so and that's one myth dispelled.  Bass was certainly full and powerful, sometimes a bit overblown too, losing absolute control at times.  Treble performance on the whole was very good, although as we moved down into midrange a cloudiness could be detected which affected female vocals, lowering the tonality of their voices.  Not hugely, but there nonetheless.  While being fed with simple uncluttered music they performed very well, yet fed with something a bit more raw and hectic, then there were small signs of distress with the music beginning to blur. Let me add that other cables that didn't show any of these attributes cost three or four times more than the Simply Audio suite and that puts my comments into context.
Given that they cost from €299 for a 1 metre set of interconnects, €389 for a 2 metre set of speaker cables and €149 for a set of speaker biwire jumpers, made from pure silver wire too and Audio Note connectors no less, then it puts the price fairly and squarely into the middle of the marketplace where we do not expect "perfection", so accordingly their price reflects the available performance which is well balanced in that respect.
Dominic Marsh
Construction:               6.5/10
Sound Quality:            7.9/10
Value For Money:       8.00/10
Overall:                       7.46/10
Recommended for:  Listeners who enjoy simply recorded music.  Audition before purchase for system suitability is advised.