To celebrate 20 years since the first SJS Arcadia Model 1 preamplifiers were delivered, the company say they are pleased to confirm that at the North West Audio Show this weekend SJS Electroacoustics have teamed up with Living Voice loudspeakers, who they have worked with since the very beginning.
SJS will be showing the new hand made SJS Arcadia amplifiers; Model 3 riaa, Model 5 SE 300B and Model 7 preamplifier; with Living Voice loudspeakers and valves, and Kondo cables from Definitive Audio.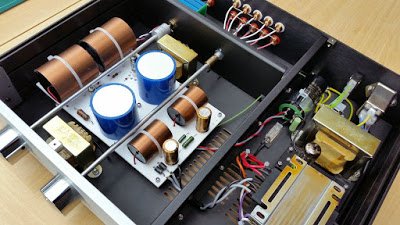 During the whole of 2017 SJS are running a 20th anniversary 20% discount offer for all orders for new SJS Arcadia amplifiers, and are pleased to announce they have specially extended this to a 30% discount offer for any orders placed during the North West Audio Show weekend.
Simon Shilton of SJS Electroacoustics has been hand building bespoke Arcadia triode valves amplifiers for 20 years, including riaa phono amplifiers, line stage preamplifier, single ended triode power amplifiers, step up transformers and headphone amplifiers.