Hifi Pig's Ian Ringstead gives us his thoughts on Sound and Vision, The Bristol Show 2017 including Ophidian, Mission, Convert Technologies, SCV Distribution, Air Audio, Schiit, Astintrew, STS, SOTA, Russell K, Kog Audio, Tellurium Q, Exposure, Creek Audio, Epos, Harbeth, Spendor, Neat, Auralic, Dali, Wilson Benesch, PMC and more.
It certainly doesn't seem a year since the last Bristol show, but with eager anticipation at meeting old friends and seeing new kit my wife and I set off early on the Saturday morning to see what delights were on offer.
Storm Doris had caused rather a bit of chaos earlier in the week but thankfully our journey was uneventful and we arrived to a busy show with the usual queues outside. Fortunately press passes allowed us quick and easy entry. I met up with a distributor firstly to discuss an exciting new turntable I am currently reviewing, as I always like to speak face to face if possible with my product makers or suppliers to get a real feel for their wares. After a very successful chat the plan of action was to start at the top and work our way down.
The first room we visited was Ophidian Audio to see Gareth James the owner and designer of a rather fine range of speakers I have reviewed for this magazine and catch up with new developments. The room was very busy and Gareth was demoing the P2 floor standers I have recently had at home which should appear soon on Hifi Pig. Hotel rooms are always a compromise and having personally auditioned these impressive speakers in my home I know what they can do, but the room at Bristol didn't allow the bass to work at its best. If anyone heard them there and are considering a speaker in the £4000 price area, then put these on your shortlist to audition properly. The other speaker that Gareth demoed was the amazing little Minimo that I loved and reviewed over a year ago. You look and listen to this speaker and think that's not physically possible how such a big sound comes out of such a small box.  People were walking into the room and saying where is the subwoofer? 
Mission were showing their new LX range of speakers that were just being released last year and they looked and sounded impressive. Hopefully reviews will follow from this show as Mission are a loved brand from the 1980's. I sold many a pair in my time.
Henley Audio (note the change of name now from Designs) are always an excellent group of rooms to visit and there was plenty of new products to see. I talked to Nick Fuller and Laurence Armstrong at length about new products and developments. One item that really caught my eye was the vertical Project VT-BT turntable which looks bizarre playing upright, but it really does work. A spring is pre-set on the arm that allows the arm to maintain a constant stylus pressure; simple but clever. Other new goodies were the Perspex 6SB which will be reviewed soon. Project certainly don't let the grass grow under their feet and are constantly developing new product at great prices. The Unison Research and Roksan rooms also had some lovely items on show that have already been covered by my fellow reviewers to much acclaim.
Music First Audio were doing their usual laid back but excellent demonstrations of their beautiful pre-amps with classic kit from Nagra and Quad. Stephen is a very affable chap who quietly shows off his marvellous creations with much pride.
Convert Technologies (Entotem originally) had new units on show in some rather nice finishes of carbon fibre and aluminium casework that looked fabulous. Also for the first time I heard the Avantgarde Zero 1 speaker at £10000 which was nice. This is the company's cheapest speaker and aims to reach a sector of the buying market where people aren't into the more unusual looks of the more expensive range or much higher price tags. Avantgarde produce very distinctive looking products that are unique in their sound and having heard the Duo's at Munich I can say they are mightily impressive. It will be interesting to see how this range fairs over here now there is a new enthusiastic distributor.
The other room on the fourth floor that was very interesting was SCV Distribution, well known for the superb Benchmark digital dacs, dac/pre's , amps and speakers. What particularly caught my eye and ear were the Gaia isolation feet that were being so well demonstrated using identical Focal speakers with a quality switching unit to allow A/B comparisons between the standard and isolated speakers. It was certainly convincing and not a subtle difference like some products I have heard. Although not cheap, the isolators are beautifully made and come in three sizes dependent on the equipment's weight. A product to look out for and try.
On the third floor Air Audio were showing the excellent Hana cartridges I so liked when I reviewed them a year ago. Also on show were some Pearl Audio speakers that sounded rather good, using a single modified SOTA driver and made from 12 year old seasoned solid oak; at £4500 they are a welcome addition to the market. Air distribute STS reel to reel tapes so naturally there was a good display of them as well as products from Astintrew and Schiit.
SOTA along the corridor were demoing the Mark Audio range of speakers, particularly the Tozzi 1 which is amazing for its size and beautifully made. I chatted to Scott Lindgren whom I know well from when I reviewed the Cesti B. Mark Audio make a very interesting range of speakers and drive units that really work well in many designs from horns to conventional cabinets. A range I really like and well worth a listen.
The second floor had Kog Audio using The Russel K Red 150 floor standing speakers with Tellurium Q speaker cables. A very good clear presentation was on offer which I am sure is down to both good speaker design and the excellent TQ cables. Russell K speakers are getting noticed now and I can see why. Yet another company to watch.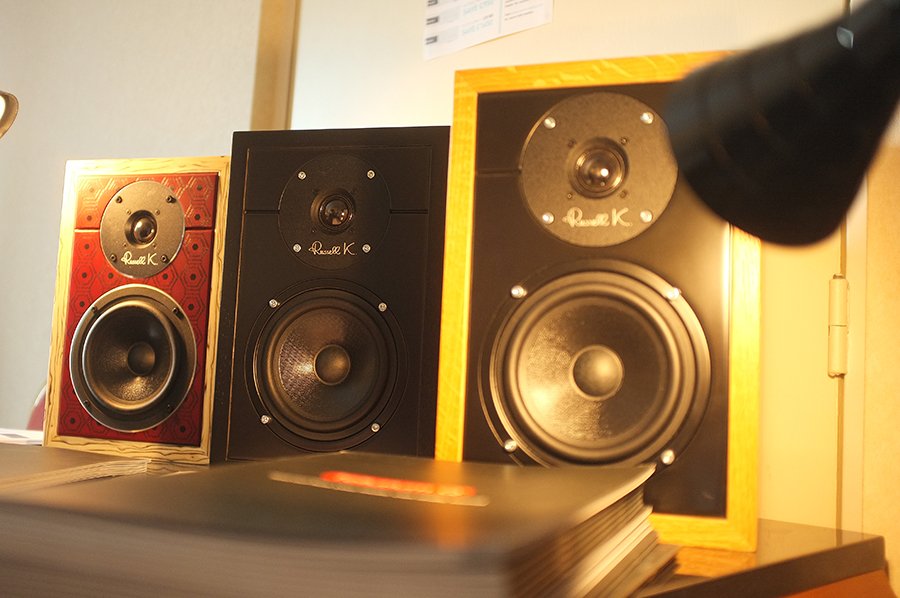 Exposure had their new smaller range of electronics on show the XM series which will appeal to people short of space or don't want the clutter of larger separates. Like all Exposure products they are very well made and presented in the quintessential British clean, simple styling I love so much. The whole Exposure range is based on quality design and electronic principles built up from their experience over the last three decades. Having seen and heard the units in other rooms as well at various shows they are obviously well regarded. 
Creek Audio and Epos were making good noises and I really admire what Mike Creek has done with his range since the humble beginnings in the 80's with the CAS4040 amp. It was a best budget seller for us then in retail and now the range has grown into a quality brand like Exposure providing superb value for money. The Epos range of speakers were sounding good as well and very nicely styled with white on show. It's interesting to note that nearly all the speaker manufacturers are now supplying their units in white to suit modern trends and houses. I'm currently reviewing some speakers at home in a very smart looking piano white that looks excellent. It makes a change from the usual wood veneers.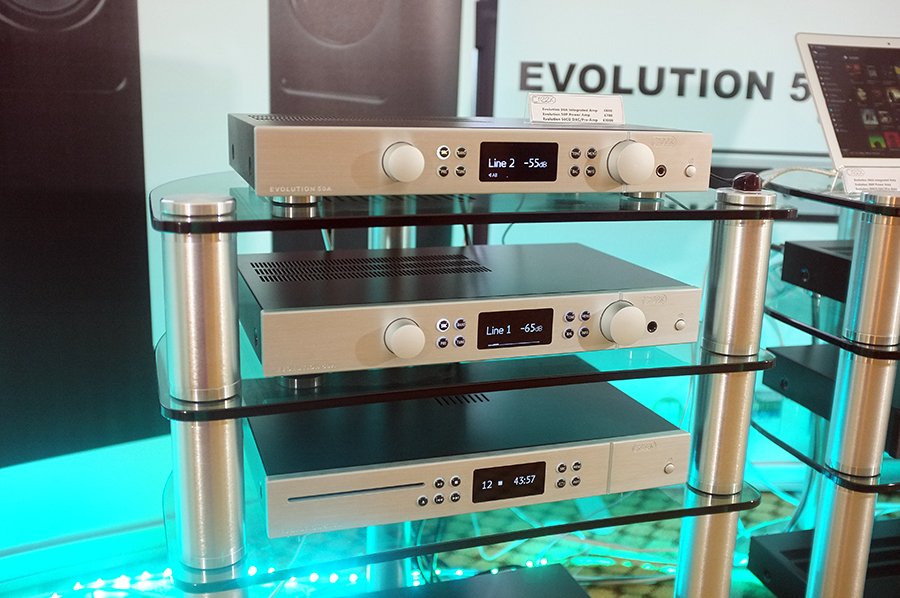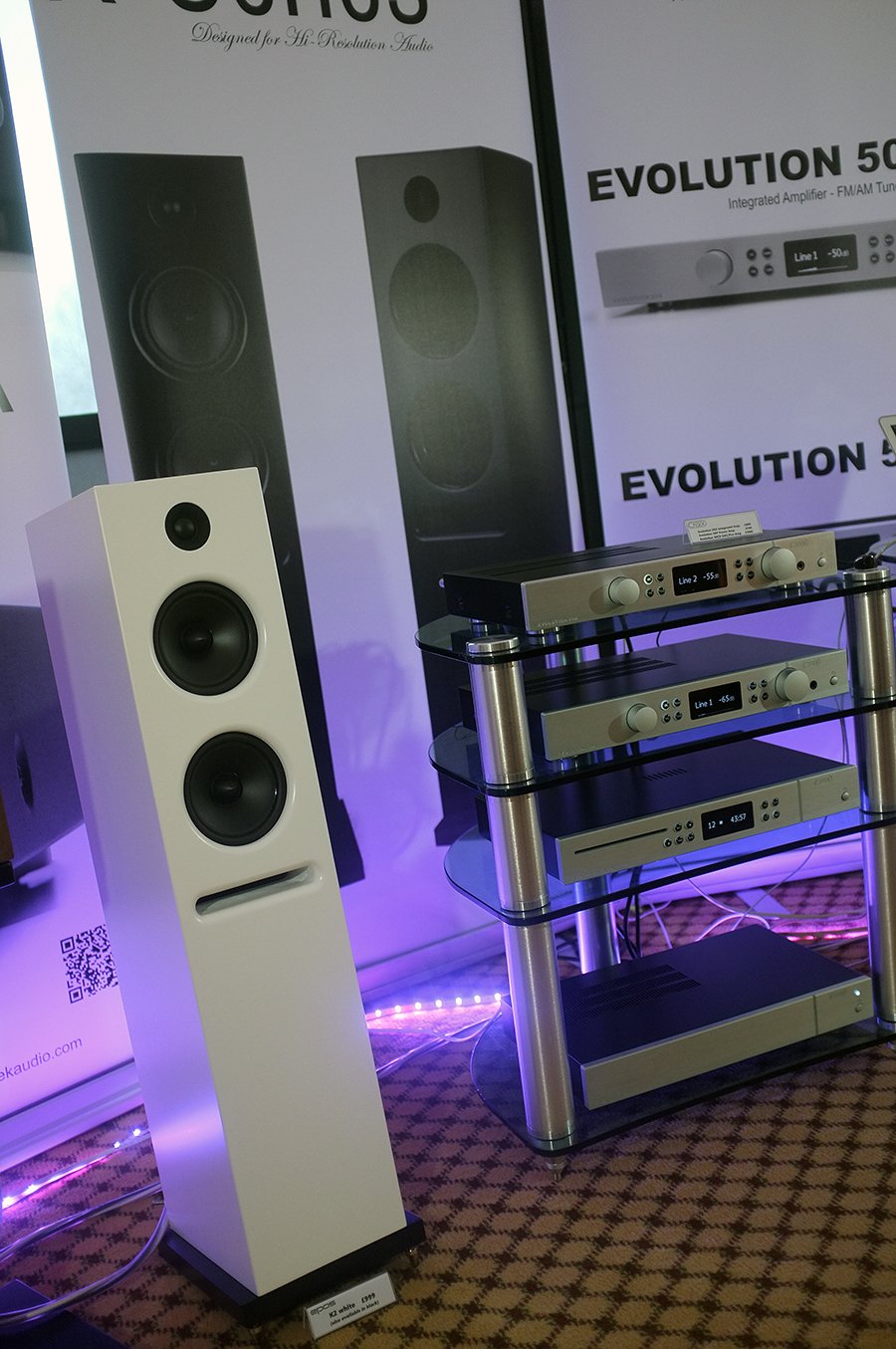 Harbeth have been around 40 years now and are celebrating the fact with the new HL5 Super plus, a beautifully made design like all Harbeths lovingly crafted. Harbeth are one of those brands that like Quad and Spendor have been around a long time but don't always get the recognition they deserve. With new impetus in the marketing department that should change for the better and get the name of Harbeth out there to a larger audience to appreciate. I would love to try some at home as they have a great reputation amongst audiophiles.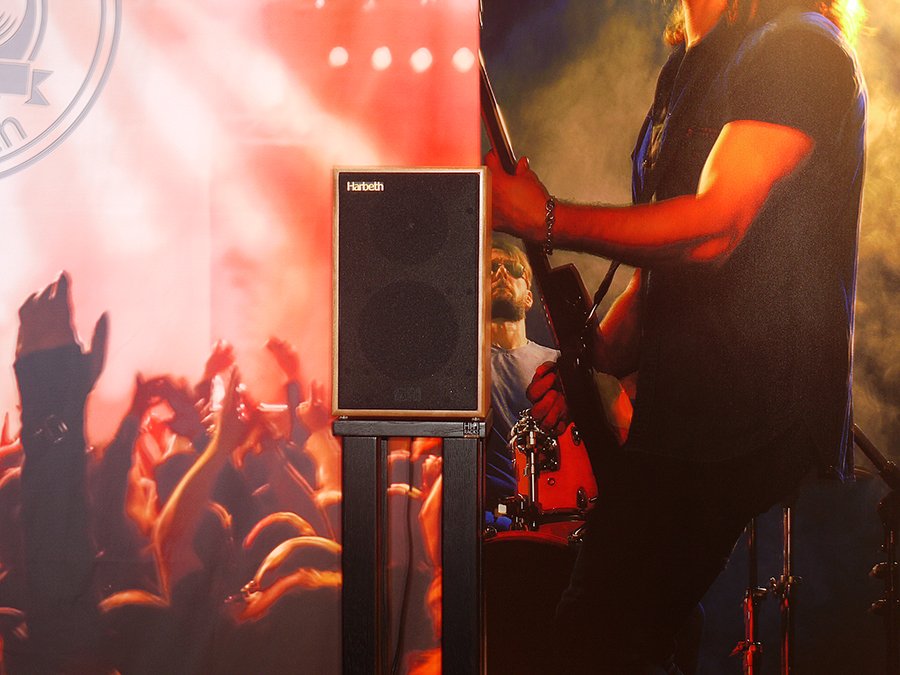 That leads me nicely onto Spendor, who like Harbeth have an enviable reputation and heritage. Phil Swift was on hand to tell me about the new A series models that were being played. The philosophy behind this updated range was a clean simple and compact range of domestically acceptable speakers to suit our modern smaller homes. They did look very smart in quality wood veneer finishes as you'd expect coming from a company who has its own manufacturing facility in Sheffield, Timberworx, for which I did an article on last year if anyone missed it. Also, being demoed were the new D1 and D9. Spendor have developed new drivers for this range. The tweeter is the LPZ, a linear pressure zone unit that uses new ideas and quality materials to produce a very accurate sound, rather like a quality camera lens does a picture by focusing accurately. The mid-range and bass units also use new materials and are housed in isolated enclosures inside the cabinet. A 5th generation linear flow port aids the great low frequency response and tight bass output. Again, I would love to try these out sometime at home. Also playing was the Auralic streamer that made a great partnership with the Spendors for a very room friendly combination.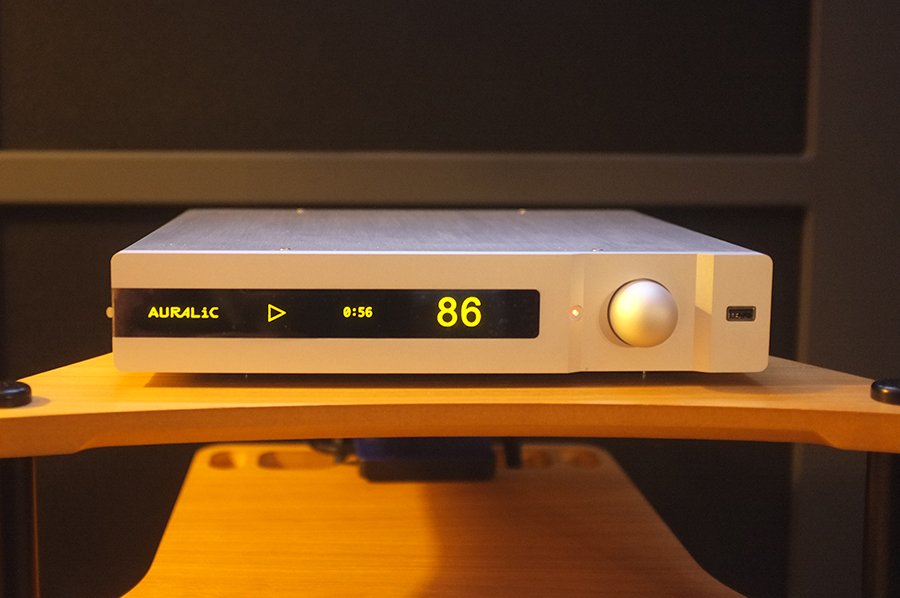 Neat had the new, cute Iota Alpha playing which sounded very good for their compact dimensions and the much larger SX5I in a smart grey paint finish. These also sounded very clear and had a good low end.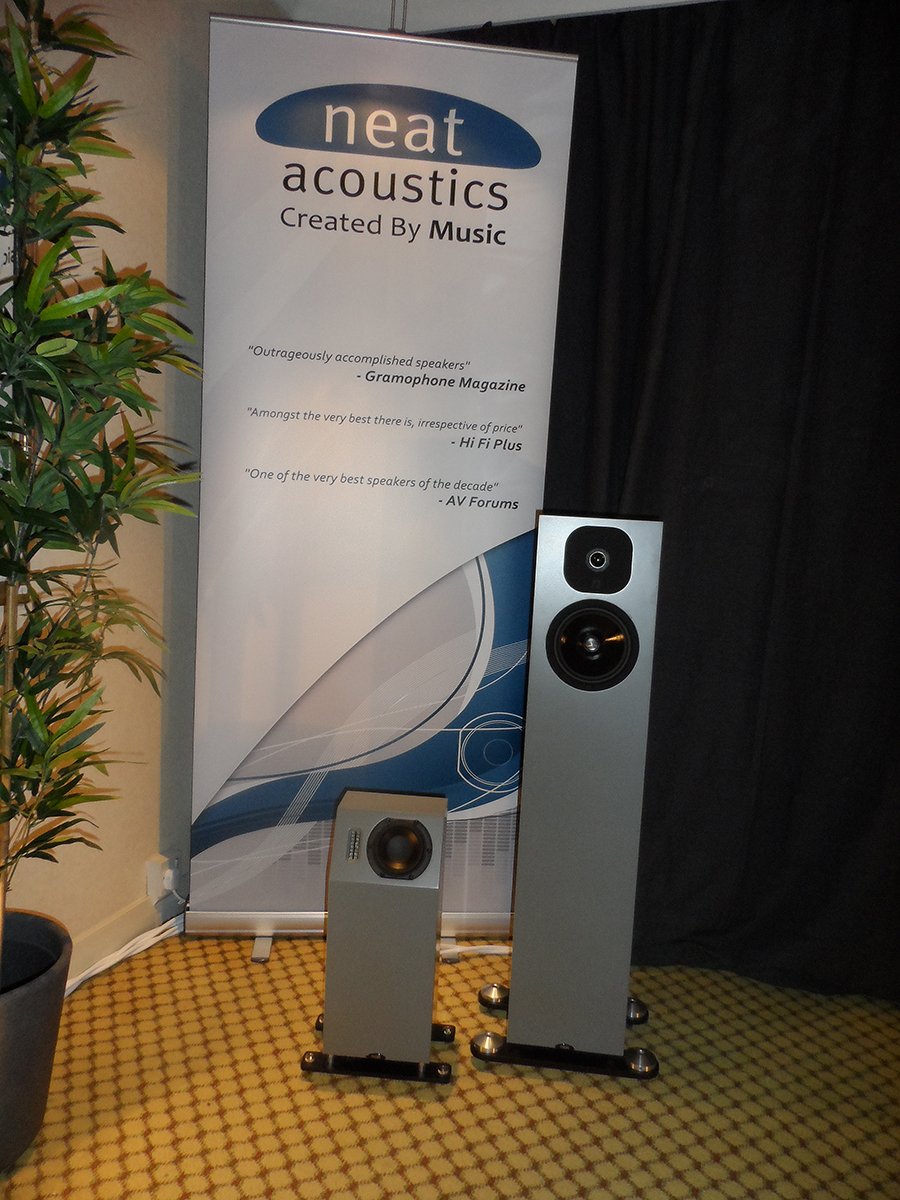 Dali had a rather nice looking pair of their Epicon 2 standmounters in a rather fetching high gloss walnut lacquer finish. They sounded really detailed and smooth and at £3800, although not cheap, are the type of speaker you could listen to all day.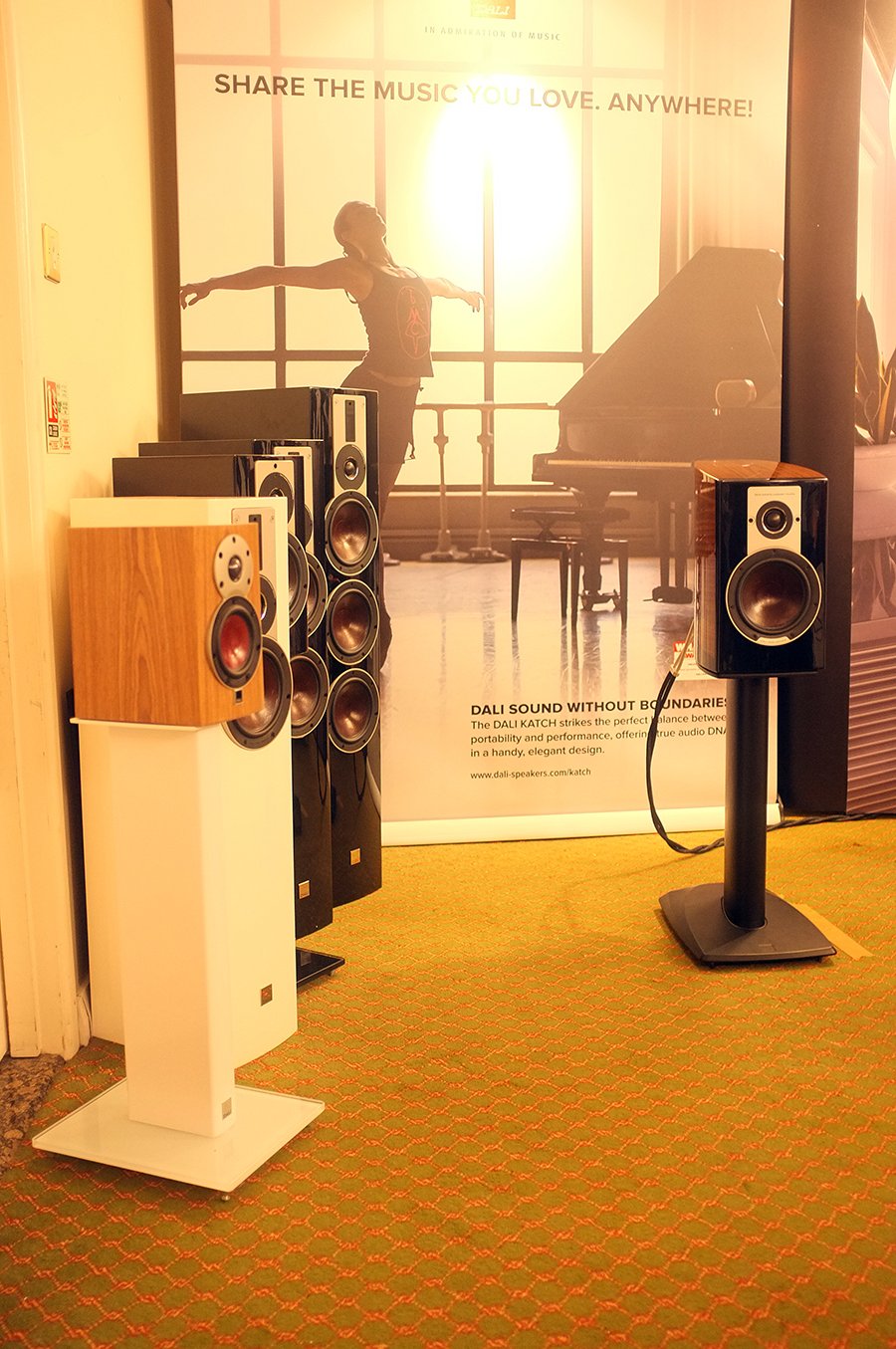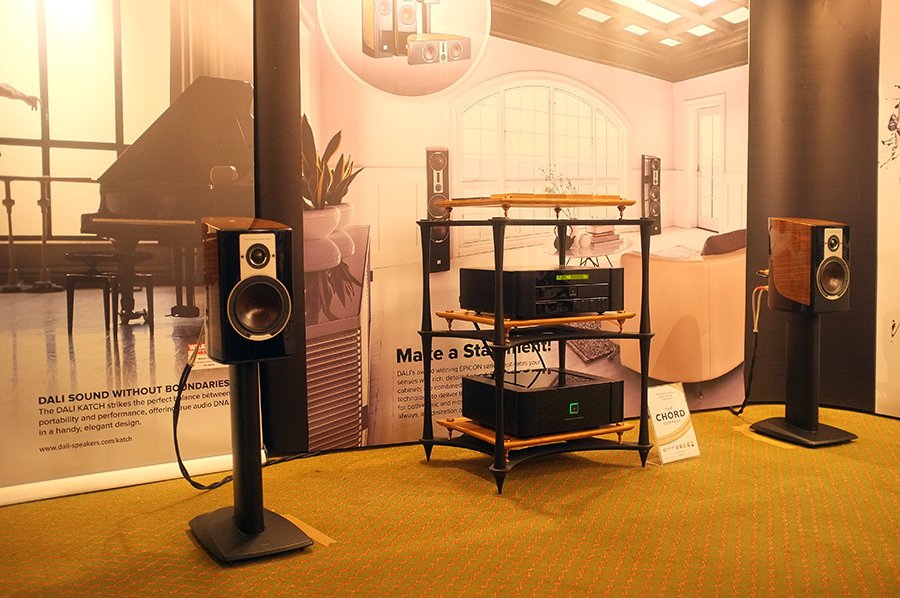 Wilson Benesch had the conservatory area as usual and this year were using CH Precision electronics from Switzerland, a superb looking and sounding brand. The designers originally worked at Goldmund, another legendary Swiss Hifi company. The L1 pre-amp and A1 amps were sounding sublime (at £20000 apiece) through the Endeavour speakers (£40000) from their Geometry range in a rather cool looking red tulip gloss finish. Source was their own Circle turntable with a DS Audio optical cartridge and streamed audio. Yes, this was an expensive system but boy did it sound good. Makes me proud to be a Sheffielder where Wilson Benesch are based.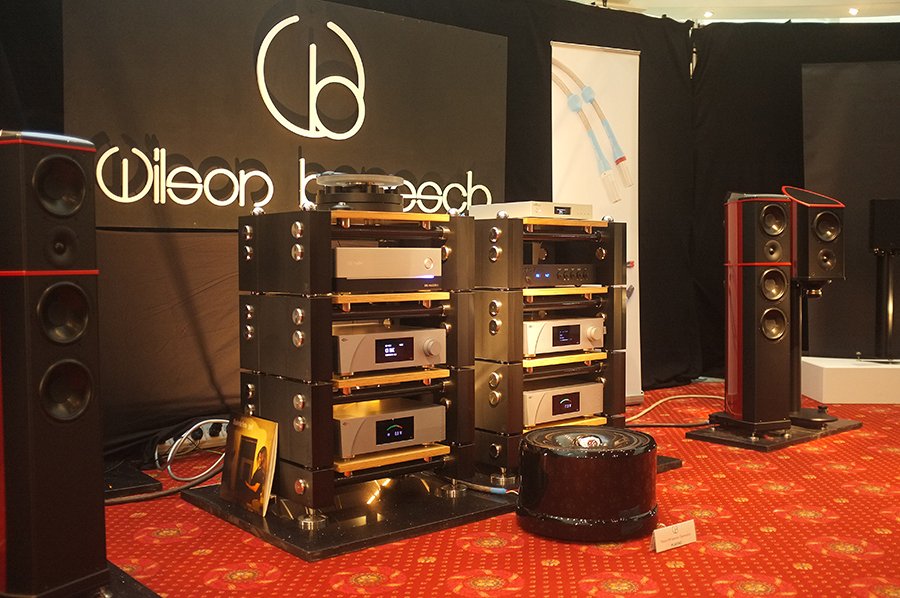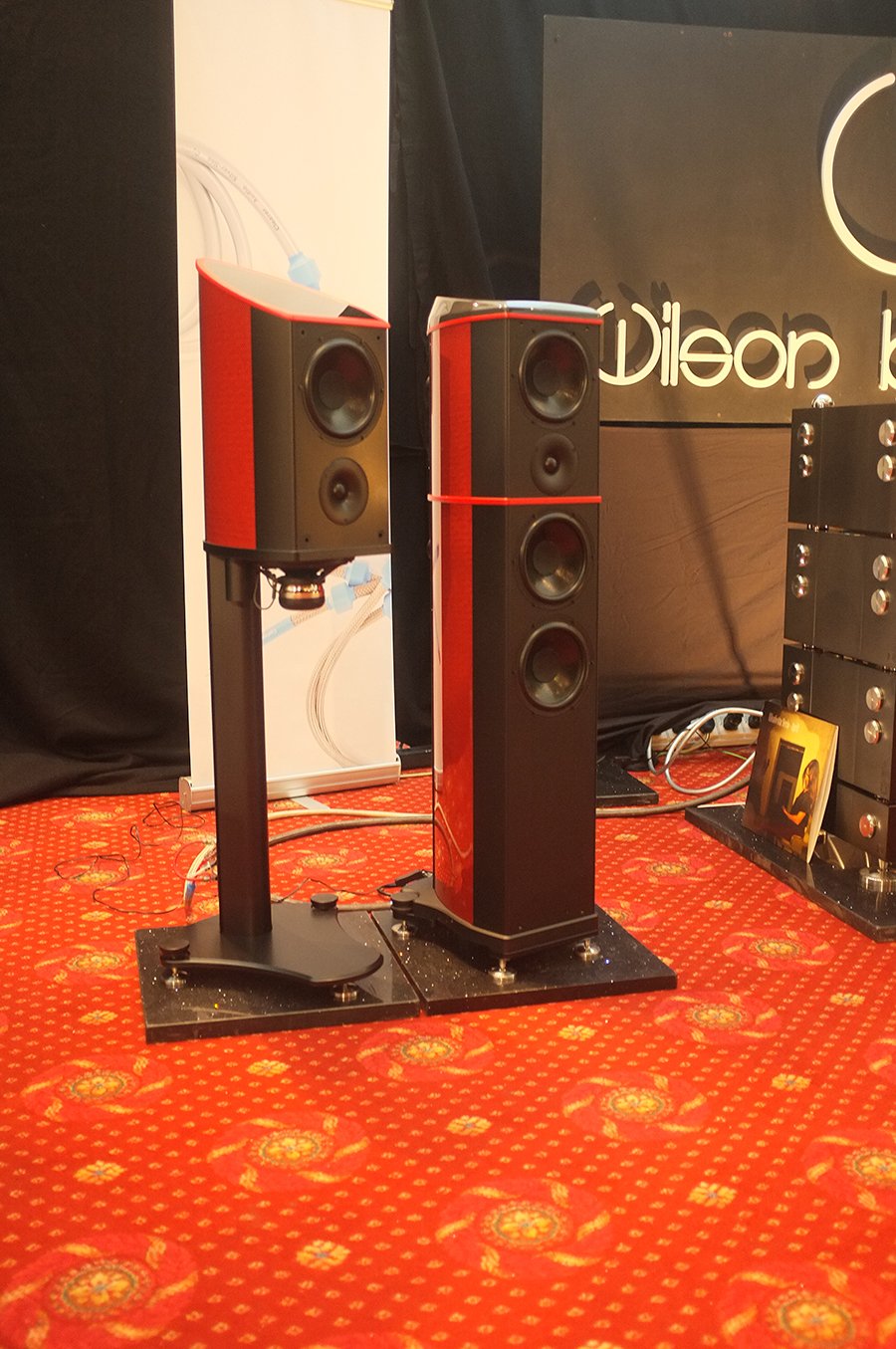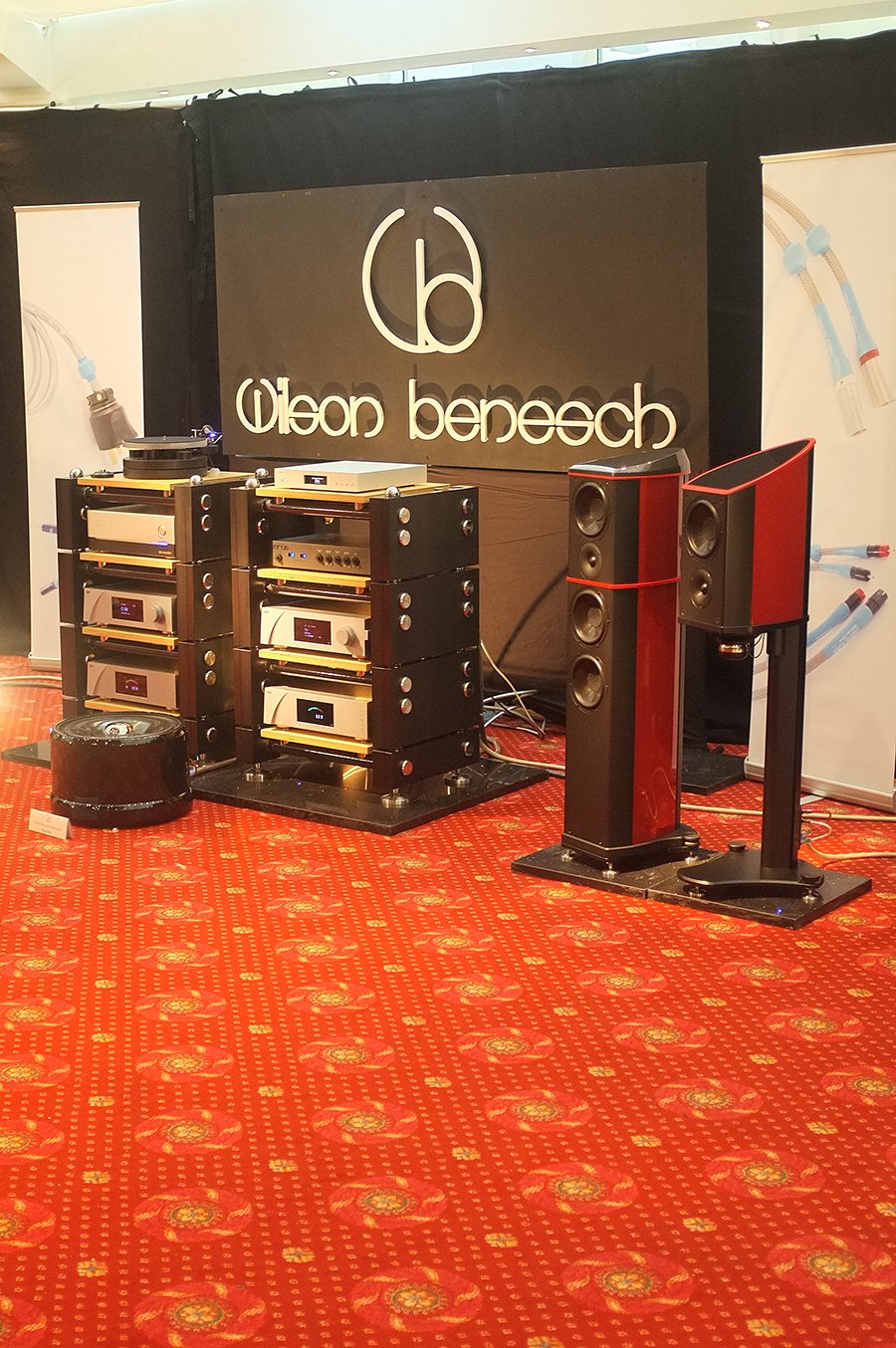 The last room I went in was PMC and AVM. Audio Video Manufaktur are a German company I hadn't really heard of before but they have been around since the late 80's. They are a high-end brand that has had no real recognition over here, but PMC are about to change that. I talked at length to their Marketing Manager Johannes Kramer and was very impressed by their philosophy and superb product range which had that luxury finish of build and quality. This is a range I am keen to audition and discover. The electronics were driving various models in the PMC range and the ones I heard were the new Twenty5 22 stand mounts at £2455. Like all PMC speakers they have a great pedigree of design and use the new laminair vent to aid the smooth and controlled bass response. PMC are constantly researching and introducing new designs and long may they do so. Their filter down technology from their professional studio designs and experience has certainly paid off in the domestic models.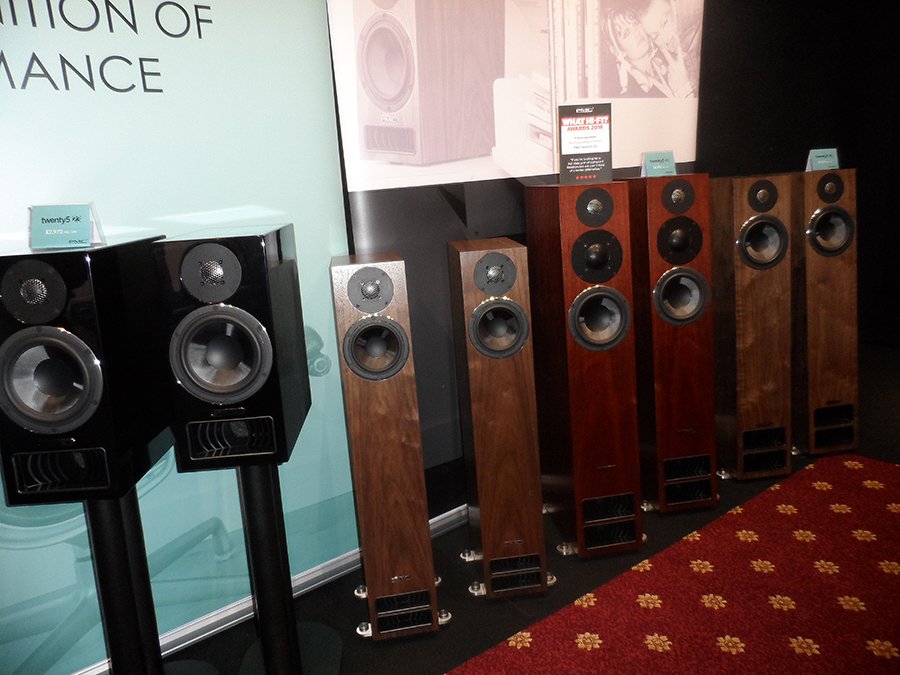 Finally, I did what all analogue enthusiasts do and raided the record stalls for second hand gems from my past. I was successful and left a happy bunny.
These are just my views of the show and are by no means a comprehensive report. I couldn't get to every room due to time constraints and business matters which required my attention. Also, catching up with old friends is another joy at Bristol and reminiscing. Long may it continue!
Ian Ringstead
MUCH MORE TO COME
Read More about the Sound And Vision – The Bristol Show 2017