In Hifi Pig's final round up of this year's Sound & Vision, The Bristol Show, Jay Garrett of Hifi Pig's partner site GadgetyNews takes us around and gives his view on some of the key products and brands…not forgetting to stay hydrated along the way. 
Well, that was my third Bristol Sound & Vision Show. The previous two I sprinted around and did them in a day – that's including being on the judging panel for the Clarity Awards last year. This year I allowed two days, it still wasn't quite enough.
For some reason the more time I spend at The Bristol Show, the more time I need. Granted, Friday was allotted to product launches and catching up with people I generally only chat to over emails but, still.
I can see Sound & Vision 2018 being a three day event next year, either that or I get more organised. Ha!
After driving over from London through the tail-end of Storm Doris, I checking in at The Bristol Hotel. It was nice to have a stroll up through the park and along the river to get to the Marriott Hotel City Centre.
Naturally, my first stop was for some refreshment(s) before heading to my first booked appointment.
Launches
Chord Company Sarum T
The Chord Company had kindly invited me over for some Sarum T and sarnies.
Those of you familiar with the brand will know Sarum as the range just below the outrageous ChordMusic line.
As with all decent brands, the kit that makes the flagship so marvellous eventually trickles down to the other ranges. In this case, the Sarum cables now benefit from the American military dielectric named Taylon.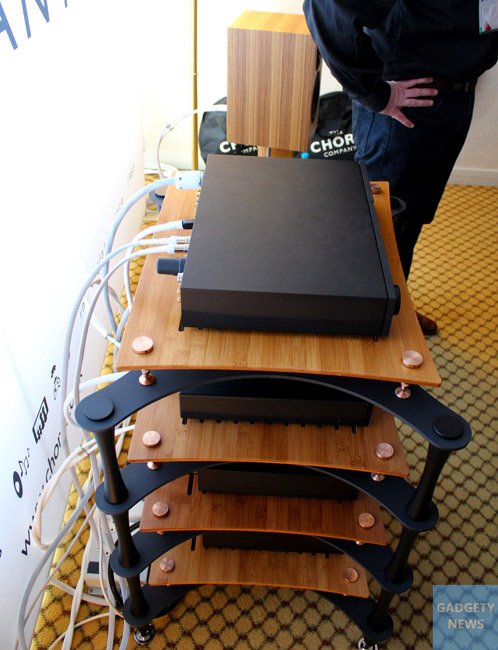 So, Sarum gains a 'T' and was presented to us. First we were given a listen to the system without Taylon-tampered cables and then all leads were replaced with Sarum T.
The tech behind Taylon had already been explained to me when I attended a demo of the ChordMusic line (circa £4,000 per analogue pair) at KJ West One. Basically, it's all about phase, which, in essence, is timing.
Team America uses this tech to ensure that smart bombs are smart and satellites do what they're supposed to. The Chord Company, however, uses it for much more pleasant reasons as it eliminates the temperature related phase instability as well as the mechanical variation that mars the sonic and musical performance of PTFE.
As well as Taylon you get the Chord Super ARAY geometry. If you already own any Sarum cable you can send it back for the Taylon upgrade and save 40% of the cost of replacing your Sarum for Sarum T.
If you're wondering why the ChordMusic costs so much more than the Sarum T, it's all about the shielding. In fact, the ChordMusic has four more layers of shielding than the Sarum T's two. It is also a more specialist task to construct apparently.
Melco
We were introduced the Melco N1 Mk2 (from £4,299). A topless model (ooooer!) of the unit was paraded around showing the audio grade SSDs.
As well as the Neutrik USB 2.0 port dedicated to your DAC connection, and then 3 USB 3.0 ports there are a pair of Ethernet ports. One of these is for your LAN whereas the other is a dedicated player port.
I always enjoy listening to Melco kit but what really grabbed my attention was the presentation given by Paul Taylor of SongKong. Melco is using this music metadata tech to identify your digital audio and it is really clever.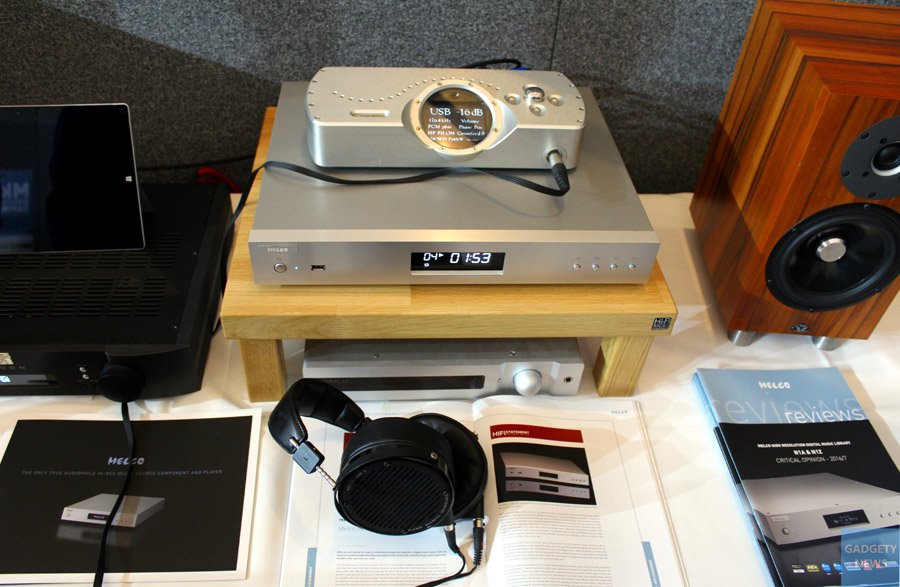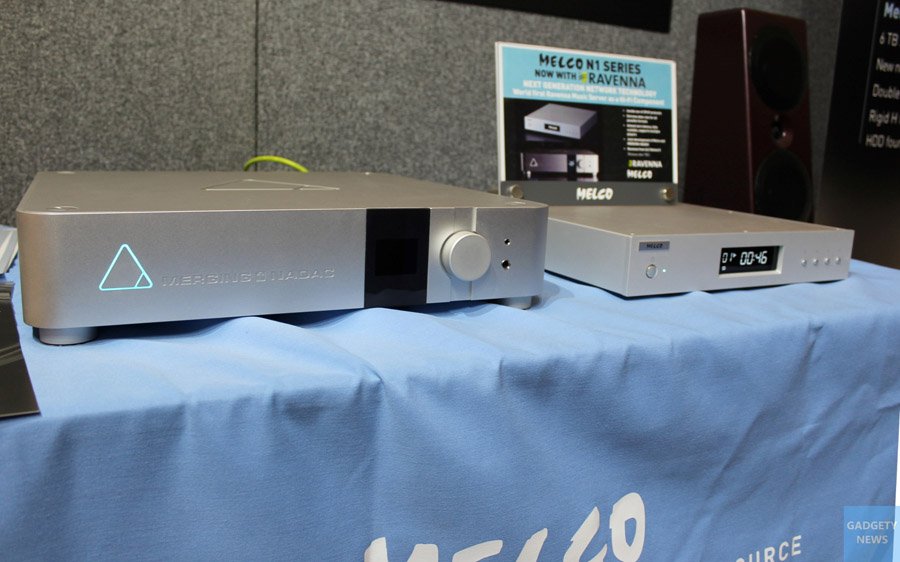 Where most song taggers trip up is with Classical. The Metadata demands for Classical are very different to Pop/Rock music. In Pop/Rock an album usually represents the artistic intent of the artist, i.e. the album was conceived and created as a single body of work. In Classical credit is usually given to not only the performer but also the conductor, orchestra and composer. Also, Classical composers work in terms of Symphonies or Sonatas rather than albums. These works comprise sub works or movements, and there may be additional levels. SongKong identifies Classical releases and captures this additional information in dedicated metadata fields. It can also identify other Classical information such as the Opus No and the performers with their instruments. I told you it was clever stuff.
AVM /PMC
After more libations it was time to head downstairs to the PMC room. I really do have a soft spot for their speakers, especially after living with some twotwo 5 active monitors.
But, for a change, PMC was not the star attraction at this event.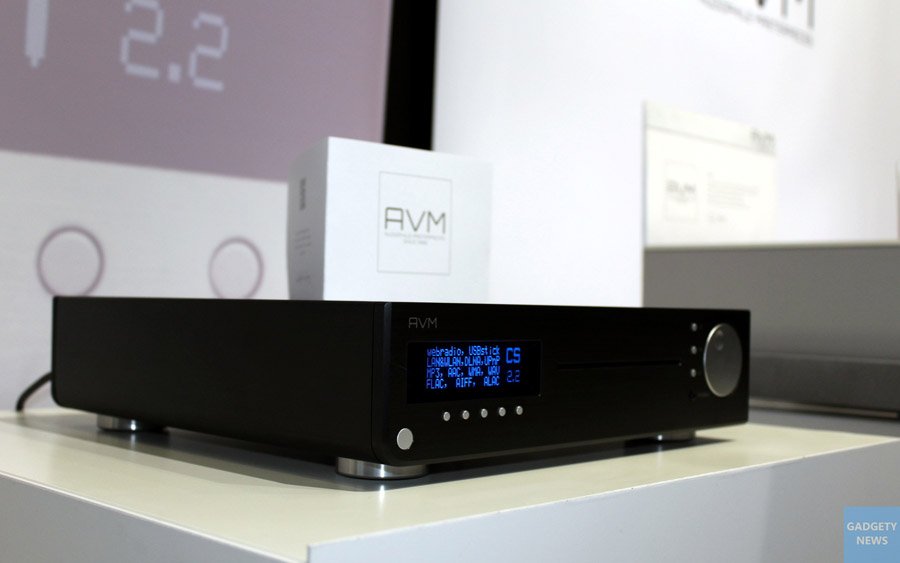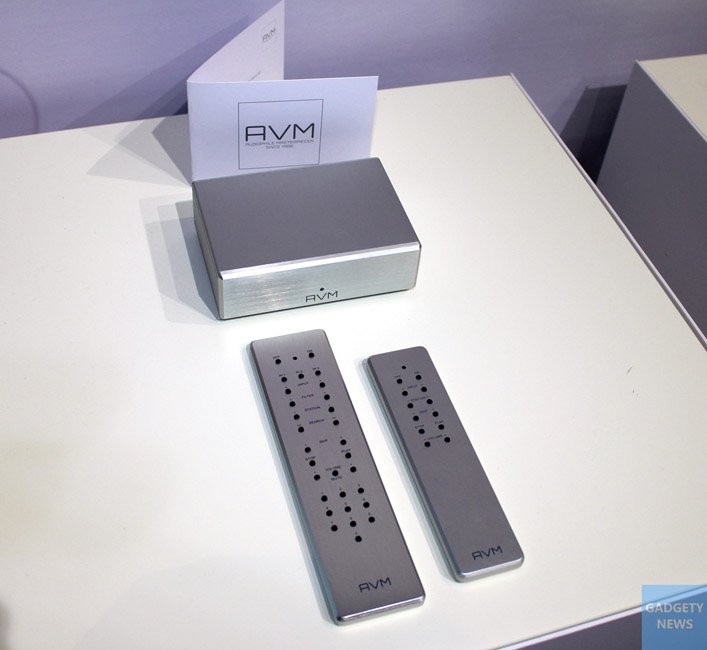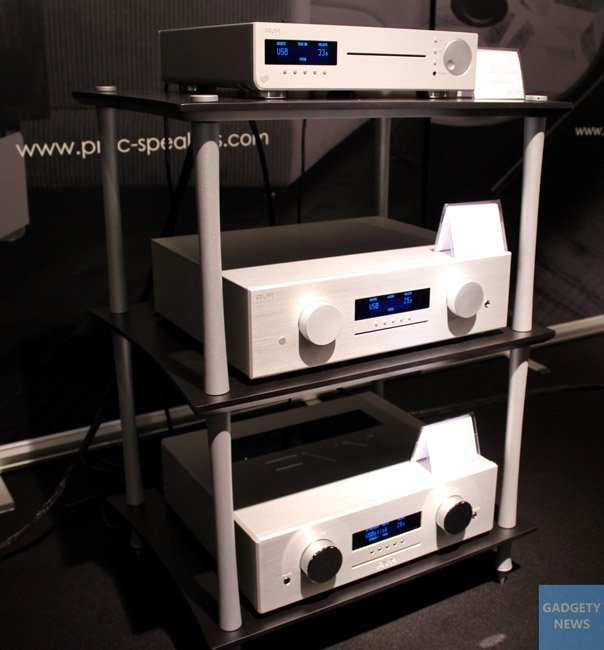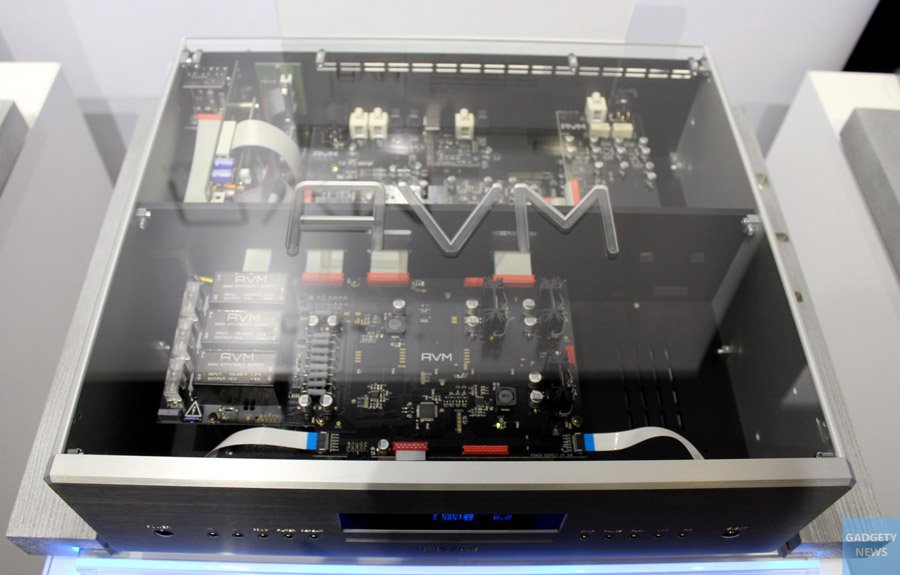 The charismatic owner and managing director of AVM, Udo Besser, explained that even though AVM had been developing and manufacturing electronic equipment over in Malsch, Germany, for 30 years it's still unknown over here. Until now, they have concentrated on the German-speaking market (Germany, Austria, and Switzerland) just because there's a decent population in that catchment area and they don't have to translate anything. However, I am glad they have made the journey over thanks to PMC's distribution network.
AVM, which stands for Audio Video Manufactory (despite not having any video products), will launch with three ranges: Inspiration, Evolution and Ovation.
The flagship Ovation range has a mix of products with solid-state and valve amplification. The Ovation SA 8.2 (£11,495) is a power amplifier; the Ovation SD 6.2 (£7490) is a solid-state streamer, DAC and headphone amp, while the Ovation MP 6.2 (£7490) adds a CD player. The Ovation CS 8.2 (£10,995) is a class A/B valve-powered system, with streamer, CD receiver and DAC; a "true high end system in one box", according to Udo.
At the other end of the product range is the slightly more affordable Inspiration CS 2.2 (£3995). This is an amp, streamer and phono amp, offering 130-watts of power per channel, and available with or without a CD drive. The step-up Evolution CS 5.2 (£5490) offers more power and is available as a solid-state or valve amp.
All support UPnP streaming with Tidal and Qobuz support and a bespoke control app. The fit and finish of all of the models on display was truly. They also didn't sound too shabby.
Ruark
I was then literally grabbed from talking to Udo to almost jogging upstairs for Ruark's launch of the MR1 Mk 2 active speakers.
The original MR1's were well received but Ruark has given them a refresh. In place of the 'classic' wooden design of their predecessors, the new kids look every bit in keeping with the latest trends. Now the speakers are wrapped in walnut or a soft grey finish. The removable grille is now replaced by a fixed grille made of designer-milled fabric.
It's not just a sartorial exercise though. The controller has been refreshed and now features three LEDs that show system status and input.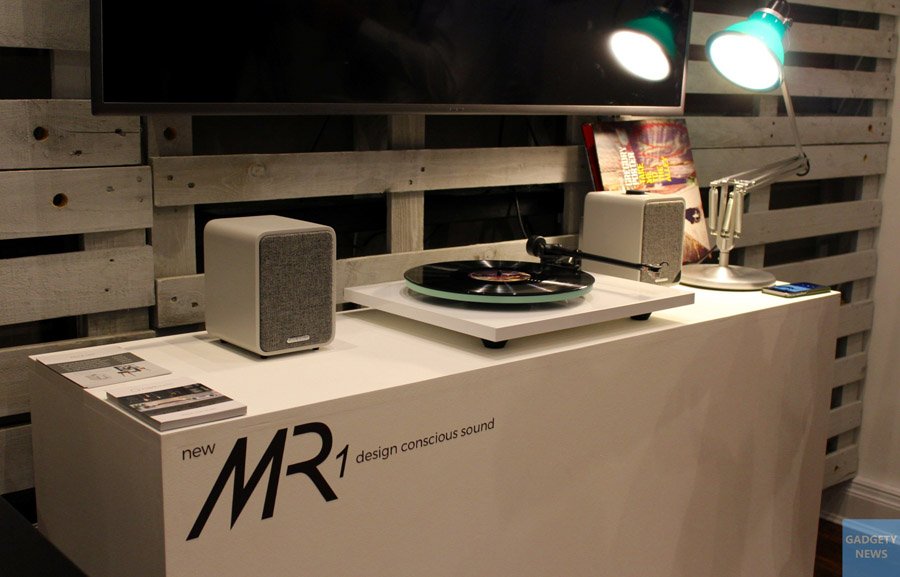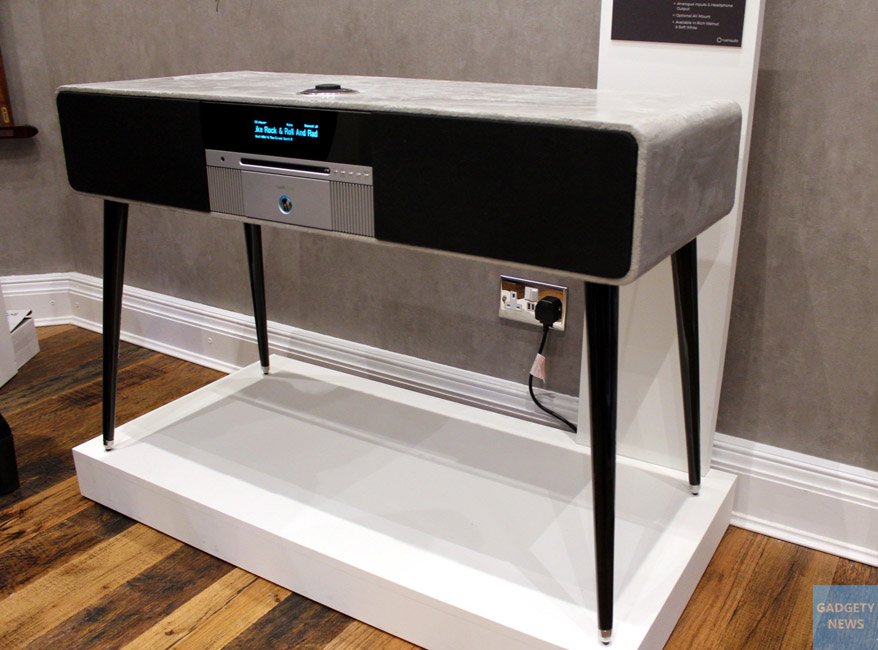 You can stream tunes via Bluetooth with apt-X, and plug in a Chromecast Audio streaming dongle to the optical input. There's also an aux input for connecting any device with a headphone or analogue output. At the press launch they were playing nicely with a Rega P2.
Then there's the added benefit of Ruark Audio's BackPack II power pack. With one of these slapped on the back you don't need to plug them into the mains. Disconnect a single speaker from the control unit, and it will switch to mono mode, making it ideal as a portable speaker if you have to put the kettle on midway through a podcast.
The speakers are equipped with the same neodymium motor systems as their predecessors, but improvements have been made through refinement to the loudspeaker crossover and topology of the linear Class A-B amplifiers.
The MR1 Mk2s go on sale this month, priced £330.
Clarity Awards
The evening was rounded off by the annual awards but there's more about that elsewhere. I just would like to say well done to all those who walked away with their well-deserved awards.
Day 2
I was up and at them on Saturday as I had barely scratched the surface of the show on Friday.
In my mind I had a game plan, have a swift tour of the ground and lower ground floors and then work top down. Just as I dropped my coat off at the cloakroom (the attendant informed me that he remembered it from the previous day and that my blue leather biker jacket had been his favourite so far that weekend) a friend invited me for a quick pre-show drink. How could I refuse?
After a swift pint or two and catch-up it was back to the plan – I definitely wanted to spend more time with brands I hadn't listened to before.
As usual, the ground floor packs in a microcosm of the HiFi industry. Cables, speakers, head-fi, streaming, racks, stands and isolation – you name it, it's here.
This is also where you'll find more familiar brands if this is your first foray in to this sometimes exotic world. Sony, Arcam, Sennheiser, Pioneer and Onkyo all had a presence; as did the Danish A/V brand, Loewe who was just inside the front door showing everyone its bild TV and klang speakers.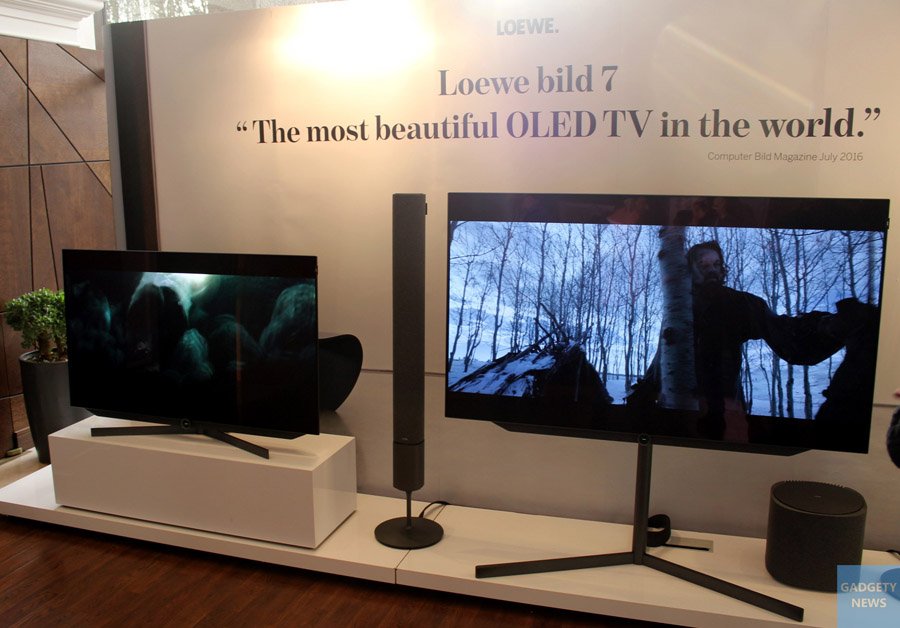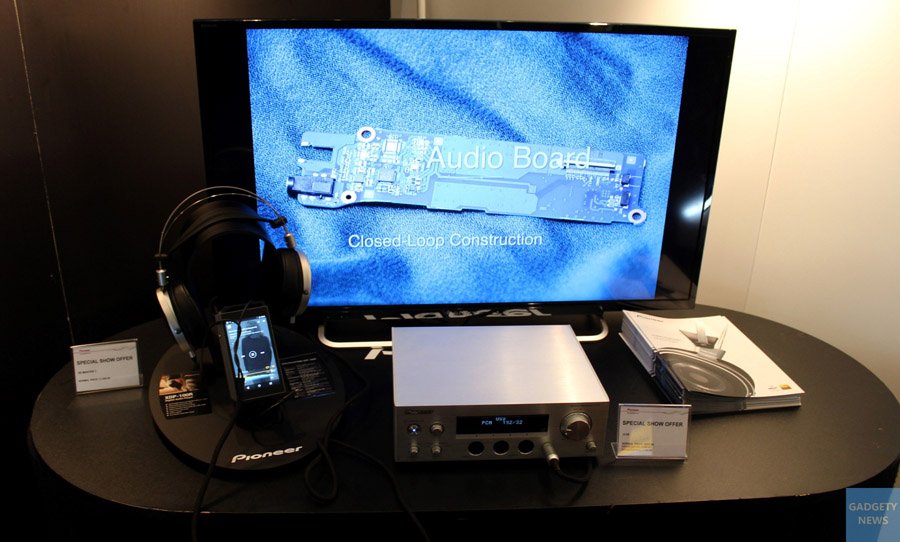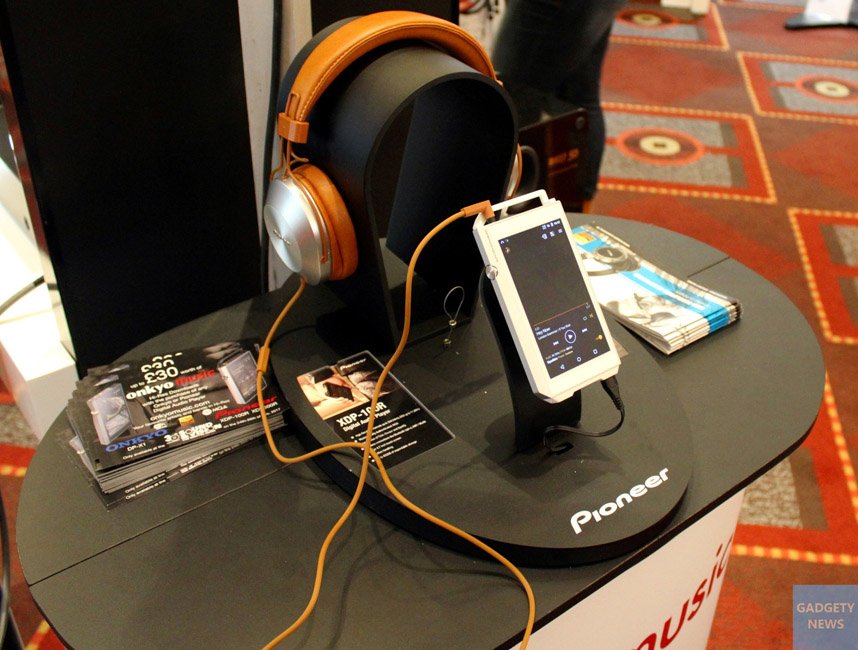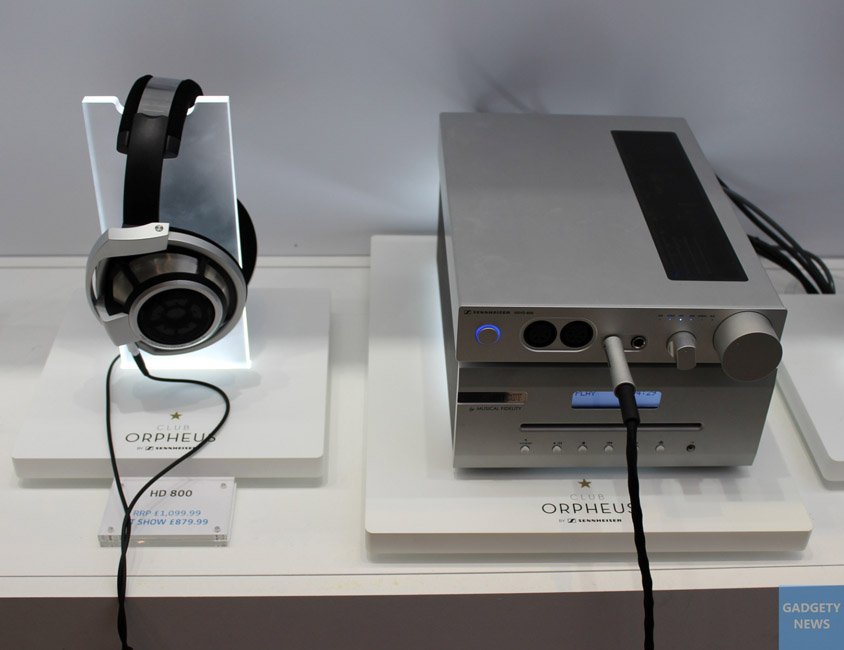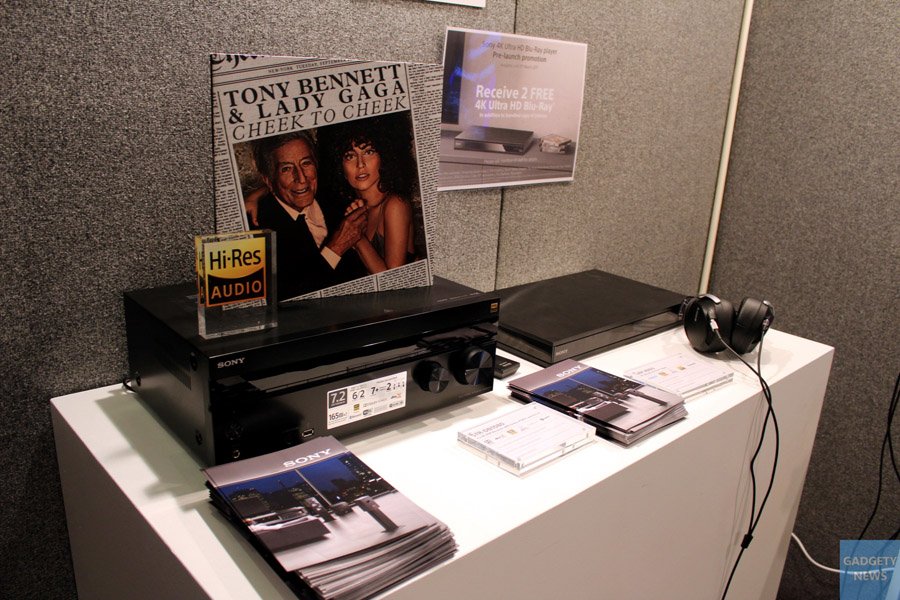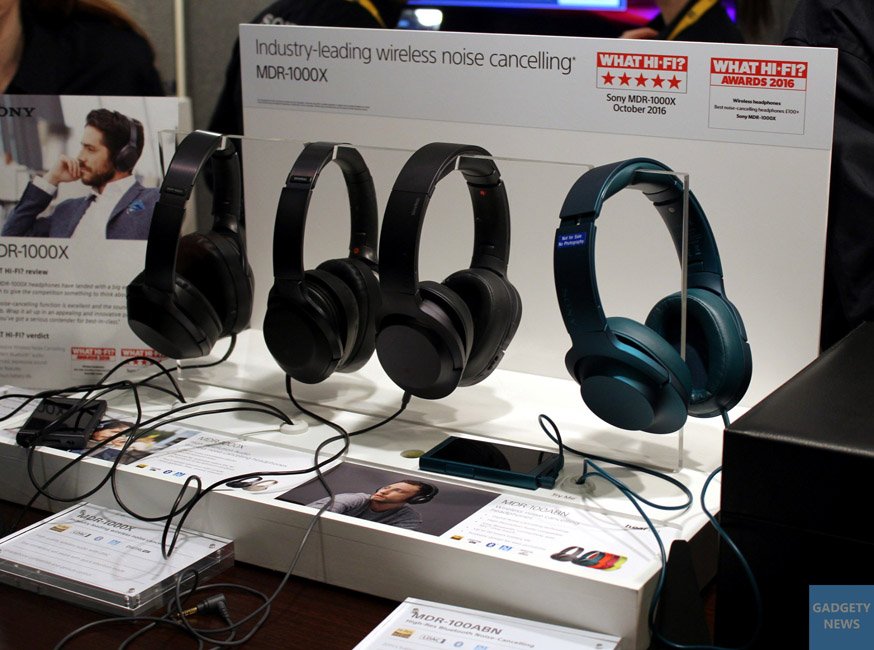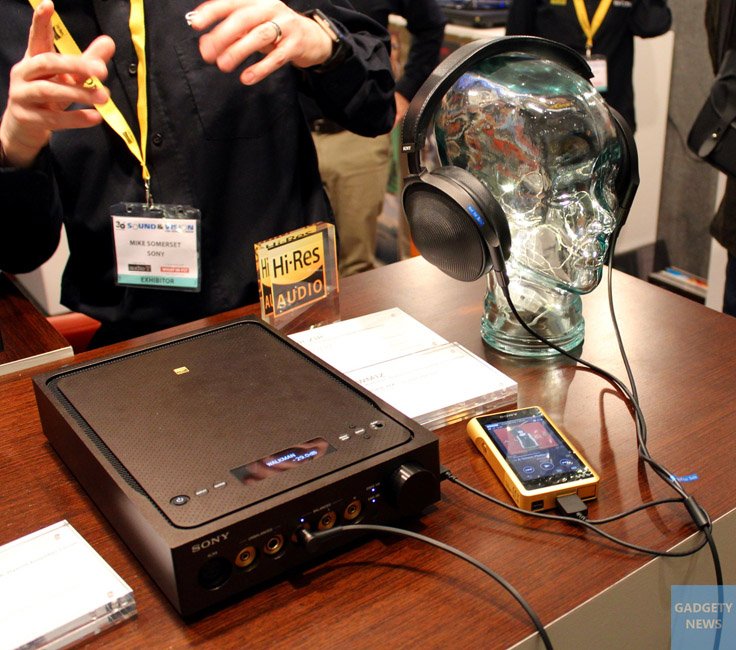 I will save you from me giving you a blow-by-blow account of each stand. The main coverage can be found amongst the other pages.
What I will do is highlight those that grabbed my attention.
Innuos
Innuos, just like Melco, tickles my gadgety glands as they deal with the storage and playback of your digital audio library.
The little Zen Mini is their entry level device. As its name suggests, it is also the smallest in the Zen range. This little music server can be yours with a 1TB HDD for under £700.
Just like the other Zens, the Mini is powered by innuOS – Innuos' own operating system. It enables a completely computer-free method for managing CD ripping, importing digital music and editing album data and cover art. The Zens are also Roon compatible.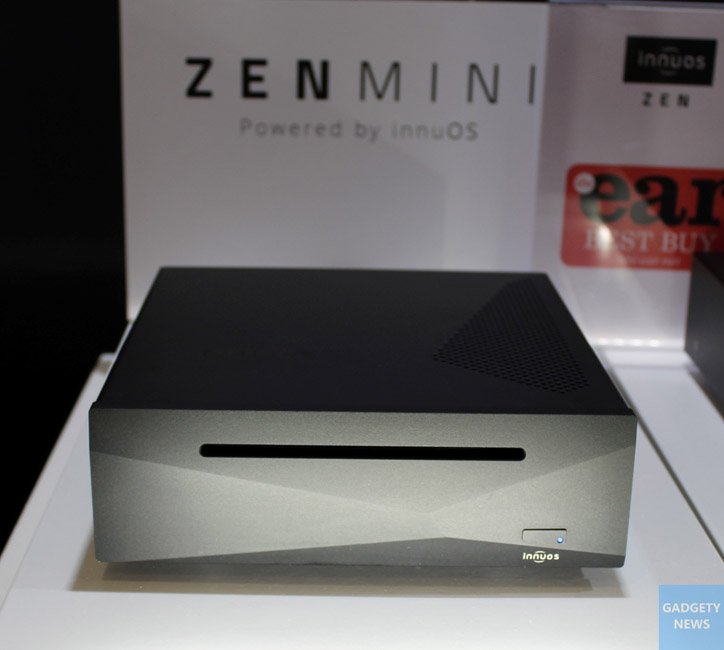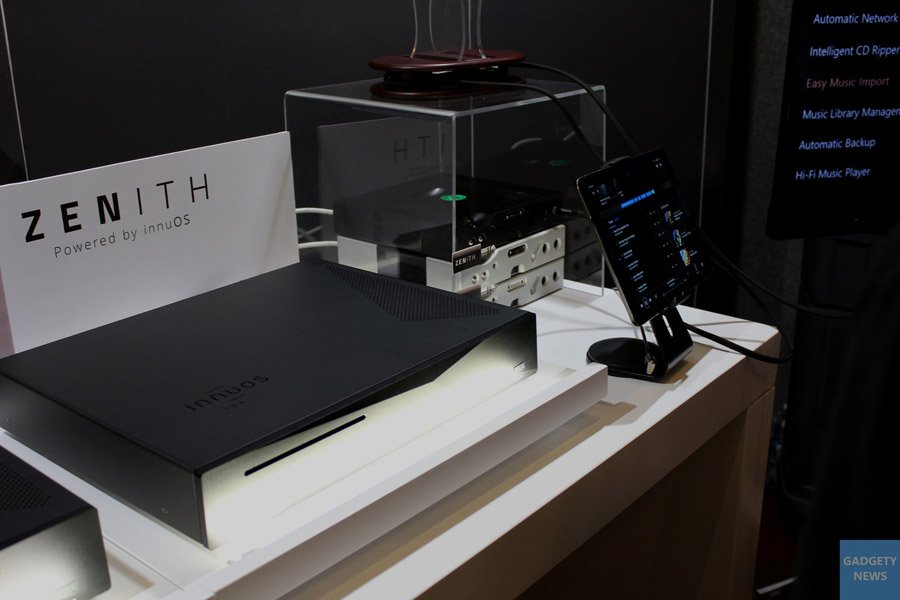 The next step up is the Zen (from £1500), then there's the top flight Zenith (from £2300).
The Zenith is packing a triple linear power supply using Nichicon MUSE acoustic series capacitors, medical-grade mains filter and Ultra low-noise USB Audio Output. In the case of this trio, they all each had a Chord Hugo TT to play through.
The Zenith is designed to isolate power noise from your Hi-fi. It is also equipped with in-memory playback with 4GB cache.
You can play Hi-Res music up to 32 bit/384 KHz, DSD256 as well as MQA, when connecting to compatible DACs.
Esoteric
Esoteric is another company looking after digital sounds. Their room sounded wonderful, thanks to their Super Audio CD players and amplifiers.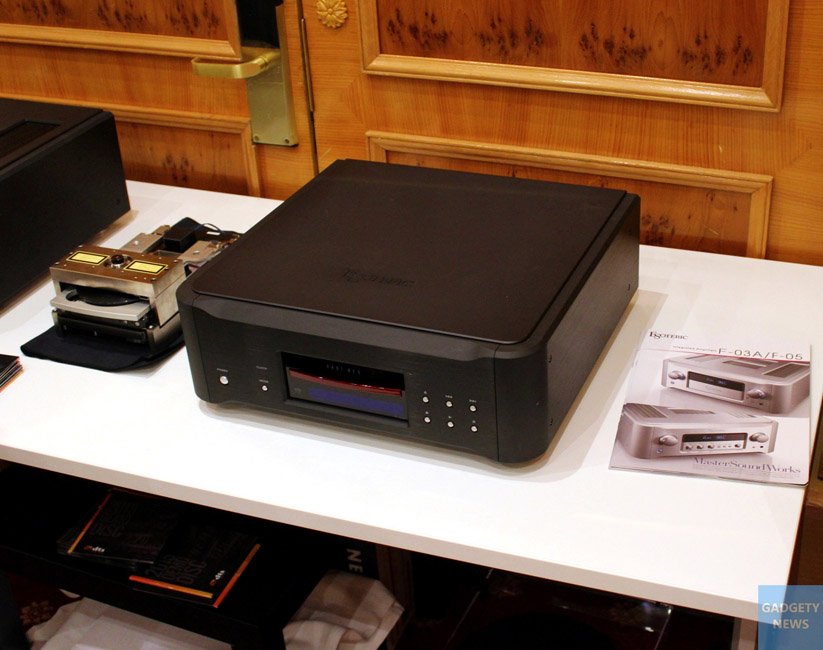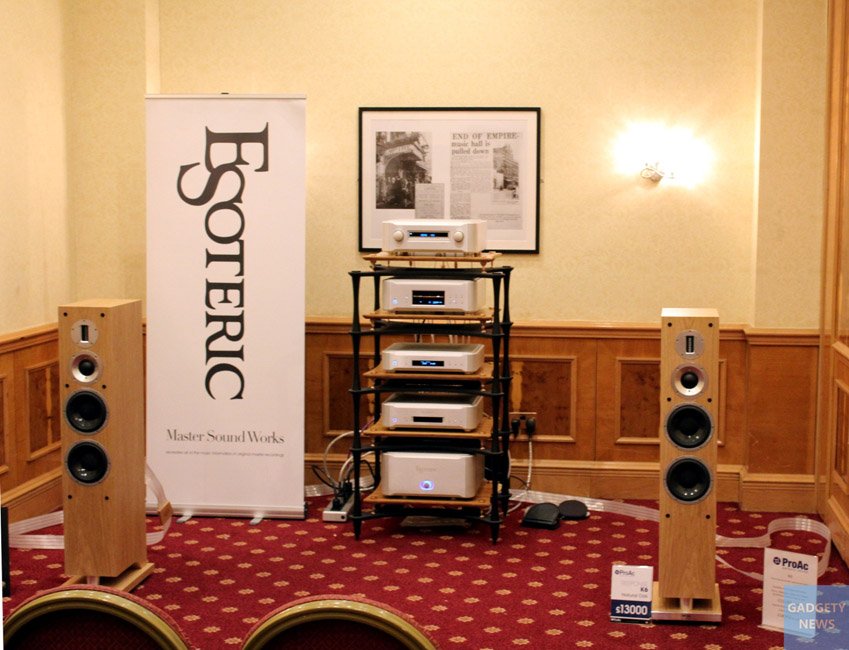 If you were under the impression that CD players are built as equals, then you should really check this Japanese brand out.
Chord Electronics
I have been a fan of what Chord Electronics does since I first found their oddly attractive digital loveliness.
Their looks might not be for everyone but I love the industrial designs.
Where I could ramble on about their larger components (the Blu MKII and DAVE (£8,500) are wonderful though), it's the portable units that beckoned me over to Stand 5.
I've had the Chord Mojo to play with, which is awesome, but now it has a friend called Poly. With Poly, Mojo is handed the skills of a high-res wireless network music player and streamer. Poly also can playback from SD cards too, which is handy.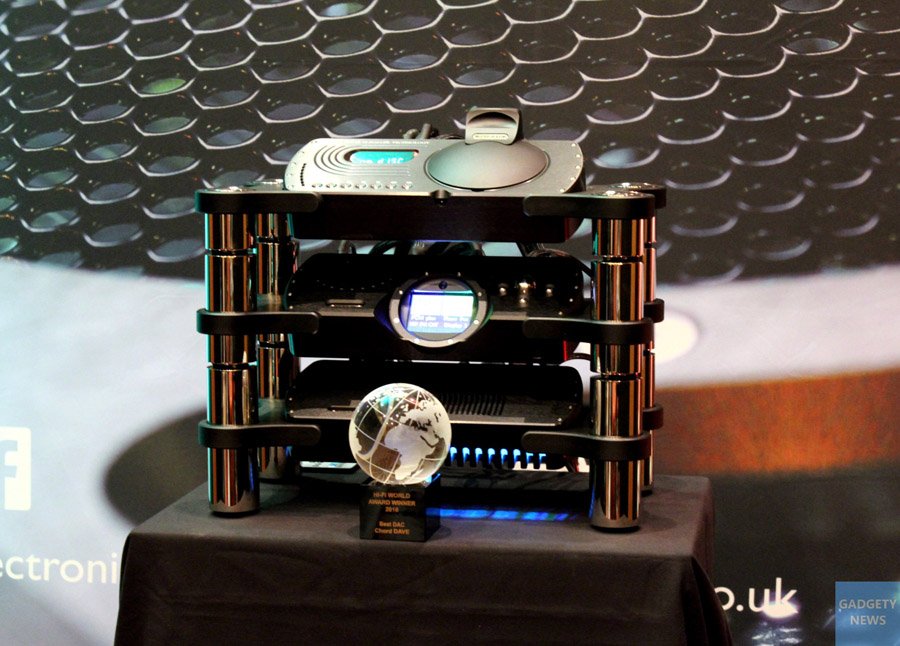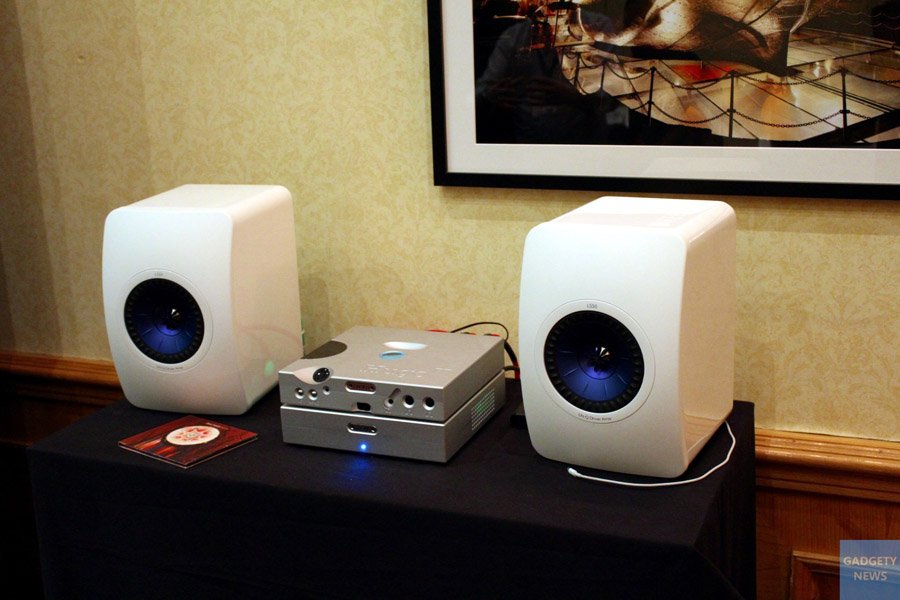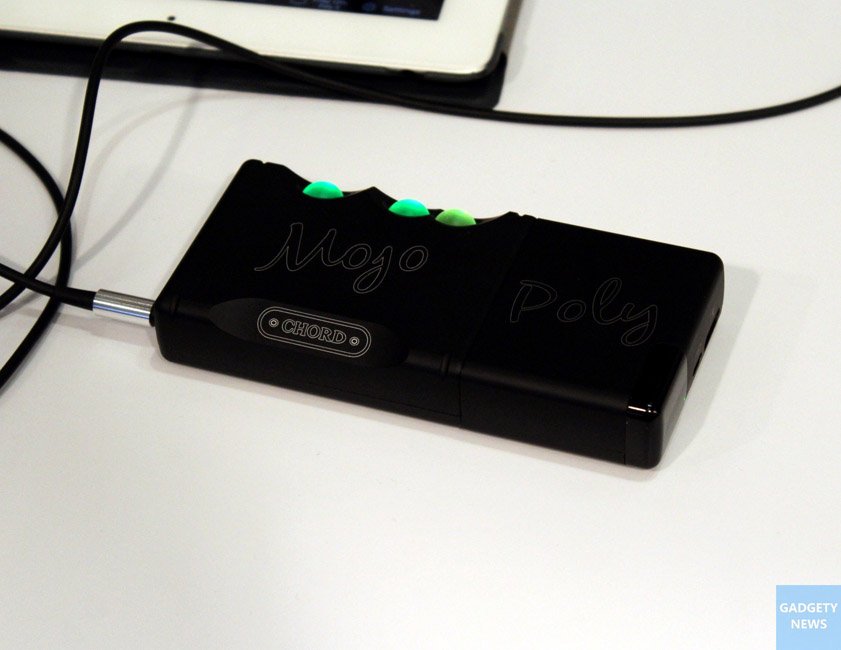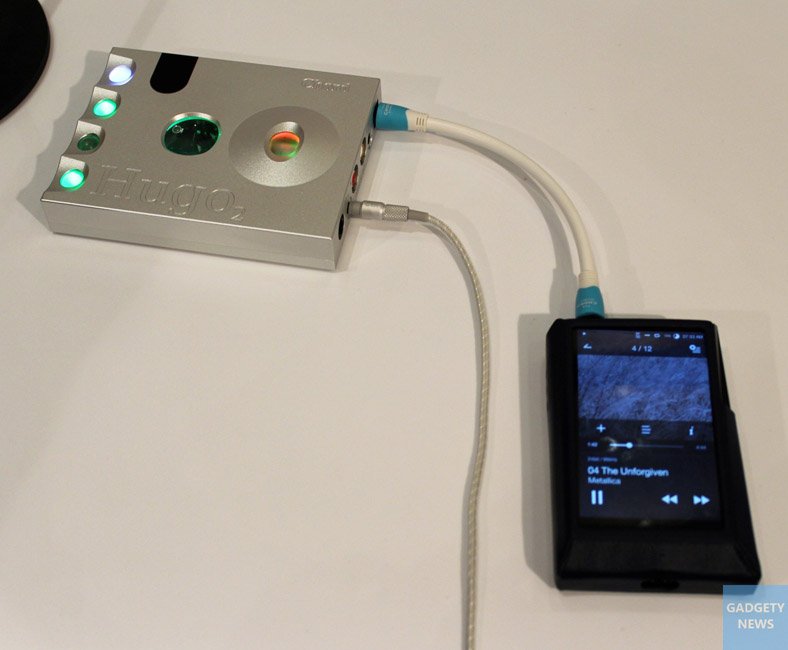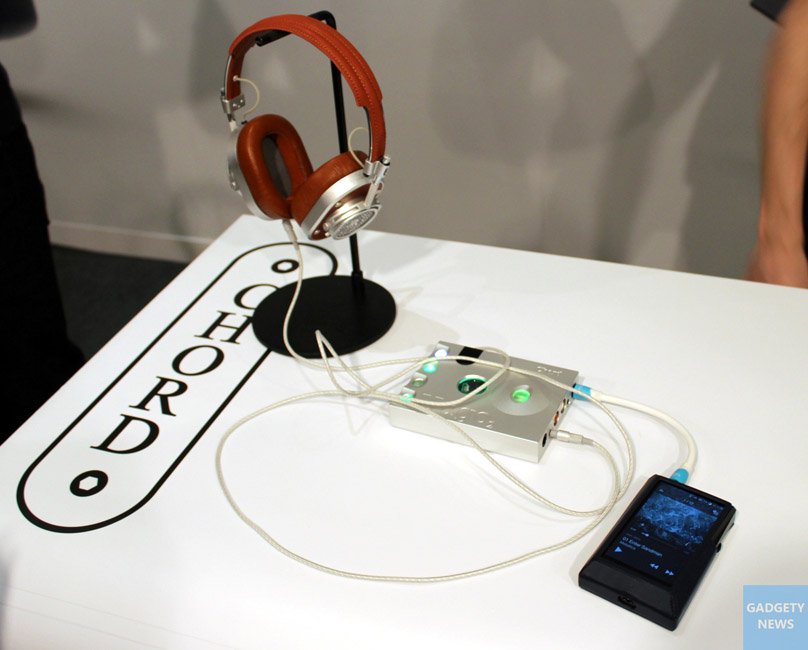 The Mojo has to be one of the best portable headphone amp/DACs currently available, with the Poly it just gets more versatile.
Dynaudio
This room was not only welcoming but there was a huge picture of David Bowie on the back wall.
The new Contour speakers made their presence felt.
Apart from the Esotar2 soft-dome tweeter, everything else is brand new – from the woofers and bass drivers (using Dynaudio's own MSP cone material) and lightweight aluminium voice-coils, to the cabinets, internal bracing, innovative high-quality crossovers and solid machined aluminium baffles.
I was also intrigued by the company's Xeo wireless range of speakers.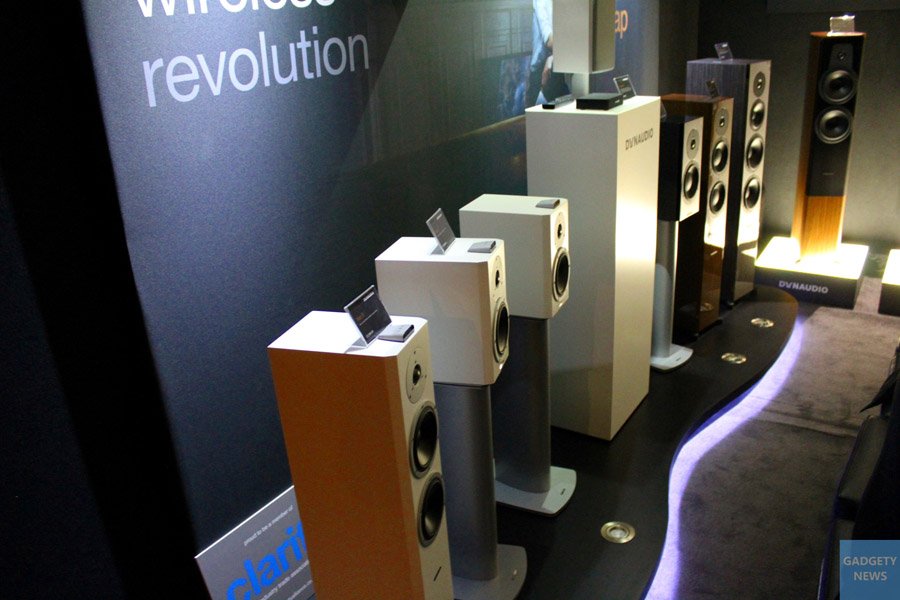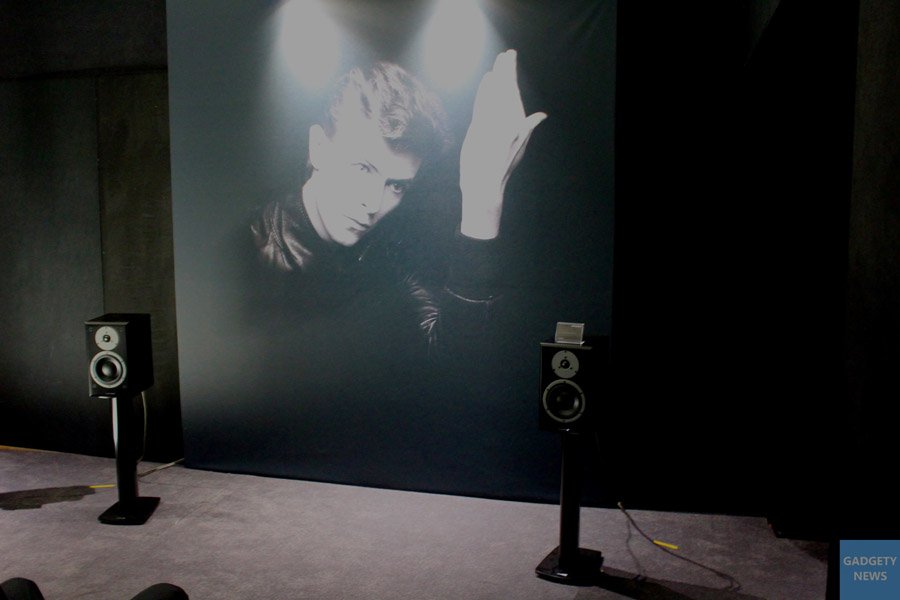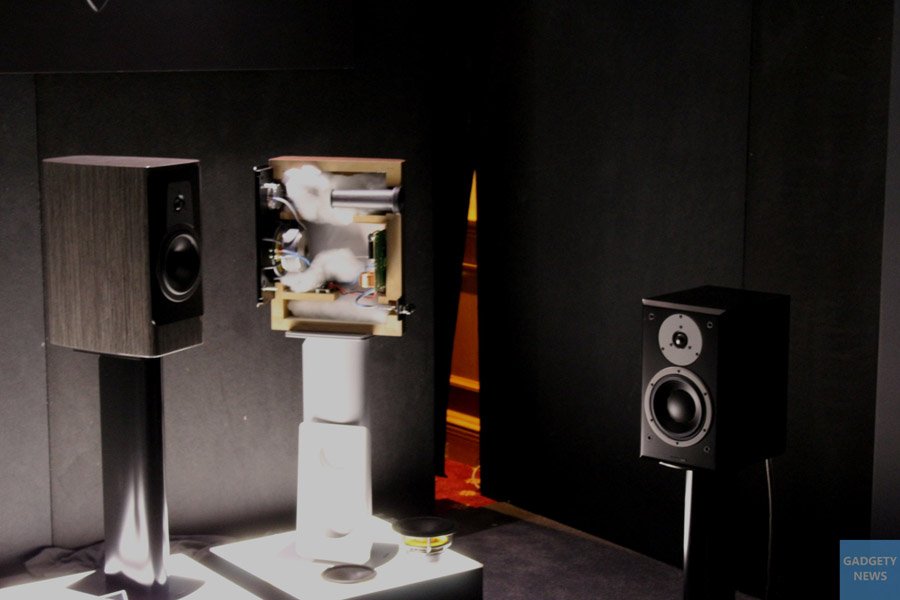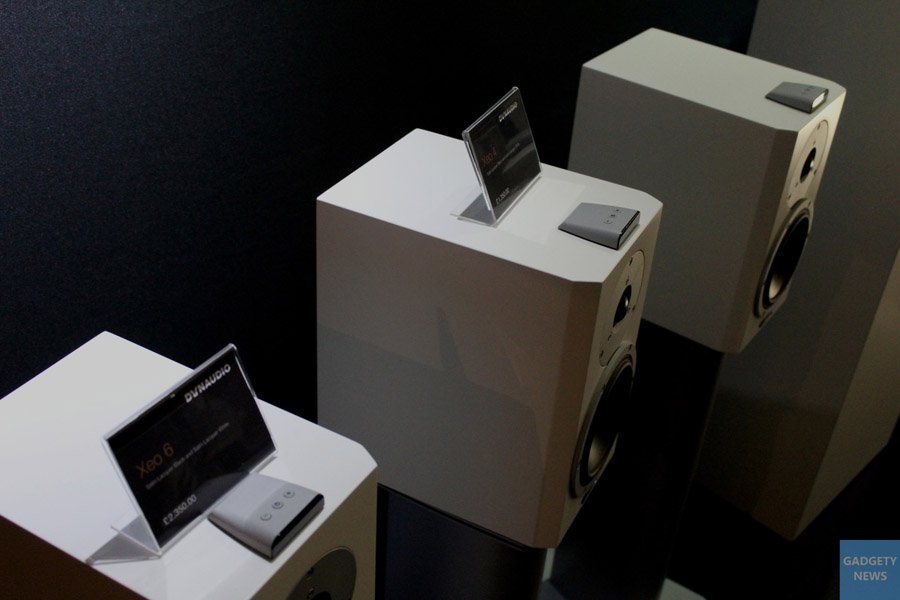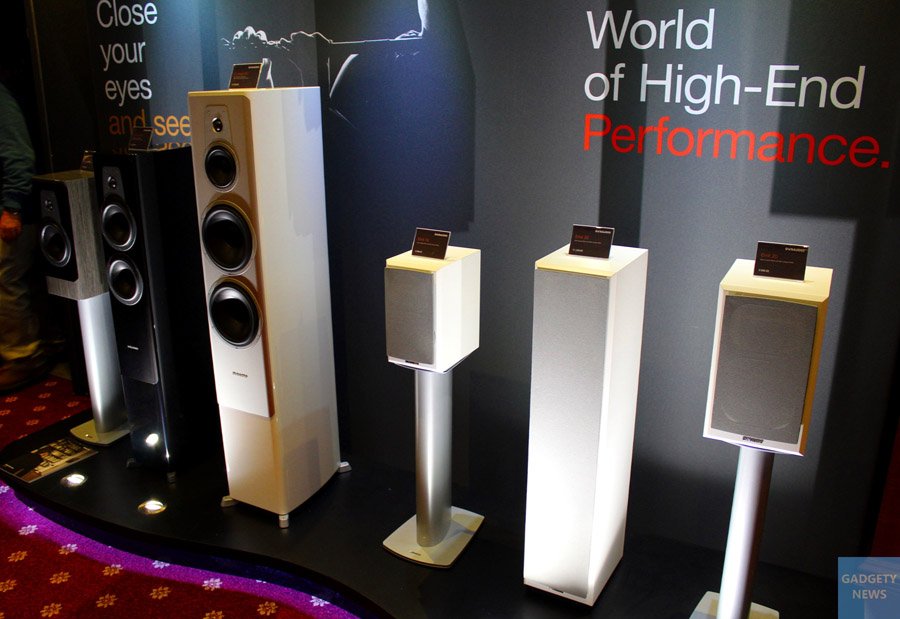 Q Acoustics
A UK debut at the show was thanks to Q Acoustics. They had brought their Concept 500 to Bristol. These £3,600 flagship loudspeakers take the existing Q Acoustics design principles from featured in the Concept 40 and then runs with them.
The triple layer Gelcore cabinet uses resonators and specialist bracing to provide as inert a structure as possible to allow the two newly designed low-distortion 16.5cm mid/bass drive units and 28mm soft-dome tweeter to perform unhindered. All of this is brought together by a Linkwitz-Riley crossover that's comprised of a Mundorf Supreme polypropylene capacitor in the tweeter feed paired with a large 10x10cm Mundorf air-core inductor; the latter having to be housed in the base of the speaker.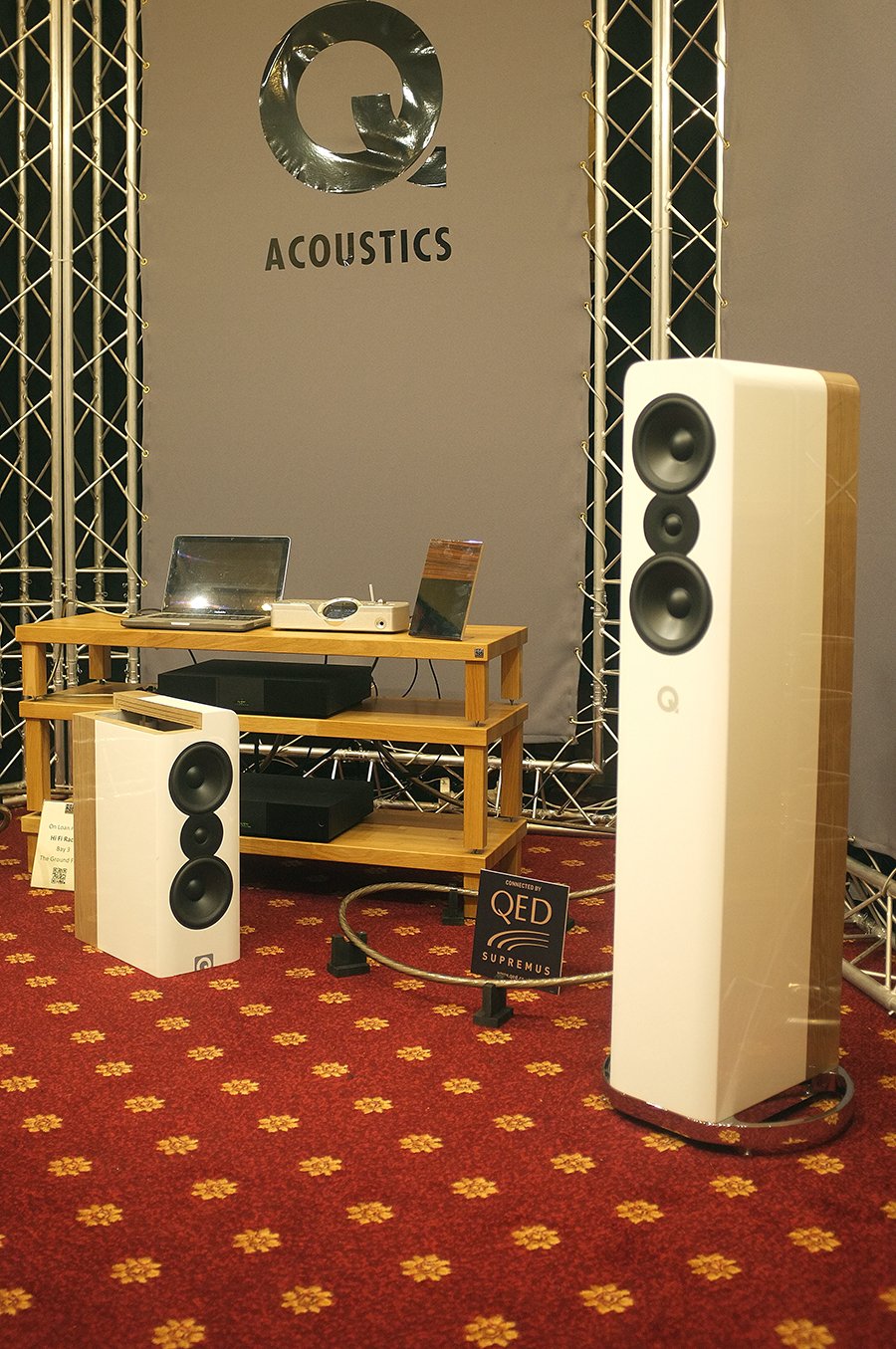 Quad
No less flexible and sounding very good indeed was Quad's Artera One all-in-one system.
The Artera has UPnP streaming, CD support, digital and analogue inputs and a very pleasant industrial design. Quad clearly has some confidence in the capabilities of the Artera as they were demonstrating it with their electrostatic speakers which are relatively demanding speakers and extremely revealing at the same time.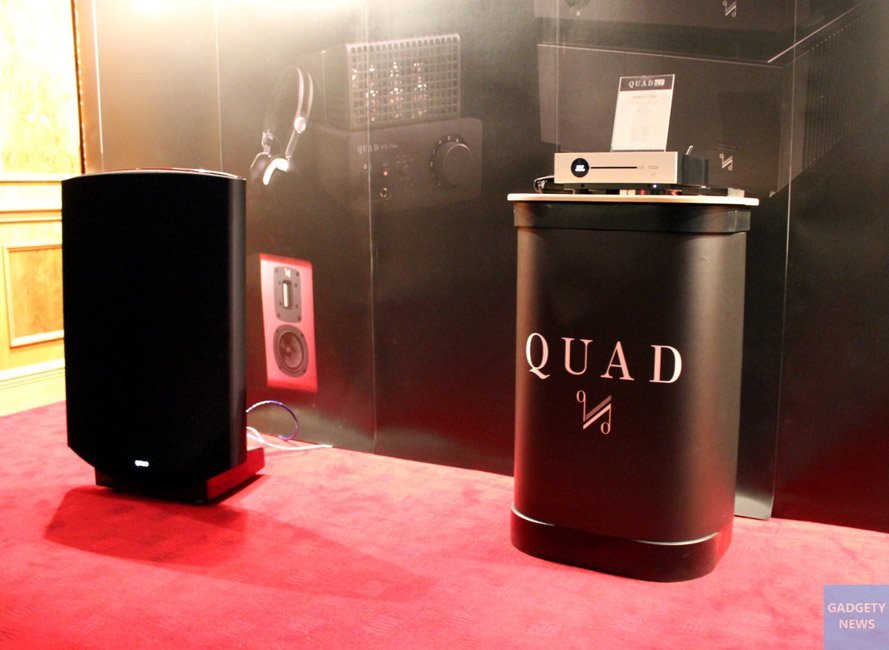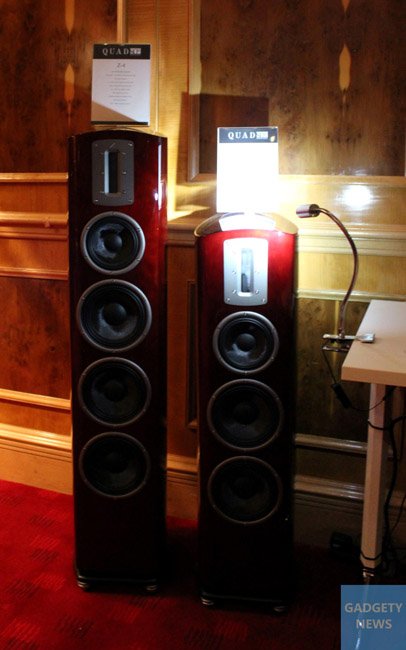 Focal
After a quick drink (it is important to stay hydrated!) I had a wander over to try on some of Focal's headphones.
The rather bling-tastic gold edition Utopia cans weren't really my thing, but the moderately priced (£800) Elear sounded pretty good hooked up to a chunk of Naim gear.
Naturally, I had to loiter to get ears on with the Utopia (£3,300). I was expecting good things and I was not disappointed. The environment wasn't perfect (that's the only downside to The Bristol Show) but these open-back headphones were not only comfortable but the ultra-lightweight 40mm pure beryllium dome drivers really had me engaged.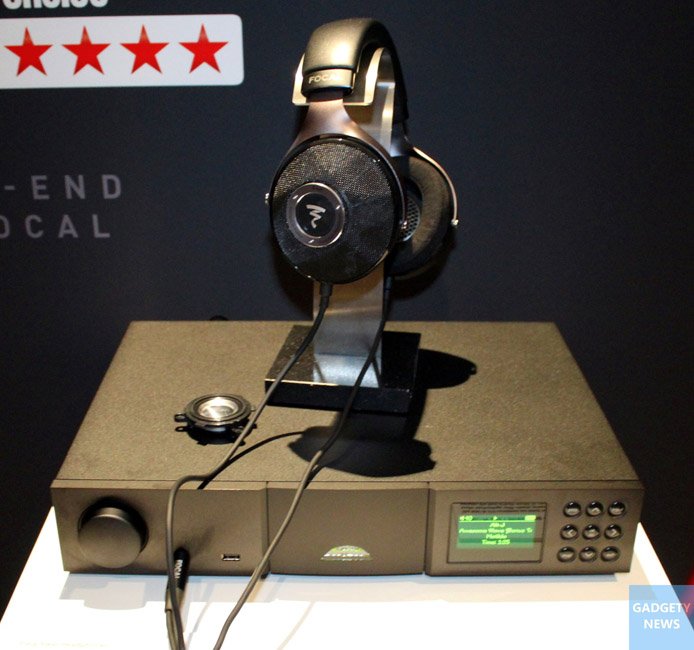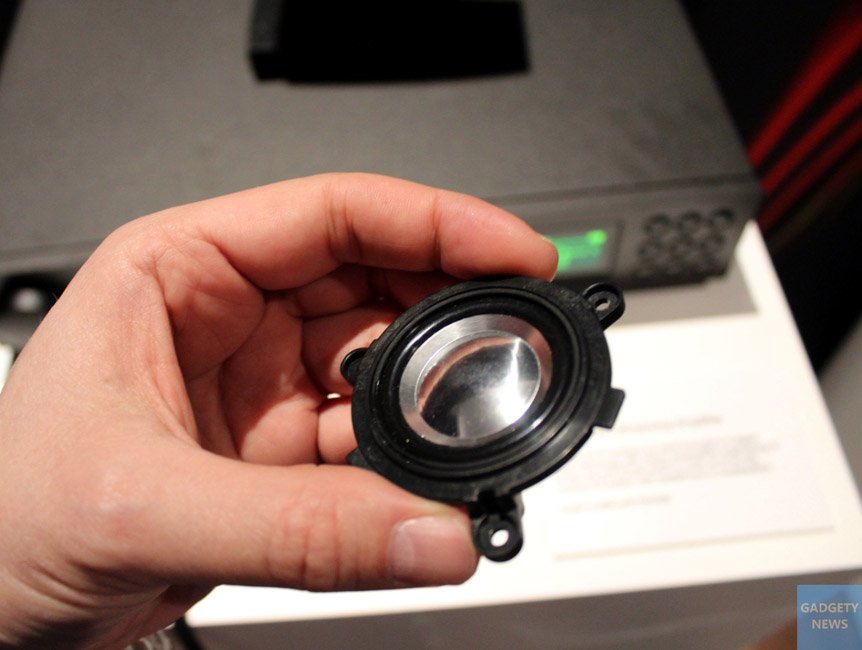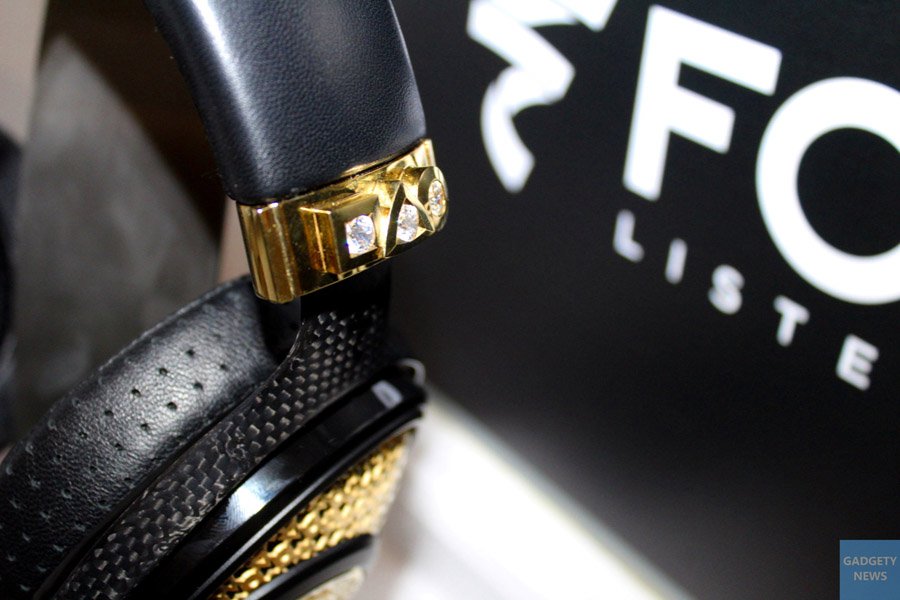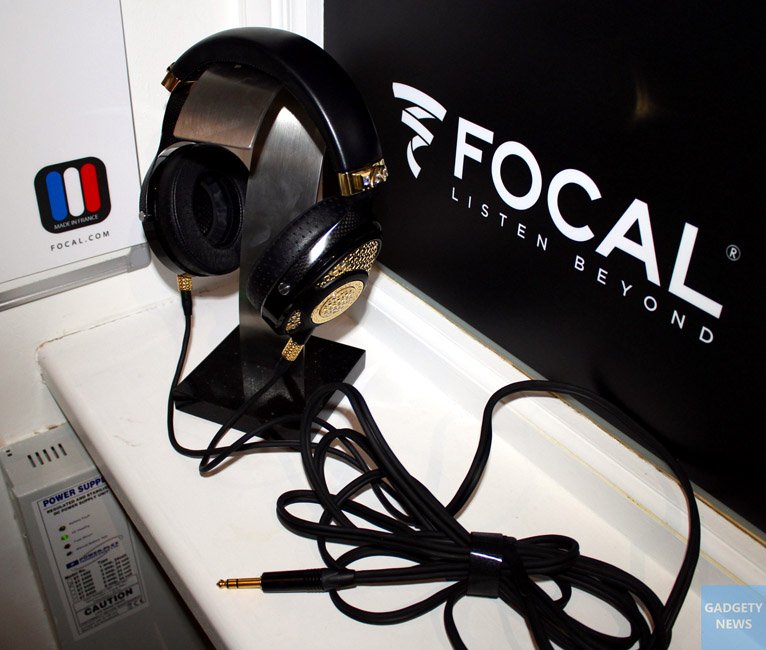 Naim
As there seemed a lot of cross-pollination between Focal and Naim, it seemed only fair to drop in on these too.
Again, there were large, expensive show stoppers here but it was the diminutive Uniti Atom (£1,600) that I spent some quality time with.
The Naim build quality goes without saying but the sound from its 40-bit digital signal processor, Burr-Brown DAC and A/B Class amplifier was quite amazing.
The physical controls were smooth and the LCD screen is clear and vibrant, but the playback, that was so silky, wide and lively, I wanted to take it home with me right there and then.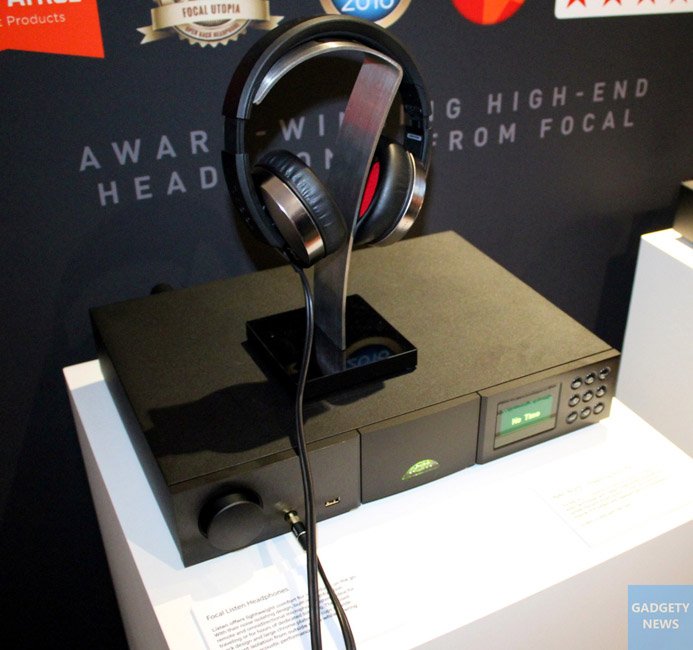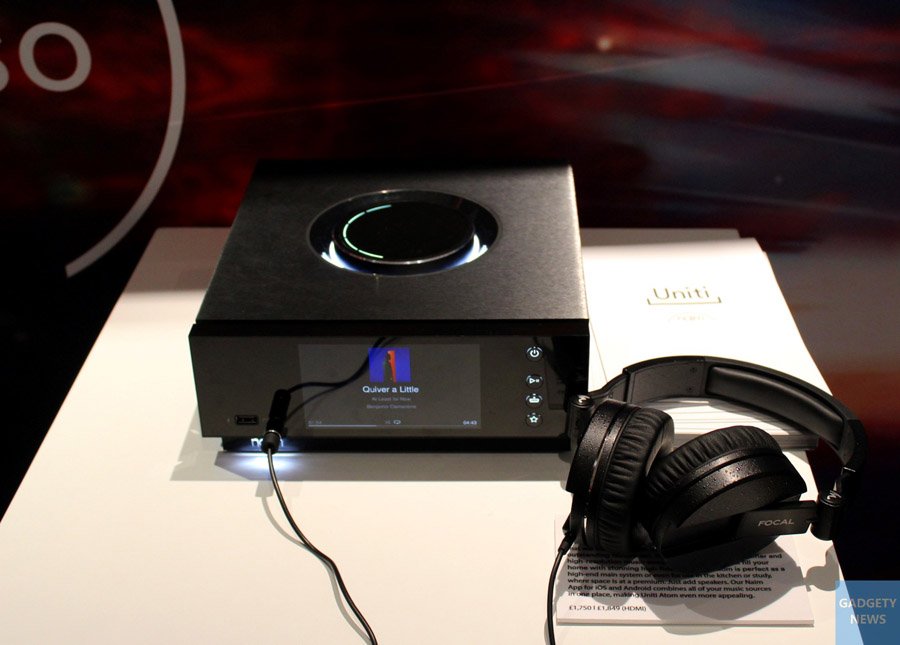 Dali
I do love Dali speakers and I make no secret of it, so I had to drop in to Room 118 to hear their new Epicon loudspeakers, as well as checking out the more affordable Spektor series.
The Epicon 6 (£7,800) and 2 (£3,750) speakers were being driven by Meridian kit and they did sound potent. I am still begging them to let me test a pair at home but I know it will be a bitter-sweet affair. I really did get attached to the Rubicons and the Menuets when I had them.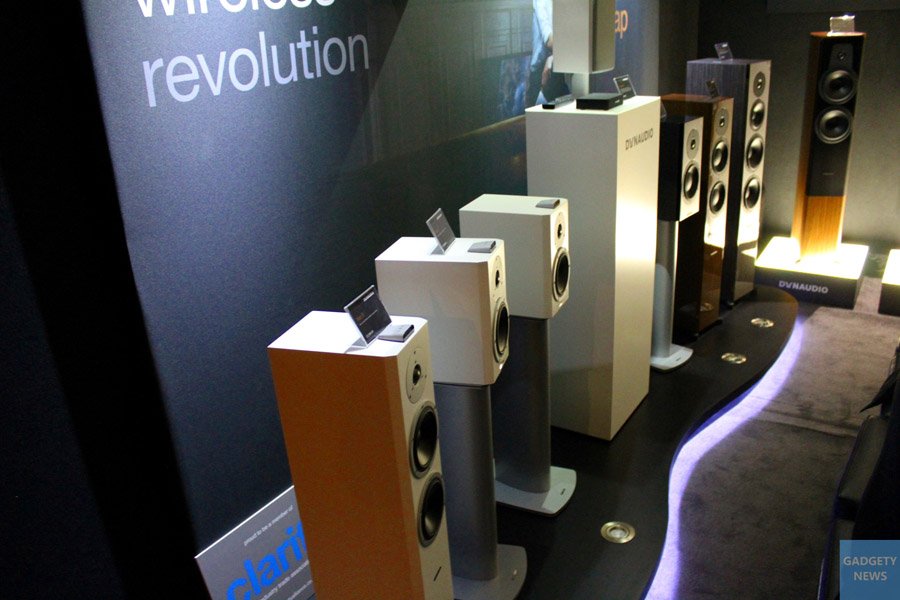 Neat Acoustics
Neat by name, Neat by nature. When I entered this room I did not expect the sound in there to be generated by a pair of tiny, angled speakers.
The Neat Iota Alpha (£1,385) are quite unlike any other speakers at the show, or anywhere I dare bet. These floorstanders might only be 45cm tall but the soundstage they deliver is nothing short of outstanding.
They are loaded with a 50mm EMIT planar magnetic tweeter and 10cm mid/bass unit. There is also an extra 13.4cm bass driver firing downwards in the bass, errrr… base of the enclosure.
The Iota Alphas come as a mirrored pair and in the room they were set with the tweeters on the outside. I was really quite taken by them, although one of the tracks played did come across a little too clinical for my tastes – but you always have to give the set-ups at Bristol a bit of leeway.
ELAC
I headed over to ELAC as I wanted the chance to hear their Miracord turntable (£1,750). Not only would it really suit my living-room in black and white so, so well, but this is the 90th Anniversary model too so I should really pay my respects.
The deck was fitted with an Audio Technica moving magnet cartridge and not only looked the business but sounded excellent.
They were also demo'ing their new Element EA101EQ-G amplifier (£625). It might only be the size of a decent hard-back book, but it put out some great sound.
This appears to be a really friendly amplifier for those who don't want to have to mess with things but, should you want to, it's all done through a smart device app.
When setting up you can label the Element's inputs to what makes sense to you. So, if you want one of the analogue inputs to be called 'Jay's Wheels of Steel', for instance, you can. The app also has 'Auto Blend'. If you don't have a subwoofer, the app will take you straight over to room EQ settings. If you do own a sub then you can start inputting crossover frequencies.
The app certainly works as the EA101 paired with the Uni-Fi FS speakers (£1,200) sounded clear and without the blooming bass of some other, more expensive systems. Again, some might suit the rooms they're in a bit better than others but I was impressed by what I was hearing from a system costing around £1,800.
NuNu Distribution – Quadral
Checking out one of the first rooms organised by distributer NuNu, I was very much taken by the Oracle Paris turntable. It's been around for a number of years now but I still find it striking, in a rather understated way.
On show here were the new Galan 9 desktop speakers. These are the smallest of the Aurum range and pack a 16cm woofer with a tweeter on top. Don't let their size fool you though; these can certainly still pack a very focused punch.
If you prefer floorstanders, the Chromium Style 8 are rather lovely.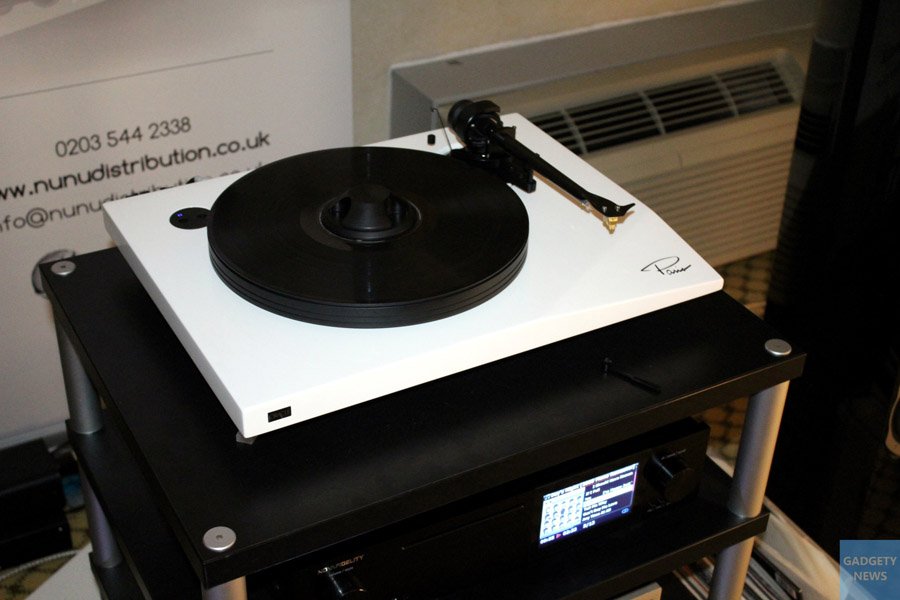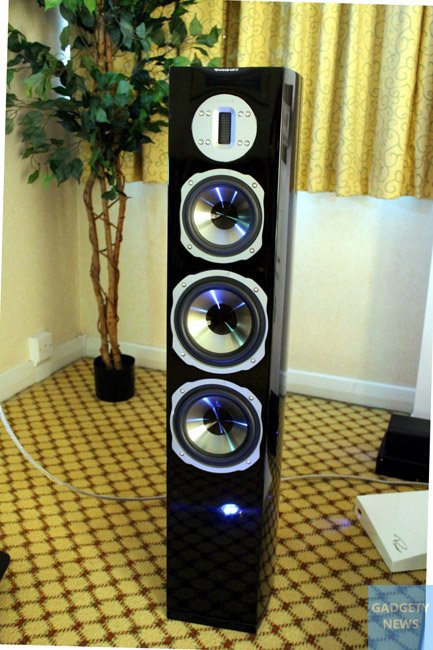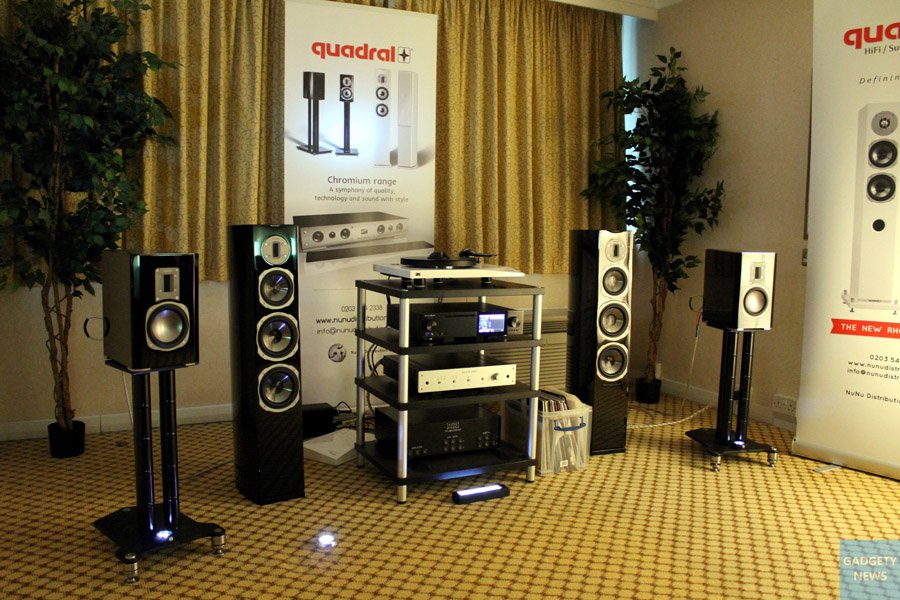 NuNu Distribution – TAD
In the next room I went in search of the Micro Evolution One TAD-ME1-K bookshelf speakers.
Now, I was looking for some compact, almost desktop-sized speakers. What I discovered was something kicking out a remarkably punchy low-end on stands.
The ME1-K do look awesome and purposeful to me. I would definitely make room for them in my home for their looks alone. To be fair, I think they are 'Micro' for the huge sound that they dish out. The speakers feature a 16cm woofer and 9cm CST1 driver with beryllium tweeter. They measure 251mm (W) × 411mm (H) × 402mm (D) which isn't really micro. They also tip the scales at around 20Kg each.
The speakers are tuned to give a "natural deep bass sound" thanks in part to a bi-directional ADS2 (Aero-Dynamic Slot) port. I was really taken by these but couldn't help wonder if they'd actually be happy in my small London living room or would I find them pacing the floor like caged beasts.
Acoustic Energy
Naturally I had to pay a visit to hear the new AE1 Actives from Acoustic Energy.
The speakers feature the company's pure piston ceramic aluminium cone technology, now in its fifth generation. This offers exceptional stiffness without weighing the speakers down too much.
The new unit is designed to work in harmony with AE's Wide Dispersion Technology waveguide, for seamless integration with the mid/bass driver. The result is a wide, spacious image.
Electronically, the AE1 Active is an all-analogue design. They certainly sounded natural and effortless whilst producing a very impressive sound in the notoriously tricky environment of The Marriott.
In particular I loved the way these handled vocals and acoustic instruments in a way that allowed their expressiveness shine through.
The AE1 Actives are on sale now, priced £1,000 for the piano black or piano white finish, and £1,200 for the piano cherry veneer.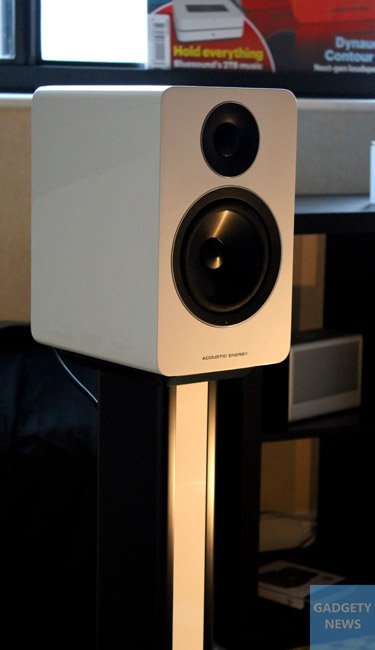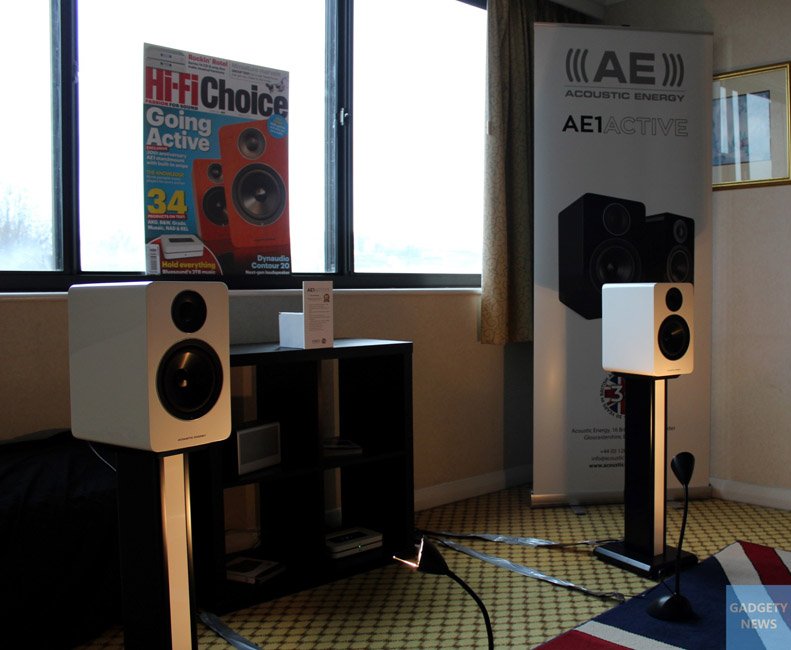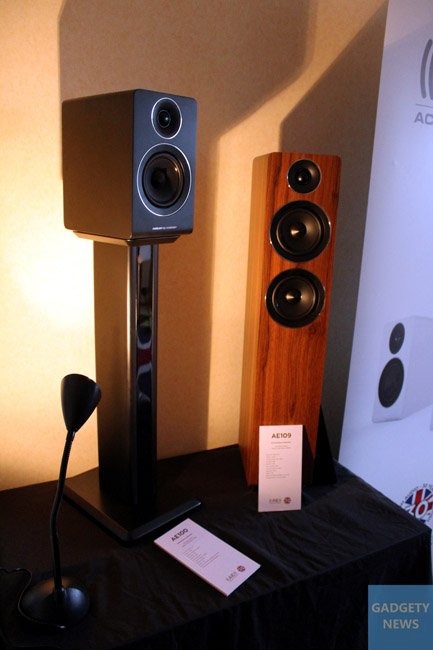 SOTA Acoustics
SOTA were demoing the Mark Audio range of speakers. It is great to still find people treading their own speaker design path. The Tozzi are really eye-catching as well as beautifully made. I handled the Tozzi Two flagship model and there was no mistaking the quality of construction. They are formed of custom machined alloy billets and feature an advanced composite core. They are loaded with a single-suspension drive unit and sound as good as they look. They really do make a statement in a room sat atop Manfrotto camera tripods – this is what happens when you allow a photographer to design speakers.
I do like the neat touches from this brand. The velvet that is beneath the grilles of the gorgeous Viotti One is another example.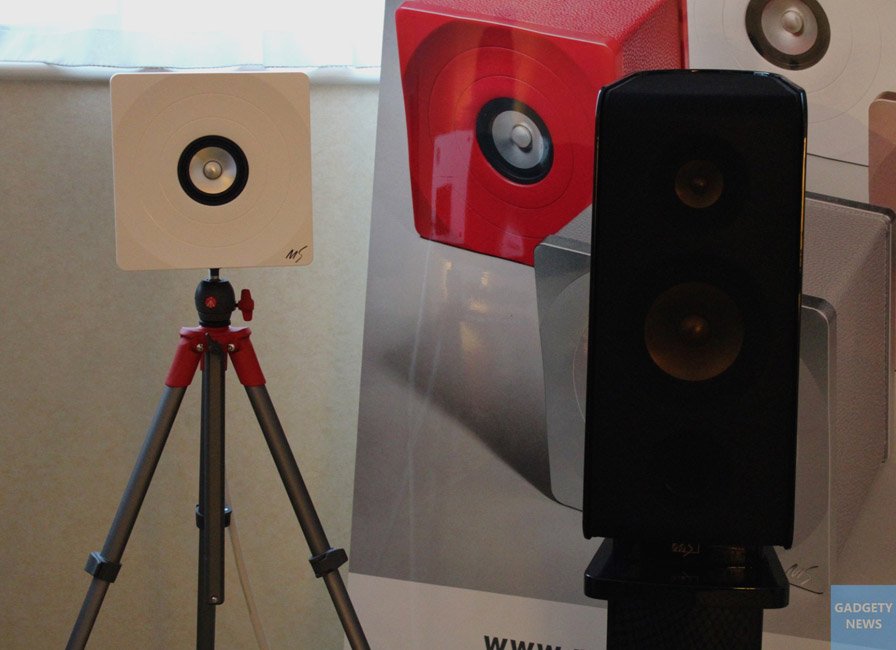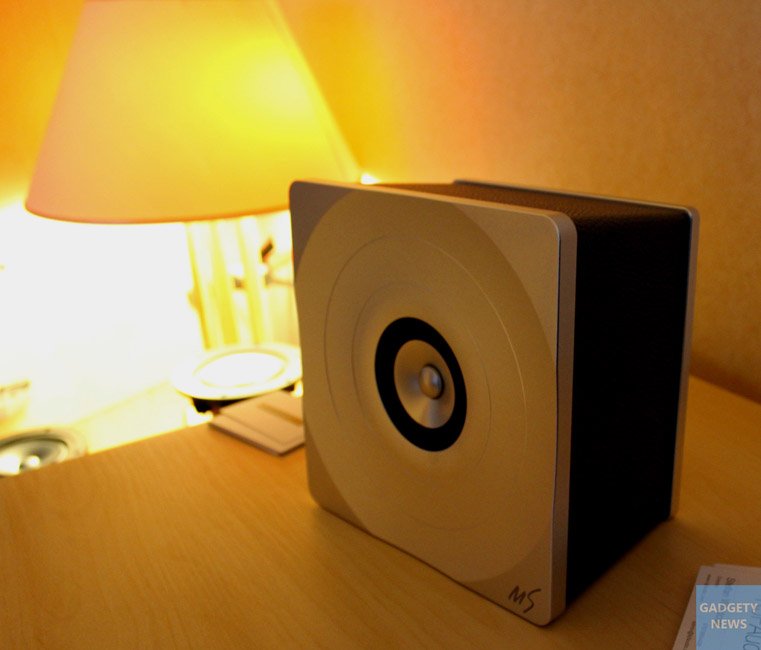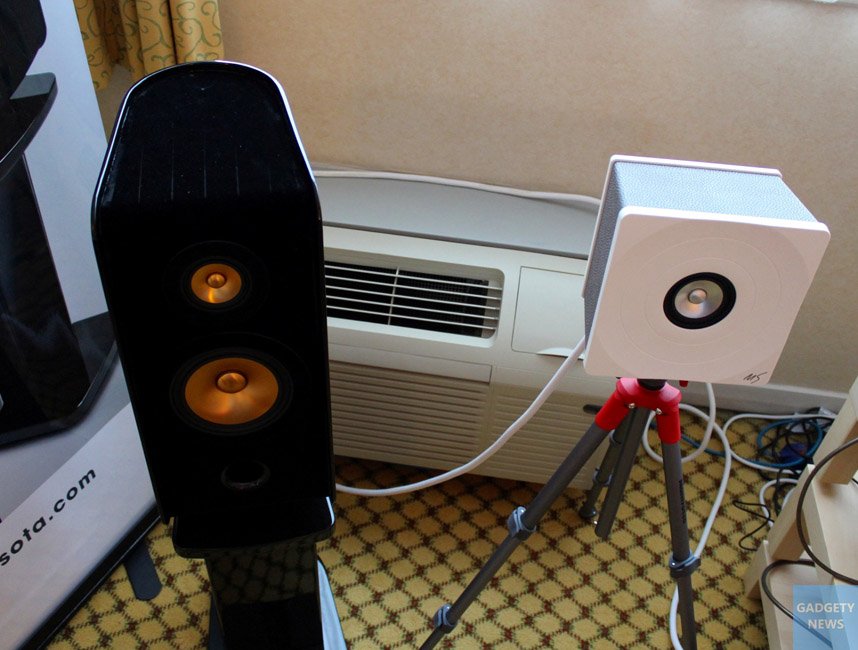 Technics
The Technics SL1210GR was here to make its UK debut.
I've never been one for DJ-lead music, I do like some Hip Hop and such but I never hailed the classic wheels of steel as something to hanker for. But, meeting the GR in the flesh, so to speak, I could sense my credit card ducking for cover.
The GR does make some concessions to affordability (£1300 compared with the £4,000 GAE model), but it still looks and feels fantastic. Still not convinced that it would get me to take up mixing and matching, you'll be glad to hear.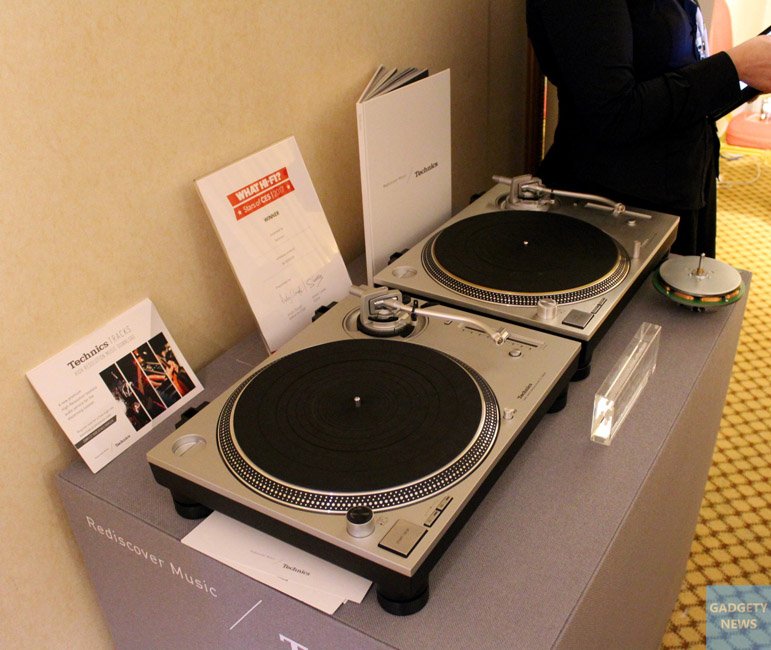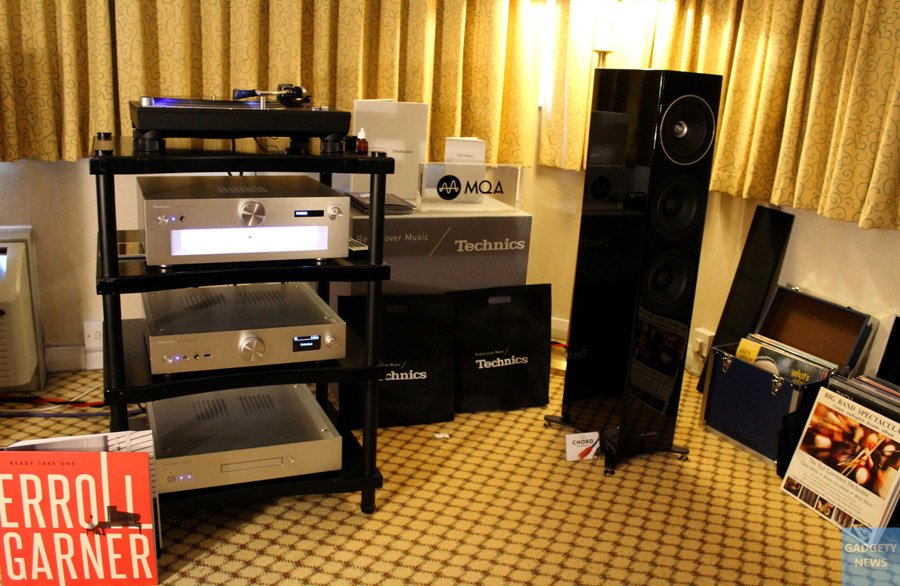 Elipson
I was really surprised by how well the Alpha turntable preformed (check out my review on GadgetyNews) but the new Omega looks something else.
Elipson has launched a new carbon-clad version of its Omega 100 RIAA BT turntable and it is jaw-droppingly gorgeous.
Called the Omega 100 RIAA BT Carbon, it's almost identical to its predecessor, but there are a few key differences.
Starting with the most obvious, the deck is made of carbon, giving it a cool new look. The lift arm is now made of aluminium, and it features an Ortofon 2M Red cartridge.
Other than that, it's the same turntable, which is no bad thing at all considering how good the Alpha is.
Features including a phono stage, USB output and Bluetooth make it a thoroughly modern deck. All this for £700 if you go for the Carbon version. You can save £200 if you opt for the 'standard' Omega.
Leema
The Leema room was showing off its latest and greatest.
The Quasar all-in-one system takes the company's strengths in amplification and decoding and careful melds it with UPnP streaming to create a rather impressive one-box system.
With it you get Tidal and Spotify Connect support, Bluetooth, along with digital and analogue inputs. These are all lovingly served through a 150 watt class AB amplifier.
The company also took the opportunity to demo the Sirius music server. This is a Rip NAS can be ordered as a straight server or with a DAC board added so it can be tasked as more direct digital source. Leema has partnered with the aforementioned Innuos to provide the guts of the Sirius which, after listening to their kit, seems like a good move to me.
Leema was putting their kit through a Tucana Anniversary amp that celebrates ten years of the original Tucana. This was powering a pair of ATC floorstanders the sound was powerful and controlled. This was one of my favourite sounding rooms of the show this year.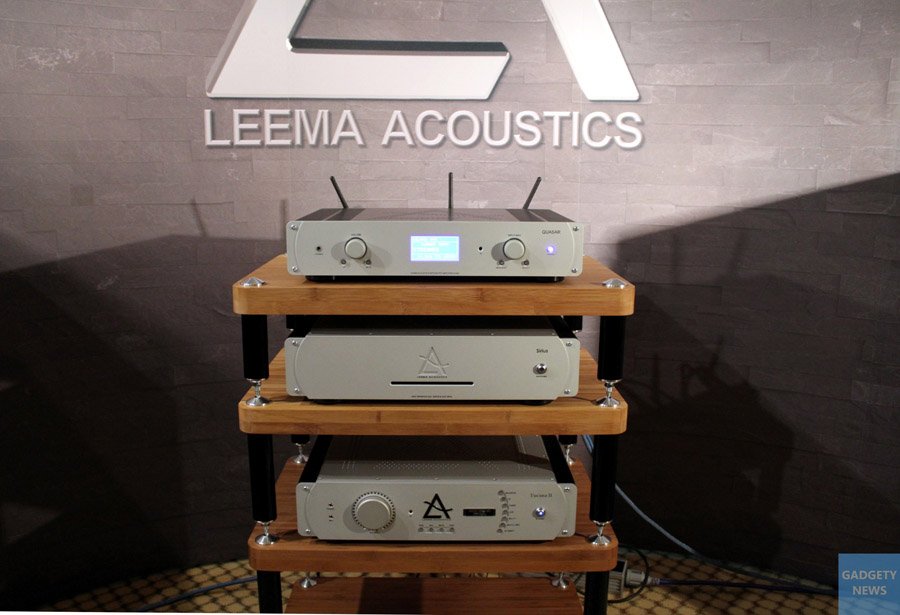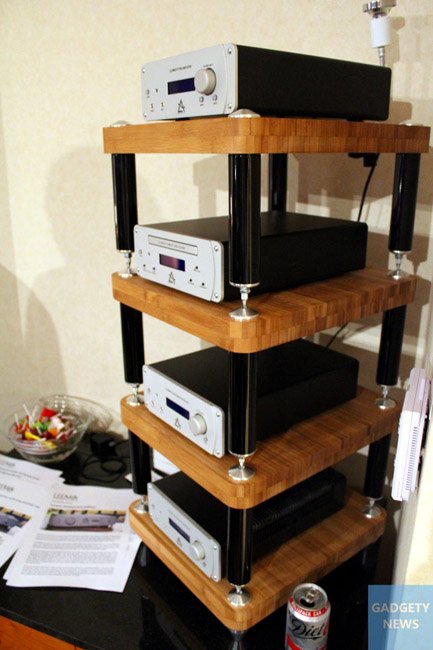 Canton
As I could never seem to get in to Arcam's presentation of their new Reference Atmos Cinema MK2 (everyone I spoke to were singing its praises which made it even worse for me) I went on the hunt for other ways of boosting your movie audio.
My first stop was Canton. Their DM100 soundbase (£580) was on show. It kicks out 200 watts through its 10 drivers (2 x tweeters, 4 x mids, 4 x subs) and is equipped with virtual sound tech. Best of all it only uses one cable to connect to your telly – great news if you're wall mounting your flat screen. It also comes with Bluetooth so you can stream music from your phone or other similarly connected device. Of course, the soundbase has been designed to sit your telly ontop.
The output was impressive with soundtracks sounding huge whilst also keeping dialogue clear. I do like the addition of Hotel mode which cuts some of the bass so it doesn't disturb those in the next room.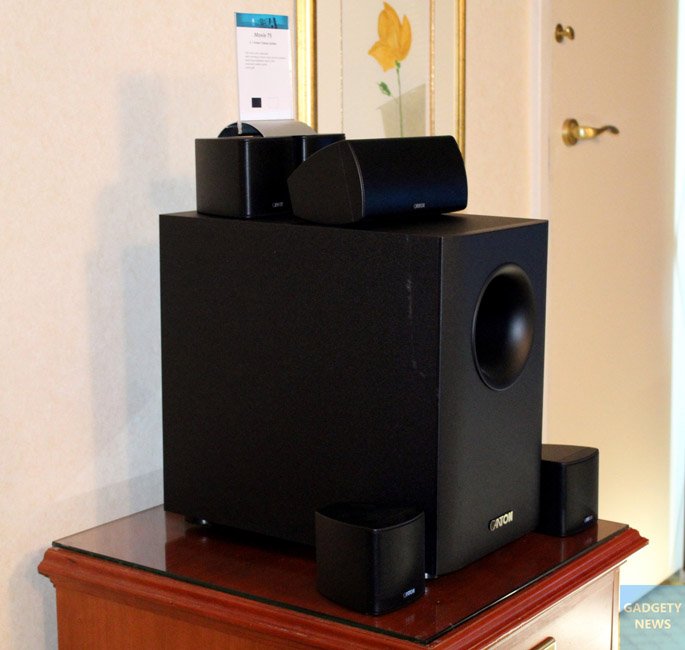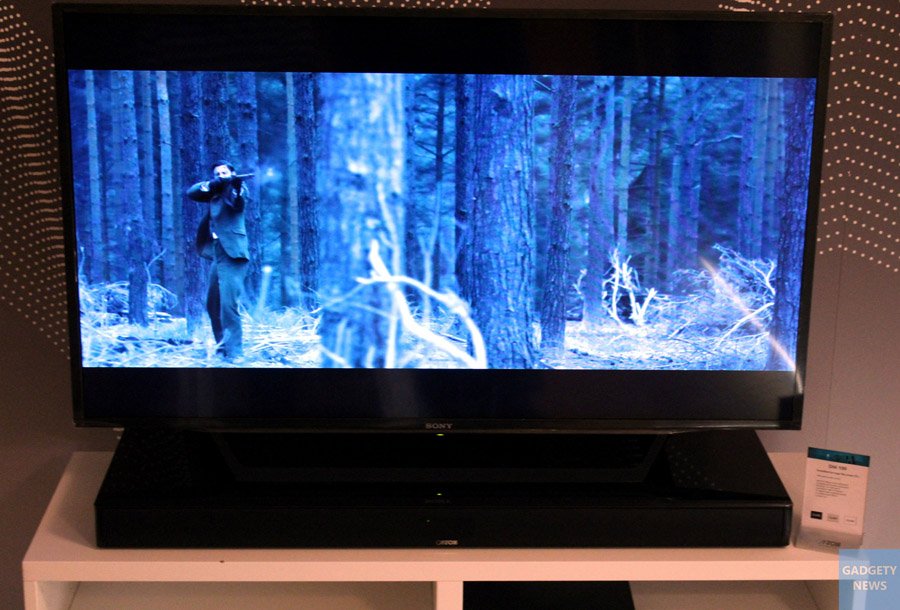 Orbitsound
Orbitsound are also in the business of improving your televisual enjoyment.
They offer a range of soundbars that are a little more discrete than the Canton soundbase.
When I entered the room they had their airSOUND A70 (£500) soundbar playing. This sounded great and wide, especially for its size. This soundbar will easily slip underneath your television and, thanks to its wireless sub, bring better depth and immersion to your viewing.
The P70 (£300) panels are for those who need a little more oomph but all in one box. They are also more versatile as this can be wall mounted, placed on a shelf or simply under your TV. Thanks to its integrated 5.25-inch subwoofer, it really does make its presence felt.
Naturally, it has all the usual connectivity options – Bluetooth, Optical and Aux included.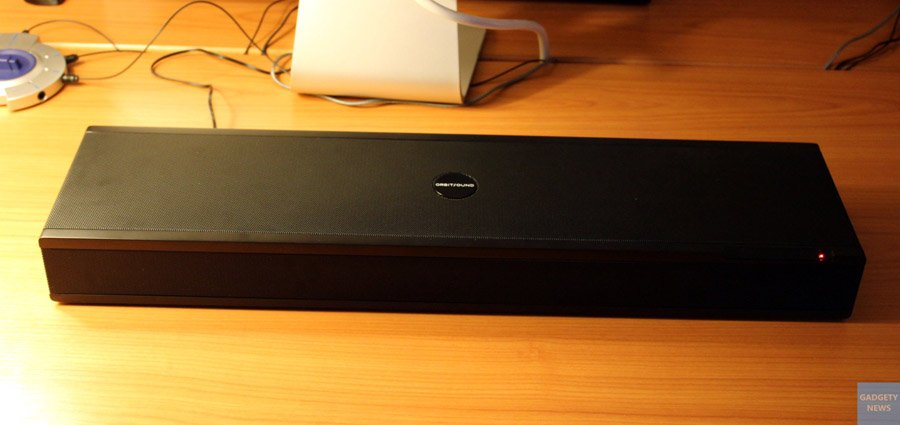 Bristol Show Round Up
I could go on and on, and mention the new speakers from Spendor, how much I was impressed by the Ophidian Mojos, how lovely the Michell turntables sounded, and so on. The thing is I am sure all of those will be covered elsewhere in this fine publication.
My intention here was to give you a glimpse of what I found particularly interesting and, perhaps I visited areas that you might have missed.
As always, The Bristol Show delivered on its promise to provide music-lovers something for every taste and budget. True, the bigger budgets were well catered for but, if you looked for them, there were items for those with a budget closer to what I have – i.e. not much after rent, food and transport. It is always nice to get to hear and enjoy those more aspirational components though, isn't it?
I am glad that I have Headroom to look forward to just around the corner as I am already feeling like I need another fix of new shiny audio gear.
Jay Garrett
Read More about the Sound And Vision – The Bristol Show 2017