The new Spendor D9 is a 3-way, 4-driver, floor-standing loudspeaker. Spendor told us: "The D9 incorporates all the engineering innovation developed for our 3-way Spendor D7 loudspeaker, but the new D9 is far more than just a big D7…"

The Spendor LPZ tweeter is built around a stainless steel front plate which forms a damped acoustic chamber directly in front of a lightweight woven polyamide diaphragm. The front plate incorporates a phase correcting micro foil to equalise sound wave path lengths across the diaphragm surface. Simultaneously it generates a symmetrical pressure environment on both faces of the diaphragm so the tweeter always operates in a balanced linear mode. The front plate also provides mechanical protection for the delicate tweeter dome. The D9 mid-bass drive unit has an advanced EP77 polymer cone. Housed in an isolated enclosure at the top of the cabinet, it handles only mid-range frequencies which eliminates mid-low frequency inter-modulation. The two D9 low frequency drivers have ultra-rigid, two part bonded, lightweight Kevlar composite cone assemblies. The bass drivers are in a large dedicated low-frequency acoustic enclosure. All three drivers feature cast magnesium alloy chassis, high efficiency motor systems, optimised electro-dynamic damping, and excellent thermal dissipation for wide dynamic range. New polymer surrounds with stable molecular composition reduce driver break-in time.
In the D9 low frequencies are handled by two specially designed bass drivers in a substantial volume enclosure. For low frequency response and power handling the enclosure is ported, but, say Spendor, "not like any conventional loudspeaker. The D9 incorporates our innovative Fifth Generation Spendor Linear Flow Port Technology. Inspired by Formula 1 diffuser technology it offers significant advantages over any conventional port or transmission line loading.  An aerodynamically profiled central baffle, like an aircraft wing, creates a tapered twin-venturi port. Air at the port extremities is smoothly decelerated and there is a further reduction in air velocity in the large tapered area at the cabinet base. The result is evenly balanced acoustic pressure and linear air-flow along the whole length of the port. Rapidly decreasing air velocity at the port extremities creates an air-curtain effect to eliminate port noise and spurious mid-band radiation. A carefully optimised combination of bass driver electrical and mechanical parameters, enclosure volume, air flow and wide-band (very low Q & very low phase shift) alignment allows the D9 to deliver deep, fast, articulate bass in a way no conventional loudspeaker can challenge". In the D9 there is no low frequency damping, the sound path, from the bass drivers to the listening room, is unrestricted.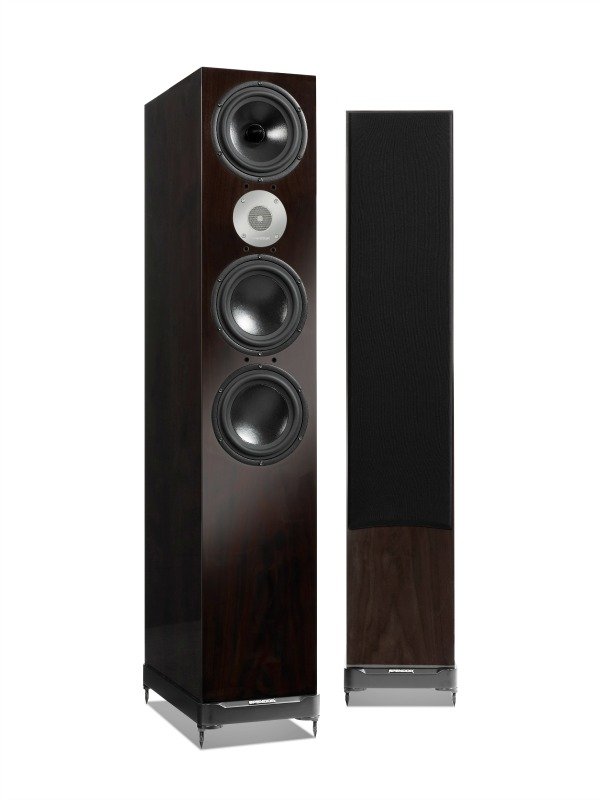 The D9 also features Asymmetrical Aperture Bracing to disperse internal waves and create a rigid non-resonant enclosure, while Spendor Dynamic Damping, with small low mass constrained polymer dampers at key energy interface points converts spurious energy in the cabinet structure into inaudible heat. The base of each cabinet has four levelling feet attached via forged steel inserts to hold the cabinet rock-steady. A crossover network with precision wound inductors and high-linearity plastic film capacitors integrates the drivers. 90dB efficiency and an easy to drive 8ohm load ensures compatibility with amplifiers and cables.
Description: 4-way floor standing loudspeaker
Enclosure type: Rigid, asymmetric braced, vented cabinet with dynamic damping
Vent type: Fifth generation Spendor linear flow, tapered twin-venturi port
Input connection: Single pair recessed precision binding posts
Typical in-room response: 27Hz – 25kHz
Power handling: 250 watts unclipped programme
Sensitivity: 90dB for 1 watt at 1 metre
Nominal impedance: 8 ohms
HF driver: Spendor 22mm LPZ polyamide dome
Mid driver: Spendor 18cm EP77 polymer cone
Bass driver: 2 x Spendor 18cm Kevlar© composite cone
Crossover frequencies: 500Hz, 4.2kHz
Net Weight: 35kg
Height: 1,125mm (excluding feet)
Width: Cabinet 210mm, plinth 222mm
Depth: Cabinet 385mm, plinth 409mm
Finishes Special: Spendor dark (hi-gloss), satin white, dark ebony, rosewood
Standard: cherry, light oak, black ash, dark walnut
Plinth: satin black
Accessories: Height adjustable spike feet, grille, non-slip polymer feet
Spendor D9 UK retail price is £7,495.00 per pair for special finishes and £6,495.00 per pair for standard finishes.