Stemfoort may not be a name that immediately trips off the tongue when speaking about amplifiers, but the companies heritage goes back to the mid eighties and they are owned by J.E.Sugden, who many will know for their Class A amplifiers. Lionel Payne takes a listen to their SF-200 Passive Line Amplifier costing £2135 for Hifi Pig.
I have to admit that I hadn't heard of Stemfoort Audio before being asked to review this integrated amplifier. Stemfoort began life way back in 1985 in Holland and was a partnership between a recording engineer and a group of enthusiasts and audio designers. J.E.Sugden & Co. acquired the company in 1988 and, interestingly, the original founder still remains an active and valued technical director with Sugden and was the designer of the SF-200's unique circuits.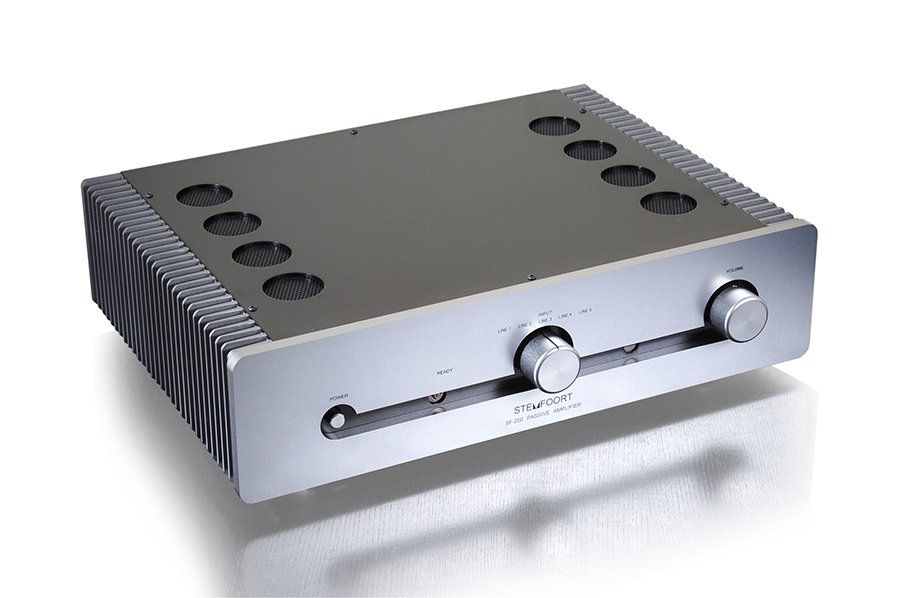 The SF-200 is a passive line amplifier, often referred to as a straight line amplifier. This means that the basic configuration is a volume pot directly coupled to the power amplifier section, i.e. the preamplifier is passive ensuring the most direct signal path from your source to your loudspeakers. Handmade by a team of dedicated audio enthusiasts, the SF-200 is a wide bandwidth design reaching frequency extremes of 6Hz to 120kHz making it an ideal partner for hi-resolution formats such as 24/192, DSD and SACD amongst others. Power output is listed as a very capable 100 watts per channel and there is plenty of current available providing impressive tone bursts and resulting in greater control of loudspeakers and powerful deep bass when required. My own reference loudspeakers (Impulse H2's) are known to require a good, strong current supply and the SF-200 did a fabulous job in driving them. The robust power supply has quite a unique selling point as the manufacturers claim that the amplifier can remain operational even when faced with a 30% drop in mains voltage. That seems quite a feat to me !
Visually, the SF-200 gives a little hint to its heritage. It has a 10mm thick aluminium faceplate with rounded corners that are identical to the Sugden's portfolio of products. However there is a central line cut through with a CNC machine to allow the placement of a central dial for input selection, a similar sized dial to the right for volume control and on the far left a smaller push-in on/off button. In between and to the left of the central dial is a small red bulb which lights to indicate power is on. To the right of the central dial is a small sensor for remote control of volume only.  This central cut out with curved edges to mirror the two dials and the smaller power button reflect back to earlier Stemfoort designs and , in particular, their LPA-10 which was a popular high powered integrated, dating back to early Sugden ownership. There are substantial heat sinks to both sides of the amplifier but during operation I found the amplifier to be absolutely stable without even a hint of getting warm. To the rear are 3 way gold-plated loudspeaker binding posts, five pairs of single ended line inputs and a tape out which are also all gold-plated. Other than that there is the proprietary IEC socket. It should be noted that there is good distance between all the sockets so even the broadest of interconnects and speaker cables can be utilised.
The SF-200 is visually as impressive on the inside as it is on the outside with military specification wiring to eliminate interference from power supplies, while the custom designed transformer sits within a steel sub assembly to reduce noise and vibration. Quality components have been used in all areas, chosen for performance and reliability; low inductance resistors replace standard components in critical areas of the signal path. Each circuit board is always completely hand-soldered and there is no sign whatsoever of surface mount components that can degrade sound quality.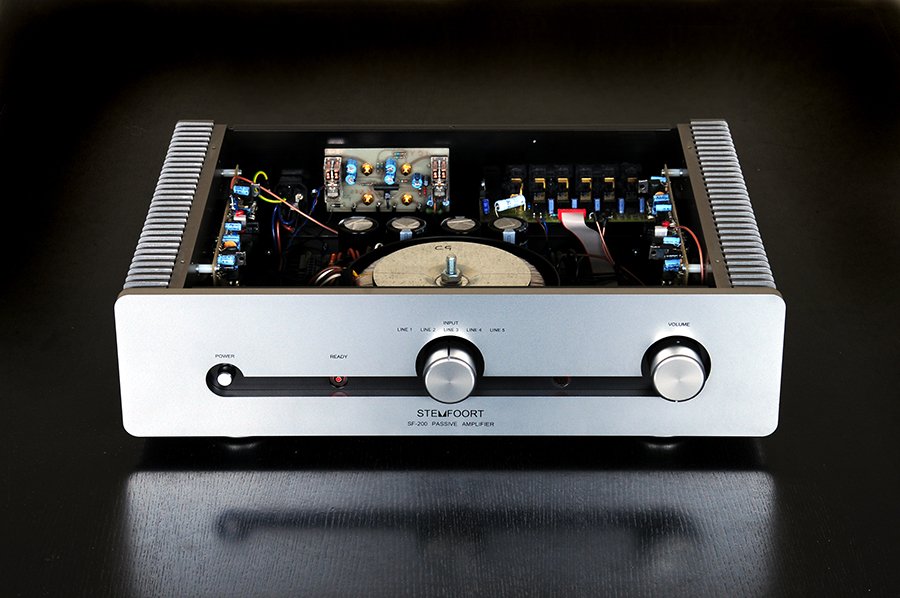 Sound
I knew the SF-200 had been run-in when it arrived so it was quickly put into action within my reference set up. The first CD placed into my venerable disc spinner, the Acoustic Precision Eikos, was Tracy Chapman's self-titled debut album. I wasn't immediately planning to get into review mode but simply wanting to listen to some good tunes. However, within two or three tracks I had identified what turned out to be this amplifier's strongest attribute. It has a captivating way of portraying the rhythm and timing of a tune that only the very best possess. A slight caveat on that statement would be that the partnering equipment, and in particular, the loudspeakers must be reading from the same hymn sheet. Synergy is definitely the premium element when looking to build a system around this amplifier but if you get the chemistry right you will be rewarded ten-fold. I listened to the amplifier through several pairs of loudspeakers and the results were mixed but never below par with it.  Without a doubt, my favourite combinations were with my reference Impulse H2's and the recently reviewed Monitor Audio PL300ii's and further references within this review will be discussing the SF-200 driving these loudspeakers.
Listening to that first Tracy Chapman CD really highlighted a wonderfully taut, transparent midrange with Chapman's intonation really to the fore. One of my favourite bands are New Model Army who date right back to my Indie DJ'ing days of the eighties. They are a band that somehow have missed the bigtime but surely deserved more success than they have attained. They are a difficult band to put into a genre as they could be categorised in punk, post-punk, indie, rock, political, folk and probably a few others besides. I think I have virtually every album they have ever made but I do tend to listen to their live albums more frequently and because I listen to them so often I can more easily identify slight changes in presentation with the hardware being used. Listening to one such album (Between Wine And Blood – CD2 which is a live recording) I was astonished at how tangible their lead singer – Justin Sullivan's voice appeared, I swear I could hear the fact that he has a front tooth missing (he has !) as he got stuck into his performance. The SF-200 is capable of producing this kind of detail and is the type of amplifier that will have you rediscovering your music collection all over again.
I do find a lot of amplifiers that are capable of  highlighting these small details like this are often balanced a little bit towards the bright side but I found this SF-200 to be right on the money in terms of tonal balance. I listen to a lot of rock and acoustic music, particularly live recordings, and the Stemfoort played both extremely well and always gave a view to the size of a venue with an informative soundstage. Perhaps, if I were forced to choose, I would favour its execution of an acoustic set over a rock performance and, although I rarely listen to jazz, I would wager that a jazz aficionado would adore what the SF-200 has to offer.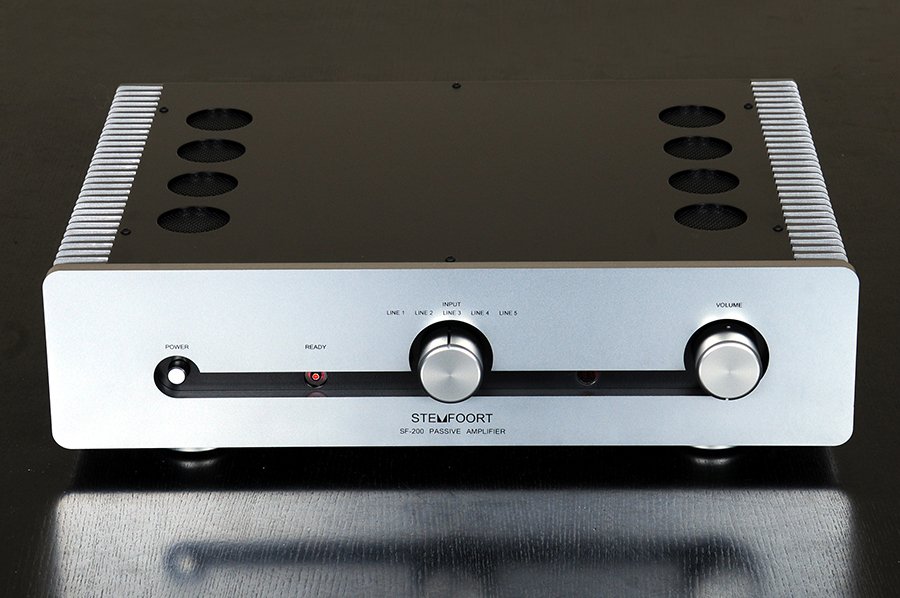 I also found that the SF-200 was an extremely entertaining listen at low volume but I did find when I pushed the volume up to concert level output the combination with my Impulse H2's did become a little strident. However, this was not the case when I pushed the amplifier to similar sound levels with the Monitor AudioPL300iis. 
Conclusion 
The Stemfoort SF-200 is a lovely amplifier and one that has a lot of good selling points. It has great tonality and timing and is really well put together. The design is obviously all about creating the best sound quality possible and to this end it does eschew facilities that a lot of modern amplifiers are now including; there is no phonostage, on-board DAC, headphone socket or led display. It does have a remote control but this is only for volume control and nothing else, making this a fairly utilitarian offering. However, for all its shortcomings in facilities it does what we really buy an amplifier for – it plays music… and it does so with great aplomb.
I really like it !
Build Quality : Impeccable throughout and should last for years                        
Sound Quality : A mellifluous tonal portrayal with fabulous timing 
Value For Money : In a tough price sector but don't dismiss without audition 
Pros : Well built, good soundstage, great tone and fantastic timing 
Cons : Lack of facilities 
Price : £ 2135.00
Lionel Payne
Specifications 
Power output: 100 Watts per channel both channels working
Noise Level: Greater than 85dB
Weight: 16 kgs
Size: 115 x 430 x 360 mm