Symbol Audio make modern audio hifi consoles and LP storage cabinets "in the tradition of fine furniture".
Their flagship product is the 'Modern Record Console' (pictured) designed by Blake Tovin and Matt Richmond, which "pays homage" to the all in one console hifis of the 1950s.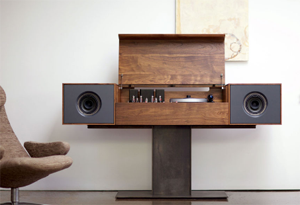 The console is hand crafted in American Walnut and the metal base is fabricated from ¼ inch steel plate which has been hand patinated to give a warm and natural finish.
It looks very nice indeed, but what about the Hifi? The 15W per channel valve amplifier (12At7 x 1, 12AU7x2, 6BQ5 x 4) is made specially for Symbol Audio and is said to deliver a "warm pure signal" to the 6.5 inch fullrange speakers located either side of the unit. A second amplifier is tucked out of view and is dedicated to powering the built-in sub. The turntable ( a Project RPM 5.1) has a carbon fibre tonearm and comes fully equipped with a Sumiko Point 2 cartridge.
At the flick of a switch you can go from vinyl replay to Wifi playback and stream music from any digital source through the MRC's wireless router and control it all from your ipod/phone or computer.