German hi-fi furniture brand Tabula Rasa is now available for direct purchase in the UK as well as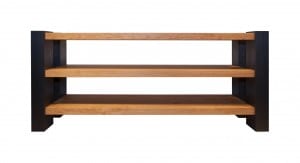 across the EU.
Every item in the brand's range is constructed from solid hardwoods – oak and maple – which Tabula Rasa say have been carefully selected for their acoustic properties as well as their natural beauty, and sourced from sustainable forests.
In the company's press release they say "The structure and density of the pure oak and maple designs provide excellent damping properties, reducing unwanted resonances within both the furniture and your hi-fi system. The heavy mass of the hardwoods also provides strong grounding for a solid bass sound."
The Tabula Rasa range includes four core designs: the Notrebo, Lowboard, Basis
600 and Deepspace. Each comes with a range of customisable options such as a choice of wood colours and finishes, varying dimensions (width, overall height and/or individual shelf heights) and the addition of bespoke storage units (Lowboard only).
Optional extras such as Tabula Rasa spikes and the company's built-in quartz sand damping system (known as 'the silencer') are also available.