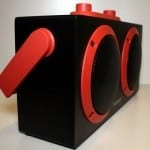 The Intempo Retro Blaster continues the company's fascination with past decades. Not so long ago I reviewed their 50s-style jukebox and today I take a look at their modern take on a 70s/80s classic – the ghetto blaster.
For those of you too young to remember when portable audio meant a small, mono, transistor radio the arrival of the Walkman and the mighty ghetto blaster was the dawning of a new age. No longer were you at the mercy of radio DJs when you wanted music on the move. Now you could pack a few C90 cassettes (ask your parents) with your favourite tunes on and then annoy anyone within earshot in the park, on the bus, or on the train.
Read the full review on GadgetyNews.