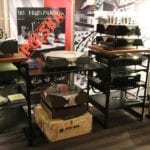 Part 4 of Stuart's photo report from the Audio Video Show in Warsaw, Poland.
This is only the second time Hifi Pig have attended the Audio Video Show in Warsaw, Poland but I for one think it on a par with the best of the best. Warsaw itself is a wonderful city that is easy for us to get to, easy to get around and full of open and friendly people…it's also very inexpensive to eat and full of vegan and vegetarian restaurants which goes a long way to making our particular visiting all that more enjoyable.
Historically Warsaw was pretty much razed to the ground and rebuilt from the ground up and only came out of communist rule in 1989. There is a real passion for music amongst the Polish people and that passion runs through the Audio Video Show. There is still a thriving DIY culture in audio and this DIY culture is moving to the main market and presenting commercial products to consumers. Some of these products represent some of the very best in the World (think Lampizator) whilst others are still very much a work in progress and personally I feel would have been better off taking the time to refine their offerings rather than presenting a product that sounded we below par. However, perhaps I am being a little unkind in dampening enthusiasm because, after all, how does a brand learn and grow if they do not present their product and open it up to criticism.
What I love about the Warsaw show is that aforementioned enthusiasm. Perhaps some of the rooms are not as slick as at some shows and there is certainly some room for improvement in the way a tiny minority of the rooms present their wares: a pair of boots lying at the side of a room presenting very high-end Japanese gear springs to mind, as does a pair of mattresses being used down each side of the room by way of room treatment. These are small irritations that can and will be improved as people become slicker and by far the vast majority of exhibitors really understand how to present their products.
The Warsaw show is split over three venues: The Radisson Blu, The Golden Tulip and the National Stadium.
Adam and his team do a fantastic job putting the show on and really must be congratulated. If you have the opportunity to visit The Audio Video Show in Warsaw then you really should make the effort. Personally, I can't wait until next year.
We do try and visit every single room and publish pics from every room but a small mishap, me deleting every picture we took and having to do a file recover has meant that one or two may have been missed out and for that I apologise.