Tannoy is a household name, and not just amongst audiophiles. Here Dominic Marsh takes a listen to their  £599 Revolution XT6 loudspeakers.
TANNOY.  Now there is a name many people will recognise and it's one of the few names that are deeply embedded into the way people around the world would describe a loudspeaker system.  The name actually occupies the same lofty and unique territory in our everyday language as the name "Hoover" is used to describe vacuuming your home, as in "I'm going to Hoover the carpets".  How many times have you read in a newspaper, book or magazine, or perhaps watched a TV programme or film containing these words:  "An announcement was/will be made over the TANNOY system for all passengers to . . . . . . . " and is still in regular use even today?   No surprise then that Tannoy are still manufacturing Public Address systems as well as a huge range of professional studio equipment.
I was curious about where the name was derived from and I found the answer on the Tannoy website under the history heading.  The name was formed from the metals they were using in the production of their rectifiers as in Tantalum / Lead Alloy and adopted as the formal company name in 1928.
It is truly refreshing to see that the name Tannoy 90 years later still at the forefront of loudspeaker design and that I have the honoured task of reviewing the Revolution XT6 loudspeaker.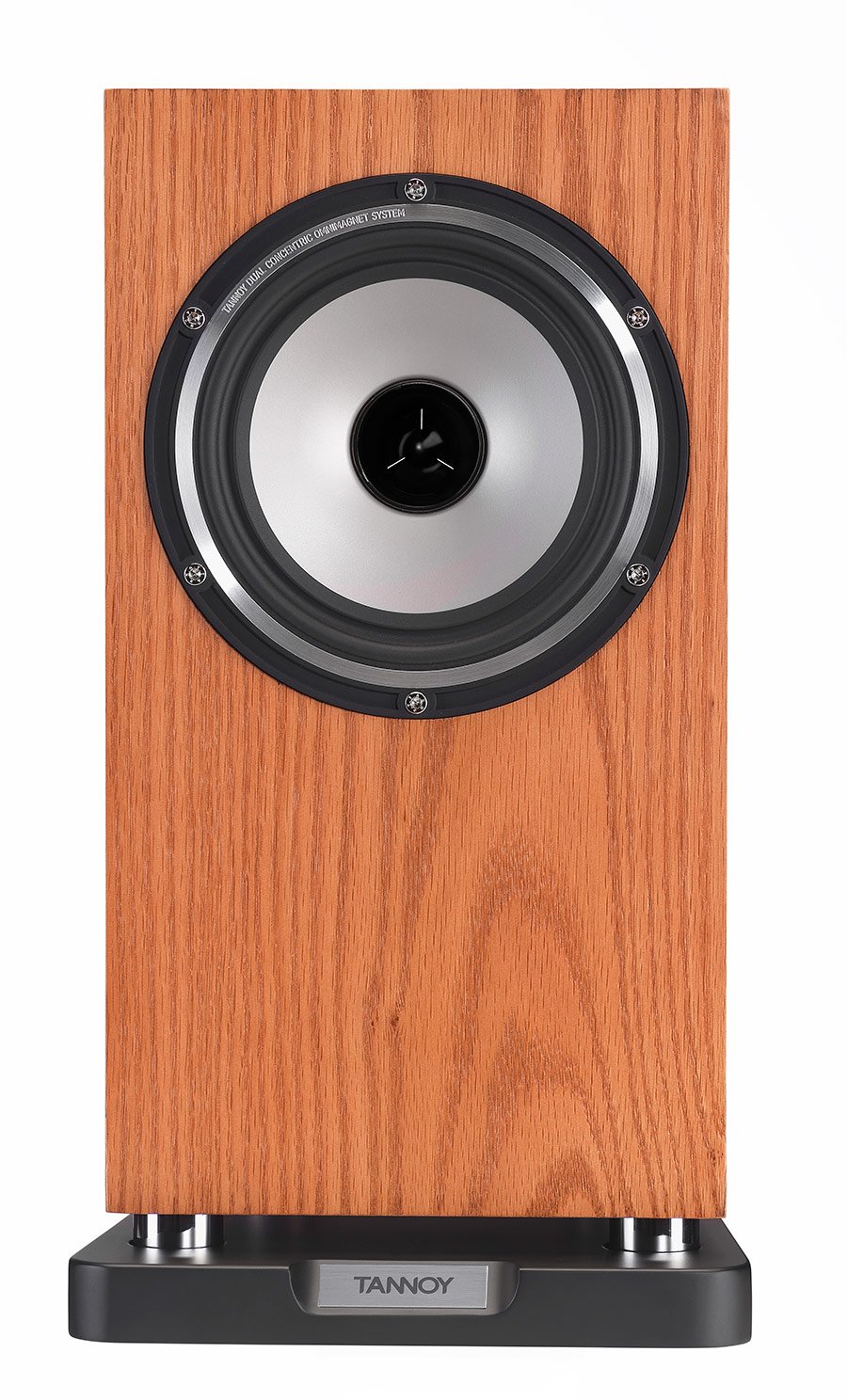 Construction
The first thing that strikes you is the trapezoidal shape of the 10.8 litre cabinet which you either warm to or you don't.  Looking at them squarely face on means you don't see the side walls at all anyway.  Unusually too, there is a factory fitted plinth that the speaker sits on which does two jobs no less.  Through the aperture between cabinet and plinth is the bass reflex port firing downwards and the plinth having a larger footprint than the cabinet, means it adds additional stability to the speaker as well as some additional mass. Three jobs then, for the keener eyed readers amongst you.  Nice to see real veneer on the cabinets, in this instance a pale honey Oak colour, with a choice of Dark Walnut as an alternate option.
The speakers are supplied with a dark colour fabric covered grille, attached to the cabinets by secreted magnets.
Driver complement consists of Tannoy's "Dual Concentric" array, with a 150mm multi fibre bass cone and a centrally integrated 25mm PEI dome tweeter that Tannoy refer to as being mounted in a "Torus-Ogive waveguide".  In other words the tweeter is set back into the driver array throat for phase and timing alignment.
To the rear of the cabinet we find a set of four biwire terminals with gold plated brass jumper strips.
All in all then it is a compact well built package built upon a long line of Revolution models that have gone before, yet enhanced even further in this latest incarnation.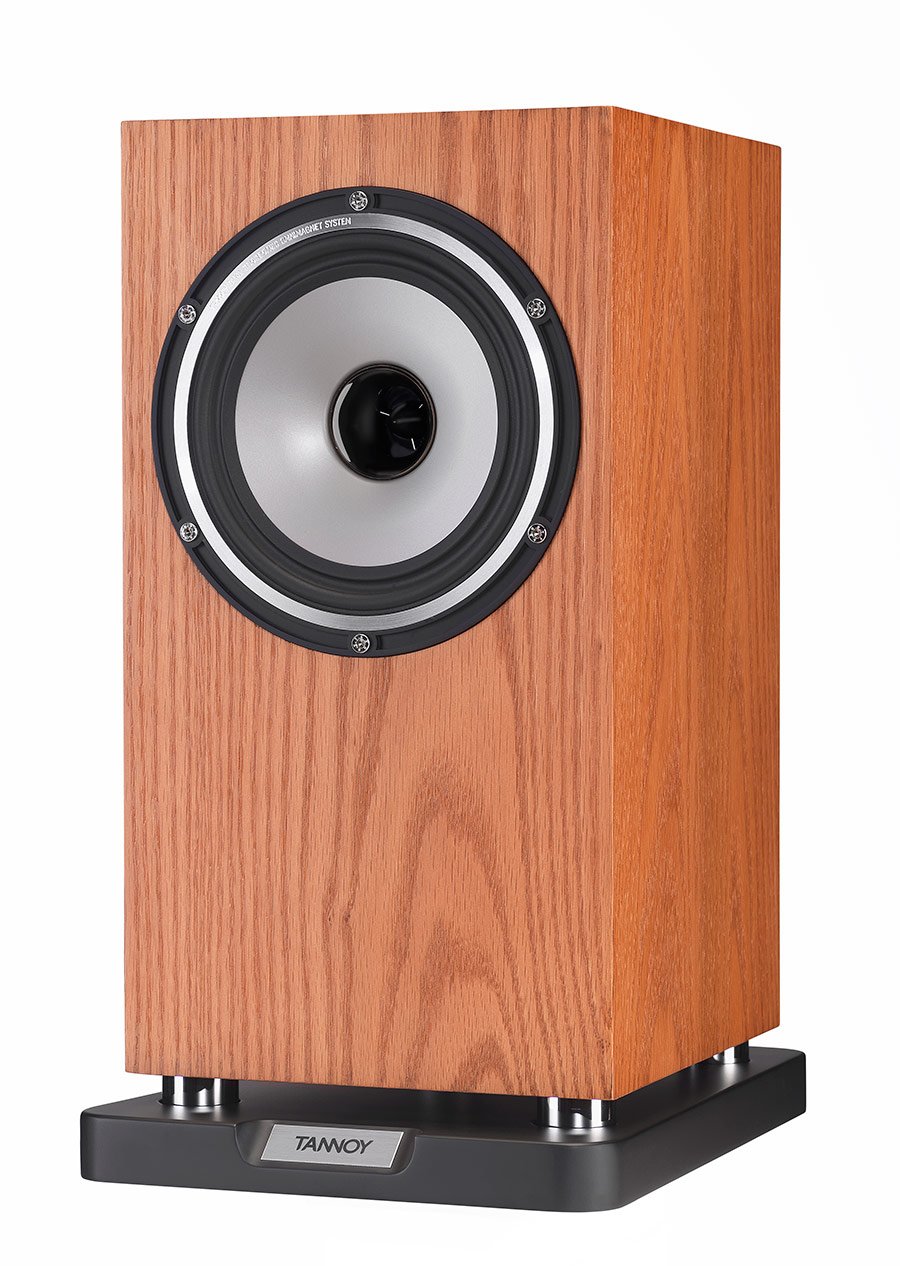 Sound Quality
Fresh out of the box they are not a pleasant listen at all.  Strident treble and a woolly bass will not endear the Revolution XT6 to you at first hearing, so please be patient and if you intend to audition a pair then ensure they have some running hours on them before making any judgements.  Thankfully they mellow very quickly and are listenable within an hour or so, so I recommend you connect them up, feed them some music to work with and put the kettle on, then raid the biscuit tin to amuse yourself while the XT6's take a chill pill. As with most speaker running in periods the XT6 speaker will follow an exponential curve whereby they quickly lose the raw edges and then gently and slowly mature to full potential, which in this instance was roughly 50 hours or so.
I placed them on 60cm stands and they looked rather ungainly to be truthful, as the plinths extend out beyond the cabinet boundaries and spoiling the otherwise sleek looks.  I don't have a sturdy shelf to mount them on, or spare room on my desktop either, so however ungainly they looked on stands that's where they had to stay throughout the review.  I will say that I did get used to the sight of them perched atop my speaker stands, despite the initial oddness about them.  So then, on to some real music to put the XT6 speakers through their paces.
First into the CD drawer was Hugh Masekela's "Hope" album and those of you who also own this album will know that it has a good spoonful of dynamics and subtleties to play with.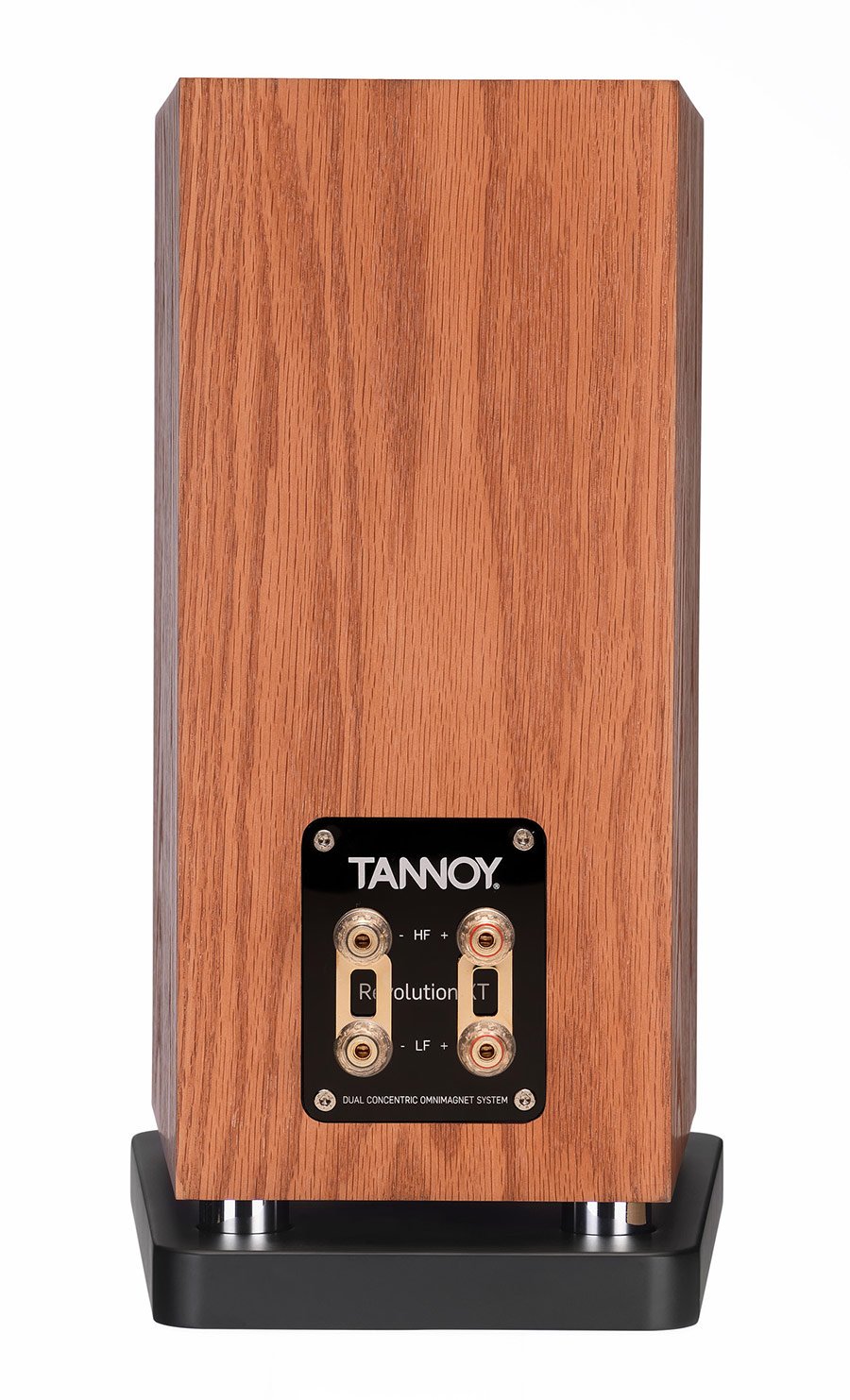 My first impression of the sound they produced was how perky and ebullient they were, full of verve and sprightliness.  With a six inch bass driver and a ten point eight litre cabinet I wasn't expecting gut punching bass, but much to my surprise they weren't that lacking of weight in the lower registers, but that final octave did elude them as was expected.  No criticism from me here because similar sized rivals fare no better and if heft and power in the bass is high on your listening priorities then I would suggest you find a bigger speaker that can move more air because the laws of physics apply here, full stop.  The kick drum in the opening track of "Hope" was conveyed that it was an actual kick drum being played, while the hi hat strikes sounded very clean and metallic sounding.  It is the trumpet that defines this track and I have heard some raspy nastiness in some speakers, but glad to say the XT6 speakers were not one of them.  All of the music strands stood apart from each other with no clashing.  The immense benefit of housing the tweeter within the base cone centre in this Dual Concentric configuration is that you get a huge amount of pin sharp imaging focus from that point source. Sit bang in the middle of that sweet spot and you can positively BATHE in the imaging and sound staging these little speakers produce.  Move a foot either way though and that magic becomes a bit ordinary in the way imaging is structured and that very trait means you are going to be firmly glued in that sweet spot for as long as you possibly can.  I know I was.
Next into the CD drawer was my old favourite in the shape of Fink's "Wheels Beneath My Feet" album which has a whole raft of benchmarks that review components have to surmount.
The verve of these speakers was amply manifested in the way they could capture the very essence of cymbal strikes.  No fizz or tizz, just good clean rendition of wood striking metal with associated harmonics and ringing decay.  Pleasure.  Once again that sweet spot revealed the venue ambience accuracy perfectly and musician placement supremely defined, plus you did get the feeling you were actually sat in the audience around two or three rows back from the stage, which was impressive.  Bass guitar and kick drum were below my benchmark ratings but not by a big margin, yet the Floor Tom strikes that the drummer really does drive down into in the track "Sort Of Revolution" still managed to shake my listening room. Go figure.
A change of pace and genre too, in the shape of Loreena McKennitt and her "An Ancient Muse" album to see how the XT6 speakers portrayed female vocals.
I cannot begin to describe any of the instruments being played in the track "The Gates of Istanbul" but my attention was focused purely on Loreena and her voice, which was beautifully airy and crisp, soaring sweetly and melodically as only her voice can, dead centre stage with the instruments wrapped around her in a shallow arc. The drums in the track didn't have the deep thump and impact that my resident speakers demonstrate, but again no criticism given from me here.
Now this should please the classical music fans out there, because that glorious sweet spot really does unpick complex pieces with ease and orchestra placement is about as good as it gets, at least that is for my limited exposure to the genre.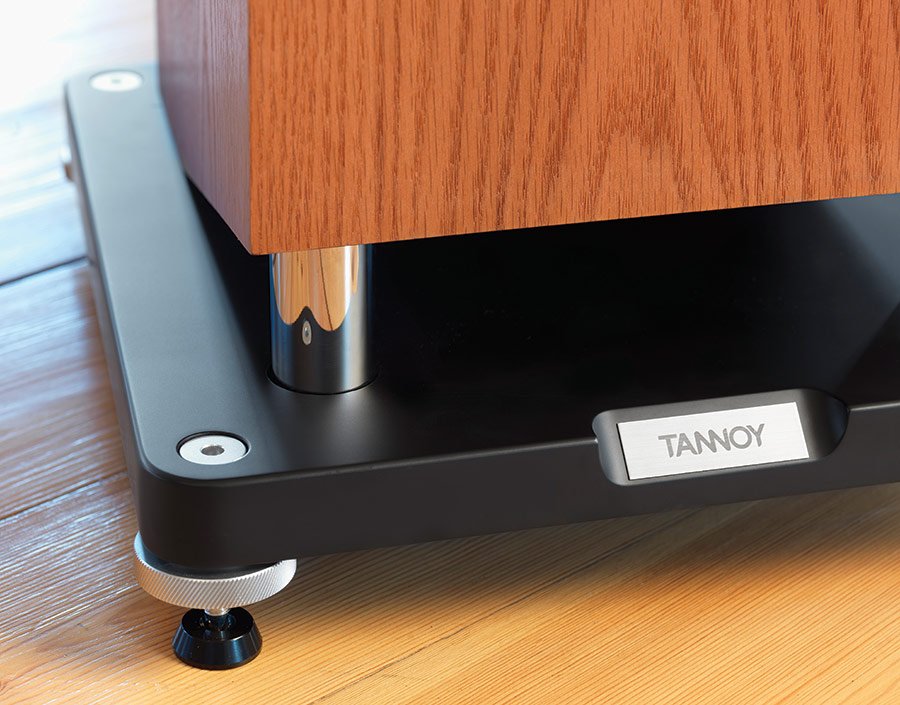 Conclusion
I can sum up these loudspeakers pretty much in my first impression of them where I stated they were a perky and ebullient speaker, full of verve and sprightliness, because that was their character throughout the evaluation.  Their top end and midrange were as good as any in this class, bass output round about average for their configuration, but those powerful floor tom whacks in Fink's album shaking my listening room somewhat tramples all over that generalisation and I could have pursued that further perhaps with playing some heavy rock music, which I don't have in my collection.  You can keep your four chord wonder noise bands as I don't class that as 'music'.
OK, they looked a tad strange to me sat on speaker stands, but they would admirably suit being sited on a shelf or desktop and not look at all out of place.
In all honesty I wouldn't pair them into a budget system, because to get the best out of them you need the best put into them and you will be amply rewarded.
That Tannoy badge on the fronts is a measurement of the quality you can expect and come resale time…that same name means you have a ready

audience with less depreciation during your ownership.
Build Quality:  A cut above with real wood veneer finish, good quality terminations and above all, the superb Dual Concentric drivers.
Sound Quality:  Locate yourself into that central sweet spot and it really does open windows into the music.  If I were to be picky, then bass doesn't have slam and power but that's a small trade-off and look on the positives instead here.
Value For Money:  The sound and build more than balances the asking price.
Pros:  Sound and build quality.  The Tannoy badge.
Cons:  Looks ungainly on stands, bass depth isn't in the top class league but this review hopefully pinpoints where exactly it stands.
Price: £599.00
Dominic Marsh
SPECIFICATIONS
Recommended Amplifier Power
(Watts RMS)
25 – 120
Continuous Power Handling
(Watts Peak RMS)
60
Peak Power Handling (Watts)
240
Sensitivity (2.83 Volts @ 1m)
89 dB
Nominal Impedance (Ohms)
8
Frequency Response (-6dB)
46 Hz – 32 kHz
DRIVE UNIT
Dual Concentric™ High Frequency
25 mm (1") Linear PEI dome with Torus Ogive WaveGuide and Omnimagnet technology
Dual Concentric™ Low Frequency
150 mm (6") multi-fibre paper 44 mm (1.75") voice coil
Bass Driver
–
CROSSOVER
Crossover Frequency
1.8 kHz
Crossover Type
Passive low loss 2nd order low pass, 1st order high pass
CONSTRUCTION
Enclosure Type
Downwards ported reflex
Volume
10.8 l (0.38 cu. ft.)
Dimensions H x W x D
(incl. plinth)
400.5 x 221 x 302 mm
(15.8 x 8.7 x 11.9")
Net Weight
7.5 kg (16.4 lbs)
Finish
Dark Walnut
Medium Oak