There's been a very rapid increase in availability of exotic USB cables over the past year. Many companies are offering a range of this cable type which can consist of as many progressive versions through the range as digital coaxial cables which were for many the main digital link between transports and DACs.
The Digital Music Box has concentrated their efforts on two USB cables:
• The Linus which is an ordinary single cable containing data and power conductors.
"Solid silver conductors are used for the data wires and termination to the plugs is with silver solder to give a very highly conductive path. The conductors are helically wound with silk and contained in PTFE tubing to give exceptional dielectric properties The data conductors are screened from the voltage and ground wires to ensure total protection from data corruption.
High quality USB gold plated plugs are used, supplied with a clear hard plastic hood to protect the plugs."
• The Kalliope a separately powered USB cable leaving the data lines only to be connected to the source computer. "The power supply is a very high quality precision regulated linear design housed in an aluminium extrusion, available in anodised black or silver with black end plates. A high quality locking power connector is used to maintain a permanent connection between cable and power supply.
The low voltage cable from the Kalliope Power Supply is a totally separate screened cable to be certain there is no chance of data corruption, it terminates at the USB B plug to supply the 5V required to complete the link between computer and Digital-to-Analogue Converter.
99.99% silver wire is used for the data cables which are soldered to the USB connectors with high quality silver solder to give superior conductivity for the transfer of data. The conductors are helically wound with silk and inserted into PTFE tubing giving exceptional dielectric properties. The USB plugs are gold plated and supplied with a clear hood for greater protection."
The two implementations of USB are a somewhat considerable outlay with the Linus coming in at £500 and the Kalliope at £1000.
Bearing in mind how important the link between the two source components (computer and DAC) are and what many of us are willing to and have spent on digital link cables in the past, the two cables are sitting in a position in the market that already has many other digital cables fighting for dominance.
Before we get into how I found my time with the two DMB cables, let's talk about that 'pride of ownership factor' a little.
Both cables arrive presented in beautifully created embossed logo'd, thick walled boxes with magnetic flaps for secure closing. The silver text and satin black is very appealing and immediately presents the company (who I was not aware of before) as one who's attention to detail is clear even before I've even got my hands on the actual product.
Opening the two boxes reveals medium density foam which is cut out very neatly keeping the cables and in the Kalliope's power supply nice and safe.
Each of the cables and the power supply is extremely well made, the clear USB plugs look nice and I appreciate the amount of strain relief protecting these delicate plugs.
The Sound – Linus
We'll take a look at the Linus first and then move onto the more expensive separately powered Kalliope, make a few comparisons and then conclude things.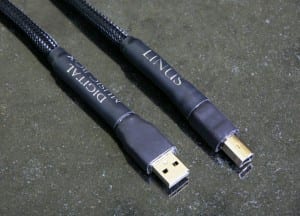 Once I had finished creating a playlist in Amarra 3.0 on my Mac and letting Chris Jones' 'Long After Your Gone' begin to play I initially thought "wow, this sounds clean and dark", but I was a little apprehensive at how the overall balance was going to be as the lower notes started. So, whilst holding my thought process for a few more seconds this big, full and rich bass just sank down straight in front of me before it opened up and then rolled throughout my listening space.
Yes, this is a cohesive and generously proportioned cable in frequency terms. Full bodied articulate and has a background silence that you don't listen for, it's just there – or not so if you catch my drift.
Leading edges with a range of female vocals was clean and ultimately grain free. There's no masking of any part of the range and the grainless, stable nature to each part is effortless.
Listening to some faster bassier tracks through Amarra and Spotify was also great and dancer beats can be said to have good impact with a pace and speed of execution that is undeniably attractive, engrossing and rhythmic.
Small note flecks in and around soundstage borders are clear and concise, allowing the systems micro dynamics and inner depth to come through without restriction and there is an enviable openness to the sound.
After some more time with some other male vocalists, the undertones for me can always be understood more definitively when demoing or reviewing a new product. The openness that shines through on the cables mid to upper registers would not work as well if it didn't portray this thick, rich and detailed lower frequency or undertone and the picture as a whole is just great!
I found the Linus to be well grounded from top to bottom without any nasties or commonalities which really favoured a particular genre and not another.
The Sound – Kalliope (Powered USB)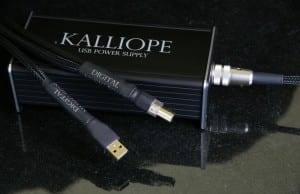 My first take using the Kalliope was how more three dimensional, refined and silkier the sound was.
When the bass came in on the same Chris Jones track as previously mentioned, there wasn't as much overall weight. Extension was still long and deep, but what could be described as an outer spectrum wobble, or less natural or clean rendition of the frequency in this area which didn't seem apparent on the Linus before was now more natural and expressive.
Upper frequency extremities and the pitch on a plucked string had more refinement, more stability and rang truer in a more holographic soundstage.
This soundstage still seemed dark, deep and very black just as the Linus did but its depth of field and front to back positioning was more developed. If the Linus was wonderfully three dimensional, then the Kalliope was more structured and had more points of referenced depth exploring points of detail more definitively.
Midrange as a whole was silkier and a little sweeter – I really like the Linus here as it has a more raspy grunt instead of this silkier appeal and fleshes out the bottom end of a male vocalist incredibly well, but the Kalliope is just so organically natural and developed in any vocal it has its hand in allowing the system to convey just flows through with absolute presence and grace.
With a beautiful female vocal the Kalliope allows for that upper-mid to flow so well it can only be described as beautiful, gorgeous or luxurious. Female vocalists with huge ranges such as Rachelle Farrell hit octaves that sounded utterly magical with such control and the Kalliope retains all this flare, remains clean and never forward.
The Kalliope is also very rhythmic, holding the tone of a bouncy tune with ease whilst rendering lower-mid, upper-bass detail with ease and precision.
In short the Kalliope can be seen as a more refined Linus with better soundstaging and a more natural bass, with an overall silkier feel to the sound, but with clarity and definition to the higher registers which takes the Linus' definition a step further.
Some Comparisons
There's a lot to be said for what power supplies can offer a USB cable but this is very dependant on the DAC used – whether or not the DAC is already powering the USB chip separately to make the need of the added supply even necessary.
Fortunately – I guess, the Astintrew Concord doesn't self power the USB, this allows me to be able to try both of the cables from The Digital Music Box.
I do have an Astintrew Concord USB cable which uses a separate 'Never Connected' power supply. Similarities between this and the Kalliope are there for sure, most notably the 'silkyness' and the darkness of the background. I would say the Kalliope is cleaner in sound though and has a better more holographic soundstage, especially in depth perception. I preferred the cleaner nature in the upper-mid and treble articulation which lead to solidly defined edges, it's never to the point where I would ever say it gets anywhere near analytical whatsoever and arguably it exposes minimal amounts of added detail, it's just has more air, sparkle and shine right up there at the top.
Another cable I use is the Tellurium Q Black Diamond. Now, being a single cable without the added power supply, it doesn't have this silkier more refined nature which I have come to the conclusion is an added trait of a powered USB cable implementation.
Bass control on the TQ falls somewhere between the two Digital Music Box cables – very exciting, full and fast. It's midrange is a little more relaxed and extremely detailed throughout, but not as sparkly as both of the DMB cables with their clarity being a standout attribute and one that I haven't yet come across in all the USB cables which I have heard to date.
Conclusion
This was never a "shootout" or a comparative review between what I've heard and the two Digital Music Box cables, but some small comparisons between other cables I currently have in my procession are necessary when detailing the sound of a company's product which will be unknown to many.
Both the Linus and the Kalliope have outstanding detail right across the board, a background of silence that it is one of the first characteristics one notices when listening to each cable and a clarity and air that until now I haven't experienced from a USB cable… and I've heard a fair few.
Unpowered the Linus has grunt, pace and rhythm, tackles dance and rock music with a distinctive nature that I personally feel an over refined system simply cannot achieve.
The powered Kalliope has a refinement, a depth of scale and a sculptured soundstage that brings vocals and instruments more to life and throws details around the soundstage so effortlessly that the music as a whole can only be described as a holographic avalanche.
Yes, they are on the richer side of a lot of USB cables, but boy don't they both make an impression. If you're in the market for a new USB then try the two cables from The Digital Music Box and see where your benchmark lies thereafter.
Build Quality – 8/10
Sound Quality – 8/10
Value For Money – 8/10
Overall – 8/10
Recommended – for background silence, tonal balance, detail retrieval and excitement.
Kalliope – £1000 – 1m
Build Quality – 8.5 (The power supplies fit and finish gives it some extra wow)
Sound Quality – 9/10
Value For Money – 8/10
Overall – 8.5/10
Highly Recommended – for absolute precision of clarity and tonal balance, a formidably structured soundstage and ability to allow through all micro details.
How we carry out reviews.
Read more Hifi Review.