"The Hybrid Valve Headphone Amplifier gives us back the warm rich quality sound that was lost when valves when transistors took over from valves. Plug it in between your phone or MP3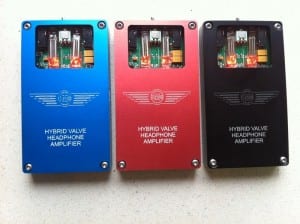 player and your headphones. Your music now passes though real glass tubes valves resulting in vastly improved sound quality. It will also boost the volume so you'll now have enough power to drive your headphones" exclaims the Kickstarter campaign for The Hybrid Valve Headphone Amplifier out of New Zealand.
The amplifier is about the profile of an iphone 4, and smaller than many new phones. It has a  long life rechargable Lithium battery and use the Raytheon 6418 valves, Bur Brown series OPA2134 amplifier and comes in a snazzy case milled from a solid block of aluminium with laser engraved graphics.
The company behind The Hybrid Valve Headphone Amplifier are looking to raise 50 000 NZ Dollars and there's an early bird pledge starting at 155$.
Looks an interesting concept and we at Hifi Pig wish them well.