The new Hercules power amplifier from Audio Electronics by Cary Audio is an ultra linear tube amplifier using EL34 output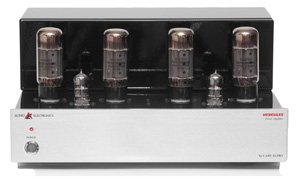 tubes to produce 30 watts per channel. "Boasting premium components, it features a very simple signal path to provide sonic purity and long-term reliability". The Hercules uses a specially built power supply combined with custom output transformers to allow the amplifier to be heavily biased into Class-A "while providing excellent bass and transient response".
An automatic mute/standby circuit ramps up the voltage to the tubes gradually for longer life; it also removes any pops or noise at turn-on.
Retail price: $1,895