We recently got an e mail from German designer Rafael Cichy at Kompatibel Design with regards to an interesting and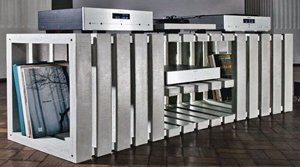 modular hifi rack made from concrete – the Thorax. Failing to find a suitable rack for his own kit Rafael decided to go it alone and build his own system.
There are three modules in the Thorax range:
O: With space for vinyl
E: With three levels for hi-fi equipment.
C: With two levels for larger equipment such as power amplifiers etc.
The measurements are: 52 cm x 52 cm x 8 cm with a thickness of 4 cm
The connectors to join the modules are available in three widths: 5 cm ; 4 cm ; 3 cm and are made of stainless steel or aluminium (brushed / anodized)
The three widths makes it possible to adjust the distances between each element to ensure the feet of the hifi equipment fits properly.
On the back of the Thorax it's possible to hide the cables in pipeline to clean up the look of the hifi furniture.
and of course it is possible to use thorax as speaker stands.
We love the design of this and sure it will look great with high-end audio atop it!
Price is 357€ per unit.