Tidal (expect a Hifi Pig review in the next 24 hours) has announced the integration of its service within the ickStream music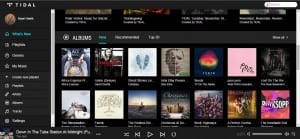 platform, which delivers music streaming services to home audio devices. ickStream's recent support of the Logitech Squeezebox brings TIDAL to the popular device. The latest release of the ickStream app for the Squeezebox that includes TIDAL integration is available now.
ickStream is an API plug-in that works across various platforms, allowing users of supported devices to incorporate multiple streaming services into their systems. Tidal's integration allows Squeezebox users to navigate and control the service through the Squeezebox controller and/or Logitech's Squeezebox app, giving access to TIDAL's lossless 16-bit/44.1 kHz FLAC and ALAC format service, with access to its 25 million-plus tracks.
"Having developed the ickStream API, we have been waiting for a service that champions the quality of the performance as well as the breadth of its catalogue,"said Joerg Schwieder, CEO of ickStream. "We very much see TIDAL as the ideal partnering streaming service, as it is designed for music lovers who appreciate the finest quality available. We are sure that our users are going to love it."
"We were thrilled to have been approached by ickStream so early into our integration drive," said Pål Bråtelund, Strategic Partnership Manager HiFi at Tidal."Many of the ickStream team helped develop the Squeezebox and, therefore, have many years experience of streaming music. The number of customers in the UK and US using Squeezebox as their streaming music player is vast, and we are delighted that they can now hear TIDAL through their systems."