The Technics 1200 and 1210 turntables are gaining a good deal of favour with audiophiles who are adding better arms, power supplies and more. Here, in his first review for Hifi Pig Alan McIntosh adds the £495 HE V Linear Power Supply from UK company Timestep to his own Technics 1210. 
While the pedigree of the Technics SL1200 is clear among many generations of DJ's across the globe due to its sheer quality of engineering, robustness and ability to deliver time and time again without fail (in often less than perfect conditions) for many audiophiles it does have some niggling sonic gremlins to address – among them the power supply. Traditionally the internal power regulator has resulted in a less than smooth supply which is a weakness many can't accept – me among them. This is where Timestep … well.. step in!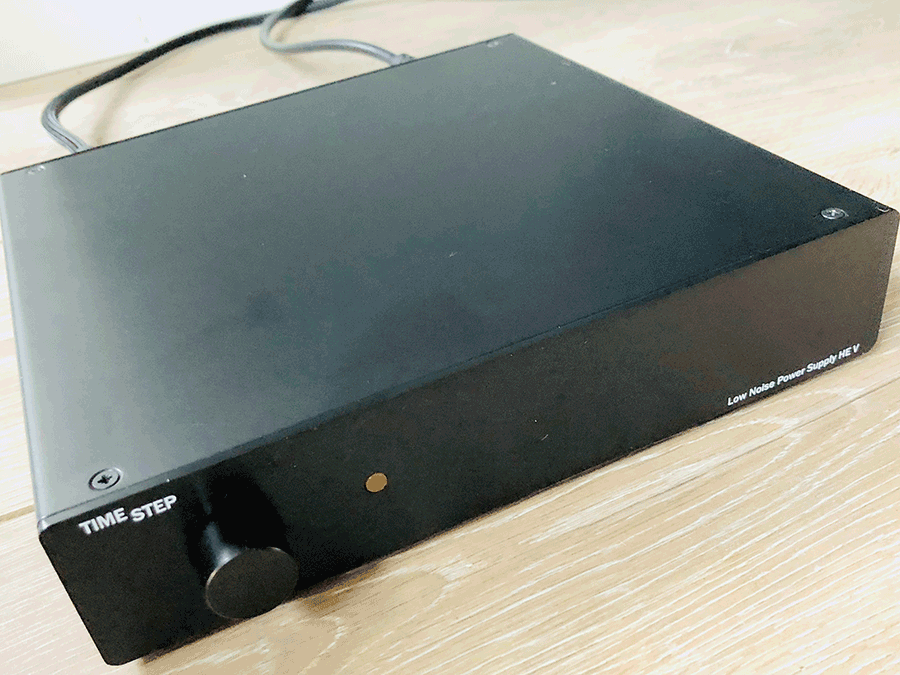 Last year as I started to mod my primary Turntable (1210 Mk3D) I had done some research and after many recommendations opted to invest in the then-current PSU on offer – the Timestep HE III – but on hearing of the impending release of the new HE V last month I had to try it.
The Timestep HE V (fifth generation in the range) is an external PSU for the SL1200/10 and a key component on Timesteps flagship modified version of the GR version of deck – the Evoke. Dave Cawley the brains and face behind Timetsep is an award-winning engineer (specifically for Technics modifications) so he should know what he's doing.
Available as a purchasable standalone product designed primarily for the Evoke version of the GR to enhance an already quality offering, the HE V offers best in class supply for us lesser mortals owning the original turntables at a very achievable budget.
2 versions are available – Black and Silver – to match both the 1210 and 1210 models of the Technics turntable
As this is a linear, external power supply removing the original power supply and regulator is required. A single solder is then needed and an easy earth connection to a screw point on the main PCB (detailed and simple instructions are included including photographs). A Furutech power cable then runs out of the deck to the PSU.
CONSTRUCTION
Straight out the box the build feels very solid, no movement sensed within the sleek low slab of steel casing. The transformers are manufactured in Wales to guarantee local eyes on quality control. It comes as a main PSU unit with Furutech female termination for the decks cable, thick solid braided power cable with male Furutech termination and then Neutrik IEC for mains.  Connecting the Furutech cable from turntable to PSU provides a satisfying click and is easily released via push tab.
One downside of removing the internal power from the Technics is you also lose the ability to use the twist power knob on the 1210  (there is a further mod to correct this but feels like over engineering for me). The iconic strobe still functions but with the previous HE III this meant that unless you had a switched power bar your deck once turned on at the wall, along with all your other kit, was "on".
A welcome addition then of a rotary power switch adds to this well engineered and well thought out unit. One red LED provides indication that all is well when switched to on.
A visually austere product in ways but it's there to deliver power not to be viewed as art.
It should be noted the HE V is fully backward compatible with the power cable on the HE III.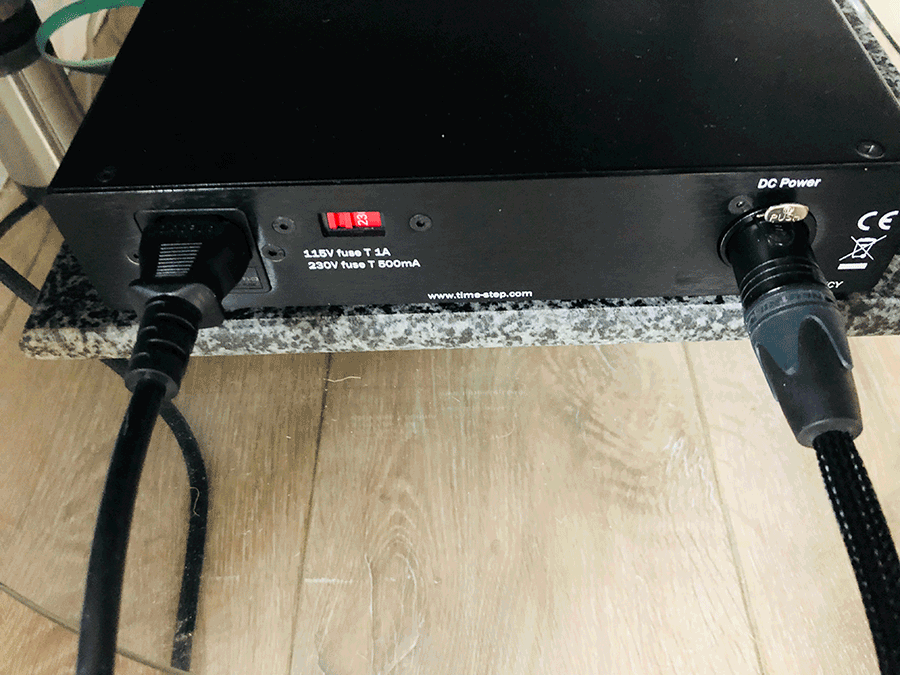 SOUND QUALITY
Improved over the standard Technics setup – not "night and day" but every incremental improvement in your setup's overall delivery counts in my book.
Using some reference track's, I enjoyed listening to my 1210 with the HE V immensely – On Dave Gilmour's Faces of Stone (Live at Pompeii) the details and decay on his intro give a real sense of refinement and clarity without muddy or loss of edge. On Zimmer's Bladerunner 2049 OST the unit was able to support the power needed from such a weighty and dense epic of music with ease. It just felt like refined strength was on tap as needed. And no background hum or mains noise anywhere to be heard.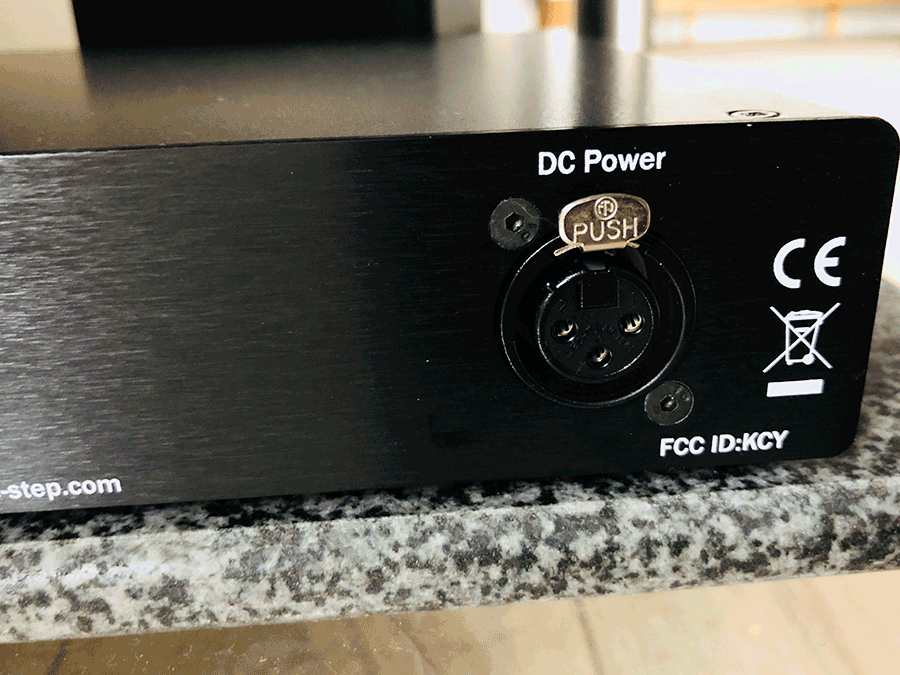 CONCLUSION
A PSU replacement on a Technics won't be a existentially transformative experience as the original certainly isn't awful, but that "less than flat" feed of the standard power supply can create a muddying haze on some finer details, especially if paired with the right cart and arm that exposes the issue (I'm using a Denon DL103r low output MC cartridge – I don't doubt on finer arms such as the Origin Live Zephyr the difference is even more revealing) .
Detail is, I feel, finer and drive of overall sound just more solid – it may be confidence in what's happening in the deck, but it's certainly gives me comfort to know the sounds isn't being fogged by a "saw line" supply as was the case with the original internal regulator and power supply of my 1210 Mk3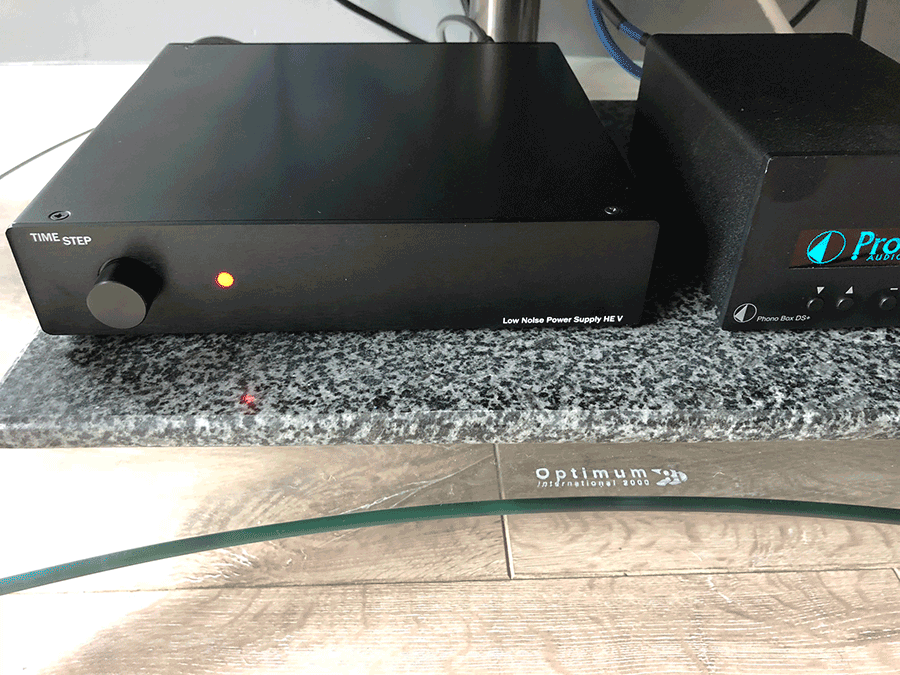 At the price point, if you are seeking a strong audiophile set up and want your beloved 1200 at the heart of it then this is a must I believe. It isn't an esoteric piece of hardware at an eyewatering cost – its solid engineering, based on electrical expertise, locally designed and manufactured (in the main) that solves a genuine problem and only improves your experience and confidence in listening.
This is a solid, high grade piece of audio equipment coming from a well-regarded stable who focus on doing Technics Mods well. Very well. And dealing directly with Dave at Timesteps I was very comforted in his great service and approach to continuous improvement and excellence in his products.
A no brainer I'd say,
AT A GLANCE
Build Quality: One word –  solid. The Steel designed top and bottom are there to remove any last chance of resonant hum from the new higher quality transformer (which is where the majority of Timesteps costs are due to UK build). Connections are as expected from Furutech and Neutrik are leading class. Cables are again solid and come with a comforting level of thickness.
Sound Quality: Detail is, I feel, finer and drive of overall sound just more solid and capable of anything you throw at it. Add a good cart and pair with a suitable tonearm to reveal more of its value.
Value for Money: For some, spending close to £500 on a power supply for a what is a workhorse turntable to begin with may sound a lot but for me the HE V comes at a very acceptable price point for an outboard PSU, any lower and you would know the quality of build just couldn't be achieved. (An earlier and slight less expensive model – the HEIII – for example did at times present a barely audible but present "hum" from the unit – one that is completely gone from this incarnation).
I am seeking to remove all weakness in my setup (watch this space for the tonearm upgrade) and power was one that is now off my list.
Pros: Relatively easy upgrade to apply, very solid build, welcome addition of power switch, utterly silent running, quality components all round. Reasonable price point.
Cons: Requires basic soldering skills which I simply don't have, or a local shop to fit. (cost to me was ~£90).
Price: £495
Alan McIntosh
Review Equipment: Technics 1210 Mk3 D with Denon DL103r MC cartridge, Isonoe Isolation feet, Funk Firm Achromat, Pro Ject DS+ Phono Stage, Musical Fidelity M3Si Amp, DALI Sensor 3 Speakers, Ecosse ES2.3 cables, Chord Clearway Interconnects.
Copyright Hifi Pig 
No part of this review may be published in part or in full without the prior consent of the editor of Hifi Pig