Timestep are not your average hi-fi manufacturer, they are also internationally renowned designers and
manufacturers of state-of-the-art weather satellite systems of all things and now Timestep have announced the launch of the new T-01MC moving coil phono stage.
The T-01MC is a minimalist design, avoiding any unnecessary switching that would "introduce extra contacts and therefore noise and distortion" and should offer great performance with 95% of moving coil cartridges. It has been developed and tested with a wide spectrum of cartridges ranging from the Denon DL-103 to the Clearaudio Goldfinger Statement and overall design has been by the renowned Dave Cawley. The phono stage can be ordered in custom configuration to suit specific cartridges, and subsequently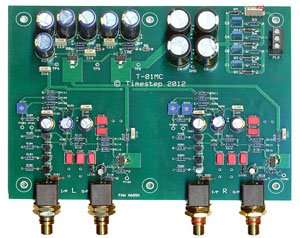 reconfigured to perfectly match any moving coil cartridge.
The design of the T-01MC avoids the use of integrated circuits and instead FETs (field effect transistors) are used in a fully discrete dual-mono zero negative feedback design.
The gain and input loading are fixed as in most situations this feature is a set-once process.  The settings chosen  should be great for the vast majority of moving coil cartridges on the market however, custom input loading can be specified and can be altered by Timestep at any time.  The company say that this method saves "considerable cost over switchable units, as well as providing the shortest, cleanest signal path ensuring the highest performance".
The unit comes in at £995 and has a whopping 6 year guarantee.