Tisbury Audio, whose little passive preamplifier we reviewed here, has today released its flagship headphone amplifier: the Challenge Amp 1. The new headphone preamplifier ha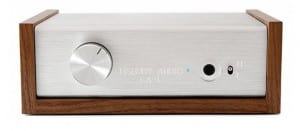 s been designed to drive audiophile headphones and the company's press release says "it combines class-leading performance with beautiful industrial design at a highly competitive price".
The Challenge Amp 1 is hand made in the UK from American black walnut, aluminium with premium components sourced primarily from UK suppliers and is available direct from the manufacturer for £349 with free shipping to most countries, a 30 day returns period and three year limited warranty.
The amplifier circuit itself is the result of 18 months of development, testing and listening trials says the company. It combines LME49600 current buffers, "precision spec". surface mount parts and a compact 'high speed' board layout that is unusual for a headphone amplifier.
"The name 'Challenge Amp' came from the extremely difficult criteria we set for the design," says Wes Young of Tisbury. "We wanted something that was beautifully engineered and very high performance but also reasonably priced. With over a year of prototyping and development, I'm confident we've completely smashed those goals; hopefully our customers will agree."