Whilst we have the Tellurium Q Iridium in the set up and I've got so used to it, I thought I'd take the opportunity to have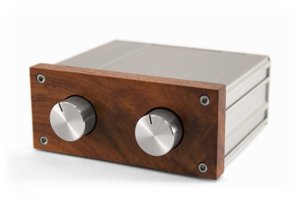 a play with a little passive pre amp that Jerry had recommended I have a listen to.

The pre in question is the Tisbury Audio "Mini Passive Preamplifier".

Tisbury are a small, UK based outfit that at the moment manufacture just the one product and sell direct. The Mini Passive Preamplifier is available in three flavours: Single Out – 3 inputs and 1 variable output. Parallel Out – 2 inputs and 2 variable outputs (for bi-amping). Tape Out – 2 inputs, 1 variable out and 1 fixed output. I went for the Tape Out option so that I could wire up the headphone amp into the system.

It's a tiny little thing (see last photo on the page) but it looks very nice indeed and immediately got the thumbs up from Mrs Hifi Pig. It has an American black walnut front panel on which the input selector and the volume control are mounted and round the back are the four RCAs. It looks great and also very well built in its simple anodised aluminium box.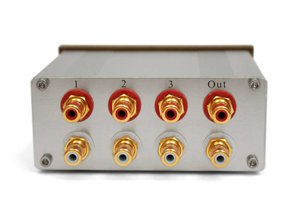 Inside the box there is an SMD stepped attenuator with 1% thin film resistors, the selector is an "audio grade" rotary switch with silver plated contacts whilst the sockets are CMC 816-WU with 24k gold plating. Wiring is silver plated oxygen free copper with PTFE insulation and the unit is entirely point to point hand soldered.
Plugging in the full compliment of inputs and outputs I full expected the little pre to be back heavy but it was stable enough on my shelves. Selector and volume knob have a nice and solid feel to them.

Digital source will be the usual suspects of the Valve Audio Devices DAC being fed a digital signal via the Pioneers DV737. For turntable duties I'll be using a modified Technics 1210 (Origin Live outboard power supply, mat, feet and Silver tonearm with an Audio Technica 33EV cartridge feeding an Electrocompaniet ECP 1 phonostage). I'll be using a pair of Grado 325i headphones and a prototype Epiphany Acoustic headphone amp for headphone listening.

Right on to some music and first up I thought I'd listen to a few tunes through the fixed output and some headphones and reached fort Pink Floyd's "Meddle" CD. Well I have to be honest here and there isn't really a lot to say at all I'm afraid (and if this continues this is going to be a very short review for you dear reader). Truth is the sound is pretty much exactly is it would be/is with no pre at all in place which suggests that the little Tisbury is adding next to nothing to the overall sound.
Switching to some vinyl and VCMGs "SSSS" album (a fine album by the way) and we've got more of the same,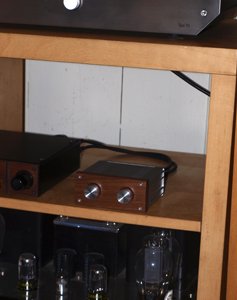 although I did find myself reaching for the volume knob on the headphone amp to turn it up a tad. This is a very transparent little unit on the fixed output.

And so to the variable output feeding the Iridium amp. I thought I'd play the same tunes as before and see what we got. Not much to report really playing CD – you hear the DAC and its tonal quality rather than the pre. With the vinyl set up I found I had to turn the pre up a smidge but managed to get to very loud levels using the 95db Mummy loudspeakers. On this point I would recommend that readers thinking about trying one of these pres make sure that your overall system has the balls to drive your speakers to the levels you want – I must stress that I had no problems at all, but then my speakers are easy to drive and pretty sensitive. One of the problems I've heard/read levelled against passive preamps is that the bass can suffer a bit, but I have to be honest and say that I didn't notice any of this at all – everything still bounced along very nicely and went as deep as it should.

Conclusions

Ok, this is a short review and I make no apologies for that – the Tisbury is a simple little unit that does what it says on the tin. It's transparent (to these ears anyway), looks good, is well built and comes with a two year guarantee.
One thing I haven't talked about is the price. It's £135 and the price is kept low by the company selling direct to the public! It's a basic pre with just two or three inputs and one or two outputs, but I'm led to believe that custom configurations can be ordered for not a lot of money. That being said if you're using a two channel system it's likely you'll have a CD player or DAC taking up one input and a vinyl front end into the other.  If you're looking for something to route your two channel, playstation, AV set up, tape deck and more through then you should perhaps look elsewhere – for me with my simple set up it was fine.
So would I recommend partnering a 135 quid passive pre with the Iridium costing nearly five thousand English pounds…yup, I would and the diminutive Tisbury in no way embarrasses itself…with the caveat that you'll need quite sensitive speakers. As with all passive pre-amps, just make sure that you have enough overall gain in your system so that you don't need an extra boost from the pre-amp to achieve the volume levels you want. Anyway, they offer a 30 day trial so you've not got a lot to lose.

Author – Stuart
____________
Review System: Valve Audio Devices DAC, Pioneer DV737, Epiphany Acoustics prototype headphone amp, Grado 325i headphones, Origin Live modified Technics 1210 with Origin Live Silver tonearm and AudioTechnica EV33 cartridge. hORNS Mummy Loudspeakers. Interconnects and loudspeaker cables by Tellurium Q, Epiphany Audio, Gotham.