Titan Audio has launched their new FFT module, a new addition to the world of audio mains power management, FFT will be compatible with every model in Titan Audio's portfolio from the Helios upwards.
Airborne RFI (Radio Frequency Interference) and EMI (Electro-Magnetic Interference) have long been acknowledged as detrimental to the performance of audio systems. These interferences can be created by various electronic devices and appliances that are now numerous throughout the home, such as WiFi routers, range extenders, Bluetooth connected devices and microwave appliances.
Titan Audio FFT Technology
Belfast based Titan Audio say that FFT technology eradicates the effects of this interference by creating what is effectively an invisible shield around the cable.
The FFT module is a small unit with an aluminium housing with an acrylic base and top plates, which help to eliminate vibrations. The module is fitted to the mains power cable by use of a specifically designed connection point which is standard on all relevant Titan Audio cables, so can be fitted at any time, as an after-purchase upgrade, for example.
In addition, the module itself is powered by its own power supply that connects to directly to it, which necessitates the use of a mains socket. (Later in the year Titan Audio will be launching a '5-in-1' power supply, allowing up to five cables to be run from one power supply, therefore utilizing only one socket.)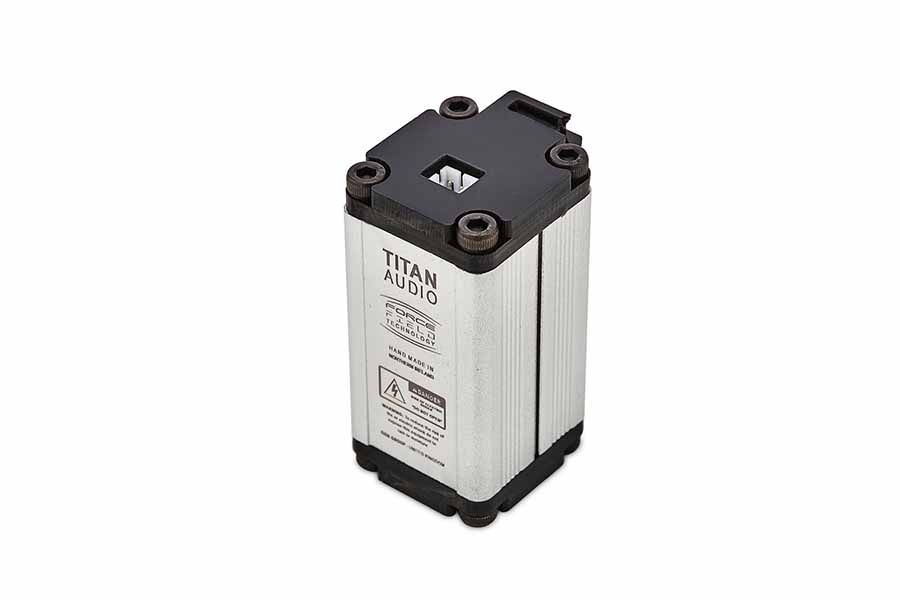 Sonic Benefits
Although there is already existing RFI and Emi reducing technology found in the mains power cables themselves, the FFT module technology combines with Titan's existing inherent cable technologies to result in a "palpable improvement to overall audio performance".
FFT is a patent-pending technology that the brand says "significantly changes the performance of mains power cables at the respective price points". Before, it has not been possible to fully eradicate the airborne effects of RFI and EMI in mains power cables. Titan Audio's R&D team had long wanted to find a solution to this and FFT is the result of rigorous and intense work.
Price
Retail Price of each FFT module is expected to be around £250