The Tivoli 'Model One Digital' table-top radio refreshes the classic design of Tivoli's original Model One with music streaming and multi-room capability.
Encased in a furniture grade wood cabinet in a choice of black, white and walnut colours, and finished with a Gabriel® fabric grill, the compact Tivoli Model One Digital radio offers DAB and FM radio, Bluetooth® and Wi-Fi streaming controlled by a wireless app.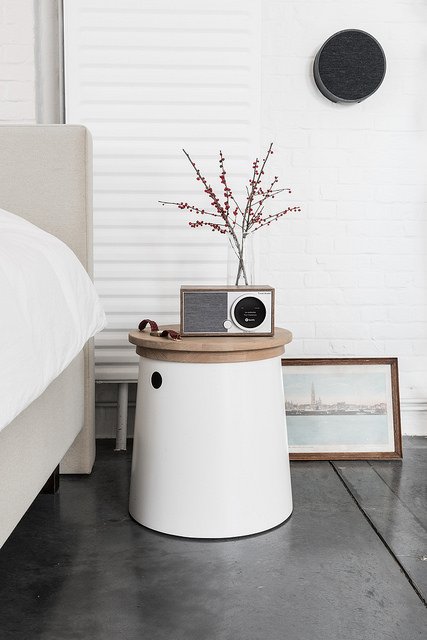 The Model One Digital's high-resolution screen and Multi-Operational Dial combine to make station tuning, track selection, and playback control simple, while the app allows the sharing of Spotify Connect, QQ, Deezer, Tidal and TuneIn playlists and selections, as well as local audio content on phones, tablets and NAS music libraries. Select Bluetooth to receive audio from a paired device, or the Aux input to use the Model One Digital as a standalone speaker for a wired audio source (or send audio to others via Bluetooth).
The app's multi-room control functionality creates a variety of Wi-Fi connected hifi system scenarios involving the Model One Digital and other ART by Tivoli Audio speakers. Whether it's a single Model One Digital playing in the kitchen or paired in stereo with a Tivoli ART CUBE speaker in the dining room; stereo Tivoli ART ORB speakers playing in the bedroom, or your Spotify party playlist playing on Tivoli ART speaker systems throughout the home, the Model One Digital is the first step on the path to a wireless multi-room music playback system.
The Model One Digital was designed and engineered by the company's chief designer, Paul De Pasquale. De Pasquale says about the product: "Tivoli Audio introduced the original Model One Radio in 2000 to fill a gap in the market for a high-quality and affordable AM/FM radio. Seventeen years later, we are introducing a product that will keep Tivoli Audio at the cutting edge of audio technology for years to come. The Model One Digital will carry Tivoli's legacy of high quality and high design into the age of streaming content and home wireless audio."
Specifications:
Connectivity
DAB/DAB+/DMB tuner

FM tuner

Wi-Fi enabled

Spotify® Connect

Bluetooth®

3.5mm Auxiliary Input

Connect multiple units or ART speakers on a single network

Connect each speaker to your home Wi-Fi
Style
Available in three real wood veneer cabinet finishes

Fabric speaker grill by Gabriel®
Playback
Stream DAB/DAB+/FM to additional speakers from the Model One Digital

Stream CD quality music from services, such as Spotify, Deezer, Tidal, QQ, and your own personal library via your standard home wireless network

Multi-group configuration, allowing simultaneous audio playback of multiple songs to various speakers if connected with additional ART collection products
App
Free Tivoli Audio Wireless App to control Model One Digital over your home Wi-Fi network and configure advanced wireless playback options. (Made for iOS and Android

devices)
Controls
Streamline navigation via aluminium Multi-Operational DialVolume control knob

Party Mode button to quickly connect all powered speakers

Power

DC power
Dimensions & Weight
11.5 x 22.2 x 14 cm / 1.55 kg
ART by Tivoli Audio speaker specifications
CUBE / ORB
Connectivity

Wireless Network enabled

Auxiliary input

Bluetooth® Wireless Technology

USB (service port)

iOS or Android App for advance options
Power
Optional rechargeable battery (not included)

DC input
Dimensions & Weight
CUBE: 11 x 11 x 11.7 cm / 1.4 kg

ORB: 23 cm Ø x 5 cm / 1.6 kg
MODEL ONE DIGITAL | DAB / DAB+ / FM / Wi-Fi / Bluetooth® Radio
Typical retail price (inc.VAT): £279.00
Tivoli ART CUBE wireless network enabled active speaker (inc.VAT): £189.00
Tivoli ART ORB wireless network enabled active speaker (inc.VAT): £229.00