PARIS AUDIO VIDEO SHOW 2021 – TOTALDAC D100 LOUDSPEAKER LAUNCH AND RIVER SEINE CONCERT CRUISE
Twenty months since they last visited a HiFi Show, HiFi Pig's Stuart and Linette boarded the train to Paris for the Paris Audio Video Show 2021 along with a rather special event for the official launch of the Totaldac D100 Loudspeakers.
French brand Totaldac, from just near Mont Saint Michel, made their name in HiFi with, obviously, their DACs. Since then, owner and designer Vincent Brient has branched out further into components to compliment his now world-famous DACs, including amplifiers and loudspeakers.
TOTALDAC FRANCE
We experienced his large horn system with his d150 speakers way back BC (Before Covid) in 2018 at High End Munich. These big horns were the result of some twenty years of research and development and were designed primarily to demonstrate the Totaldac range of electronics at HiFi Shows and in Vincent's demo room at Totaldac HQ, before being made available to discerning audiophiles.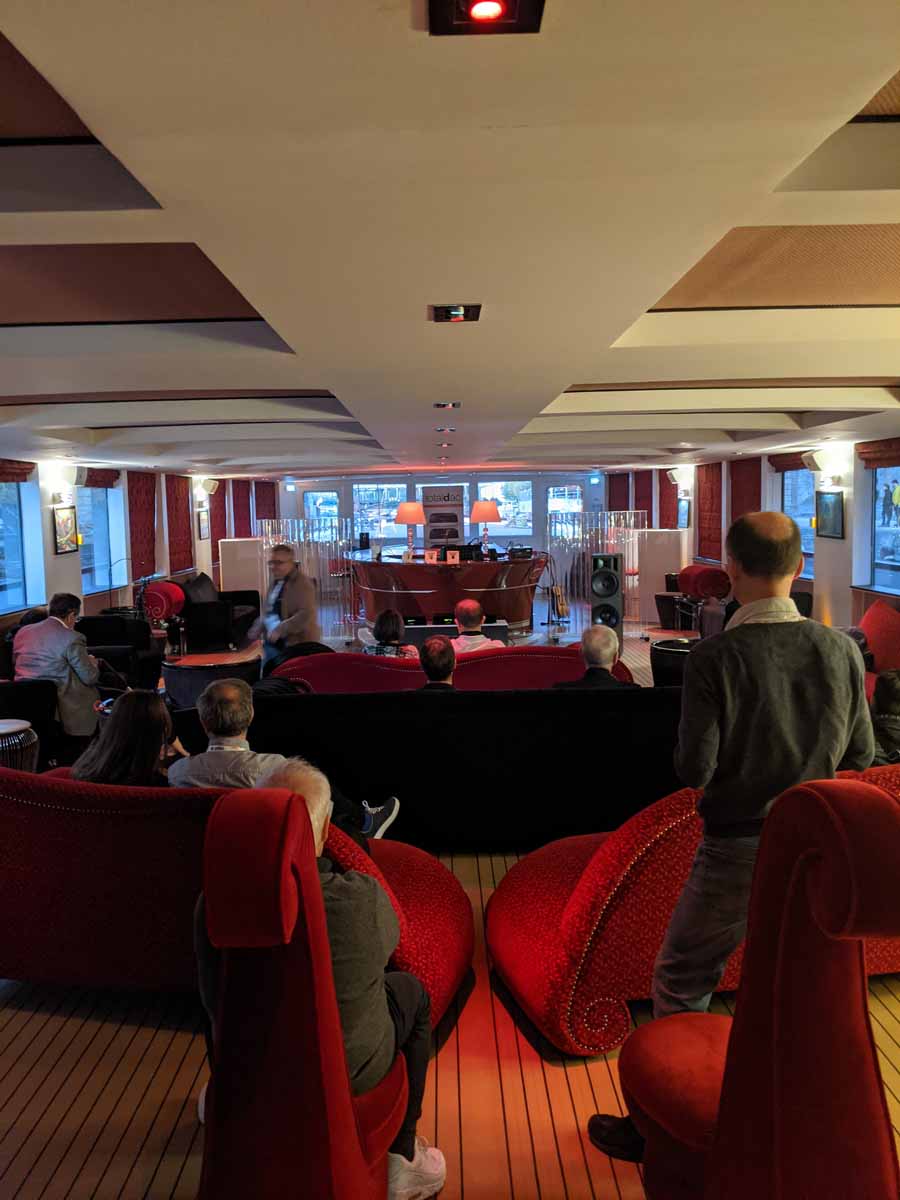 TOTALDAC D100 LOUDSPEAKERS
Obviously, the Totaldac d150 are a very big speaker so Vincent went on to design the Totaldac d100. If you would like to know more about the speakers themselves, click here for our recent review. We were so impressed with the speakers that they gained our Editors Choice award and we decided that we would like to buy the review pair.
HIFI ON A YACHT
Very often we see 'side' events when a big HiFi Show is happening, but never have we experienced something quite as good as the Totaldac d100 loudspeaker launch.
Vincent and his team have booked a yacht, the Clipper, which is spending this weekend (October 23rd and 24th 2021) moored at the Paris Yacht Marina, on the river Seine, just outside the Novotel Tour Eiffel where the main show is happening.
Visitors are able to board the yacht (on presentation of the Covid Pass Sanitaire) and be treated to wonderfully opulent surroundings in this beautiful venue. Comfy couches are arranged so that you can sit and listen to the Totaldac system during the two days.
NIGHT TIME RIVER CRUISE
We were invited to the Saturday evening event which promised us music, a concert, canapes and a cruise.
Of course, Vincent and his team had spent a lot of time setting up and tweaking the system and room treatment to get the sound just right, and it sounded sublime. It was a very 'live' sound, dynamic and energetic but also very engaging and pure, perfect to relax and enjoy. David Solomon of Qobuz came with us and thought that someone was playing the piano live when we walked onto the boat.
The components being demonstrated were the new Totaldac d1 streamer mk2 and the new Totaldac d1 digital mk2 reclocker. Totaldac's d1 twelve mk2 DAC, d1 driver monoblocs, Amp-1 power amplifier and the new Totaldac d100 speakers.
Not only did we get to stream tunes, we had a guitarist/singer who also entertained us while we enjoyed canapes and drinks and cruised along the river.
As an event, this was just magical. There is nothing quite like Paris at night and we were able to take in the sights wrapped in blankets on the top deck, then descend into the warmth and listen to fantastic music on a world-class system, this was a Hifi Event done brilliantly, a real mix of people from all around the world, from customers of the brand to industry people, journalists and the team that work with Vincent to realise his creations. Bravo Totaldac and thank you for an amazing experience.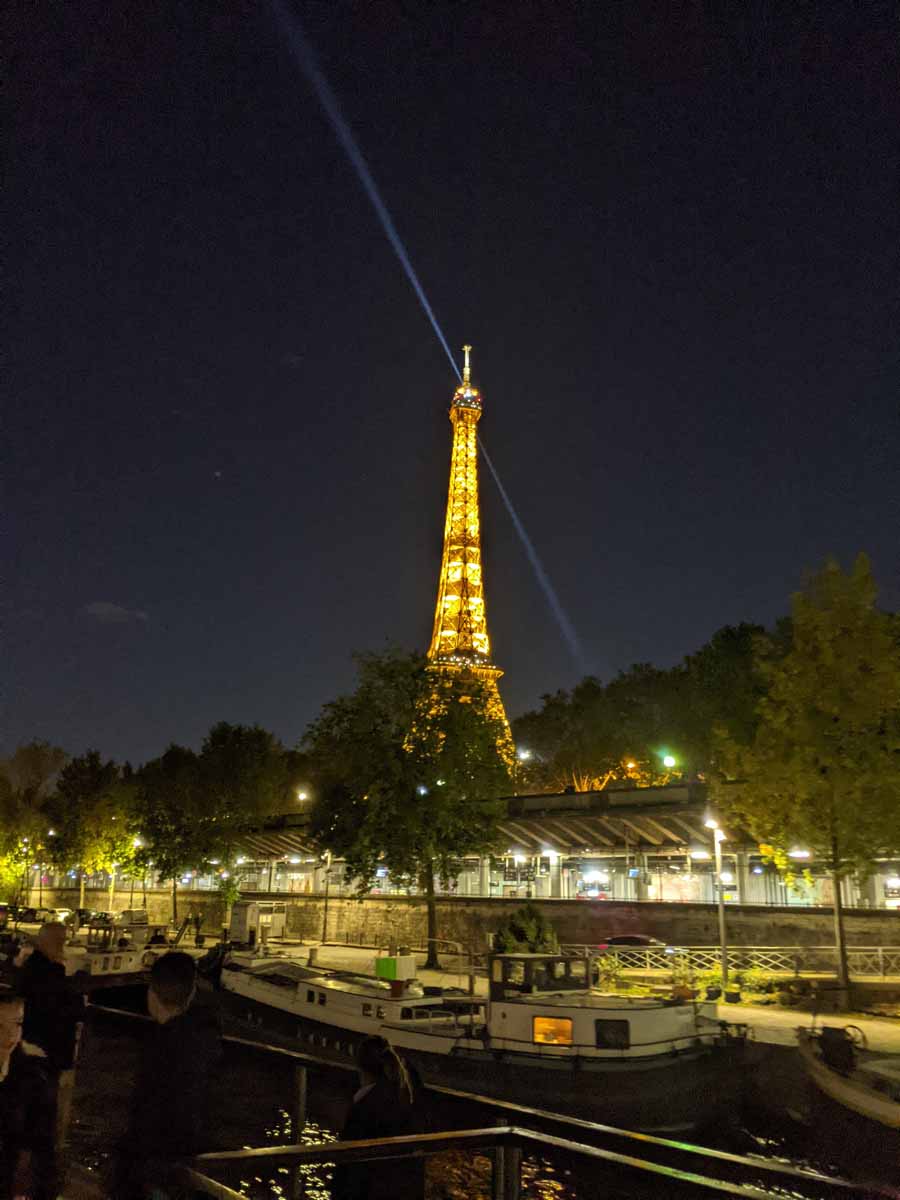 TOTALDAC LISTENING SESSIONS
I am writing this on Sunday morning as the sun rises over the city. If you are in Paris this weekend get yourself over to the Clipper and enjoy the system yourself, there is also a cruise again this evening, so you can take in the sights as well as the sounds.
TOTALDAC HIFI SHOW ON A YACHT SYSTEM LIST & VIDEO
The Totaldac HiFi Show On A Yacht took place over the weekend in the 200sqm living room of the Clipper Yacht navigating across Paris on the river Seine and live streaming Qobuz.
The resulting sound was recorded using two microphones installed in front of the speakers and the video was taken by a moving iPhone.
The full Totaldac system was composed of:
-d1-player running Roon
-d1-streamer-mk2 in Squeezelite mode
-Totaldac ethernet cable/filters
-a prototype of Totaldac ethernet switch
-reclocker d1-digital-mk2
-d1-twelve-mk2 DAC with UP12 AES-EBU cables and the new clock cable
-Echole interconnects
-live-power power supply
-custom power filter and power distributor
-d1-driver monoblocs
-Amp-1 amplifier, stereo version
-d100-chestnut speakers
-SMT diffusors
-no subwoofer was used