Townshend Audio has announced a new generation of "Seismic Isolation" devices which the company say will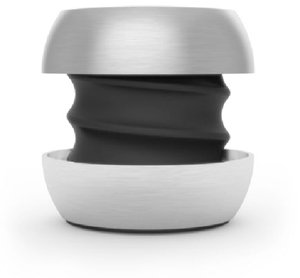 dramatically improve sound quality of all high-end audio systems.
There is a range of equipment all centred on the Townshend Seismic Load Cell, an alloy steel compression spring covered with a synthetic rubber jacket and with two end plates – have a look at the photo.
The Cells allow movement in three dimensions and "blocks all deleterious vibration from 2.5Hz upwards and from every direction". Basically this means that any suspended bit if hifi equipment is isolates.
That's the basis for the range but Townshend have created several interesting products around the cell including speaker platforms, an isolation pod which can be used in lots of circumstances under any hifi equipment, equipment platforms, equipment stands and isolation corners that you can put on the corners of your existing hifi rack.
Prices start at £100 for the individual Pod, £999 for speaker stands, £500 for the platforms, £1500 for the stands and the isolation corners start at £800 for a set of four.