Linette Smith takes a look into her crystal ball and see's if she can pluck out some trends for 2016 out of the swirling mists.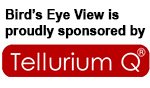 The New Black
Happy New Year to all you hifi and music enthusiasts out there.  What better time to have a think about what High Fidelity treats lie in store for us this coming year? Just as in fashion and interior design there are trends that appear in the hifi industry, whether that's specific sectors of the industry that are on the up or a colour that seems to dominate everything hifi.  Savvy hifi companies are rapidly realising that hifi is coming back in the home in a BIG way.  No longer banished to the 'Man caves' of old, hifi today is proudly put on show in the living room.  It's not just the traditional, stereotypical audiophile that is buying hifi, younger more image conscious types are getting in on the act and they want their hifi to be stylish and as good to look at as it sounds.  Those companies who have clicked this are looking to interior design and fashion and picking up on market trends. It wasn't really that long ago that most hifi was either black, silver or wood veneer boxes.  Recent years have seen white become the new black and there has been a definite acceptance that bright colours and more adventurously shaped hifi is perfectly liveable with. Retro curves and mid 20th century design has been heavily influential, look at Davone speakers or the BeoLab 90, these would look completely at home in the clean, design classic interiors of recent years.
Coppering Up
In 2015 we were seeing copper in interior design everywhere, from high-end designers to IKEA, so it's unsurprising that hifi manufacturers have picked up on this material…and not just for its electrical properties I'd wager.  At the end of 2015 we were treated to the limited edition 'Expert' amplifier, Le 900 (or Original D'Atelier) from French style champions Devialet, in a beautiful copper finish. Brands like KEF and D'Agostino have proudly sported their touches of copper for a long time and we will see a lot more copper on the outside of hifi in 2016 I reckon.  Confirming the trend, Astell&Kern, another brand known for their stylish design, have just kicked off the new year with a limited edition copper version of their flagship AK380 high-res music player, hewn from a solid block of the metal.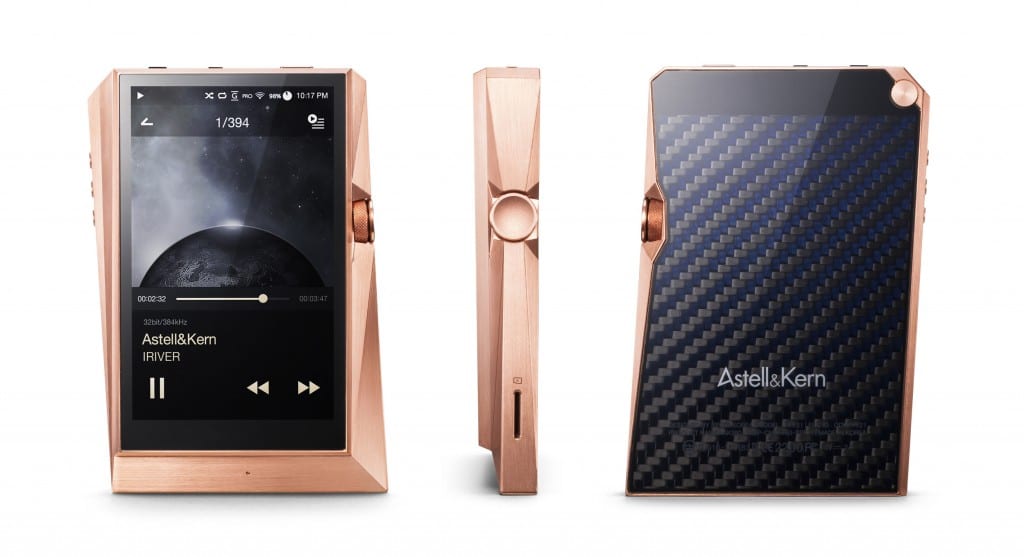 Of course 2016 is an Olympic year (does it really feel like four years since London 2012?) and the Olympics always brings out fashion's love of 'going for gold' so, along with copper, expect to see multi toned metallics, which are set to feature heavily in interior design for the next few seasons, including rose golds, white golds and bronze, sparkling up our hifi.  All that gold and copper could come over a bit 'bling' but interior designers are predicting a big use of natural materials to temper the metal. Words like 'Artisanal' are being used a lot; think chunky woods with natural stone in warm tones, and comforting fabrics, creating a safe, cocooning and relaxing sanctuary in the home.  Hifi to fit into this kind of environment needs to be beautiful and subtle, adding to the ambience of the room rather than fighting against it.  The Linn series 5 collection featuring their Fabrik speaker covers plays perfectly to this trend, as do solid wooden hifi racks that are as well made as the rest of the furniture in your home.
The Whole Package
Customers really do want the whole package, beautiful, ethically produced products that have a thoughtful and creative design to them, fit for purpose but also a pleasure to own from the moment of opening the box.  People are not afraid to spend a bit more to get these qualities.  The public in general is becoming more aware of how and where what they buy to eat, wear or put in their homes is made…they want to know that what they have just bought has been made by fairly paid, well looked after people using quality materials that will last.
That 'built to last' ethic is really important for hifi, so a timeless design that will still look classic in a few years time and be backed up by a good after sales guarantee will be more well received than cheap tat that breaks before Christmas. The 'Made in…' label will continue to be very important to hifi purchasers this year.  Just as the public wants to know that their sausages came from a pig that lived a good life on a local farm, provenance is important in the hifi world. Having visited hifi HQ's and factories in the UK and France such as The Chord Company, Roksan and Focal, we have seen that these are the kind of companies that value their workforce and invest in them.  They are proud to have their 'Made in France, England, Germany, USA etc' label on their products and the public want to buy them because it signifies high quality, non mass-produced products with provenance.
Boutique Brands
'Sustainability' is also a buzzword for 2016 with people looking at what they have and re-purposing and recycling rather than throwing away and manufacturers that have green credentials will do well this year.  People are craving individuality and are looking to more Boutique and Artisan brands for their hifi purchases too –  smaller companies with a meticulous eye for detail and for the customer experience should flourish this year if they can deliver the goods.  The whole sustainability and recycling and buying good quality that lasts is being seen in fashion, interiors and product design.  Rather than buy loads of cheap throwaway clothes, buy a few key pieces that last. Don't chuck away your settee, recover it.  This is leading to an eclectic style in peoples homes and wardrobes and that fits really nicely with the way a lot of us buy hifi.  Many people have vintage components and then buy some new pieces so the system evolves organically rather than just buying the whole thing new in one go.
Really Reel?
You couldn't read anything about hifi or music last year without the mention of vinyl…it was everywhere, even in mainstream newspapers and websites. When supermarkets start selling vinyl again, it's no longer the preserve of audiophiles and hipsters.  Vinyl is set to carry on its crusade for format dominance this year too, so expect many more turntables to be sold and to make their way back into the family living space.
Probably not quite mainstream this year but definitely making a strong resurgence with audiophiles is the Reel to Reel tape.  There seems to be new companies springing up bringing us a wide variety of musical styles in the high quality format. Horch House are even launching the first new Reel to Reel player to be introduced in years, they are aiming to have the prototype available at High End Munich 2016 in May.  Reconditioned, vintage players from the likes of Studer and Tascam are flying off the shelves and are often used in films and TV series as the ultimate mark of audiophile 'coolness'.  However the price of R2R tapes is likely to keep them as a niche product, targeted at the hardcore audiophile, for the foreseeable future.
Heady Heights
If vinyl had a competitor for being the hot trend of 2015 then it had to be Headfi.  It seems that you can't go anywhere these days without finding people sporting pretty decent headphones.  Yes, of course those Beats are still around, but take a look at what's on, or in, the ears of a lot of the 'bright young things' and you will probably see more 'proper' headphones from brands that make well respected products.
Sennheiser caught the headlines with the launch of the mark 2 Orpheus, so are they setting the tone for the trend in very high priced headphones to continue this year?  Probably, but the high quality, more affordable headphone market will, I imagine, be the fastest growing sector…it's unnerving to be walking about with a couple of grand on your ears, you may as well have a 'mug me for my expensive headphones!' sign on your head.  Brands like Audeze are dripping down their technological advances from their top of the range products to bring their brand to people who may previously gone out to buy something much more mass market.  The launch of the Sine makes Audeze much more budget friendly and the big ones can stay at home without the need for a body guard.  Along with the headphones comes a whole bundle of headfi products, after market cable upgrading is going crazy, as is the portable market for digital audio players, DACs and headphone amplifiers.  Chord did it with the Mojo late last year and expect more gorgeous and pocket friendly releases in 2016, with hifi companies packing their cutting-edge technology into tiny packages to give 'on the move' hifi junkies the same quality as they get at home.
Linette Smith