Trinnov and Vivid Audio will be demonstrating together at High End Munich 2017, with a system demonstrating Immersive Audio, Music Streaming and Acoustic Optimisation at the Munich MOC.
Trinnov told us "The Trinnov Altitude32-816, updated with its latest Roon-Ready™ software, is the heart of this system. It serves as the Network Player, the immersive audio decoder, the preamp and the DAC. The Altitude32 also will provide the highly optimized four-way active crossovers as well as our revolutionary Speaker/Room Optimizer in this extraordinary high performance immersive music system".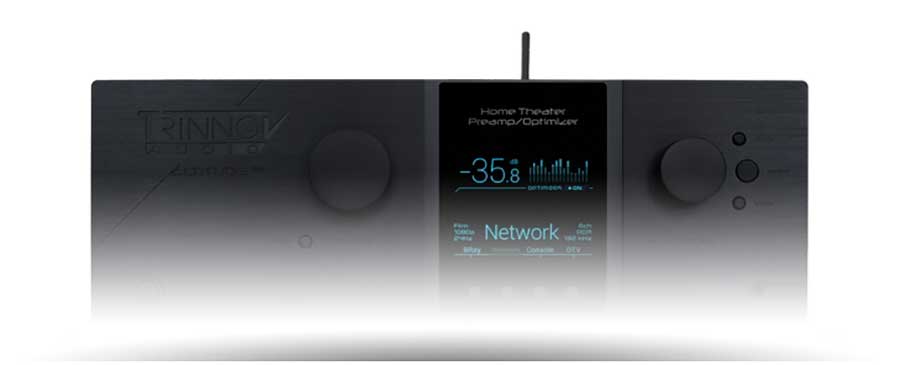 "The Altitude32 will feed two power amplifiers with a total of twelve outputs. The Trinnov Amplitude8 is Trinnov's high-end power amplifier, powered by two large, linear power supplies and eight Ncore NC1200 modules – a circuit packing 20 years of research and experience into non-linear control theory. Unprecedentedly low distortion, noise and output impedance combine into what scores of enthusiastic users unanimously describe as having "no sonic signature at all"".
"All loudspeakers will be provided by Vivid Audio and set up in a 4.0.2 Auro-3D configuration. Trinnov's digital active crossover system will ensure that the flagship 4-way active GIYA G1 Spirit loudspeakers perform at their best to reproduce the main channels. Additionally, a pair of the remarkable GIYA G2 will be used for the surround channels while the Oval V1.5s reproduce the front height information. Laurence Dickie designs all Vivid Audio loudspeakers. Laurence invented the idea of long, tapered transmission line enclosures while at B&W, introducing the Nautilus in 1991".
Trinnov and Vivid Audio partners will give presentations during the show, covering a broad range of topics related to the demonstration.
FRIDAY MAY 19TH
l  11 – 11:30 AM
MINIMIZING LOUDSPEAKER COLORATION
Laurence Dickie, Speaker designer at Vivid Audio
l  2 – 2:30 PM
WHY IS 3D AUDIO THE FUTURE OF MUSIC?
Stefan Bock, Owner of MSM Studios, long-time 2L partner and multiple-awarded facility, inventor of the Pure Audio Blu-ray format
l  4 – 4:30 PM
INTRODUCTION TO ROON
Enno Vandermeer,Founder/CEO of Roon Labs
SATURDAY 20th May
l  11 – 11:30 AM
DIGITAL ROOM, ANALOG WORLD – PRACTICAL EXPERIENCE WITH TRINNOV'S OPTIMIZER TECHNOLOGY
Mathias Thurau, Owner of Lauschgoldengel, Erlangen
(Presentation in German)
l  2 – 2:30 PM
LATEST AURO-3D MUSIC RELEASES
Tom Van Achte, Head of Creative Entertainment Division / Auro-3D Mastering & QC Engineer
l  4 – 4:30 PM
MINIMIZING LOUDSPEAKER COLORATION
Laurence Dickie, Speaker designer at Vivid Audio
SUNDAY 21st MAY
l  11 – 11:30 AM
MAXIMIZING THE BASS PERFORMANCE OF A HIGH-END 2-CHANNEL SYSTEM
Dominik Schumacher
(Presentation in German)
l  2 – 2:30 PM
INTRODUCTION TO ROON
Enno Vandermeer, Founder/CEO of Roon Labs
l  4 – 4:30 PM
MINIMIZING LOUDSPEAKER COLORATION
Laurence Dickie, Speaker designer at Vivid Audio
ATRIUM 4.2, ROOM F203