The Atlantic from Tron is one of the smallest 300B amps ever made with a footprint of just 40cm x 25cm. Power is between 9-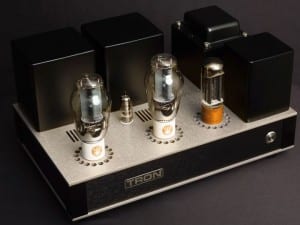 10watts across the audio spectrum (20-20kHz) and with a usable bandwidth up to to 95kHz (-3dB).
The chassis is made from CNC machined Aircraft grade alloy, designed so that no nuts, bolts or fasteners show. It is fitted with two unique DC filament supplies for heating the 300B output valves.
A D3a valve used in the driver stage and the complete amplifier is all designed, manufactured and assembled in England.
Specification:
9 watts per channel with 4, 8 and 16 ohm outputs.
C-Core output transformers.
C-Core chokes.
D3a driver stage.
Electro Harmonics 300Bs.
Teflon valve/tube bases.
CMC input RCA connections.
Very short signal path.
Valve rectified power supply.
Audio grade parts selected for outstanding sound.
The Atlantic is available in Silver & Black, Gold & Black. Gold & Red is also available to special order.
Available voltage versions for 100v, 117v, 220v, 230v, and 240v mains.
The Atlantic can be available at "Reference" and includes:
WBT Next-Gen speaker terminals
Special OFC wire for both the input and output connections.
From £6750