David Robson takes a look at Indonesian company Vermouth Audio's Rhapsody loudspeaker and mains cables costing £200 for a six foot pair for the former and £150 for a four foot cable for the latter. 
Vermouth Audio Rhapsody Speaker Cable
£200 for 6ft pair (You can customise your cable for £16.56 per foot)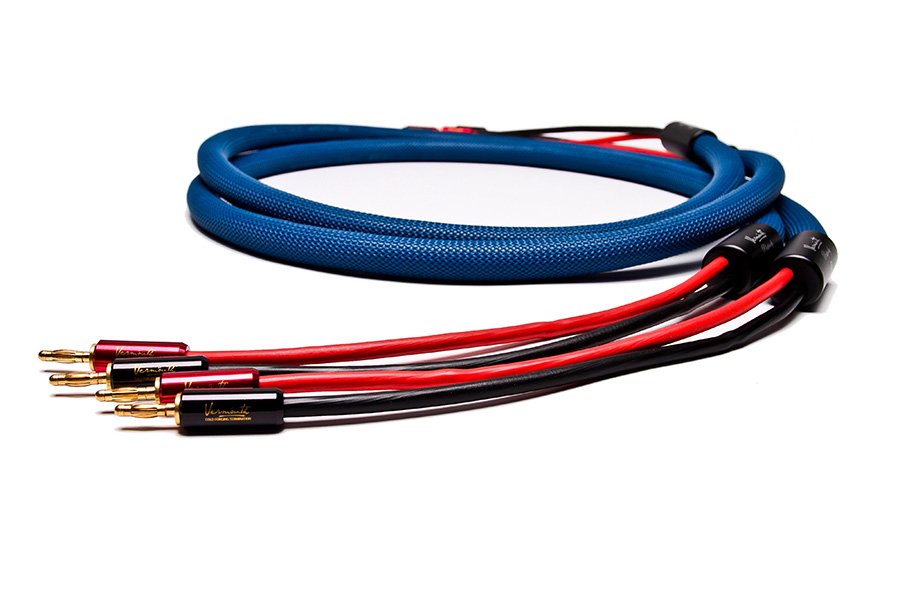 It's refreshing to know (or is that surprising to know) that after a few years out of our hobby, things have changed in the world of Hifi. In my youth Hifi was mainly Japanese, with a bit of crusty old fashioned British stuff with no whizzy lights or twiddly knobs. This in the mind of a young naive teen, who's mind had been swayed by movies and media. A few years back into the hobby and the universe of Hifi has opened up to world markets. Apart from our local European cousins we now see great products from afar as China, India and new to me, Indonesia. Vermouth Audio, hails from Bali, Indonesia. Specialising in high quality Hifi audio cables, mains cables and speakers, and I'm the lucky ducky who has been given the job or perusing and reviewing their Rhapsody range of cables.
This is a new style and type of cable to what I'm used to. First of all, let me tell you of the packaging and how it arrives. The cables are carried in a nice printed linen cloth bag, with "Vermouth, Hand Crafted in Bali", proudly emblazoned on the front, it also comes with a certificate of authenticity. This a virtual birth certificate of your new product. Having its own manufacture date, serial No. model name and who actually constructed your cable. A nice touch!
This cable and its sheathing is very thick, around 1.8cm in diameter. The blue interwoven nylon style outer sheath terminates into an anodised collar, this leading to the two 12awg black and red speaker wires, again terminating in two beautiful quality anodised banana plugs which are high grade copper with gold plating. A first for me on these plugs is that the "sprung" bit of the plug actually spins around; I'm sure this gives good contact with the 4mm banana socket of your speakers. Although initially in my mind it had more of a chance of losing contact due to the possible movement of the connectors due to external vibrations, but I have been reassured this type of banana plug locks firmly into place. These cables are weighty so any chance of this being an issue is very slim anyway, but on reflection I think I would prefer a standard style "fixed" 4mm banana. The cable feels a little stiff, but this is the first time I have encountered one of these big gauge sleeved cables. It's a bit like wielding a garden hose as it only wants to turn and move where it wants to. A bit of twisting and coiling and things are fine. The whole cable feels tough and durable.
The speaker cables have 257 strands in total and 12AWG Hybrid UPOCC conductor per channel. There are multi-sized & multilayer conductors in two different groups. The non-woven fabric is there for extra dampening and protection and there is something Vermouth call "air tube spacer & suspension" with an18 mm high-flexibility design allowing easy installation. Anodized sandblasted aluminium cable stoppers, cold forged Copper with Gold Plated terminations and anodised Aluminium shell connectors complete the package.
Vermouth recommends up to 150hrs for the cable to fully break in and settle. Time to hit the CD storage shelves!
After letting the cables run for several days I'm happy to throw a bit of Dire Straits into the slot and let their debut, self-titled album spin. The soundstage from the opening tracks are wide and deep enough to have Mr Knopfler's voice in its own space, with other instruments defined yet again in their own single space. Six Blade Knife has a good regular drum beat accompanied with nice clear bass guitar, the Rhapsody cables bringing a deep smooth moodiness out from the track. There is a slight roundedness to bass lines and drum strikes, not exactly turning snare drums into bongos but there is a slight loss of the outer definition of bass and drum notes. Vocals don't seem to be affected by this and come across clear and well presented.
Switching to Nils Lofgren, Acoustic Live, (my new favourite record of the moment). A very well recorded album and a "must have" for those liking Joe Bonamassa etc. I'm happy at the amount of detail the Vermouth cables are picking up. Nils guitar strings having a good weight attached to each strike or pluck. Even when playing gets frantic the instruments are conveyed correctly and uncluttered. On "Little on Up" the simply started tune builds into a full on crescendo of guitar and vocal, the Rhapsody plays out the big scale with ease, albeit just once again losing out on the very extreme of the scale. The deeper tones just getting a little rounded or possibly smeared and the treble just not hitting that very crispy zing of metal strings, it doesn't spoil the music because it's both bottom and top in equal measure. That doesn't make these cables a dull listen, far from it, as other details and qualities within the soundscale keep you well entertained.
Heading to a bit of pop and Roxy Music's Best Of. A little try out of Bryan Ferry's vocals and classic tunes to see how these Vermouth Rhapsody speaker cables cope with some of the 70's & 80's dancefloor fillers of my youth! And very well they sound too. I find some of the lesser quality recording can sound very average and even painful at times, these give a good rendition of the music, neither falling into the dull muddiness or overly bright harshness that can befall some music of days gone by. The classic late night last slow dance of Avalon comes across with oodles of detail, instruments once again in their own zones, finger strikes on small bongo drums clear as a bell; the female accompanying vocals are sweet and hang up high, giving a big sense of scale. "Dance Away" sees Mr Ferry's vocals seep beautifully from my Russell K Red 50's, projecting feeling and emotion into the room, accompanied by the rhythmic beat and good foot tapping timing too boot!
Pros
Neutral sound
Hold up well to their price point
Their neat bags with certificates are a very nice touch too.
Cons.
The cables lose a tiny amount of bass detail at the lower end and just missing out on having a super crisp top end
Their size and construction may put some off, but if size matters, these are your boys as they look meaty and impressive
Vermouth Audio "Rhapsody" Power Cable
£150 (4 foot) with IEC/Shuko Plug.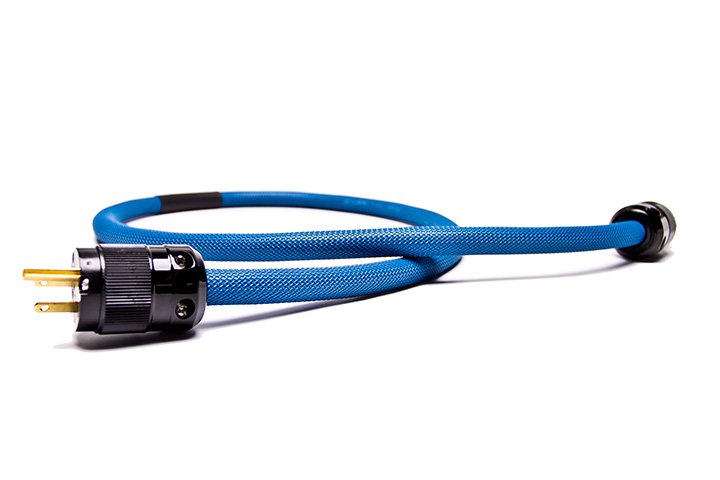 The Vermouth Rhapsody Power Cable, looks identical in appearance to the Rhapsody Speaker cable, being of a thick tough sheathing at about 1.8cm thickness covered by a blue nylon woven outer. Like the Rhapsody speaker cable the power cable arrives packaged in a linen embossed bag, with a certificate of authentication. The thickness and construction again can be a bit difficult to route around corners as it will only bend and move in the direction it wants to. Either end of the Power cable is a Wattgate plug. Very nice, and well-made connections – these having an IEC and a Shuko plugs. Being picky I'd have likeed some sort of tape or liner where the thick cable enters the plugs themselves, as irregular gaps at this price point look a little less classy. This probably offering no sonic benefits at all, but there is a rubber sleeve midway along the cable which if positioned just into the plug, would look a tad nicer. Not that these cables look cheap by any margin, but that extra attention to detail goes a long way.
I attached the Power Cable to my Schiit Bifrost DAC. I usually use after market power cables instead of the manufacturers own, but I had replaced my own cable with the standard one a few days before to judge this power cable against a standard.
A new artist to me, Sandy Denny, was spun on the laser player first. The Rhapsody power cable immediately sounded open and clear, thus allowing Sandy's vocals to emerge from the soundstage showing her heartfelt talents. Her rendition of "Who Knows where The Time Goes" (1973 Live BBC recording) is just so very sweet, the guitar strings timbre and weight are portrayed in a manner which allows the music to flow and not get congested or dull or interact negatively with the vocal by being too forward but accompany Sandy Denny's singing within this fine recording. This is also very apparent on "No End", the Vermouth power cable giving a clean presentation, to the point where it becomes a difficult task to look for criticisms as the tunefulness takes me away from my task of reviewing!
Switching CD's to something a little more soul/blues oriented. Keb' Mo's album "Just Like You". A more modern recording than Sandy Denny's, but still vocally driven.
"I'm On Your Side" has drum driving rhythms, with the occasional crash of cymbals, the timing and dynamics are well controlled, the snare drum has a full sprung sizzle and not an ill-defined slushy sound. Cymbals have a properly portrayed metallic crispness. Bass lines and drums do not stray into overblown boominess, neither do they sound weak or dull. The Rhapsody gives a very polished performance and doesn't seem to interfere with the music in any negative way. If anything the lower bass registers seem quite enhanced.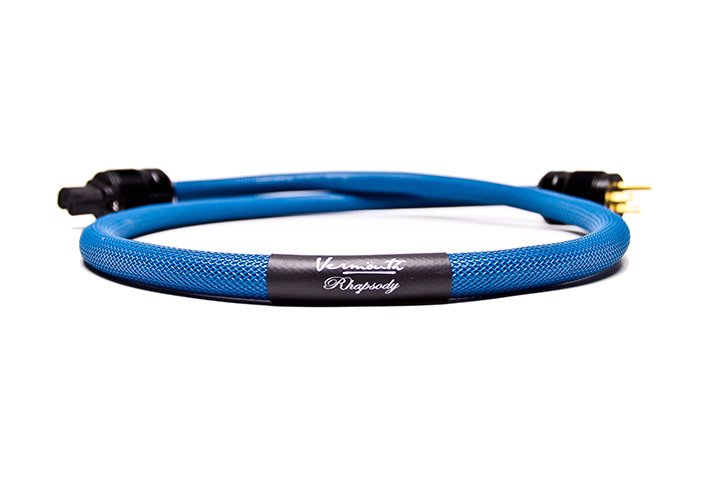 "More Than One Way Home" has a more upbeat pop sound, the pace picks up, and again the instruments are set out and are clearly defined. There are plenty of detail and layers on offer. The depth of music in the listening room has bells and percussion pinging and tinging in and around my head showing that a good 3d performance is apparently available from the Vermouth power cable. I believe you only have to lose a little detail and dynamic ability and you can lose this soundstage. The Rhapsody keeps it all there, boogying rhythms and all.
And now for something completely different! From the folk, blues and soul sounds to a bit of one of my hometown hero's, Frankie Goes To Hollywood. Probably not the last word in audiophile chic but top 80's pop.
Using the Vermouth Rhapsody's deeper punchier lower end to good effect, driving out the beat, leaving me wanting to find a good laser show and a warm beer. Classic tracks like "Relax", "Two Tribes", Welcome To The Pleasuredome" and "War" bang out the speakers with metronomic rhythms. Little bits of details that you don't hear on lesser audio equipment are apparent and bringing a new level of appreciation to not only the bands efforts, but the Power cable too – never muddling the tunes or becoming too sibilant at the top treble reaches. "The Power Of Love" keeps its atmospheric air, but this track does let slip into a little acidity, but that I'm sure is more down to the recording itself and not the Vermouth Power Cable.
Pros
A good tuneful presentation with plenty of detail and drive
A definite contender within its price point
Cons
May stray into the "too bright" category in an already bright or harsh system
The short length of cable is a little stiff and may prove a little difficult to route in tight spaces
Vermouth Audio "Rhapsody" Speaker and Power Cables 
The inevitable conclusion of my reviews to combining both Vermouth Audio's Speaker and Power cables as a one brand bundle brings about some surprises. Playing Steely Dan's "Gaucho" CD I found percussion which before had either lost its top crisp edge or had had its upper treble reaches rounded off are now back in balance somewhat. Detail is yet again pulled from the CD and fed to the speakers with some sparkle and zest. Bass lines are easy to follow this time, with both the power and speaker cable being of the same camp and offering good synergy. On "Glamour Profession" some of the vocal content can appear, with some cables in place, to have an artificial "fizz" to some of the trailing S sounds in the vocal if the treble is too hardened or harsh but I'm glad to say this isn't the case here with this pairing. There is a definite forward presentation but not being portrayed in an overly bright or offensive high frequencies manner. Time Out Of Mind trips out of the Russel K Red 50's with the bass drum kicks and its accompanying piano in party mode, this style of forward sound could become irritating if not kept in check, happily though there is enough smooth controlled bass, being tuneful, and carrying the rest of the music along for the ride in correct perspective.
Moving onto Supertramp and It's A Hard World from their Some Things Never Change album. This track to me is a superbly recorded and produced piece, as is the whole CD. Fine detail and some production tricks making the full height, width and depth of the soundstage work hard. Add in well placed sound effects and this track really highlights if anything is lacking. Here though everything is where it should be and nothing is missing from the scene. Listening through this album it's clear that the pairing of the cables has a benefit over either in their own right. Not that either has any bad traits, just that together they shine, and feel a bit more accomplished and value for money.
AT A GLANCE
Sound Quality: Bringing the two cables together in the system brings the best out of them. There is an overall slightly forward presentation that may not suit those preferring a warmer presentation.
Build Quality: Well put together and with good quality connectors and plugs. 
Value For Money: Both cables offer up pretty good value for money given their contruction, materials used and their performance.
Pros
Together this pairing from Vermouth Audio have a real hand in hand friendship with the best attributes from both cables being allowed to express themselves
Cons
Size and stiffness of the cables
Slightly forward presentation
Price:
Speaker cables: £200 for 6ft pair
Power Cables: £150 for 4ft
David Robson