We Are Strangers have released "Thirty Days," the first track to be released from their upcoming self-titled EP, due in June. "Thirty Days" will also be featured in tonight's episode of the CW's iZombie, but XS Noize is where you can get an exclusive listen of the full track before its big TV debut.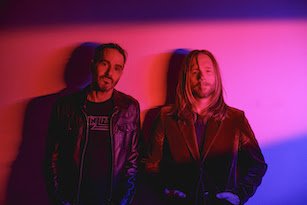 "The term 30 days specifically refers to my time in recovery, but it has a universal meaning in that if we want to make a big life change and things aren't working in our lives in general, 30 days is a pretty good litmus test for how long it could take to make a change and get out of that situation. It also explores taking responsibly versus blaming others for our situations. The first half of the song holds the other person in the relationship responsible and the second half pertains to my own suffering." — Josh Kramon, We Are Strangers
As for the self titled EP, due June 14th via independent release, We Are Strangers dances around themes of intimacy vs. alienation, connecting to others and wanting solitude, ups and downs, and the relationships with others and ourselves. It's an intimate glimpse into the struggles and experiences we all face as humans, longing for contrasts simultaneously. We are all strangers at some point in this life. Sometimes to others. Sometimes to ourselves.

We are Strangers is the brainchild of T.V. and Film composer, Josh Kramon. He's best known for his weekly instrumental music for such acclaimed shows as "Veronica Mars", "iZombie," "Party Down" and "Lethal Weapon."

In this project, Josh is handling all songwriting and vocals. "Thirty Days" and most of the other songs explore his time in recovery and the universal human need for connection and how we often fail in our relationships and find redemption in moving on. He leans heavily on sounds from the late 70's and early 80's fusing together acoustic and electric guitars with lots of atmospheric vintage synths.