Today Wilson Benesch unveil their most ambitious product to date – The Cardinal Loudspeaker is the most advanced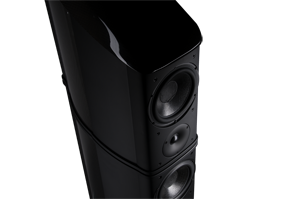 loudspeaker ever developed by Wilson Benesch – Carbon fibre based and advanced composite systems enable a shell structure with a massive air volume. These curved elements give the cabinet a complex internal geometry to counter standing waves and ensure signal to noise ratio that is "second to none".
The Cardinal's form and geometry is instantly recognisable as a Wilson Benesch design incorporating accents that have evolved from many predecessors including the A.C.T. One, The Bishop and The Chimera. The Cardinal's footprint is more than twice that of the Chimera, standing 12-inches (1-ft) higher, affording the Cardinal a 65% larger air volume.
Like the rest of the Geometry Series, The Cardinal is fitted with proprietary Tactic-II Drive units and the Semisphere Tweeter. Eighteen drive units in total deliver wide bandwidth sound from 25Hz to 35KHz.
Mid-range frequencies are handled by two highly optimized upper and lower mid-range Tactic-II Drive Units. Meanwhile, the Isobaric Tactic formation makes a return in the Cardinal with four Tactic-II Drive Units deployed to achieve a "new benchmark in dynamics and transient response".