Contrary to what some, quite 'stuck in their ways' men in the hifi universe may think, there are actually a lot of women who are fans of music and the gear that we play it on, and that work in the hifi industry.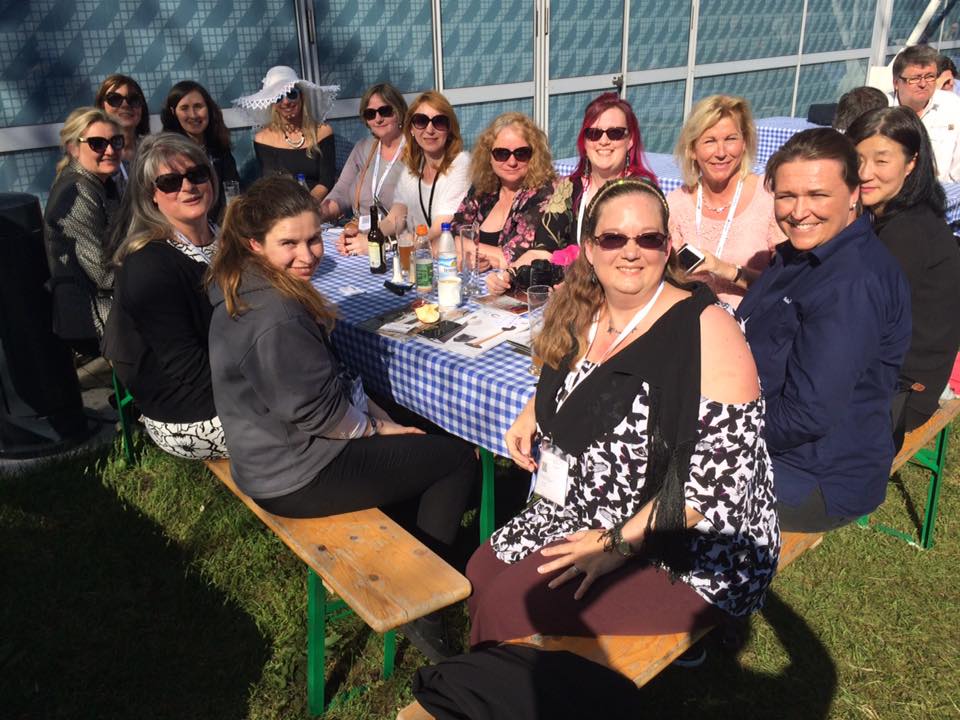 Quite often, there are women working hard, behind the scenes of many audio and hifi companies and the rest of the world doesn't actually know that they are there. Hifi Pig has always championed the role of women in the world of hifi, with myself and Janine writing and reviewing for Hifi Pig for several years now, and we all feel that the industry benefits from celebrating the female perspective and valuing our input.
Some months ago, I set up a Facebook group called 'Women in Hifi'.
With our industry being spread across the whole world it is easy for women to feel that they are isolated, the aim of the group was to allow us to connect virtually, to share our achievements and discuss relevant issues with like-minded women. Naturally, with High End Munich being the main hifi trade show in the world, people make the pilgrimage to the MOC from every part of the globe. It was the perfect place for us to have a Women in Hifi get together and meet in real life. Some of us had already met some of the group at previous shows, some of us had spoken online and got to know each other through social media. With over a hundred members in the Facebook group, hopes were high that we could get several of us in the same place at the same time, and with it being 'scorchio degrees' in Munich last Saturday, that place was the MOC Beer Garden between Halls 4 and 3.
We ended up with a table full of fifteen women from all over the world. There were women who had worked in the industry for years, some who were even born into the family business and still worked for it now, women who worked for themselves, and others, like myself, that had come into the hifi industry by going into business with their partners. It was a very informal event, we grabbed a drink and introduced ourselves and spent a very pleasant hour discussing what it was like to work as a woman in what is still very much seen as a 'man's world'. Although we see a lot more women at hifi shows these days, a big group of women still seems to be quite a novelty and we attracted a lot of attention from the other people in the beer garden! Here's some of the feedback from a few of the women who attended:
"Being a women in Hifi for 26 years I think it is important to have a group who can share feedback, ideas, and experiences…Plus I like to shake the guys up a bit…they have thought they had the industry all to themselves, but I and many others were in the background, women can and do enjoy music plus women hear things men do not!" Kimberly Stahl – Purist Audio Design, USA.
"Like many of us, I am in this industry because of my partner. Since I have taken over the management together with him, it is not always easy to compete in this male domain. Nevertheless, I like what we do, because it has to do with music and I love the music! Also, because of my good ears, I constantly make decisions during the final inspection of the products. I found our meeting in Munich very beautiful and very important because we all have different positions and functions in this industry and thus we can "get the feminine touch" in different areas, because two different worlds, male and female, together make something bigger." Olga Ehms – Fonel Audio, Germany.
"It was so refreshing to meet with the 'Women in Hifi' group at the Munich High End show. I found it inspiring that quite a few women made an effort to take an hour out of a busy day to simply say hello and communicate with one another. And, to massage the old clichés, there weren't any conversations about shoes and handbags but more about business, music, sound and design. There are more women than we think in this male dominated industry but often they are the quieter ones working behind the scenes of many successful brands. The industry as a whole needs to open up conversations with the female and younger generation market, which at present, it seems to exclude. Surely this limits growth and innovation?? Let's hope the 'Women in Hifi' group goes from strength to strength and helps the overall perceived image of the hifi industry, which unfortunately seems to be tweaky and testosterone driven. A dynamic industry should pay attention to both sexes so let's bring the hifi industry out of the 'man cave' and into the shared homes of men and women simply enjoying music!" Yvonne Hawkey – Sonata Hifi, UK.
Next year we hope to have an even bigger group get together at Munich (there were women from the Facebook group who were tied up in business meetings and demos in their exhibition rooms all day who would have been there if they could've) and smaller meet ups at the more regional shows. So, if you are a woman that either works in the hifi industry or are just really into music and hifi gear, no matter where you are in the world, please get in touch and join us online and hopefully in person at the next show.
You can request to join the 'Women in Hifi' Facebook group here
Linette Smith