Zesto Audio has announced the world premiere of their newest product, the Leto Ultra Preamplifier.
This product will debut at the annual Toronto Audio Fest in Toronto, ON, Canada, October 18-20, 2019 in exhibit room 219 at the Westin Toronto Airport.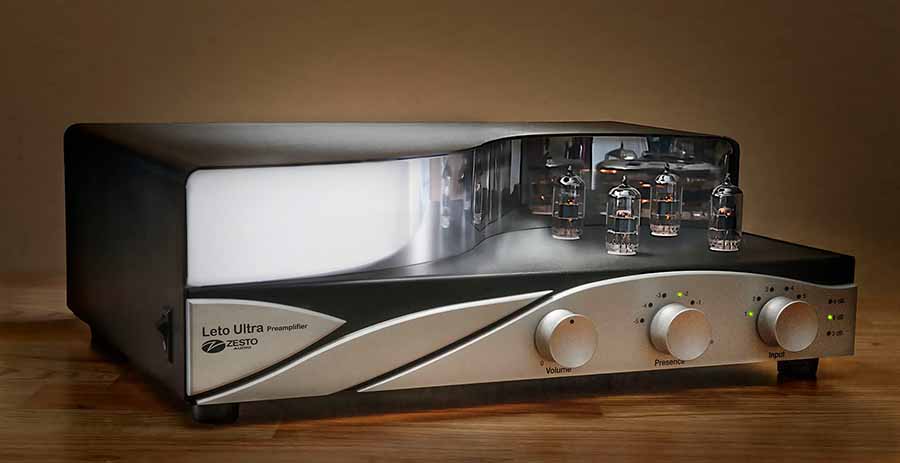 Zesto Audio Leto Ultra
George Counnas, President and design engineer of Zesto Audio describes the perfect Line amp as, "I look at the preamp as the unsung hero of your system. It's like a great actor who never seems to be "acting" it does all the work without getting noticed. My design goal is to deliver the most musical, pristine signal from your audio sources to your power amps without coloration."
Presence Control
George is most excited when he talks about the design of new Presence Control. He says, "This was born out of my frustration that the more resolved my system became, many of my favorite new and old recordings, became unlistenable due to the inconsistencies of the Mastering, regardless of the source. I realized the part that bothered me was the harmonic balance of the mid and high frequencies, the region that can be considered too bright, edgy, aggressive or fatiguing." The 6 position Presence control easily allows you to dial it back without any technical knowledge required, just listen for the most enjoyable tonal balance for every song. George says, "It works great for your mood too, because sometimes I'm in the mood for lots of detail and sometimes I want it laid back and I can do it from my sofa with the remote."
Top 7 New Features Of The Leto Ultra Preamplifier
The Leto Ultra Pre has new upgraded circuit topography with a robust input design to handle higher output sources. It is still 100% Analogue tube circuitry throughout the signal path. There is a new tube configuration with the 12DW7/ECC832 valves and three new gain positions 3dB, 6dB and 9db. Your preferred gain settings are saved on each input and can be conveniently adjusted "on the fly" with the Remote or Manual control.
There are six inputs for your many sources include three true dedicated transformer Balanced Inputs and three Single Ended. All are high quality, gold plated connectors for better conductance and less corrosion for the most reliable connection. New LED indicators on the front panel clearly display all your adjustments.
The new Six Position Presence Control adjusts the harmonic balance in the mid- and high frequencies allowing you to dial back what you may consider to be too bright, edgy or aggressive. There is also a nine button Remote control to adjust settings including Input, Volume, Presence, Mute, Mono and Gain. In case you misplace your remote, all features can be adjusted manually.
Leto 1.5
The Leto 1.5 will be discontinued and replaced by the Leto Ultra.
Price
USA suggested retail price is $9950