Janine Elliot takes a listen to the distinctly art-deco looking (and named) phono-preamplifier from Zontek in Poland costing €8990 and having three inputs, allowing for three arms on your turntable.
I was honoured to be given a chance to play the heavyweight Zontek turntable complete with twiglet wooden arm a few months. At 60kg, this was no walk-over. I was also introduced to the Art-Deco phonostage, hot from the High End fair in Munich, and given its name because of the metal Art Deco style trellis to protect the unit.
This, too, was not only giant in price, at €8990 – about the same as my iconic elderly Manley Steelhead – but also in weight, bearing in mind the mahogany and brass sandwich structure matching the turntable. Its butch weight and solid structure contrast with the minute 5636 pentode and 6N16 dual triode tubes lining up in a row on the top looking like shy pupils on their first day at school. Covering them up in Art Deco wire seemed pointless. Being used to seeing large B300 or ogling over the obscene Russian GU81 single tetrode transmitter valves on the Icon MB1 monoblock, I wondered whether this novel looking product would hit the right frequency hotspots. So I decided to give it a listen.
The Art Deco comes in two units, like my Manley, with a power stage linked to the phono-stage with an umbilical cord. It seems Zontek would like the power unit to be kept on show, not least because the cord is only around two feet long, meaning its placement cannot be too far away. Hiding it would be criminal as it is a magnificent looking unit with the Art Deco trellis and solid wood build. Both are minimalist in appearance, with the green illuminated on-off button on the left of the phono-stage matching that on the turntable, and a single 3-way selector knob central on the front on the phono-stage as the only indication that you can control anything. There are no lights to help you know which input you are listening to. The back end of the unit is much more user friendly than the front, allowing for any setting of moving magnet or moving coil cartridge being catered for using the micro-switches at the back. Having three inputs is intentional, allow you to fit 3 arms on your Zontek turntable, if your needs or cash flow allows. The phono-stage, turntable and a single Delta arm will set you back a tad over €20,000, and in combination sound like a honeymoon, if not a marriage. I'll explain that later.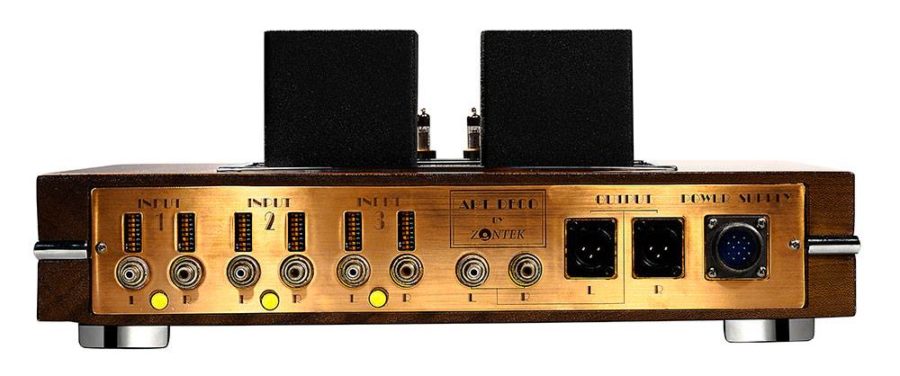 Only the best components are used, as one would expect at this price, including LCR modules, Lundahl transformers and Mundorf Supreme components. On the back as well as RCA in-and-outs it also has balanced XLR output. Where my Manley Steelhead works well is that I can adjust settings easily from my chair (I have long arms…) because "factory settings" don't always account for cable loading or resistance and, most importantly, your ears. With the Art Deco, all adjustments are done at the back with six sets of micro-switches, one for each channel of the three inputs. Anything micro on something big always worries me. Luckily Greg from GPoint Audio had preset the Ortofon MC2000ii attached to his Delta arm in such a way that it worked flawlessly with the phono-stage and my Townshend F1 cable.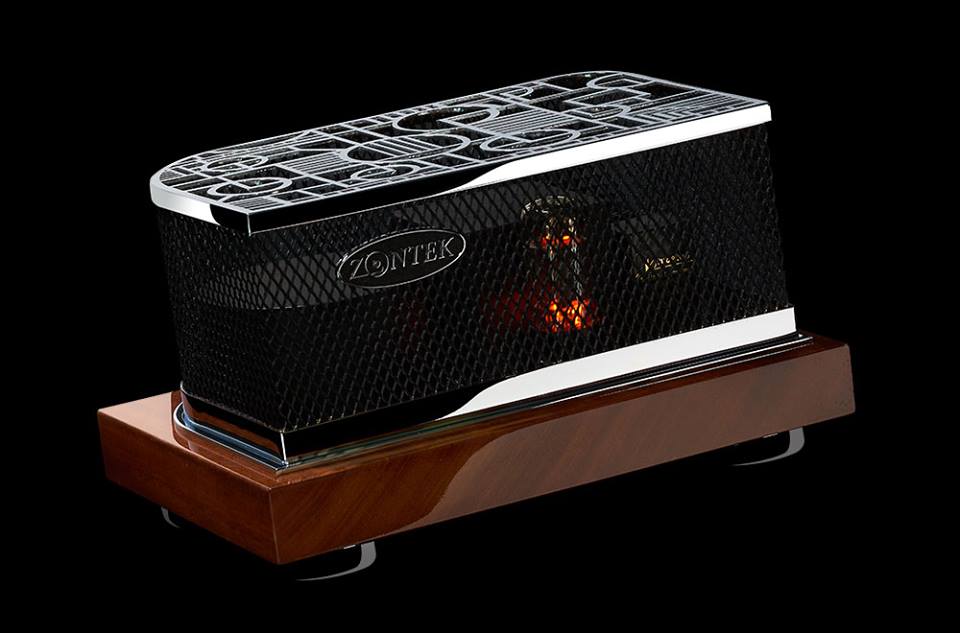 SOUND
It was seamless; I mean everything was flat from the deepest pedal notes on my Saint Saens Organ Symphony to the ride cymbals on Brubeck Direct Cut Disc A Cut Above. The sound was fast, with a clarity that put many phonostages to shame whatever price. The MC2000ii has low output compared with my own Kontrpunkt b, but the noise floor of the Art Deco showed no sign of being touched with this product. Similarly the phono-stage had an ability to muster anything the grooves of my records threw at it, showing no sign of getting anywhere near the ceiling.

Its speed of retrieving soft or loud, high or low, slow or fast was as fit as any athlete whether on drugs or not.  Only the bottom end was slightly recessed, lacking any excitement. I didn't get lucky with Mark Knopfler's solo album Get Lucky, his 7th solo album and released in 2009. This Celtic influenced album opened up in a clarity I would expect from DVD Audio, rather than LP, and for me that seemed to spoil it. The bite from the drums in Cleaning My Gun, using a tight drum rhythm at the end of each phrase, was not far away from his earlier song So Far Away…. it just sounded too clean and recessed for me. Playing it through the £7000 Manley or the Time Step T-01MC at under £1000 gave me a more exciting bass end. But, the introductory words and heavy bass thumps in Hard Shoulder, itself reminding me of John Lee Hooker Deep Blue Sea had much more control in the review machine than either of the other two. Maybe something in the middle would be perfect, if there is such a thing. Where Border Reiver was fast and fun on the Zontek the flute at the start didn't breathe enough for me to smell the Glasgow air of his birth town. Knopfler's Dire Straits Brothers in Arms was iconic at release for its sound engineering and establishing the CD as a potential means of sound carrier (even with a few bad tape edits thrown in) but this stage was too perfect and relaxed. I remember reviewing a headphone amplifier 10 years ago and saying it had the personality of John Major. That went down about as well as his own tenure did, so I won't make any jokes for fear of upsetting anyone bland.
But, do you really want to spend €8990 on what Peter Walker once said of his Quad amp as "a straight wire with gain".  Anyone knows that old Quads actually sound quite mellow and laidback with considerable bass and midrange warmth. But not so many know that that same phrase actually originated in 1964 by Harmon Kardon and their Citation amplifier, which isn't on my list of "must haves". What I am getting at is that the perfect amplifier or phono-stage may never happen, and whilst we all aim for that perfect 10, will we know if we get it, and then what do we do?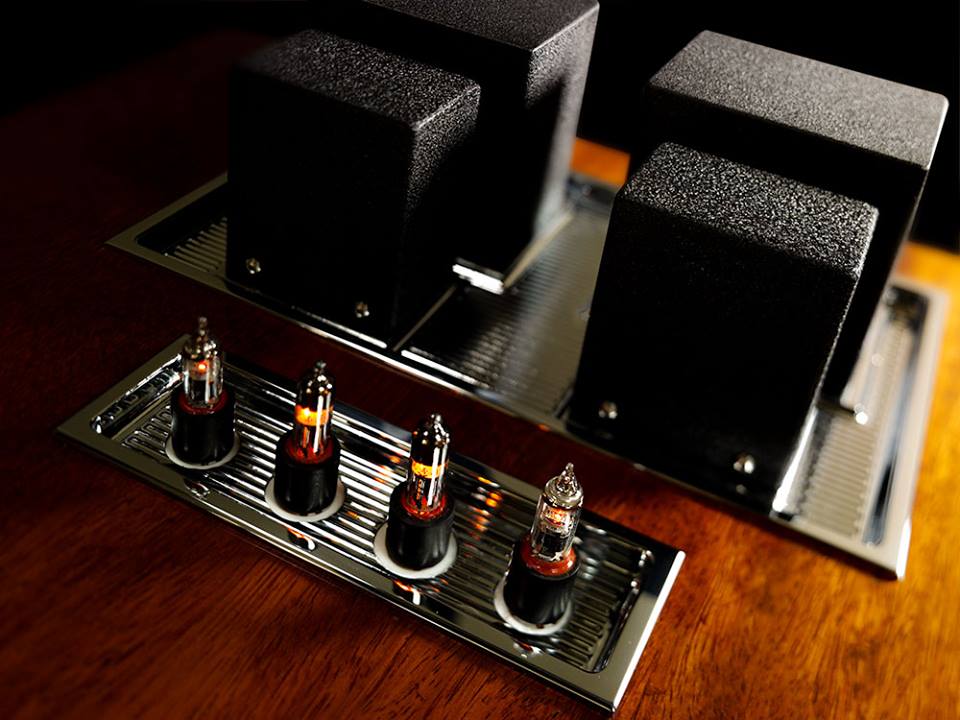 Music is a personal thing, and we all have our own tastes of music and equipment. For this set up to be perfect for me I need to be amongst the musicians, and I wasn't. But, if you want a phono-stage of purity such as this then you will certainly not go wrong. This phono-stage is without doubt a honeymoon, but that is it. Being married to someone who is Mr Perfect and never ever argues just isn't for me and I'd soon get bored. OK, the Manley has been surpassed by many top-notch phono-stages, such as the Boulder 2008, and if you really do want to spend lots of money, then you won't go wrong with the Zontek. This was a stonker for a first release. However, whilst my Manley offered a more intimate affair with the musicians, keeping me amongst them rather than being sat in the back row, it is also more forgiving of less than perfect recordings. The Zontek hides nothing.  Do have a listen to it. I will keep married to my trusty partner, but if you want something flat chested and with a cute petite bottom, then you'll like this Polish Art Deco.
Sound Quality – 8.8/10
Value for Money – 8.5/10
Build Quality – 8.8/10
Overall – 8.7/10
Pros:
Flexible and with three inputs allowing for three arms
Fast and Clear Presentation
Cons:
Adjustments and micros-witches are on the rear
Front panel could be clearer
Slightly recessed bottom end
Hides nothing
Janine Elliot
Designer's Comments
The preamplifier is based on three stages and LCR modules for RIAA correction. Tubes used are long life military grade (miniature) – pentode 5636 and dual trides 6N16.
To drive LCR modules we are using Lundahl interstage transformer. Preamplifier is supporting three inputs, each one is configurable for MC (stepup) or MM with appropriate R-load settings. Balanced output is driven by signal transformer.
Power supply unit is equipped with polypropylene capacitors, high quality audio grade power transformer and the choke.
Pawel Zontek