Acoustic Energy has announced the launch of the all-new AE100 Series. The original AE109 was launched in 1996 "setting industry standards in the entry-level hifi speaker category". Now 20 years on, AE aims to reclaim the mantle with their new and improved version. Developed entirely at AE's Cirencester HQ, the new AE109 slim-line floor-standing speaker heads up the new 100 Series, the first range launched under the company's newly re-taken British ownership and during its 30th Anniversary year.
The new AE100 Series introduces a number of improvements and evolutionary changes all focused on refining the listening experience at the same time as providing a more room friendly loudspeaker. Mat Spandl, Director quotes "We've introduced our new WDT waveguide technology, an evolution of the DXT lens developed for the Reference Series and now found in our recently launched AE1 Active. This reshapes the high frequency sound wave to give better room integration, improved imaging and a wider listening zone".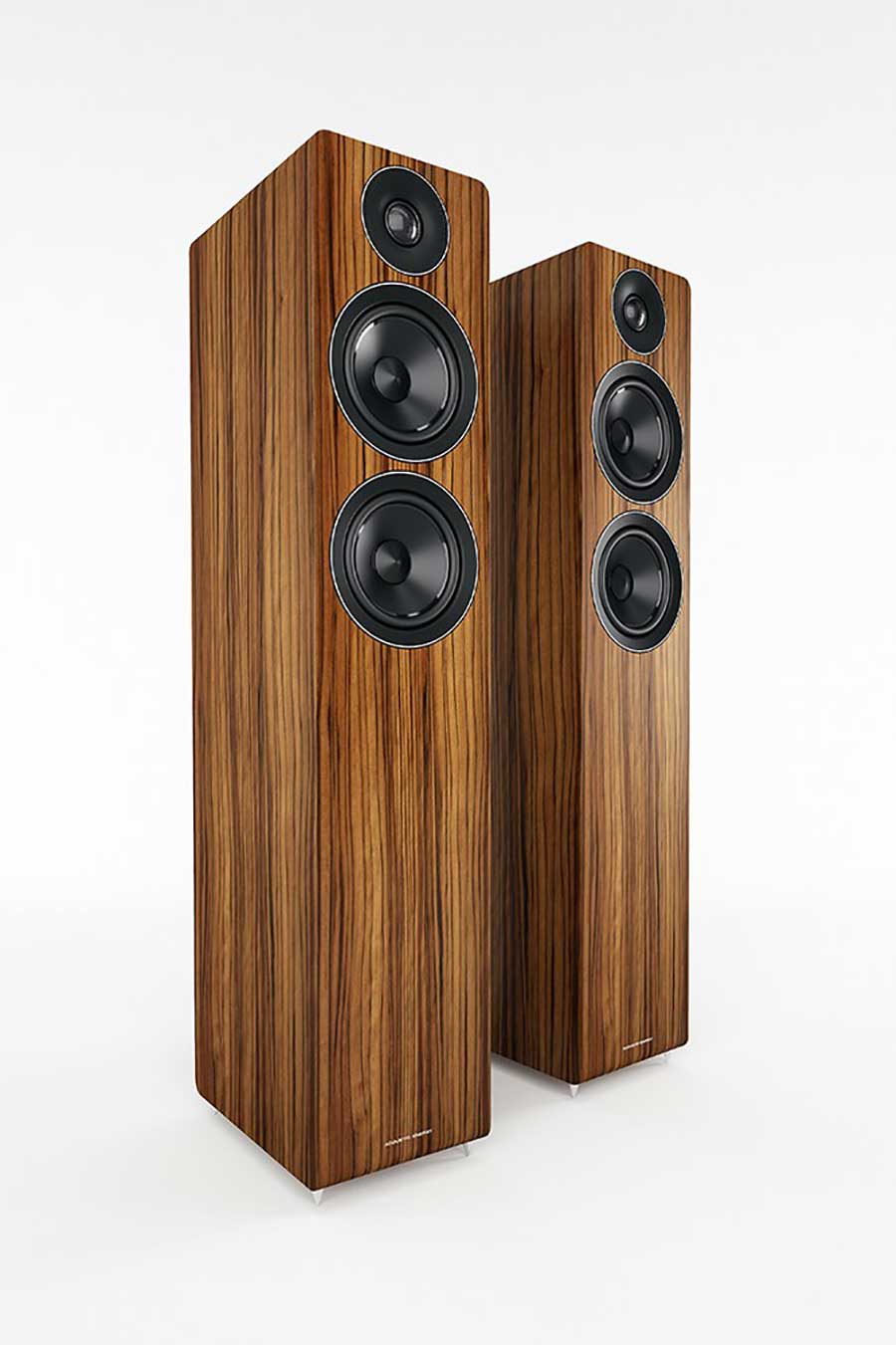 At the rear, slot ports are located to reduce mid-range colouration and improve bass response. Another benchmark feature carried over from the original AE109 is mass loading material supplied in the base of the floor-standing cabinets which offers improved cabinet damping, bass control and a net speaker weight of 14kg. The external design has also been enhanced for a more elegant slim-line appearance with a smaller footprint for easy room integration. New premium cabinet finish options include attractive Walnut Vinyl veneer and Satin Black with full length magnetic grilles to complete their visual appeal.
Mat Spandl continues, "We believe the end-result is a stylish and more powerful range of speakers that embodies all Acoustic Energy's renowned qualities, while setting the benchmark again for style, performance, build quality and value… making our new 109s more than worthy of their legendary status".

AE100 Compact Loudspeaker:
The AE100 is a new compact bookshelf/stand-mount loudspeaker designed to achieve high sound pressure levels from an extremely small enclosure. This is obtained principally through using a 110m driver built around an ultra-high force motor system allowing for an extremely long throw under complete control. This is augmented by a slot shaped bass duct port which provides a considerable cross sectional area for negating the issues of air becoming audible as it moves through the duct. A 28mm soft dome tweeter featuring AE's Wide Dispersion Technology completes the driver compliment.

AE109 Floor-standing Loudspeaker:
With the same objective the original AE109 achieved 20 years ago, the AE109 is designed to offer room filling performance from a slimline floor-standing loudspeaker. Two 110mm drivers utilising an ultra-high force motor system are used in partnership with a 28mm Wide Dispersion Technology soft dome tweeter. A bespoke design 2.5 way crossover system marries the drivers by featuring a unique topology allowing integration and power handling "previously unachievable from a speaker of this type and cost".
Particular attention has been paid to the phase and time alignment for the most cohesive performance possible with the driver and crossover mounted inside a substantial ready mass loaded 18mm MDF cabinet. "The result is a clean slim-line design with uncluttered lines that delivers a powerful presentation respectful of the original, whilst using modern drive unit and cabinet technology to offer even an even better listening experience".
The new AE100 and AE109 are available from authorised retailers only during May with the new AE107 Centre speaker and AE108 Subwoofer following in the summer to complete the 5.1 line up for multi-channel applications.
UK SRPs will range from £199 for the AE100 Walnut vinyl veneer to £549 for the AE109 Satin Black. (Pictured are the Walnut AE109 floor-standing speakers at £499)