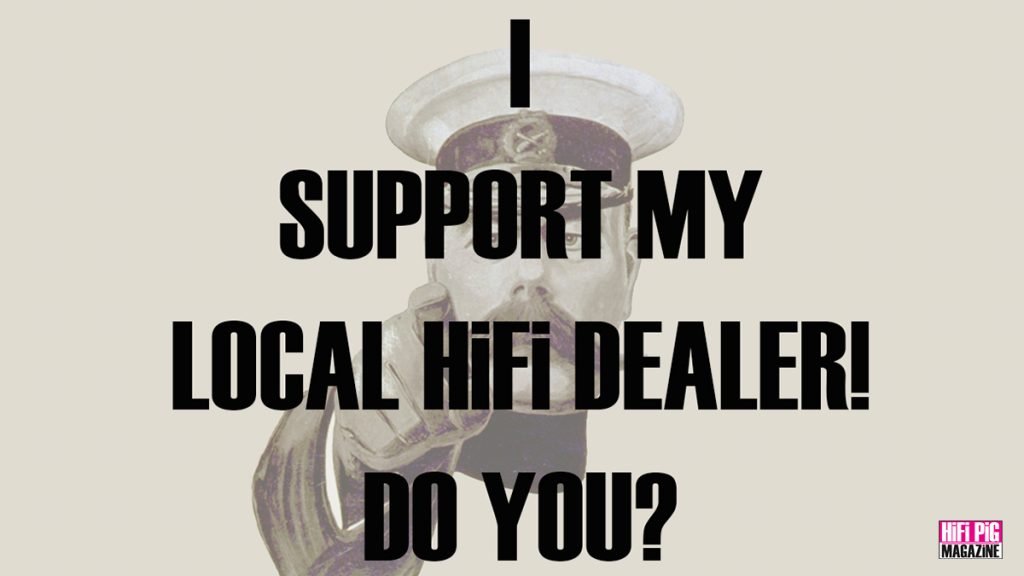 Welcome to HiFi Pig's "Support Your HiFi Dealer" interface. Here you will be able to search for the HiFi retailers and their shops within the area of your choosing (simply add your postcode), or explore the map by simply moving around and zooming in and out of the map as you please. Click on the headphone icon in the area you want and the relevant shop's info' will pop up.
If you are a HiFi Dealer then scroll down the page and see what Hifi Pig is offering free of charge.
To find your nearest dealers automatically simply pop in your postcode or town in the Zip/Address box and the radius area you are happy to travel, hit Search and we'll show you relevant HiFi retailers in that area, their address and telephone number.
As you would expect you can zoom in and out of the map.
Your Hifi retail business not on the map? Get in touch with us here
YOU NEED YOUR HiFi DEALER & YOUR HiFi DEALER NEEDS YOU!
WHAT WE ARE OFFERING
At HiFi Pig we think that actions speak louder than words and that's why we are offering any INDEPENDENT HiFi retailer, anywhere in the UK (for the moment), a free listing on our interactive "Find Your Dealer" feature.
It's been a tough time for all retailers, and whilst we can't force people back onto the high-street and into their local HiFi dealers, we can certainly do our best to encourage them to visit and to take advantage of HiFi Dealers' superb knowledge and support.
The "Support Your HiFi Dealer" interface is an interactive map that recognises where a reader is located by postcode and automatically finds their local listed Hifi dealers within a given radius of where they live.
We'll include your logo, your address, and your phone number absolutely free of charge – normally priced at £150.
We have also put together a pack of posters and online images that Hifi dealers (or anyone for that matter) can download for free and share on their social media platforms, on their websites, or in their shop windows. We have had printed a large number of stickers and badges – ask and we'll get some out to you free of charge (while stocks last).
If you are someone who buys HiFi then you can show your support by displaying the "I SUPPORT MY LOCAL HiFi DEALER" banner on your social media platforms and by wearing your I SUPPORT MY HiFi DEALER badge – we'll be sending badges out to participating UK retailers so you can just pop along and claim yours (while stocks last).
ONLINE ADVERT 250×200
A4 PRINT ADVERT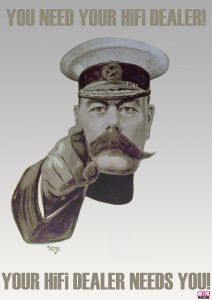 SOCIAL MEDIA "YOU NEED YOUR HiFi DEALER"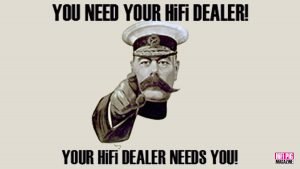 SOCIAL MEDIA "I SUPPORT MY HiFi DEALER"
IF YOU ARE AN INDEPENDENT HiFi DEALER THEN SIGN UP BELOW AND WE'LL ADD YOU TO OUR INTERACTIVE "FIND YOUR HiFi DEALER" APP & SEND YOU OUT SOME BADGES AND STICKERS FREE OF CHARGE (UK only for badges and stickers)
Please enter your contact details and a short message below and I will try to answer your query as soon as possible. Alternatively, you can reach me on +33 (0) 297237078 Best Regards, Stuart Smith