HMF Solutions of London got in touch with Hifi Pig to tell us all about the new Aquilar reference tonearm from Acoustical-Systems of Germany.
Acoustical-Systems say that  for the past 2 years their R&D department has dedicated a lot of energy, time, money and brain-storming in offering the unique sonic abilities of the AXIOM tonearm in a more affordable version. The brief was "To create an all-new superior 10″ tonearm design – which also should be easy to mount on all turntables".
This R&D has resulted in the AQUILAR, an all-new 10" reference tonearm.
The Aquilar (origin from ancient latin "aquila" – the eagle) offers many of the expensive materials, as well as most of the unique technical key solutions, of the AXIOM and comes equipped with a host of features including:
10" effective length
Very easy and swift set up
Customised dedicated 3D-alignment  template
Non-resonance HD18 tungsten carbide  counterweight
Unique Acoustical-Systems non-resonance titanium/carbon-hybrid arm wand
Precision leveling of bearing plane – independent of arm board /turntable
Adjustable SRA, VTA, Azimuth, Overhang and Offset angle at headshell
VTA adjustment on-the-fly
Non-touch magnetic Anti skating on-the-fly
Dynamic anti skating following the tangential curve
The critical inner wiring is fine 5N pure silver litz wire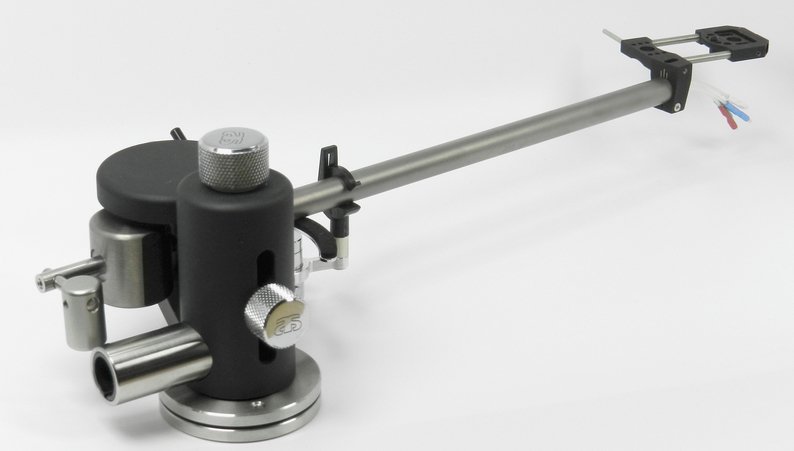 The tonearm is available with 2 terminal options:
direct-to-phono 1.2 m length phono lead (RCA or XLR) or male DIN 5-pole connector.
The Aquilar is available in 2 finishes: black satin matt or ceramic-alloy silver matt.