33 seconds into Lace, there's a ringing seventh chord that sends chills running down the spine. Hannah Aldridge's strong, sultry vocals snake around the melody like a wisp of Marlboro smoke on the longest track across the 10 songs on Gold Rush. A barfly's southern-gothic epic of a tale.
And that there is the trick; to hit the right note over the right chord to the right beat singing the right lyric. And Aldridge appears to have mastered this hallowed trick on these songs of self-destruction.
Which is no theme for a charlatan, self-destruction. And many of them have tried. But Aldridge is no poseur. She tackles it with gutsy rawness, knowing exactly how much to give to and how much to take from every well-crafted line on the record. Her arse-kicking band's solid accompaniment underpins lead guitarist Sadler Vaden's River-isms, an almost upbeat juxtaposition with Hannah's Darkness On The Edge Of Town-esque lyrics.
Springsteen comparisons are always risky business. But the power of Aldridge's voice conveys the sort of independence craved by the protagonists of Born To Run.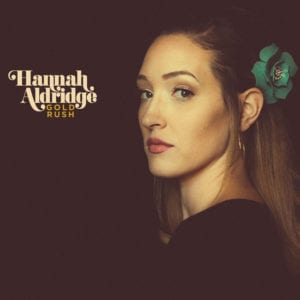 Not since Patti Smith sang 'Jesus died for somebody's sins but not mine,' have we had anyone who sings with such glorious independence. Smith was claiming responsibility for her own sins. Aldridge is doing just that too.
Not in a downtrodden, woe-is-me manner however. The force with which she tackles her songs, noticeably on the groove-laden No Heart Left Behind, does away with that notion.
Even on the slower, more country-inflected songs, Aldridge appears to have learned a valuable lesson from the likes of George Jones; no matter how deep the heartbreak, sing it in a major key.
The end result of that is a far more interesting listen, devoid of any sort of whinging as it is. Living On Lonely in particular could easily have descended into mere moaning. Aldridge though is skilled enough a songwriter to have transcended such pitfall traps and, in doing so, has raised the quality of the music on Gold Rush to heights only previously managed by mountaineers and astronauts.
Hannah Aldridge has produced a record of raw honesty. A refreshing blast of 'truth, justice and the American way' in an age where such supposedly archaic notions have apparently been disposed of. Where Mumford and Sons and their ilk have watered down Americana in pursuit of the radio playlists, Aldridge has left her record rugged as the Rocky Mountains.
Her heart is on her sleeve for daws to peck at. But if you try it, she sounds like she'd give you a good kicking for it.
by James Fleming