If Marvel Comics' Man-Thing made a record it would sound dangerously close to 20 Years In A Montana Missile Silo. Sci-fi synths swirl and soar over Creedence Clearwater Revival-style swamp rock, topped off with David Thomas' idiosyncratic warbling yelp. Pere Ubu are one of those rare bands who are – as John Peel put it when referring to The Fall – "always different, always the same."
Ubu coined the term "avant-garage" to describe their welding of two seemingly disparate strands of weird into their own iconic sound. And it's through the push and pull of those polar genres, upping the avant-garde on one record or, as on 20 Years In A Montana Missile Silo, bringing the garage-rock to the fore, that Pere Ubu have succeeded in the nigh impossible – always sounding like themselves, but never repeating past successes/failures.
Unorthodox is the word. Weird is too easy a dismissal of the music on 20 Years In A Montana Missile Silo, alternative too dull a term. This melding of that most grassroots a genre as garage-rock with the intelligence of the avant-garde and musique concréte is an UNORTHODOX use of both styles.
Monkey Bizness opens the record in a decidedly The Modern Dance fashion. Eerie synths slime over a riff that'd put the rawest of garage-dwellers to shame, and Thomas' voice sounds as thrillingly alien as ever.
But, there's age in his voice now. Thomas is on the wrong side of sixty these days, and the cracks are starting to show…
Making the record all the more compelling. This is the sound of a veteran. A veteran with experience to pass on to the young whippersnappers trying to usurp his crown of unorthodoxy.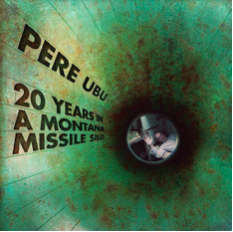 Where the likes of Black Keys have brought garage-rock to the Enormodomes and Radiohead have dragged the alternative into the stadiums, Pere Ubu have reined both in and rather than smooth out the edges, they have sharpened the edges' serrated teeth.
There are softer moments, The Healer's strummed acoustic guitar and Thomas' twisted croon of "oh and I see too much," betray 20 Years In A Montana Missile Silo's maturity while venturing out into uncharacteristic waters for Pere Ubu. It's juxtaposed on either side by Toe To Toe and Swampland, two of the record's hardest hitting tracks. Both tracks short-sharp-shocks running under two minutes each.
It's in the second half of the album that things wander off deeper into the marshland. Plan From Frag 9's drums forsake the beat in favour of atmospheric tom-toms. Howl's repetitive, bluesy riff combined with Thomas' desperate, echoing 'I'm gonna howl for ya baby!' invokes the souls of passed on garage-rock vocalists like Lux Interior. Before Red Eye Blues' synthesiser freak-out halfway through it's 1:52 running time sends us from the swamp into the stratosphere.
As Thomas' ghostly voice fades out repeating "hold me close…" on 20 Years In A Montana Missile Silo's closing track Cold Sweat, a stark contrast with the rollicking starting point of the aforementioned Monkey Bizness, we have passed through the swamp to the stratosphere and all points in between in the space of a single rock n' roll record. Long may Pere Ubu continue to bring us on such wondrous journeys.   
by James Fleming