South Korea might not sound the obvious choice for great sounding hi-fi, but this this part of the world is now becoming a major candidate for technology, and is Asia's fourth largest economy. Companies such as Samsung, Hyundai , LG, Kia, and more important to hi-fi fans Astell&Kern all come from this massively emerging economy. American sounding Allnic Audio is similarly becoming a major name in the audio dictionary. Despite its short life history, the company products look like they were made by a well-established major brand. The T1500 reviewed here, is solidly built, weighing in at a third of my own weight (honest) at 20kg, and needs it's handles on the top (or the ones at the back) to lift it up. Being a 300B SET design made this all the more appealing for me to review. The amplifier costs £5000 in the UK.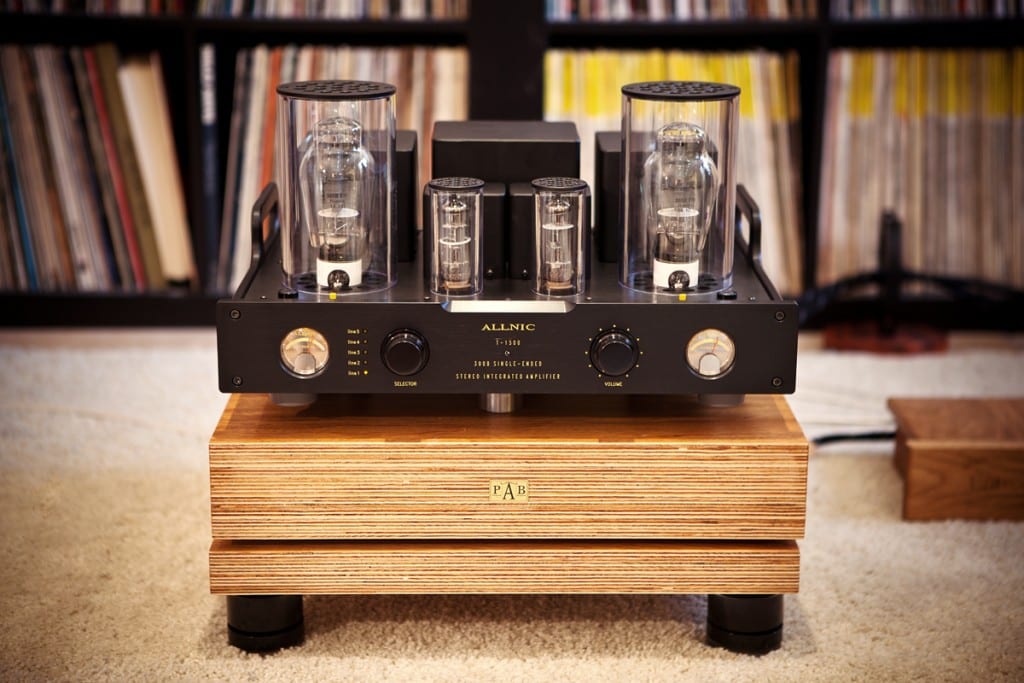 I remember trying to build a Single-End Tube design when I was young, at a time when everyone was promoting the tiny transistor for its immediacy of sound and smaller footprint. For some reason I liked the looks of valves, the thought of building something Class A, plus the fact that class A single ended designs tend to be simpler to build. Also my poor upbringing meant that my early experience of tape recorders, radios and amplifiers were ostensibly valve. I had no idea then that valves would be so popular all these years later. The 300B is a very well respected tube for the audio aficionado, bringing with it a punchy but well-mannered sound, low noise, long life and good reliability. Introduced by Western Electric in 1937 to amplify telephone signals, little did they know it would start to become popular in audio from the 1980's. Only a few other tubes excite the audio fan, though I must admit I got excited when I first saw the Russian GU81 last year.
Mr. Kang Su Park, founder of Allnic Audio, is not new to playing about with electronics. Born in 1955, he spent his teenage years showing a love for music and a fascination with electronics. At that time when being an electrician in Asia was considered a low-grade position he decided to study French and English languages at Hankuk University of Foreign Studies in Seoul, South Korea, earning himself a degree. After 5 years of work sitting behind a desk he got bored so went into electronics and audio design for a company called Silvaweld. After 10 years he sold his stake in the company and started afresh a new company which he called Allnic Audio. His contribution is much more than hand-building each valve amplifier, pre-amp, phono stage or DAC (oh, and also two beautiful looking cartridges, the Puritas at £3500, and Verito Z at £2000). On top of all this he has designed and manufactured the constant impedance bridged T and H type, 41 stepped, silver contact attenuator used in the T1500 and his preamplifiers, and also their patented Absorb-gel tube damper sockets to reduce microphony. This is family-run business whereby only the best parts available are used, and if they cannot be found, then the firm manufactures their very own.
The T1500, available in black or silver, has two 300B and two PCL86 driver tubes and very expensive (around 25 times more) output transformer with Permalloy cores (if you're old enough you'll remember those Permalloy cassette tape heads) This Nickel alloy construction allows for fewer windings on the primary winding and high 'open circuit' inductance, resulting in a very wide frequency range and low distortion bass response.
It uses a 41 step silver contact attenuator, rather than a carbon potentiometer that is used in cheap amplifiers and preamps. Kang Su Park tells me that they have developed a constant impedance attenuator with an amazing 61 steps, but of course this one will be very much more expensive.
The 300B is the real workhorse providing the 12.5 watts per channel of pure class A power output in either 4, 8 or 16 ohm outputs. The initial valves supplied were impressive, but when I was supplied with KR Audio tubes made in the Czech Republic retailing at £600/pair the sound soon opened up further, despite not being fully run in by the time I finished with them. Each 300B tube has a separate fuse, as is there a main fuse for the unit. Indeed, Allnic's concern that the tubes are looked after carefully is enhanced not only by plastic chimney's protecting the valves, but also in their instruction manual warning about connecting the 4-pins the wrong way round;
"…in case you have removed and replaced the 300B's incorrectly…….. you will have to replace fuses, and the damage to your self-esteem for getting it wrong may haunt you forever". I had nightmares the next few nights.
As well as the 300Bs there are two PCL86 tubes, a very strong power pentode/triode. These are used to drive the 300B's via a nickel permalloy choke plate inductor. Their chosen choke inductor has very low power loss and infinitely high load impedance. This configuration is an ideal driver stage for 300B SETs.
Returning to the chimneys, I liked the look of these, though would have preferred an LED to light them up in orange or green, as in several other amplifiers I know. The class-A 12.5W output is enough to drive my Graham LS5/9s and also my Wilson Benesch Arc and B&W804s that I used in this review, showing no sign of struggling. This is a simple two stage amplifier giving around 35dB gain. Kang Su Park noted that most 300B amplifiers are under driven and notably distorting, largely due to conventional R-C circuits, which usually give around 70V swing voltage. The T-1500 Inductor Drive circuit more than doubles this up to 150V and with a low 0.3% distortion allowing for the higher output, and believe me 12.5W was enough for me.
THE SOUND
Being a simple design did not temper my opinion on this product. No, I was excited by the 300B. It played with authority and panache with whatever I fed it. What did surprise me, though, was just how heavy this beast was. This unit would be worth a lot just in scrap metal! Good job it has top and back handles, just to help you move it onto your reinforced shelf.
Initial comments on its performance were words like 'flawless', 'spaceous', 'musical' and 'wow'. This unit had a forceful, exciting and excellent depth of field, with a very clear bass performance. There are 5 inputs, one being balanced. There are two knobs on the front; one to select the input (each with its own indicator) and the volume control. The on off switch is tucked on the right hand side. Each 300B has a small yellow screw current adjustment potentiometer next to the valve so you can ensure each is fed enough current, and which is the reason for the meters on the front. I'd prefer that after adjusting current the meters – perhaps with a button next to it to do that – would then register RMS level when not pressed. But this meter is useful if one of the valves is failing as the meter will decrease its reading, and with the bias adjustment means that you don't need a matched pair of tubes.
The unit comes with an equally solid and heavy remote control, aka Krell, but I wonder why as well as separate buttons for inputs 1,2,3,4 and 5 there are also two buttons for scrolling channels up and down. Overkill.
To my music. Firstly I listened to vinyl, something made for valves. Classical music gave a powerful soundstage within the limits of vinyl but with depth of field and positioning of individual instruments that DACs still find hard. I did, however, feel the limited dynamic range of vinyl became very apparent when I was listening, and at times sounded cluttered. But once transferring to identical recordings via my DAC opened up much more and gave a more appealing presentation.
Playing on vinyl the duo of Charlie Haden (double bass) and Antonio Forcione (guitar) in Naim's 'Heat Play' album and specifically the track "Silence" gave enviable musicality and space, with plenty of silence and time to think. Recorded in "true stereo" by Ken Christianson at California Institute of Art, this is easily able to convey the 3D that a coincident pair can muster.
Turning to my prize Dave Brubeck's 'Direct-Cut Disc' gave a very controlled and relaxed performance with everything there, including my sensing of the musicians nerves as they tried to get through the pieces without making any mistakes (the album being recorded directly onto a specially designed inverted stylus so limited vinyl copies could be made direct from this 'negative'). I was there in the room with Dave and his sons.
Turning to digital sources gave me a very warm and musical performance that an uncomplicated Class A 300B design could do so very well. This amplifier also has a pre-output so that you could add a powered subwoofer, bi-amp or, if you need more power, plug into another power amplifier. This amplifier however needed not to feel insufficient. Output was flat all the way up and signal to noise was pretty low down, indeed much better than I expected and as good as most transistor amplifiers. Overall spec on paper might not be mouthwatering, but the performance certainly was. With a name that could come from America the Allnic had muscle and grunt that could well originate from the new world. This product was priced well to provides great competition to any valve amplifier made anywhere. Playing Tolga Kashif's 'The Queen Symphony' track 3 cello and violin solos gave realism and naturalness in a way that many amplifiers cannot do whilst being fed from a DAC. Playing Linn Records 24/192 Chopin Piano Concertos (Ingrid Fliter, Scottish Chamber Orchestra conducted by Jun Märkl) the pianoforte sounded very forte, unlike anaemic upright piano sounding renditions on many so-called weighty amps. Whatever I played worked a treat. Ella and Louis "Isnt this a Lovely Day" gave a musicality full of warmth and 'class' that made me, oh dear, ignore the fact that this was recorded in mono. Christos Anesti (Agnes de Venice 24bit/96kHz) was clear and full of depth of field whether the piano, the organ, the voice, the sea hitting the pebbles on the beach, the reverb, the ping-pong-delay in this montage. This was fun and very easy to listen to. If you want a no-hassle and mightily good looking valve amplifier, this should be at the top of your shortlist.
CONCLUSION
A surprisingly fun piece of kit that looked as good as it sounded, retrieving as much detail as there was from the music, whatever the instrument, and doing it equally well at low or high levels. This little sister to the 40kg 10-valve T2000 with its KT120's, D3a's, and 6485's, is no lesser a machine. Indeed at its price vs sound quality vs looks vs weight, this is a surprisingly agile proposition.
I fell in love for the few days I had it.
Sound Quality – 8.5/10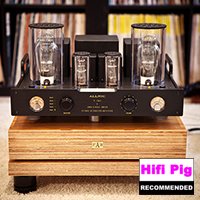 Value for Money – 8.6/10
Build Quality – 8.8/10
Overall – 8.63/10
Janine Elliot